Upon jumping into the political fray, Donald Trump -- the business mogul-turned president -- who was hailed for his wealth and power in lyrics for decades, quickly became hip-hop's public enemy, number one.
In 2016, anti-Trump chants became rallying calls at concerts and the then-provocative presidential candidate appeared to be on virtually everyone's lips and in everyone's Twitter feed. But as Trump's presidency races into its second year, a notable transformation in hip-hop activism is taking shape.
While Trump still dominates the headlines and drives a congested news cycle, in many of the top protest songs of 2017 and 2018 -- some of which have topped the charts, there is virtually no mention of Trump. And that's because, for a number of activists and artists -- including Jay-Z, Kendrick Lamar and T.I. who once celebrated Trump's wealth and power in past lyrics -- there is so much more to discuss.
"People are finally getting it -- that [Trump's] irrelevant to the movement."
Political dissent, which is often energized and, in some cases, driven by the anti-Trump movement, has become so powerful and so all-encompassing that it has transcended Trump, and music released since he became president reflects an evolution in the conversation, according to hip hop industry artists and activists interviewed by ABC News.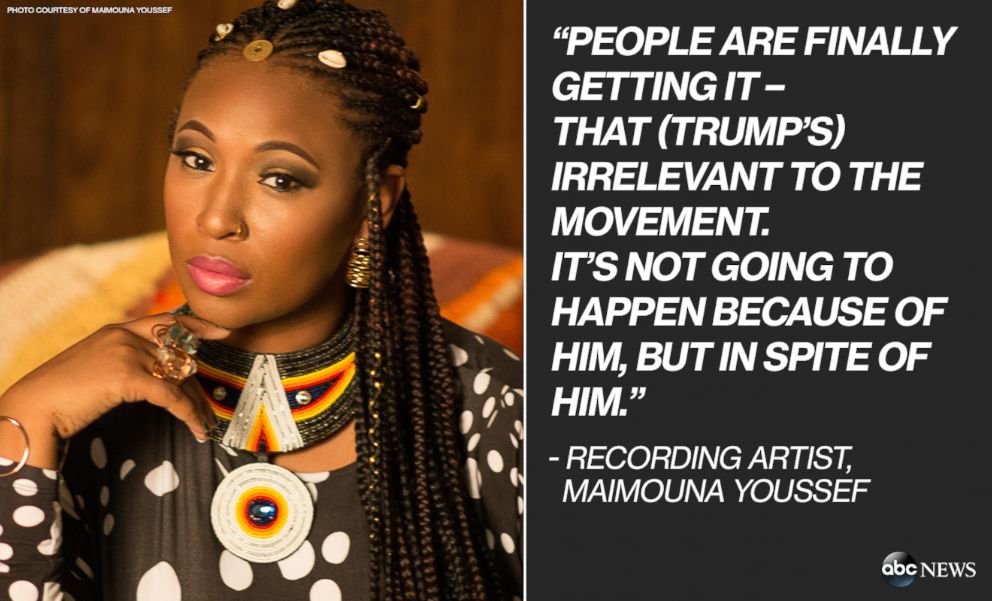 Even political songs that do name drop the president are a far cry from YG's viral 2016 anti-Trump anthem, "FDT" or "F--- Donald Trump" or even Eminem's "The Storm."
Tracks like "Land of the Free," by Joey Bada$$, Logic's "America," and Kendrick Lamar's "XXX.," featuring U2, mention Trump in passing, but each work explores broader systemic injustices.
Even Kanye West, who was under severe backlash from fans for declaring his support for Trump earlier this year, moved the conversation forward by releasing a back-and-forth track based on an actual political conversation he had with Atlanta rapper T.I., who is one of the most outspoken Trump critics in hip-hop.
In "Ye vs. the People," featuring T.I. as "the people," the two artists engage in a political debate, address free speech, divisions and racism in America.
And according to Rev. Lennox Yearwood, the president of the nonprofit group, The Hip Hop Caucus, the revitalization of social activism in hip-hop and the evolution of the political conversation shows that "through tragedy is coming triumph."
"Artists and activists feel like we can't wait for Trump," Yearwood said. "We have to get out there now and fight."
Maimouna Youssef, a Grammy-nominated artist known as Mumu Fresh, said that although activists and artists recognize that "it's still serious that Trump has the power" to influence policy and politics, "people are finally getting it -- that he's irrelevant to the movement."
"It's not going to happen because of him, but in spite of him," Youssef told ABC News. "We kind of all got tired of the reality show. You see all of the stories and ridiculousness and the tweets…and you turn it off and you go do something more productive with your time."
"When the movement is strong, the music is strong"
Songs like Childish Gambino's "This is America," Nas' "Cops Shot the Kid," Janelle Monáe's "Americans," Meek Mill's "Stay Woke," Vic Mensa and Ty Dolla Sign's "We Could Be Free," Rapsody and Kendrick Lamar's "Power," and a trio of singles released by the Black Eyed Peas, don't utter Trump's name once.
But each is an anthem steeped in political and social commentary on race and racism in America.
"Clearly the old saying is true: 'When the movement is strong, the music is strong,' and when the movement is weak, the music is weak," Yearwood said.
"(Now), when artists do put out political music, it shoots to the top. People need it for their spirits, they need it for their souls, they need it to keep fighting."
The video for "This is America," -- a provocative commentary about the black experience and the degradation of black bodies and black culture over centuries -- is so steeped in historical and modern-day symbols that cultural critics are still unpacking its meaning months after its May release.
Describing it as "a song that speaks to your existence," Yearwood said that "This is America" is reminiscent of "We Shall Overcome" -- the gospel song that became the anthem for the 1960s civil rights movement.
The song was so well-received in the mainstream that it debuted at No. 1 on the Billboard Hot 100 -- a spot that is rarely held by such explicitly political songs.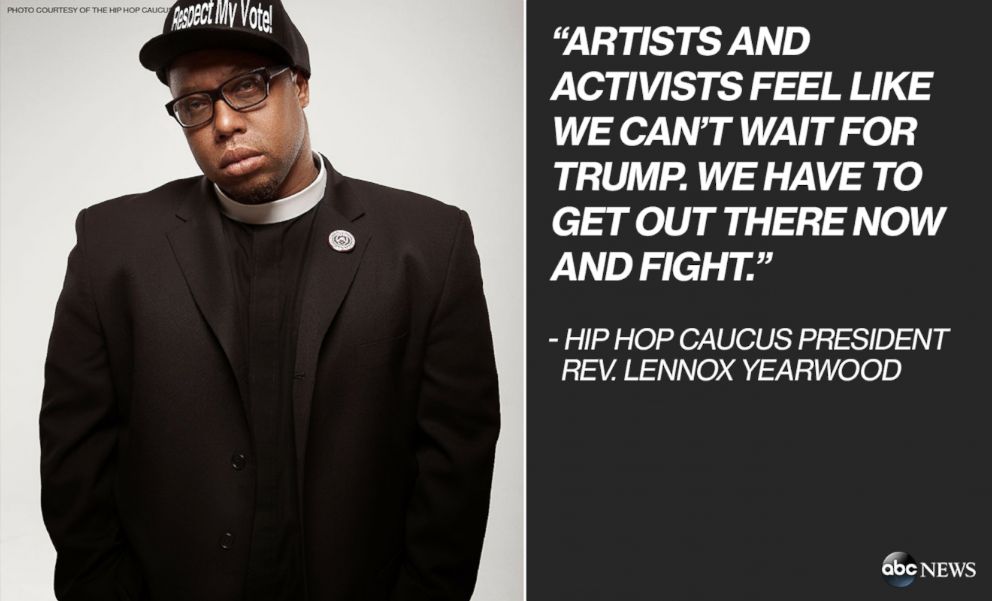 Childish Gambino, whose full name is Donald Glover, won a Grammy earlier this year for the Billboard-charting "Redbone," a funk-inspired song about a failed a relationship with political undertones. The song is also known as "stay woke" based on words from its chorus, and was featured on the soundtrack for Jordan Peele's "Get Out," which won an Oscar for best original screenplay.
"Whenever socially conscious music is successful in the mainstream, it's a great thing because we don't get enough of it," Massachusetts rapper Termanology, whose upcoming album also explores political themes, told ABC News.
"And if it happens naturally, if it's just meant to be like that, it's definitely beautiful for us that really care."
"This is not my America"
From the Black Lives Matter movement, to the Women's March, the #MeToo movement, the Peoples Climate Movement and the March for Our Lives — a wave of civil disobedience has descended on cities and small towns in America and this energy is reflected in the music.
Janelle Monáe's 2018 album, "Dirty Computer," a layered project that explores what it means to be an American, offers a critique of a sick America plagued with inequalities and is also an ode to female empowerment. The outro to "Americans," reflects these themes:
"Until women can get equal pay for equal work ... Until same gender loving people can be who they are ... Until black people can come home from a police stop without being shot in the head ... Until poor whites can get a shot at being successful ... Until Latinos and Latinas don't have to run from walls, this is not my America."
And Eminem, who unleashed one of the fiercest attacks against Trump in his viral performance of "The Storm" last fall, followed up with the release of "Revival" — an entire album that largely looks past Trump and reflects on racism and inequalities in America.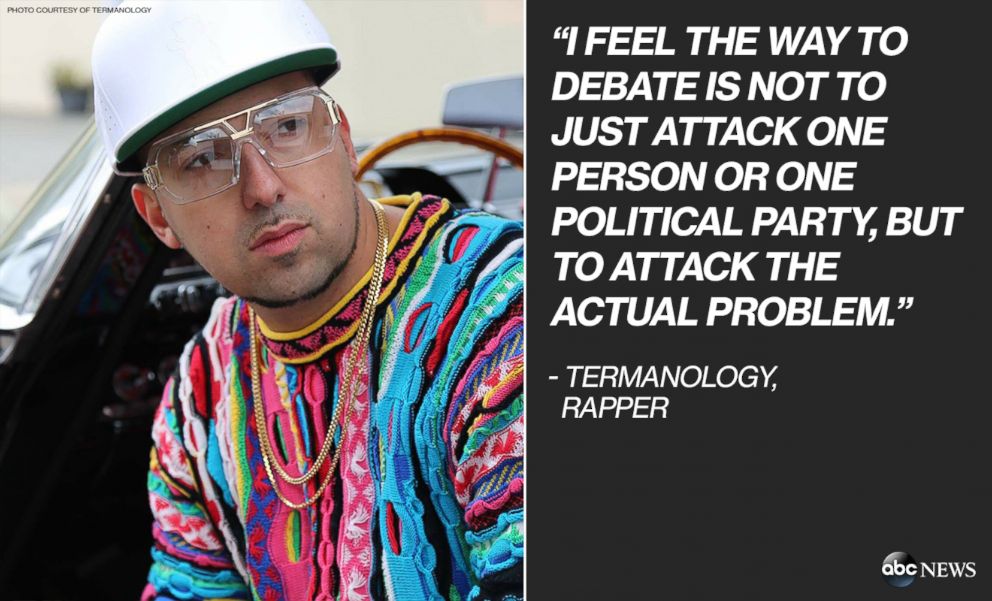 "It's a revival for myself, and it's kind of the theme of the album, but there's also, hopefully, the revival of America," the Detroit rapper said.
In songs like "Untouchable," which does not mention Trump, Eminem reflects on the progression of the civil rights movement and zeroes in on issues like police brutality and white privilege.
Jay-Z, who on several occasions in years past lauded Trump's lavish lifestyle and wealth, has since criticized the former business mogul-turned-president's comments.
But Trump barely ranks a name drop in Jay-Z's most recent tracks.
Instead, the veteran rapper who has increasingly become a vocal proponent for criminal justice reform, reflects on the black experience in America in his Grammy-nominated album, "4:44." For instance, the song "The Story of O.J." explores the subjugation of African-Americans in media and culture over history and examines black stereotypes through the use of black and white cartoons.
This year, Kendrick Lamar's politically-charged album, "DAMN," won a Grammy for best rap album and North Carolina rapper Rapsody, who explores black womanhood and identity, in the soulful album "Laila's Wisdom," was nominated for best rap album and best rap song.
And then there's the evolution of Meek Mill, who in the last few months has become one of the most visible advocates for criminal justice reform.
The Philadelphia rapper's case sparked outrage and reinvigorated a national debate on mass incarceration, when Mill was sentenced to two to four years in prison last November after a pair of arrests that violated his probation from a 2008 gun and drug case.
In the wake of a relentless #FreeMeekMill campaign, the Pennsylvania Supreme Court ordered Mill's release in April.
"I told myself, I told God the moment that I got out of my situation and got back, feet on the ground, I would participate in being a voice for the voiceless," he said in May.
And his latest releases like "Stay Woke," featuring Miguel and "Milidelphia," from his "Legends of the Summer" EP, reflect this calling.
And finally, in one of the starkest artistic evolutions of late, the Black Eyed Peas -- who are generally known for upbeat and poppy party jams like "I Gotta Feeling" and "My Humps" -- made a comeback in 2018 striking a dramatically different tone.
In "Ring the Alarm pt.1, pt.2, pt.3," the trio tackles police brutality, while "Get It" is a haunting tribute to unarmed black men and women shot by police. And their third track, "Street Livin'," is a harrowing account of poverty and mass incarceration punctuated by drum beats and somber tones.
"Ten years ago that was not the landscape," Youssef said. It was almost like taboo to talk about the social issues. Today it's in your face, you can't run away from it. You can't pretend that racism doesn't exist."
Even those who don't seek out political music, would have found it difficult to avoid social commentary over the last few years because it has seeped into everything from club bangers like YG's "Big Bank," viral hits like Kodak Black's "Tunnel Vision," and R&B jams like Miguel's Billboard-charting hit, "Come Through and Chill," featuring J. Cole.
"Hopefully the younger generation sees that it is cool to spread jewels and spread knowledge and to talk about things that go on in the world," Termanology said.
"It's not just about drugs and superficial things ... and as long as it's from the heart, I'm all for it."