President Donald Trump has asked his Secretary of State, Mike Pompeo, not to go to North Korea, as was previously planned for next week, he said in a series of tweets Friday.
Trump wrote, "I have asked Secretary of State Mike Pompeo not to go to North Korea, at this time, because I feel we are not making sufficient progress with respect to the denuclearization of the Korean Peninsula. Additionally, because of our much tougher Trading stance with China, I do not believe they are helping with the process of denuclearization as they once were."
Just the day before, Pompeo announced that he would leave for Pyongyang with his new Special Representative for North Korea Stephen Biegun. It would have been his fourth trip amid a deadlock in denuclearization talks over two months after Trump's Singapore summit with Kim Jong Un.
North Korea has made no public steps toward dismantling its nuclear weapons program, with some analysts saying Kim's regime has no intention to do so.
This week, the United Nations nuclear watchdog, the International Atomic Energy Agency, reported its "grave concern" with North Korea's "continuation and further development" of its nuclear program.
South Korea responded to the cancellation early Saturday U.S. time, calling it only a "delay."
"We feel deeply sorry about the delay, however, we feel it is of utmost importance that such U.S.-DPRK talks, including the planned visit this time, should contribute to reaching U.S.-Korea's final goal, which is 'complete denuclearization and implementing successful peacekeeping system in the Korean peninsula,' South Korea's Foreign Ministry said in a statement.
"Rather than meddling with small individual cases, it is important that we concentrate putting our efforts on diplomacy with North Korea from a long-term perspective, keeping up the momentum for successful dialogues and realizing the U.S.-North Korea Singapore summit's resolutions," South Korea's statement added.
After Pompeo visited North Korea in July, the North Koreans blasted the U.S.'s "robber-like" demands. In a statement last weekend, they said talks have been 'derailed' after the U.S. demanded the country reveal its secret nuclear facilities -- the existence of which North Korea called "a fiction."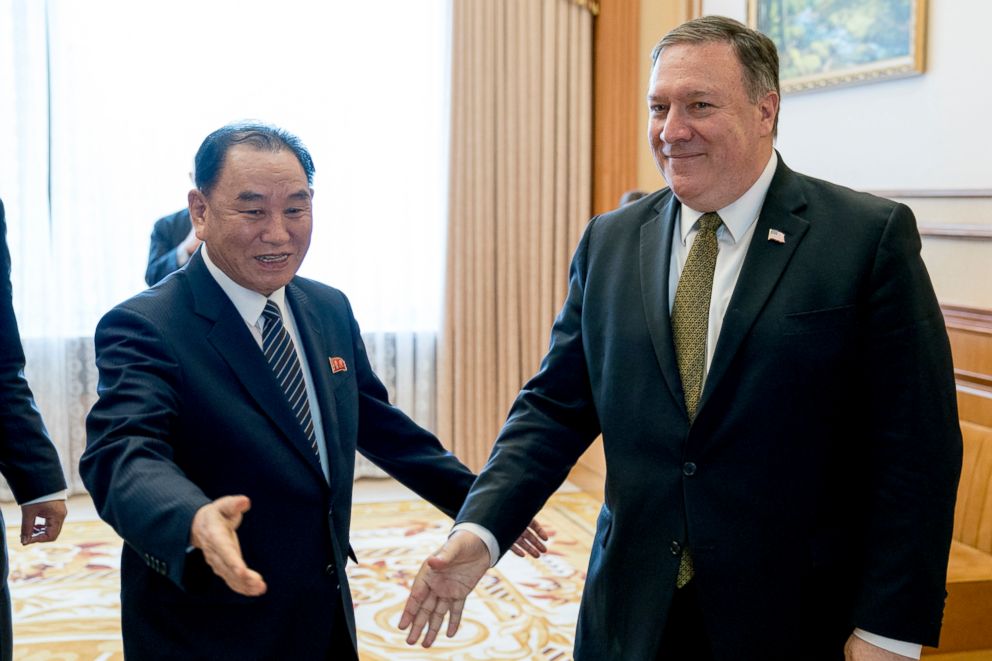 Trump also cited his trade tangles with China, saying the country -- North Korea's strongest economic partner -- is not "helping with the process of denuclearization as they once were." The Treasury Department has announced three tranches of sanctions this month alone on Chinese and Russian companies and individuals for helping North Korea evade sanctions. While the administration says its "global pressure campaign" on North Korea remains in place, there is growing concern that other countries are shirking U.N. sanctions, given a window to restore economic ties in part because of the thaw in U.S.-North Korean relations.
That thaw is apparently still happening, with Trump again offering warm words for Kim in his tweets Friday: "In the meantime I would like to send my warmest regards and respect to Chairman Kim. I look forward to seeing him soon!" he added.
The president has consistently said he and the dictator have a strong relationship, but so far it has yielded little progress in changing the country's nuclear posture.
The State Department was not available for comment after the president's tweet. But Pompeo and his top adviser for North Korea, Andy Kim, were seen at the White House Friday morning two hours prior to the president's tweets, which were sent in rapid-fire coordination.
This is not the first time Trump has canceled plans with North Korea. In May, just weeks before the Singapore summit, he penned a letter to Kim canceling their meeting because of North Korea's "tremendous anger and open hostility." One week later, Trump said the summit was back on after meeting with Pompeo and North Korea's chief nuclear negotiator, Kim Yong Chol.
It was unclear Friday if canceling Pompeo's trip was meant to be a similar negotiating tactic.
Pompeo has had his own meeting issues. Before that most recent trip in July, the White House said Pompeo would meet with Kim. But after two days of tense meetings, Pompeo departed with no face-to-face meeting with the chairman who has ultimate control in the Hermit Kingdom. Instead, Kim was photographed on a potato farm, inspecting crops.
State Department spokesperson Heather Nauert said Thursday that Pompeo did not have plans to meet Kim, saying the trip was about "regularizing these meetings and these conversations" between the two adversaries. Dismissing concerns that there should be more progress, Nauert told reporters, "I know you all want to speed up these things. I know you want it to happen overnight. But this thing, this issue, is going to take some time, and we've been very clear about that."
ABC News' Joohee Cho contributed to this report from Seoul.