— -- Two top Trump administration officials have come under fire for costly travel expenditures, an issue has that raised questions about the travel spending of multiple members of the administration and led one cabinet member to resign last year.
At the Department of Veterans Affairs a new inspector general report is expected to allege Secretary David Shulkin improperly accepted tickets to the Wimbledon tennis tournament and charged his wife's airfare to the government for a European trip last summer, according to USA Today.
Environmental Protection Agency Administrator Scott Pruitt often flies first class, his flights costing multiple times what his staff pays for the same trip, according to travel vouchers obtained through a FOIA request by the Environmental Integrity Project, a watchdog group, and reviewed ABC News.
Federal regulations say that government officials should be prudent when making travel arrangements and "should consider the least expensive class of travel that meets their needs" unless otherwise authorized by the agency.
Last September as many as five administration officials were criticized after reports surfaced on the high price tag of their travel using government resources or taxpayer dollars. The president asked Health and Human Services Sec. Tom Price to resign after reports that he spent tens of thousands of dollars to fly on private jets.
Inspectors general from multiple agencies are looking into whether cabinet members followed all proper procedures in their travel last year.
The newest report released Wednesday by the Veterans Affairs inspector general shows that Secretary David Shulkin improperly accepted Wimbledon tickets and charged his wife's airfare to the government for a European trip last summer.
USA Today obtained a rebuttal drafted by Shulkin's lawyers before the report was released.
Shulkin's lawyers told ABC News that the secretary "has not done anything improper," adding, "We have submitted a robust response to the allegations in the IG report, and we will make that response public after the IG has published its final report."
Shulkin and his delegation of six, including his wife Dr. Merle Bari, flew a commercial airline to Copenhagen in July to attend two days of meetings with Danish government and health care officials to discuss veterans issues, but also included a day of tourist stops. The delegation then flew commercially to London to attend a veterans conference, but over half of the secretary's six days there was spent sightseeing and attending Wimbledon.
In the interest of transparency, the VA has decided to post all of Shulkin's travel details on the VA website. The London travel itinerary shows Shulkin visited notable tourist sites in London including Buckinham Palace, Kensington Palace, Westminster Abbey, St. Paul's Cathedral, the Tower of London, and took a "Thames River cruise to Greenwich Pier/Followed by dinner/evening in Piccadilly Circus."
In London sharing best practices with counterparts from the U.K., Canada, Australia and New Zealand - suicide prevention is a top priority pic.twitter.com/GSxMq4eYPV

— Dr. David J. Shulkin (@SecShulkin)

July 19, 2017
Only two days in London were spent at the veterans conference.
VA Press Secretary Curtis Cashour told ABC News, "As Secretary Shulkin points out, he travels far less than any recent VA secretary, takes no private jets, and was the first cabinet secretary to post details of his travel online for all to see. That said, accountability and transparency are important values at VA under President Trump, and we look forward to seeing the report."
The VA IG declined to comment, saying Wednesday's report will speak for itself.
Shulkin is not the only official whose travel is being questioned.
Documents released this week show that the EPA spent around $90,000 for agency administrator Scott Pruitt and his staff to travel to the G7 summit in Bologna to meet with environmental ministers and leaders, the story was first reported by the Washington Post. Pruitt reaffirmed that the U.S. planned to withdraw from the Paris climate agreement at that meeting and was back in Washington the next day when he participated in a cabinet meeting at the White House.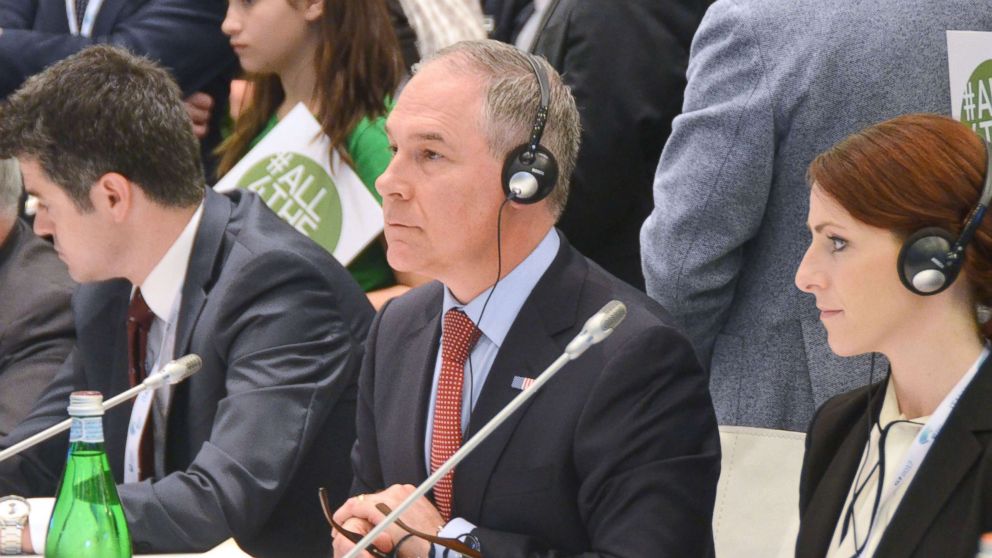 The administrator paid about $7,000 for his trip which took him from New York to Rome and then back to Washington, D.C. from Milan. Flights for staffers and other EPA officials on the trip cost around $2,000.
Additionally, part of that same trip was a $36,000 military flight to fly Pruitt from Cincinnati to New York so he would make his flight to Rome. President Trump requested Pruitt come to Cincinnati for an event on June 7 last year to tout the Republican tax bill and visit water infrastructure sites, according to an EPA memo approving the trip. Pruitt flew to Cincinnati with the president on Air Force One. The memo was part of documents obtained by the Environmental Integrity Project through a FOIA request and first reported by The Post.
The EPA released a statement defending the administrator's travel saying that "EPA staff seek cost-efficient travel options at all times and coordinate with Agency ethics officials."
The documents also show that Pruitt spent more than $1,500 for a flight from Washington, DC to New York for media interviews, while a staffer that traveled to assist Pruitt on the trip only paid $238 for his ticket. The EPA inspector general is currently looking into Pruitt's travel costs after previously released documents showed the agency spent $58,000 on other chartered and military flights from June to August of last year.
The EPA says that upgraded flights are recommended by Pruitt's security team. He has received "an unprecedented amount of threats," according to the EPA.
Pruitt flew first class to New Hampshire on Wednesday and told the New Hampshire Union Leader that there were some incidents on flights during his first few months in office.
"We live in a very toxic environment politically, particularly around issues of the environment," Pruitt told the Union-Leader. "We've reached the point where there's not much civility in the marketplace and it's created, you know, it's created some issues and the (security) detail, the level of protection is determined by the level of threat."
He told the paper all travel decisions are made by his security detail and chief of staff. EPA Spokesman Jahan Wilcox also said that Pruitt has a blanket waiver to fly in business or first class because of security concerns.
But retired EPA law enforcement official Michael Hubbard said it's "patently absurd" to put a protectee in first class where they would be in view of everyone on the plane. He said he would put someone he was protecting in the back of the plane with security around them to be as unobtrusive as possible.