President Donald Trump is coming to Republican Rep. Jim Jordan's defense after the lawmaker was accused this week of turning a blind eye to widespread sexual abuse while he was an assistant wrestling coach at The Ohio State University.
"I don't believe them at all. I believe him. Jim Jordan is one of the most outstanding people I've met since I've been in Washington," Trump said to reporters during a brief gaggle aboard Air Force One on Thursday. "I believe him 100 percent. No question in my mind. I believe Jim Jordan 100 percent. He's an outstanding man."
The U.S. Capitol Police are also reviewing emails sent to Jordan from an alleged victim of sexual abuse.
A source in Jordan's office, who described the emails as " bizarre, seemingly unhinged", told ABC News the lawmaker received the emails on his personal account and they were turned over by his staff to Capitol Police for their expert assessment.
ABC News has not seen the emails.
Capitol Police have not commented on the content of the emails.
In an interview with CNN on Wednesday, the alleged victim Mike DiSabato, whose complaints prompted Ohio State to launch its investigation, called Jordan a "bulldog" and denied threatening him.
"Jim Jordan is a world-caliber athlete who is very aggressive in his actions ... he's a bulldog, let's be honest," DiSabato said.
In April, the university announced an investigation into recently surfaced allegations against the former wrestling team physician, Dr. Richard Strauss, who served between the mid-1970s and late 1990s. Jordan was an assistant coach on the team from 1986 to 1994. Strauss died in 2005.
Four former OSU wrestlers have now gone public with their stories, detailing alleged sexual molestation by Strauss during medical appointments to NBC News. One man said he directly reported the abuse to Jordan; all four said Jordan could not have been unaware of the inappropriate behavior.
The conservative firebrand, who has repeatedly denied that he ever knew about the alleged abuse, told reporters Wednesday he was asking the Capitol Police to look into what he called "strange" harassing emails his office received from DiSabato as recently as 4:30 a.m. on Wednesday.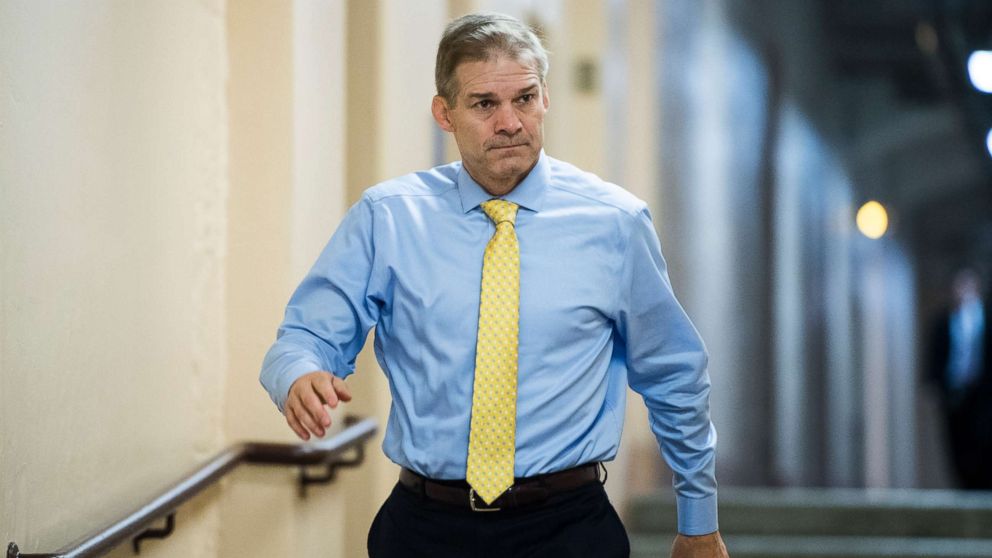 Jordan said he hasn't personally spoken with DiSabato since late March or April.
He is also forcefully denying allegations that he overlooked widespread sexual abuse of wrestlers that occurred decades ago while he was an assistant wrestling coach at Ohio State University.
"It's absolutely untrue the things that have been said about me if there had been any reports of abuse I would have reported it," Jordan told reporters Thursday.
Jordan is the powerful Republican founder of the House Freedom Caucus and dark horse candidate for speaker. He's up for re-election this November.
The university said its investigation includes "outreach to former student-athletes, coaches and others who may have been affected or may have had knowledge of these alleged incidents."
But Jordan disputes reports that he ignored an interview request from a law firm the university has employed to investigate the abuse claims.
As for DiSabato's claims, Jordan says, "Mike was a friend, but something's changed. The things he said are just not true."