As Washington DC militarizes amid George Floyd protests, some experts say it's gone too far
Washington, D.C. residents woke up to armed guards in front of the White House.
Law enforcement units from federal agencies across the board have been brought to Washington to protect the White House and deal with protesters, but critics say using them in a show of force has gone too far.
President Donald Trump directed Attorney General William Barr "to lead federal law enforcement efforts to assist in the restoration of order to the District of Columbia."
Barr was seen walking on the streets of D.C. Monday night, and inside the FBI command center the night after.
There were even riot teams from the Bureau of Prisons in full force outside the White House.
A Bureau of Prisons spokesperson told ABC News its officers are deployed around the country.
"The Bureau of Prisons (BOP) has specialized Crisis Management Teams (CMTs), including Special Operations Response Teams, which are highly trained tactical units capable of responding to prison disturbances, and providing assistance to other law enforcement agencies during emergencies," the spokesperson said in a statement. "The BOP's CMTs also include Disturbance Control Teams, that specialize in crowd control scenarios," the statement said.
"Per the request of the Attorney General, the BOP has dispatched teams to Miami, Florida, and Washington, D.C."
Amid reports that BOP officers were refusing to identify themselves, Bureau of Prisons Director Michael Carajval addressed the issue at a press conference Thursday.
"I'm not aware of any specific Bureau of Prisons personnel being told not to identify themselves. What I attribute that to is probably the fact that we normally operate within the confines of our institution and we don't need to identify ourselves. Most of our identification is institution specific and probably wouldn't mean a whole lot to people in DC," he said at the Department of Justice. "I probably should have done a better job of marking them, nationally as the agency point is well taken but I assure you that no one was specifically told in my knowledge, not to identify themselves."
Barr said that federal agents don't wear a badge with their name on it like many state and localities due, and that he "could understand why some of these individuals simply wouldn't want to talk to people about who they are."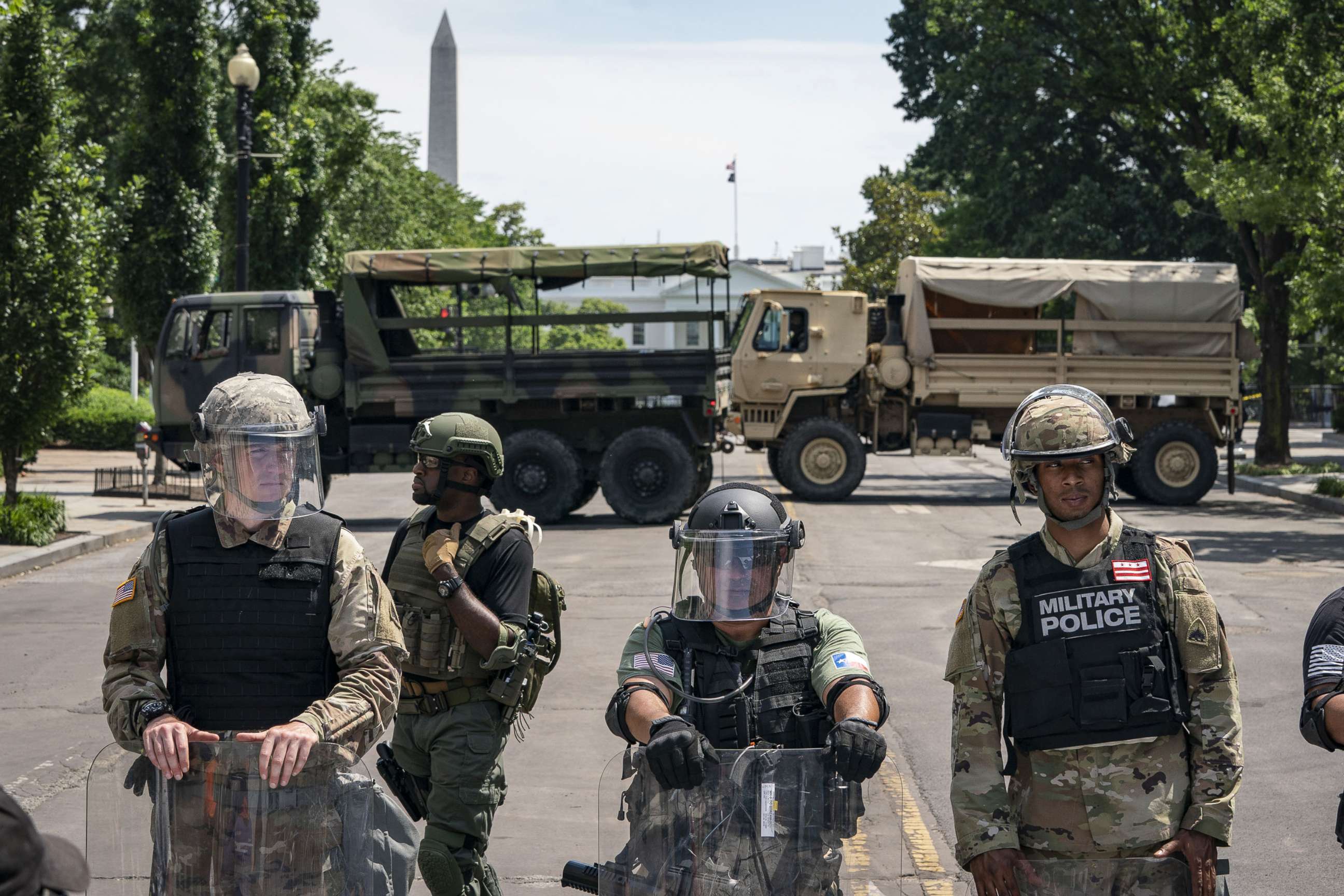 The ripple effect of using BOP personnel has been felt in prisons across the country, with facilities going into complete lockdown.
Additionally, there has been a deployment of active-duty military officers, aimed to help quell the tension between protesters and law enforcement.
Barr also said at the same press conference that is not atypical to deploy a cache of federal law enforcement during large scale events.
"Historically when there have been emergencies where we have to respond to people who do have experience in these kinds of emergencies, they're highly trained people," Barr said.
In a letter sent to Trump on Thursday, House Speaker Nancy Pelosi requested a "full list of the agencies involved" and "clarifications of the roles and responsibilities" of troops and federal law enforcement.
"Congress and the American people need to know who is in charge, what is the chain of command, what is the mission, and by what authority is the National Guard from other states operating in the capital," she wrote.
The Department of Homeland Security has also deployed hundreds of law enforcement agents. More than 600 DHS personnel were dispatched this week to control demonstrations in the nation's capital and across the country.
The DHS federal agents maintain broad authority and often coordinate with state and local officials prior to appearing at major national events -- such as the George Floyd protests.
But the display of force seen this week has been shocking, said Peter Vincent, who worked as a chief counsel for the United States Immigration and Customs Enforcement during the Obama administration.
"This is not the job of the men and women of ICE or CBP, this is not what they are trained to do, and this is not how their enforcement authorities should be deployed," Vincent said. "Indeed, these actions are specifically intended to intimidate and chill Americans into remaining silent in the face of obscene injustices."
More than 100 DHS intelligence analysts are assisting state and local authorities nationwide with "real-time updates," according to the agency.
"Clearly, the Metropolitan Police Department would have been unable to establish order in the city," former U.S. Secret Service agent Don Mihalek said.
"Having those federal agencies there was a benefit to the city and the Metropolitan Police Department. They had an automatic force multiplier of federal law enforcement officers who all have who the majority of them have arrest powers in D.C. to supplement and help lock down parts of the city that MPD didn't have to pay attention to," Mihalek, an ABC News contributor said.
The forces also included federal immigration patrols -- ICE swat teams and Border Patrol agents -- pulled from their normal duties and reassigned to crowd control.
Demonstrations are classified by ICE as one of the "sensitive locations" the agency typically avoids. While disruptions to public safety are an exception, an ICE official told ABC News that reassigned agents have not made immigration arrests in D.C. If a protester is arrested, booked and agents later discover they are undocumented, the official said, the protester would be detained by immigration authorities and possibly deported if a judge gives the order.
"U.S. Immigration and Customs Enforcement (ICE) fully respects the rights of all people to peacefully express their opinions," the agency said in a statement.
As Border Patrol agents were called to D.C., Maryland and Virginia, Acting CBP Commissioner Mark Morgan tweeted that "radicals & agitators" prompted the response. Morgan first announced the involvement of CBP agents on Sunday, which he said came at the request of other law enforcement agencies.
The ACLU deputy policy director, Andrea Flores, who worked at the DHS during the Obama administration, called the deployment of immigration agents to suppress protests "a mistake that imperils the lives of even more black and brown people."
"ICE and CBP are rogue agencies with sordid histories of abuse, violence, and human rights violations," Flores said in a statement.
ABC News' Mariam Khan contributed to this report.