In Trump era, Beto O'Rourke eyes an end to Republican grip on Texas
The El Paso Democrat is mounting an aggressive bid to defeat a GOP heavyweight.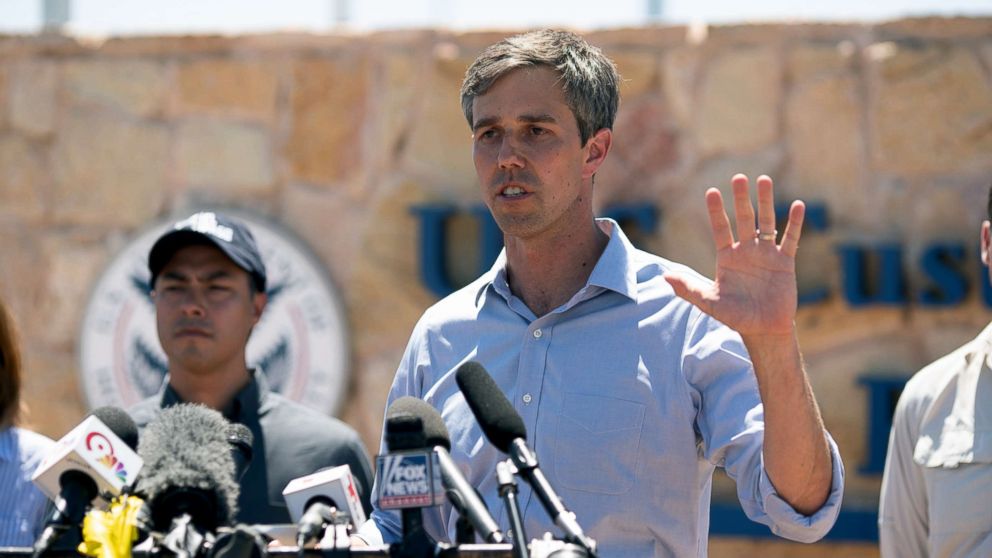 A Democratic dream for nearly a quarter century has been the prospect of turning Texas blue, but in reality, no Democrat has been elected to statewide office since 1994 or held a Senate seat since 1993 when Lloyd Bentsen left to become Treasury Secretary in the Clinton administration.
That history, and the difficulty of replicating Bentsen's victories, is not lost on Democratic Rep. Beto O'Rourke, the El Paso congressman who is mounting an aggressive campaign and raising a staggering amount of money in a bid to unseat outspoken conservative Sen. Ted Cruz.
For O'Rourke, he views the party's long-standing minority status in the state as changing if, and only if, his aggressive pitch that incorporates a unique blend of progressive politics and Texas values can win over voters in the reddest areas of a deep-red state.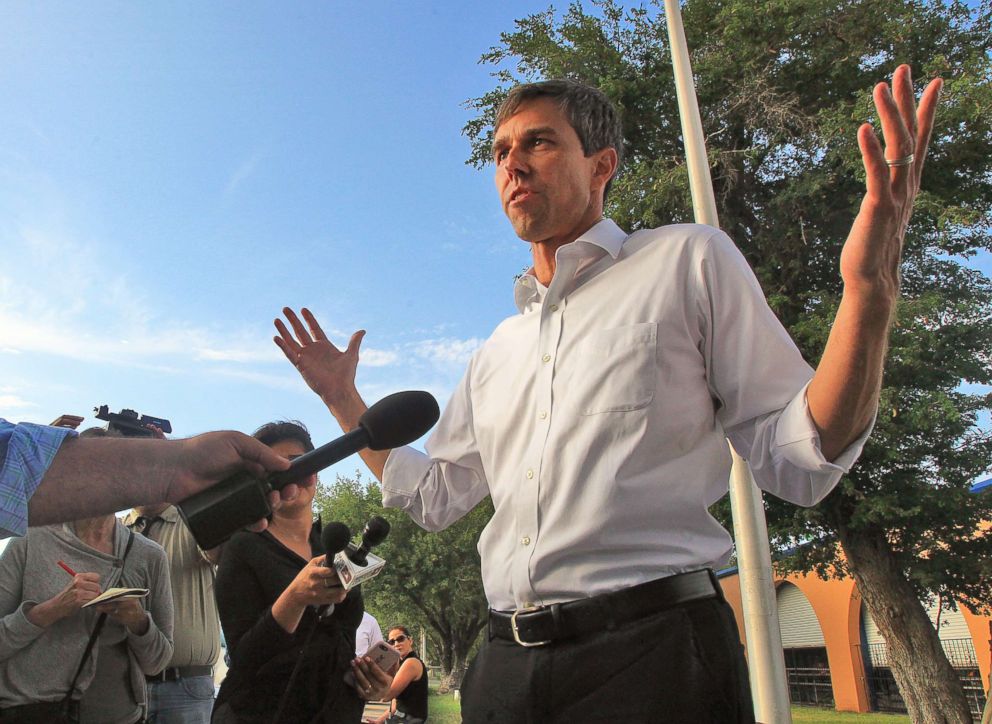 "When I go to places like Wichita Falls or Amarillo or Lubbock, places thought to be Republican strongholds, we're getting really good turnout," he said in a recent interview with ABC News' Powerhouse Politics podcast.
Although Texas is seeing record turnouts among Democrats, still 500,000 more Republicans voted in this year's statewide primary. Not only will O'Rourke need to boost turnout in the state's more liberal enclaves, but also broaden his appeal to Republicans disillusioned with Cruz and the Trump-era GOP.
James Hensen, director of the Texas Politics Project at the University of Texas at Austin, told ABC News that O'Rourke is likely to do "better" than an average Democrat in Texas, but added, "is better going to be good enough to reverse the structural advantages that Ted Cruz and the Republicans have going into this race? It's a pretty tall order."
A mid-April poll from Quinnipiac University showed O'Rourke within 3 points of Cruz, but a late-May poll from the same outlet gave Cruz a 10-point advantage, a sign of just how competitive this race will be in the months to come.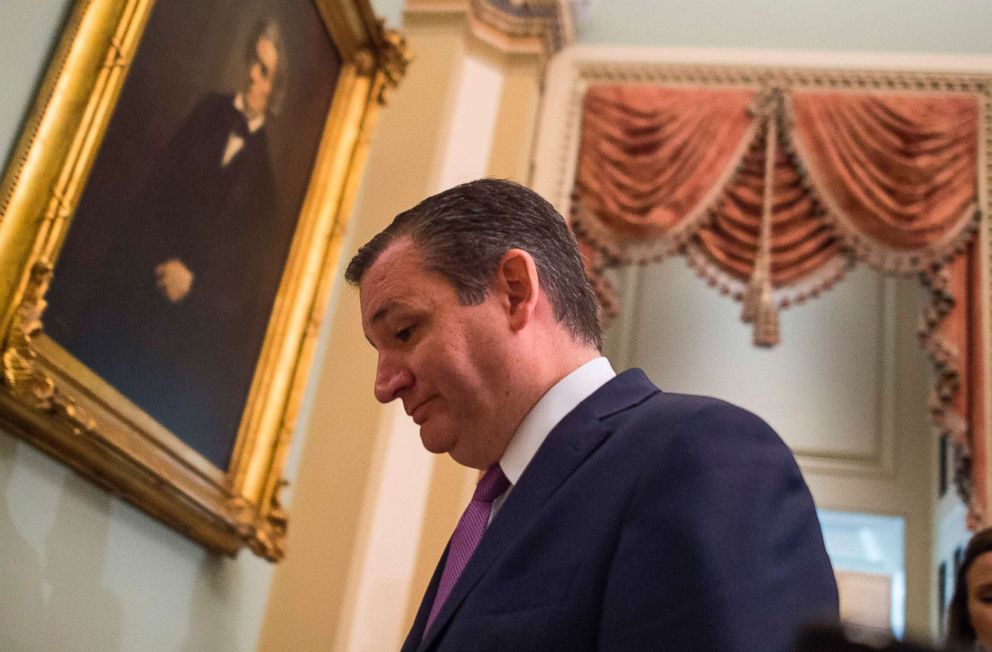 With plans to crisscross the Lone Star State non-stop until November — having already visited all 254 counties in the state according to his campaign — O'Rourke seeks to fulfill that tall order, maintaining or even increasing this pace as Election Day nears.
"Given what's at stake and what's on the line for this country right now and for Texas, people are putting their country before party and the small differences that used to divide us are not getting in the way of doing something really great for the country," he said.
In an interview last week with ABC News on Capitol Hill, Cruz asserted that Democrats have been able to capitalize on brewing anger among voters.
"There is no doubt that the far left is angry and filled with fury towards the president," he asserted.
In recent months, the Trump administration has riled up much of that anger, specifically in Texas, over its response to the crisis at the border.
Could the Texas Senate race hinge on immigration?
While Cruz is relentless in casting O'Rourke as a left-wing insurgent — in a state that is a microcosm of the country and its deep partisan divisions — the Democratic nominee is trying to rise above the bitterness, positioning himself instead as a national voice of morality.
When the administration's enforcement of a "zero tolerance" policy at the U.S.- Mexico border resulted in the separation of immigrant children from their families and gripped the country's attention, O'Rourke was on the front lines fighting for the reunification of these families.
O'Rourke often shows resistance to the Trump immigration policy — not from the confines of Washington, D.C., but at the border in his home state — pulling the issue into his campaign orbit. Since June, he has been leading marches to Tornillo's make-shift "tent city" just outside of his El Paso congressional district, including one on Father's Day, to meet with separated children.
Following a visit last week to the Annunciation House — one of four centers in the country that hosts newly reunited parents after being released from custody — he told ABC News, this is "one of the most inhumane, cruel things I've ever seen this country do."
The Trump administration policy that was implemented in May led to the separation of over 2,500 children from their parents who were apprehended after crossing the border and face criminal prosecution. Of the more than 2,500 kids separated, a Department of Homeland Security official confirmed all eligible children were reunited with a parent or sponsor on July 26 — a court-mandated deadline — leaving 711 children still separated.
After a second tour of Tornillo in late June with a bipartisan group of his colleagues, O'Rourke painted a dark picture of the Trump presidency, raising a rallying cry for voters to show up in November.
"When they write the history books about 2018, it's gonna be this really powerful, beautiful story," he said. "It's going to be a history that makes us proud because each and every single one of us showed up, turned out, stood up, shown the light on those abuses."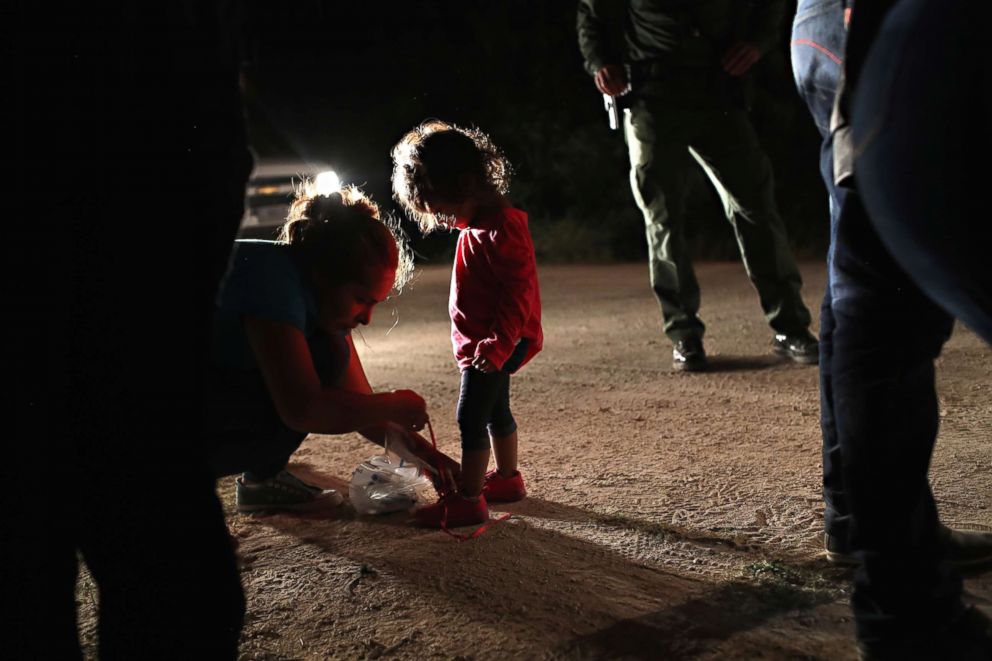 But O'Rourke does not always align with his fellow Democrats, including on the debate over abolishing the U.S. Immigration and Customs Enforcement agency, signaling an attempt to carve out his own brand of liberalism and strike a balance between progressive Democrat and moderate Texan.
When asked by ABC News specifically if he would abolish ICE, he responded, "It's not clear to me what that would accomplish."
"Abolishing ICE does nothing to resolve any of those issues," he said. "It cannot be done on the basis of fear or anxiety or paranoia, calling people animals or an infestation or describing immigrants as rapists and criminals."
It's a strategy that shows O'Rourke's more nuanced understanding of a changing state that he hopes to represent in the Senate.
"To some extent, Democrats themselves have abetted the focus shifting with the discussion of abolishing ICE. That is a much better frame for Republicans," Hensen said.
But as he continues to hit the trail, O'Rourke oftentimes elevates his campaign beyond Texas, taking his opposition crusade to the White House.
A two-pronged campaign against Trump and Cruz
One of his most prominent forays into a national debate was when he said he would vote for impeachment against President Donald Trump following his highly contentious performance during the Helsinki Summit with Russian President Vladimir Putin earlier this month.
"Standing on stage in another country with the leader of another country who wants to and has sought to undermine this country, and to side with him over the United States — if I were asked to vote on this I would vote to impeach the president," O'Rourke told the Dallas Morning News following the summit.
It was not the first time he waded into the impeachment debate on the campaign trail, telling a local radio station in April that he "would support" the hypothetical impeachment of Trump.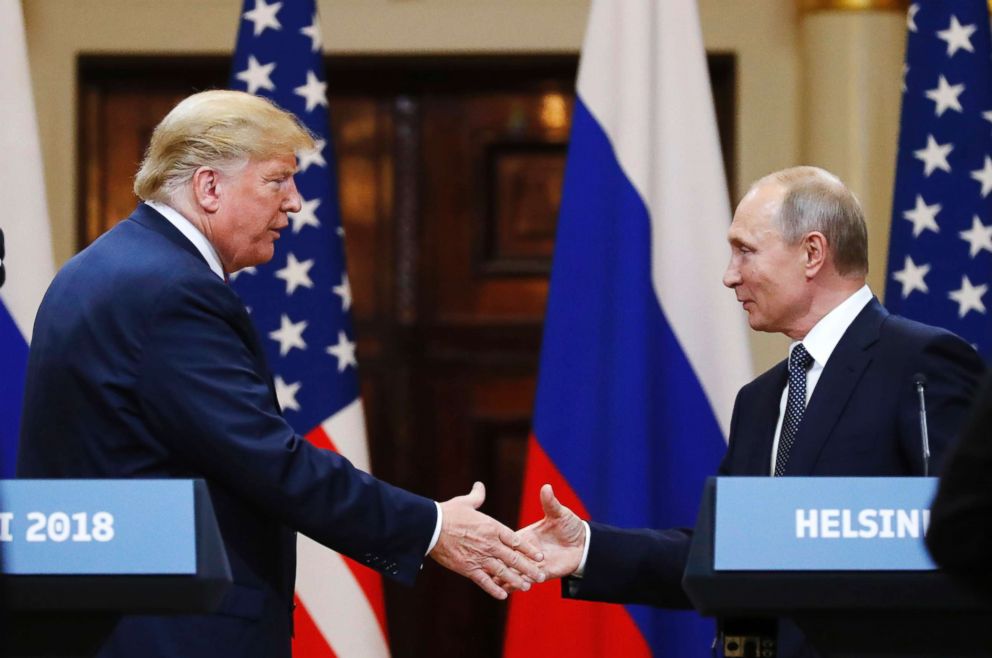 O'Rourke clarified his position further, telling ABC News, "Before you get to a vote on impeachment, the facts are going to have to be so compelling so damning that one of my Republican colleagues can go before their constituents and explain how they voted to impeach the president of their own party."
Cruz immediately pounced on the opportunity to slam O'Rourke for weighing in on such a controversial and potentially politically dire debate — calling O'Rourke "so radical and reckless that he is unfit to serve in the U.S. Senate."
But O'Rourke asserted that he's "never called for impeachment."
"I've never volunteered that opinion at a town hall or in an interview or in an email to our lists," he added. "But I have answered the question honestly when it has been — been brought to me."
Turning green to blue
This balanced approach seems to be working for O'Rourke. With more than $10 million raised in the second quarter of 2018 on top of $6.7 million raked in during the first three months of the year, he is finding newfound enthusiasm and viability in his already energetic campaign.
His latest fundraising haul gives him a close to $4 million advantage over Cruz, who told ABC News that animus towards Trump is "motivating record-shattering fundraising for Texas Democrats and Democrats nationally."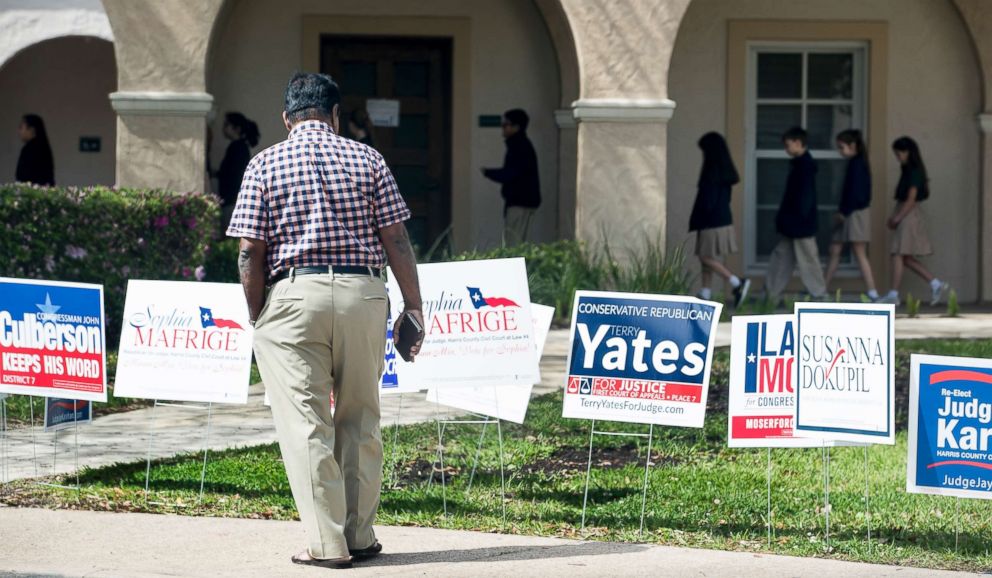 But pulling ahead of Cruz in fundraising is far from a guarantee of victory, and the need for O'Rourke to broaden his appeal in areas Democrats have not competed in for decades is palpable.
"O'Rourke's strategy seems to be people…I think part of this 254 county visit tour and the mobilization strategy is to try to drum up and close the margins in in some of these rural areas and suburban areas where the Democrats just get crushed," Hensen said of the areas outside Democratic strongholds like Austin, Dallas and Houston.
"If he can take some of those places from the teens…to the high 20s and the low 30s, are there enough votes?" Hensen added, a question likely nagging O'Rourke's campaign.
Cruz recently challenged O'Rourke to five debates over the next three months, according to the Texas Tribune, a sign that both candidates will have ample opportunity to make their case to Texas voters.
Last Thursday, O'Rourke's campaign launched its first ad: cut entirely from iPhone video shot during his treks across the state, the one-minute long video is entitled "Showing Up." He also launched a 34-day driving tour Monday, in a new stretch of nearly 100 events to show up in all pockets of the state.
With fewer than 100 days until November 6, the pressure is on O'Rourke and his strategy of "showing up" across the state to convince Republican strongholds to vote for a Democrat. But Hensen warns it's still premature to assess if the strategy will work.
"I think they're in a very early phase of their campaign," he said.
ABC News' Ali Rogin and Mike Levine contributed to this report.