— -- President Donald Trump said Thursday the federal government cannot keep the Federal Emergency Management Agency in Puerto Rico "forever," even as the U.S. territory continues to reel from the devastation wrought by Hurricane Maria in September.
"We cannot keep FEMA, the Military, the First Responders, who have been amazing (under the most difficult circumstances) in P.R. forever!" Trump tweeted.
San Juan Mayor Carmen Yulin Cruz slammed Trump's tweets as "adding insult to injury" and "unbecoming."
"Your tweets and comments just show desperation and underscore the inadequacy of your government's response to this humanitarian crisis. It is not that you do not get it, it is that you are incapable of empathy and frankly simply cannot get the job done," Cruz said in a statement.
Puerto Rico Gov. Ricardo Rossello also responded to Trump's tweets Thursday morning by arguing that Puerto Rico is simply asking for the "support that any of our fellow citizens would receive."
At a press conference Thursday, Rossello followed up, saying he called the White House in search of clarification on Trump's tweet.
The island is still in crisis mode as it struggles to restore power. Residents still do not have access to clean water, and more than 5,700 residents are living in shelters, according to Rossello's office. Reports of leptospirosis, a bacterial disease, are beginning to surface. According to Puerto Rican officials, 64 percent of people have access to water.
The death toll since the hurricane has risen to 44. The Department of Defense said Thursday that only 10.6 percent of the island's residents have power.
A news release from the Environmental Protection Agency on Wednesday said there are "reports of residents obtaining or trying to obtain drinking water from wells at hazardous waste Superfund sites in Puerto Rico." The EPA also warned that raw sewage is seeping into Puerto Rico's waterways and will continue to do so until power is restored and repairs are made.
Secretary of Housing and Urban Development Ben Carson downplayed the sentiment in Trump's tweets before the House Financial Services Committee Thursday.
"We're not going to abandon them," said Carson, who added that "it's not beneficial to go around shaming people in general," when pressed by Rep. Maxine Waters, D-Calif. about the president's comments.
The House of Representatives will vote Thursday on legislation that would include $18.7 billion for FEMA's disaster relief fund and $16 billion for debt relief for the National Flood Insurance Program.
The bill also includes a provision for the Disaster Nutrition Assistance Program, which allows low-income residents in Puerto Rico to receive the same emergency nutrition aid that hurricane-affected states can receive.
Trump visited Puerto Rico on Oct. 3 to survey the damage and meet with victims of the hurricane. He was criticized for throwing supplies into the crowd and for saying that local officials "can be proud" of the low death toll (which was 16 at the time of his visit), compared with the "thousands" lost in Hurricane Katrina in 2005.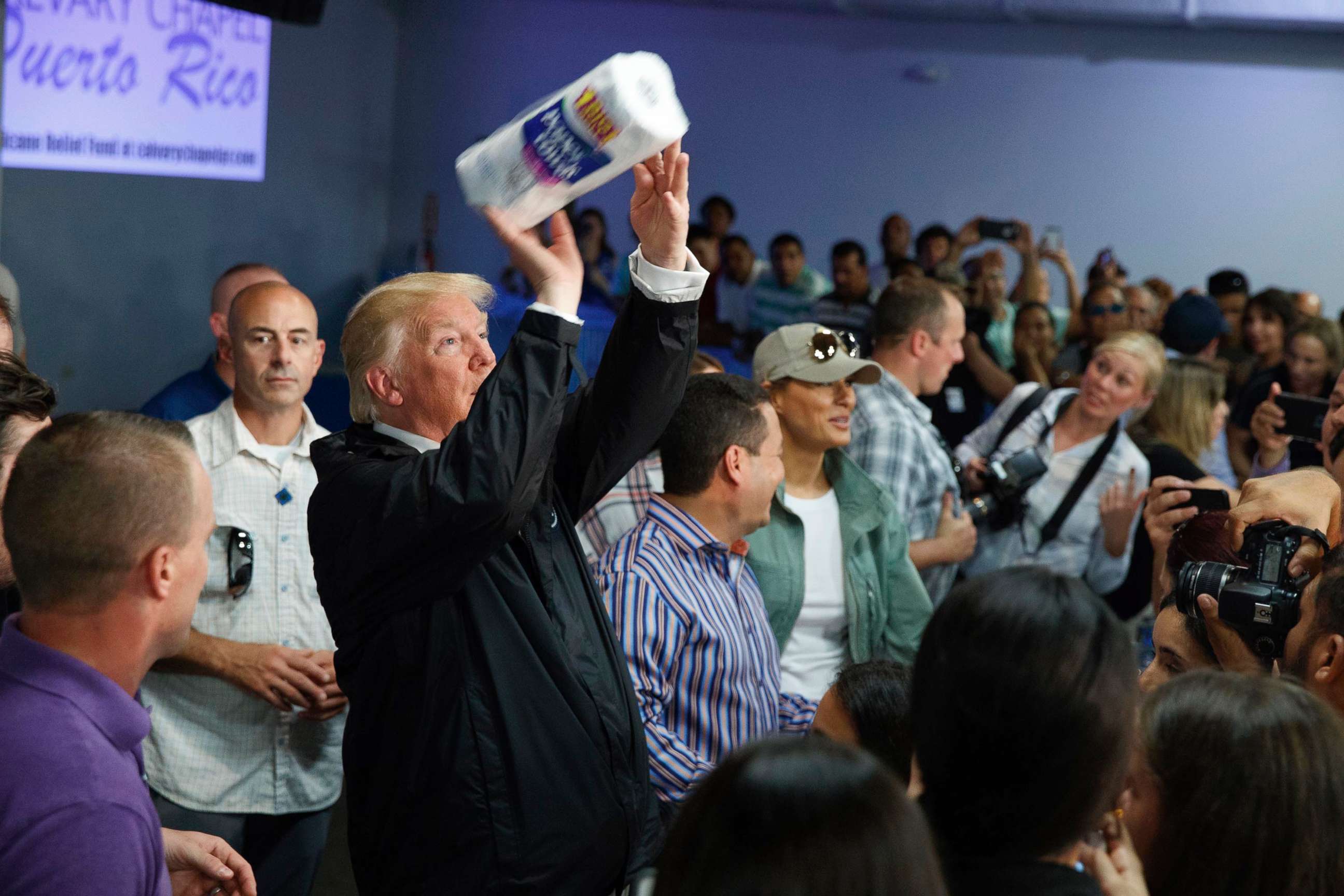 He said during a Hispanic Heritage event at the White House last week, "We will not rest" until Puerto Rico has recovered from Maria.
"We will be there all the time to help Puerto Rico recover, restore, rebuild," Trump said.
Energy Secretary Rick Perry was grilled by Democrats on the House Energy committee on the administration's response to Puerto Rico during a hearing on Thursday, with Rep. Kathy Castor, D- Fla., calling Trump's threat to pull FEMA, military and first responders from the island "disheartening."
"The challenges are real. I can't tell you that there are any quick or fast solutions. Rebuilding it back to where people have power right now is the number one goal," Perry said.
Perry apologized for calling Puerto Rico a country instead of a U.S. territory.
ABC News' Joshua Hoyos and John Parkinson contributed to this report.