With the election in Israel a little more than two weeks away, President Donald Trump on Monday gave what many are calling a political gift to his close friend Prime Minister Benjamin Netanyahu -- vying for his fifth term: a high-profile visit to the White House.
Netanyahu's red carpet welcome comes just days after Secretary of State Mike Pompeo visited Netanyahu in Israel and the president made a surprise announcement that the U.S. would recognize Israel's sovereignty over the disputed Golan Heights, an issue the administration had been mulling for weeks at the urging of the Israeli prime minister.
"This is truly an historic day," Netanyahu said as Trump looked on for a signing ceremony to make the U.S. recognition official. "Thank you, President Trump," he said.
"Israel won the Golan Heights in a historic fight of self-defense," Netanyahu said, referring to Israel capturing the strategic high ground fro Syria in the 1967 Arab-Israeli War.
"This is a long time in the making. Should have taken place many decades ago," Trump said, as he signed the proclamation.
Trump and Netanyahu have been dubbed by some as political "twins" on the global stage given the parallels between their leadership styles, their close strategic coordination and personal friendship, as both have been hampered by lingering investigations into potential misconduct.
Netanyahu has embraced his close relations with Trump throughout his re-election bid, with many of his political billboards featuring photos of them together.
This latest series of goodwill gestures from the Trump administration toward Israel in the closing days of the campaign amounted to what some scholars characterize as "blatant" meddling in Israeli domestic politics.
"We've interceded in other Israeli elections but not with this sort of brazenness," said Aaron David Miller, a Middle East expert at the Wilson Center.
"Every U.S. president has had either a confrontational or friendly relationship with the Israeli prime minister, and that's largely been shaped by their positions on the Palestinian issue, but no previous president has ever so blatantly interfered to help an Israeli prime minister this way," said Haim Malka, deputy director and senior fellow of the Middle East Program at the Center for Strategic and International Studies.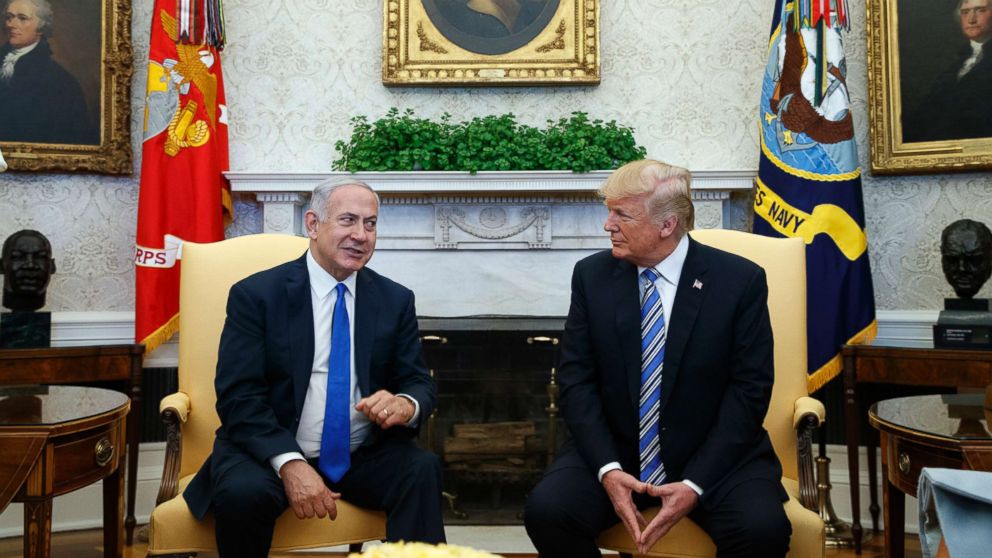 For Netanyahu, who's facing his toughest re-election bid yet under a cloud of investigation, Malka says a trip to Washington gives him the opportunity to "show the voters back in Israeli that he still has the strong backing of the U.S. despite his own troubles back at home."
Miller recalled three circumstances in recent history when U.S. presidents have sought to influence the outcome of an Israeli election, including one other occasion when President Bill Clinton invited then-Prime Minister Shimon Peres to the White House a month before an election that he ultimately lost to Netanyahu. But, Miller concluded, Trump's combination of actions represent "clearly the most blatant attempt" of interference.
On the flip side, there have also been cases when U.S. presidents have actively sought to deny Netanyahu the appearance of cooperation with Washington. Back in 2015, President Barack Obama turned down a meeting with Netanyahu, citing the proximity of his trip to the Israeli elections.
"As a matter of long-standing practice and principle, we do not see heads of state or candidates in close proximity to their elections, so as to avoid the appearance of influencing a democratic election in a foreign country," Obama's National Security Council spokeswoman Bernadette Meehan said at the time. "Accordingly, the president will not be meeting with Prime Minister Netanyahu because of the proximity to the Israeli election, which is just two weeks after his planned address to the U.S. Congress."
Trump has denied that he's motivated to help Netanyahu politically. Asked specifically about whether his Golan Heights announcement was related to Netanyahu's upcoming election, Trump denied it.
"No, I wouldn't even know about that. I wouldn't even know about that, I have no idea. I hear he's doing OK," Trump said. "I don't know if he's doing great right now, but I hear he's doing OK. But I would imagine the other side, whoever is against him is also in favor of what I just did."
While Trump's actions are interpreted by some observers as an intervention in Israeli domestic politics, Malka points out that it's also a domestic policy play for Trump.
"This is consistent with Trump policy toward Israel in terms of his recognition of Jerusalem as the capital and moving the embassy," Malka said, "so this helps him domestically paint a picture that the GOP is more pro-Israel than the Democrats."