On Day 5 of the House impeachment hearings, Fiona Hill, a former Russia expert on the National Security Council, and David Holmes, a political counselor at U.S. embassy in Ukraine, testifed following a day of explosive testimony on Wednesday.
Hill has described a July 10 White House meeting with Ukrainian officials in which Gordon Sondland, Trump's pick for ambassador to the European Union, pressured Ukraine for a political investigation and insisted acting White House chief of staff Mick Mulvaney had agreed to the plan. Following the meeting, Hill said John Bolton, the president's national security adviser at the time, told her to tell the president's legal adviser, "that I am not part of whatever drug deal Sondland and Mulvaney are cooking up."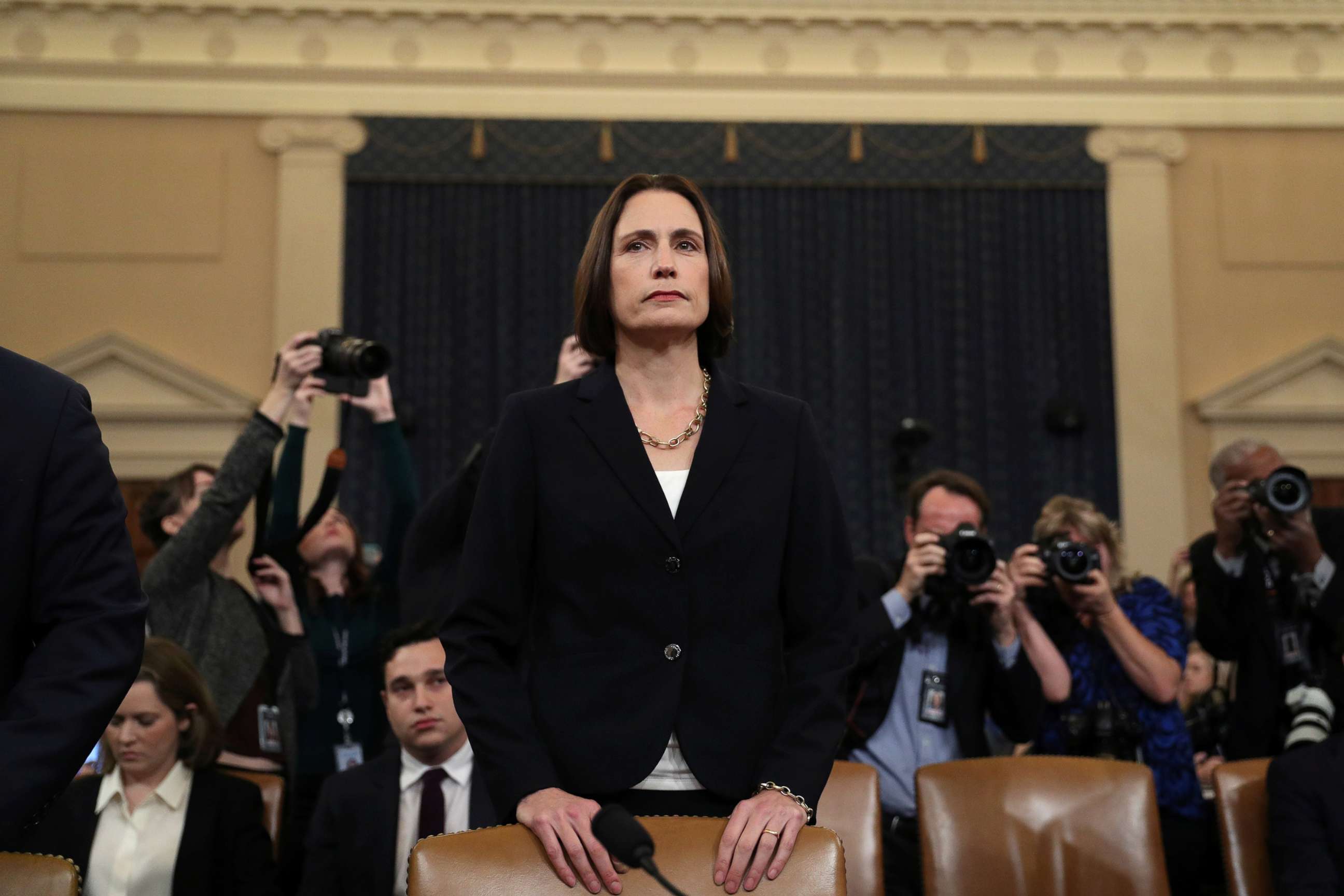 Holmes has described a July 26 phone conversation between President Trump and Sondland where he said he overheard the president asking Sondland about "the investigations."
Here is how the hearing unfolded.
4:19 p.m.
ABC's Benjamin Siegel reports from the hearing room: This was Schiff as angry and emotional as I've ever seen him in one of these settings.
He denounced Republicans, and attempted to dismantle their defense of the president. Drawing on his background as a prosecutor, he laid out the case Democrats believe they have assembled against the president.
Schiff said Trump's alleged conduct is "far more serious" than Watergate and "beyond anything that Nixon did."
"The difference between then and now is not the difference between Nixon and Trump. It's the difference between that Congress and this one." "Where is Howard Baker? Where are the people that are willing to go beyond their party to look to their duty?"
Schiff noted that he was one of the most prominent holdouts against impeachment. For months, when asked by reporters about his position, he warned that pursuing impeachment along party lines would fail.
In his closing remarks, he said that it all came down to "timing," and the fact that Trump's call with Zelenskiy took place one day after Mueller testified.
"I resisted going down this path for a long time, but I will tell you why I could resist no more. And it came down to this. It actually came down to timing. It came down to the fact that the day after Bob Mueller testified, the day after Bob Mueller testified that Donald Trump invited Russian interference, hey, Russia, if you're listening, come get Hillary's emails, and later that day, they tried to hack her server. The day after he testified that not only did Trump invite that interference, but that he welcomed the help in the campaign, they made full use of it. They lied about it. They obstructed the investigation into it," Schiff said.
"The day after that, Donald Trump is back on the phone asking another nation to involve itself in another U.S. election," he added.
As he closed, he invoked the late Elijah Cummings, his voice breaking with emotion:
"That says to me, this president believes that he is above the law, beyond accountability. And in my view, there is nothing more dangerous than an unethical president who believes they are above the law. And I would just say to people watching here at home and around the world, in the words of my great colleague, "We are better than that."
4:13 p.m.
Nunes wrapped up the scheduled public hearings by again calling the process a "show trial" and accusing the Democrats of pursuing a predetermined outcome to hurt President Trump.
"What you see in this room over the past two weeks is a show trial. The plane a result of three years of political operations and dirty tricks. Campaigns waged against this president. And like any good show trial, the verdict was decided before the trials ever began. After all, after denouncing the president for years as a Russian agent and a threat to democracy, how could the Democrats not impeach him?" he said.
Nunes said Republicans don't know if there will be more public hearings or the exact next steps for the process but said "this farce will soon move to the judiciary committee where impeachment rightfully belongs."
Schiff then countered some of the minority's complaints about how the impeachment inquiry has been conducted, quipping "only over 100 members of congress are able to participate in those secret depositions."
3:41 p.m.
Hill testified that she did not think Ambassador Sondland's claim that he didn't realize the connection between the energy company Burisma and Hunter Biden was credible, saying that combined with references to 2016 she thought the implication was clear.
"It is not credible to me that he was oblivious. He did not say Bidens, however, he said Burisma, he said 2016. I took it to mean the elections as well as Burisma," she said.
3:39 p.m.
Democratic Rep. Sean Maloney referenced an ABC News/Ipsos poll that found 70% of Americans think President Donald Trump's request to a foreign leader to investigate his political rival was wrong as the hearing with Hill and Holmes wraps up.
That poll found that a slim majority of Americans, 51%, believe Trump's actions were both wrong and he should be impeached and removed from office. But only 21% of Americans say they are following the hearings very closely.
3:22 p.m.
ABC's Benjamin Siegel in the hearing room reports on two notable moments from moderate Republicans on the House Intelligence Committee -- the latest indication Republicans remain united in their opposition to impeachment after nearly 30 hours of public witness testimony.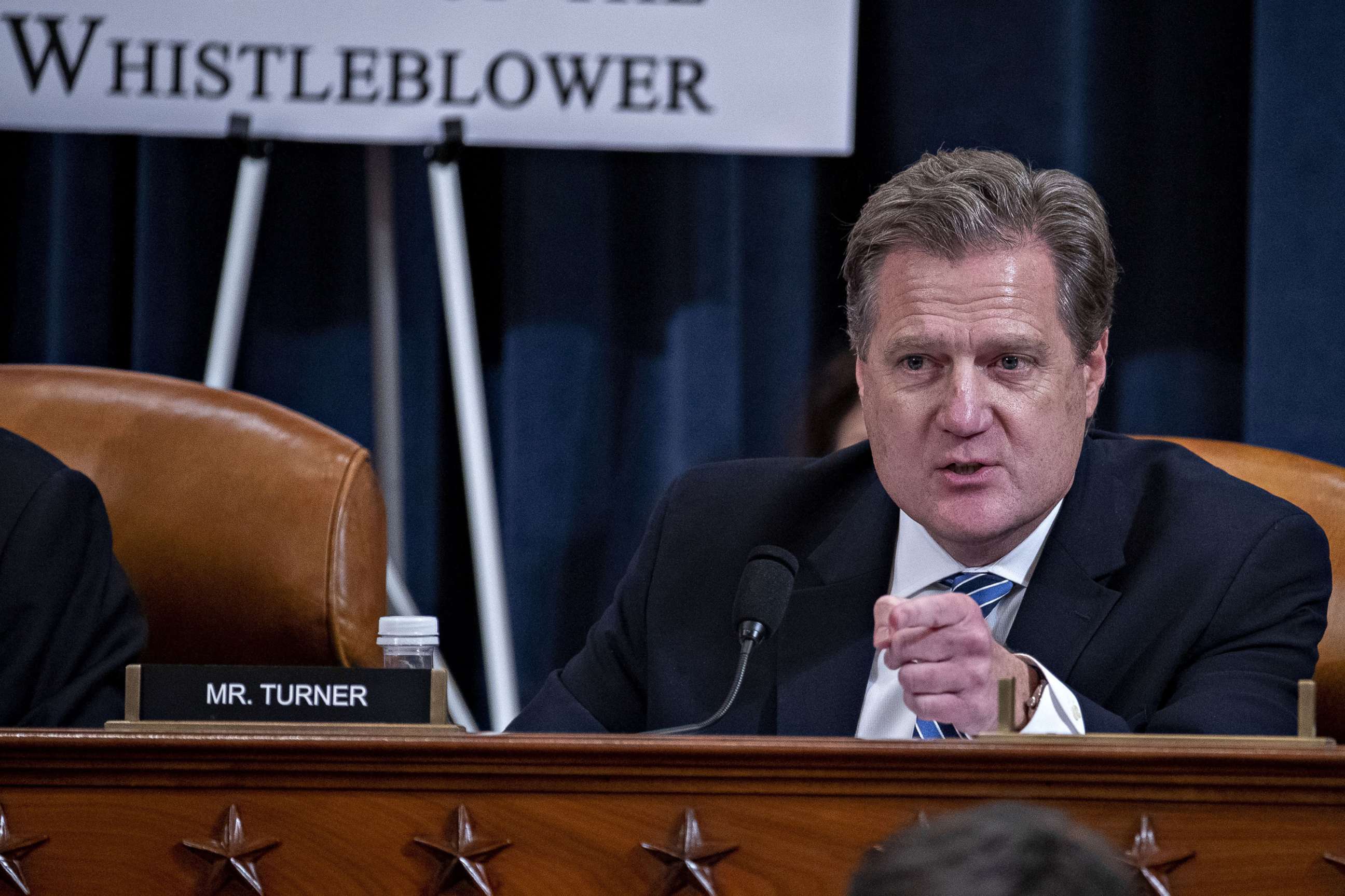 Rep. Mike Turner, R-Ohio, who has criticized Trump's comments on the phone call with Zelenskiy as being "not OK," appeared to mock Democrats impeachment efforts."Do you guys want to be the laughingstock of history to impeach a president for not taking a meeting? Oh God, please undertake that," he asked rhetorically.
Republican Rep. Will Hurd said he found President Trump's July 25 call with Ukrainian President Zelenskiy "inappropriate" and "misguided," but said he hasn't seen any blatant evidence he engaged in an impeachable act.
"We have heard of U.S. officials carrying uncoordinated confusing an conflicting messages that created doubt and uncertainty in Kiev at a time when they knew [a] reformist administration has just taken office and was ready to fight corruption and work with us to advance other U.S. objectives," he said. "I disagree with this sort of bungling foreign policy."
"An impeachable offense should be compelling, overwhelmingly clear and unambiguous. And it's not something to be rushed or taken lightly. I have not heard evidence proving the president committed bribery or extortion," Hurd said.
2:52 p.m.
Democratic Rep. Jackie Speier asked Hill about an anecdote where one of Hill's pigtails were set on fire by a boy while she was taking a test when she was 11 years old.
"You turned around with your hands snuffed out the fire and proceeded to finish your test. Is that a true story?" Speier asked.
Hill said it was true and she was surprised to see it surface. The anecdote was included in a New York Times profile of Hill.
"It is a true story. Unfortunate consequences afterwards. My mom gave me a bowl haircut. So, for the photograph later in that week I looked like Richard III," Hill said.
2:30 p.m.
ABC's Katherine Faulders reports from inside the hearing room that GOP Rep. Mike Turner just spent five minutes attacking Hill's credibility, saying "you have provided me probably the greatest piece of evidence that's before us to illustrate the problem with hearsay."
"Do you guys want to be the laughingstock of history to impeach a president for not taking a meeting? Oh God, please undertake that."
"Is there a question for Dr. Hill?" her lawyer replied. There wasn't.
Later, after GOP Rep. Brad Wenstrup made remarks about his military service and shared concerns about partisanship and hatred, Hill commented it was a shame Turner and another Republican Rep. John Ratcliffe, had left the room and thanked Wenstrup for his comments, calling them eloquent and moving."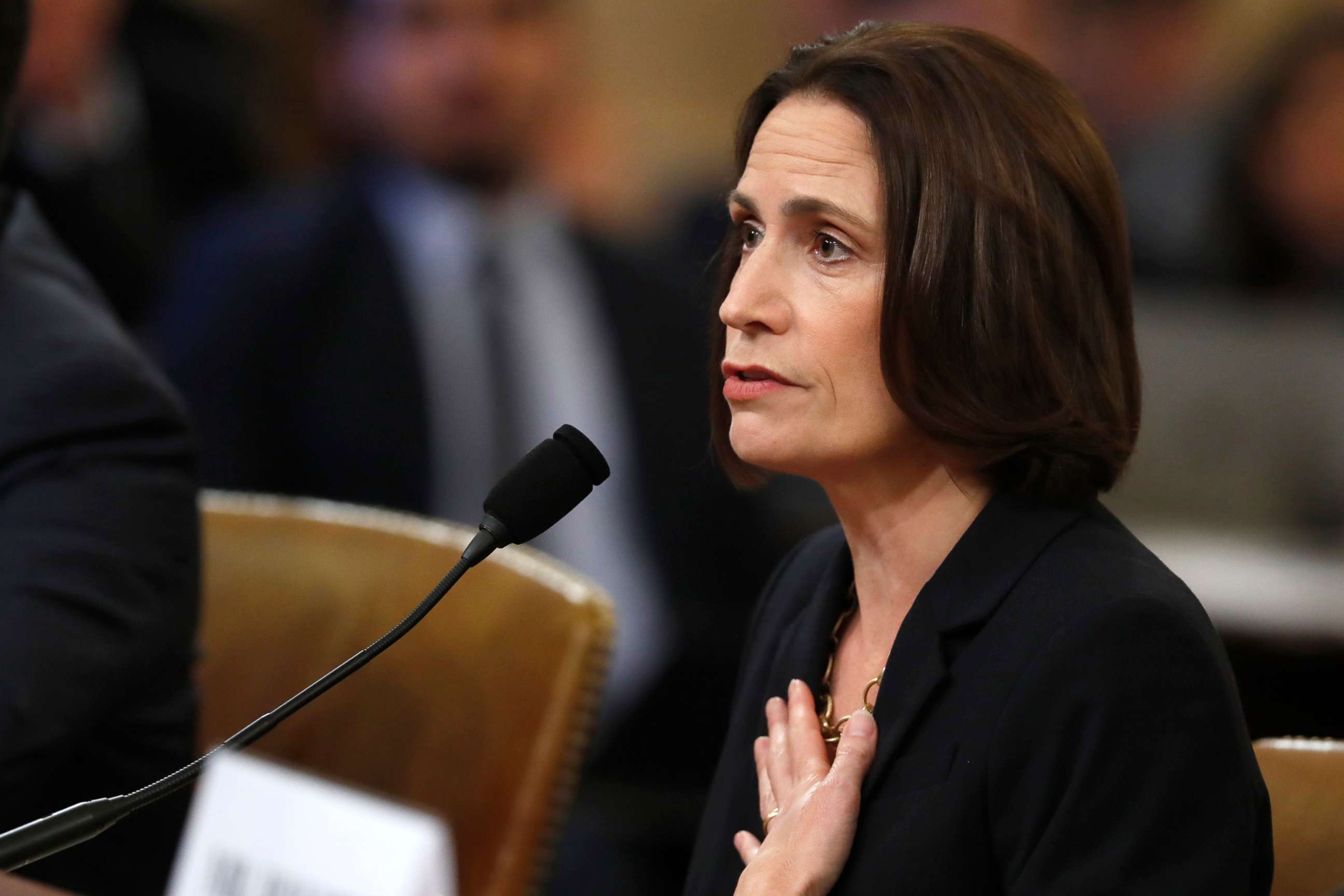 "I think all of us who came here under legal obligation also felt we had a moral obligation to do so. We came as fact witnesses," Hill said.
"I think it was unfair for people to already call the election and to make attacks also on candidate Trump and on President Trump," she added.
"And I know that this has put a huge cloud over this presidency and also over our whole democratic system. That's actually why as a non-partisan person and as an expert on Russia and an expert on Vladimir Putin and on the Russian security services I wanted to come in to serve the country to try to see if I could help."
2:20 p.m.
GOP Rep. Jim Jordan, using Rep. Nunes' time, asks Holmes why Ambassador William Taylor, the top U.S. diplomat in Ukraine, who testified last week, did not initially tell House impeachment investigators about the July 26 phone call between Trump and Sondland.
"Maybe Mr. Holmes, the takeaway was he thought it was no big deal because he already knew!" Jordan said, appearing to downplay the overheard conversation.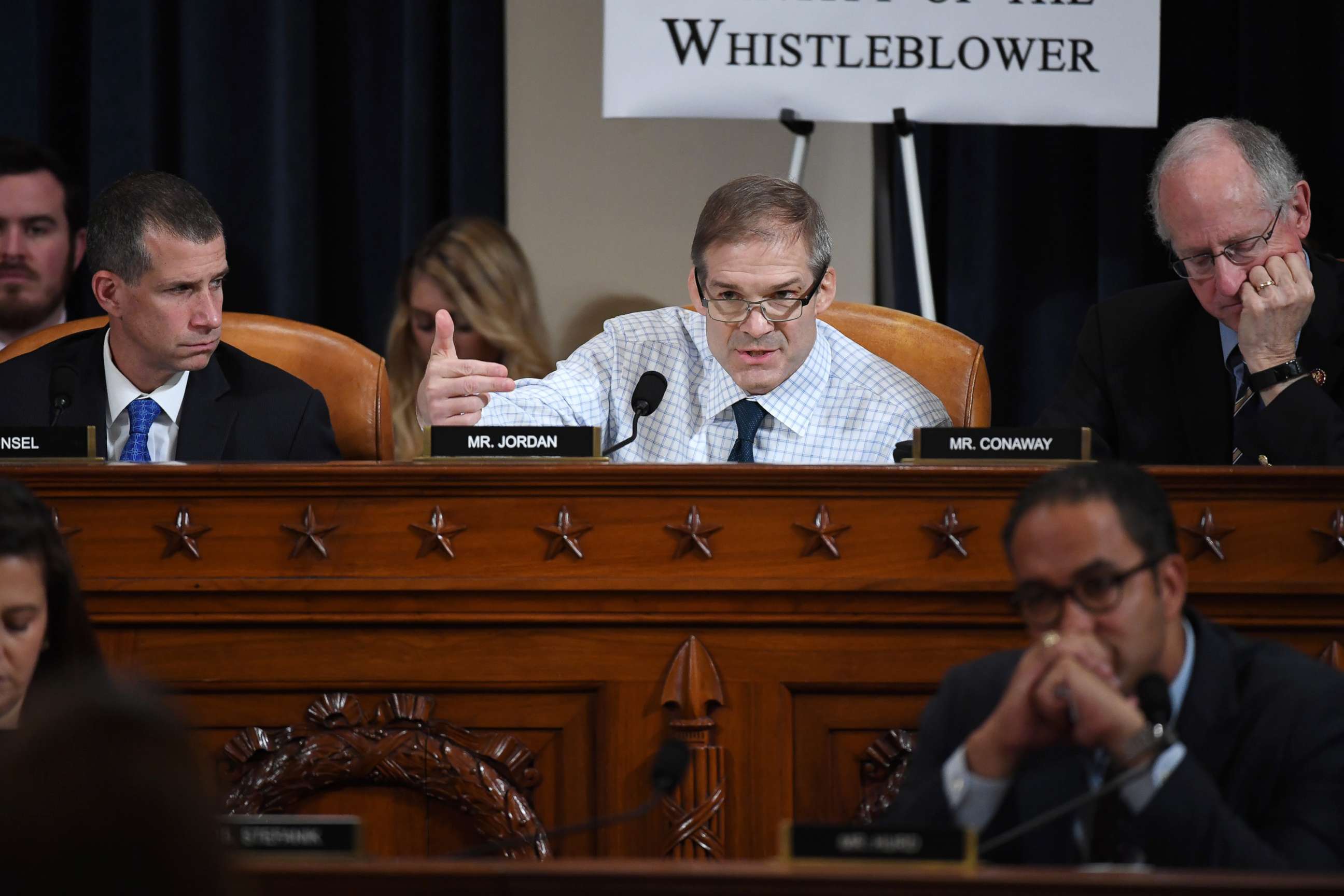 "The [Trump-Zelenskiy] transcript had been out for two months. Maybe the ambassador thought there is nothing new here. But, shazam, last week you come forward with supposed this new information, and nothing different in there than what we had on the transcript. Maybe that's the reason their star witness, first witness didn't bring it up. You're their closing witness."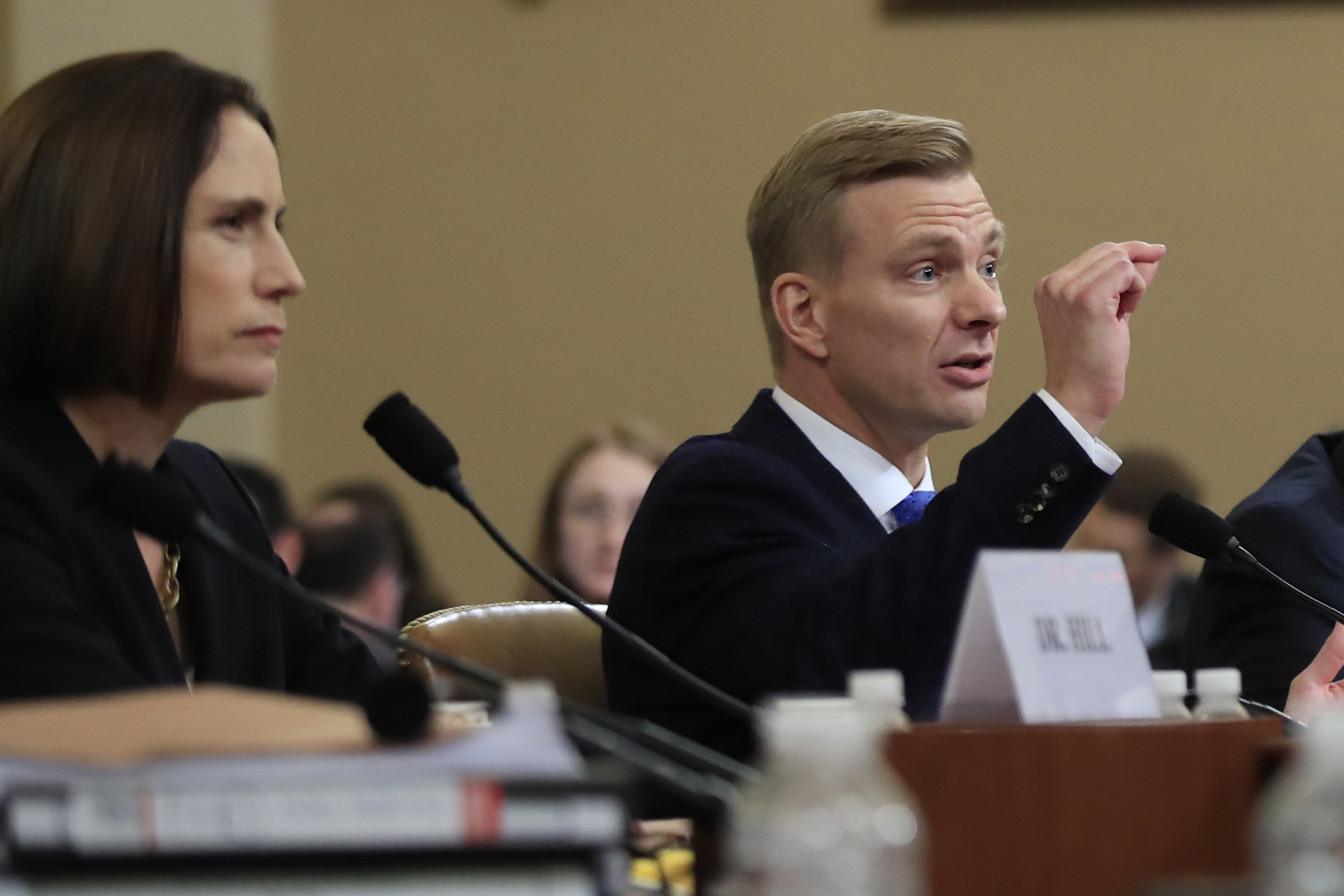 Holmes, after a testy back-and-forth between Jordan and Schiff, responded.
"It was not news for him that the president was pressing for a Biden investigation," he said. "It's exactly my point. I briefed the call and when we come back and I referred to the call and everyone is nodding. Of course, that's what's going on. Of course the president is pressing for a Biden investigation before he'll do these things the Ukrainians want. There is nodding agreement. Did I go through every single word in the call? No, because everyone by that point agreed."
"He was involved in a number of other interactions you've outlined that brought him to the same conclusion."
Rep. John Ratcliffe, R-Texas, then pushed Holmes on his recollection of the phone call, appearing skeptical that Holmes happened to overhear only the part related to Trump and Ukraine.
1:58 p.m.
Schiff just asked Hill, who was born and raised in northern England, if she wanted to respond to some of the dual-loyalty attacks her former colleague Lt. Col. Alexander Vindman, a Ukraine expert on the National Security Council, has faced over the last few weeks.
"Everyone immigrated here at some point in their family history. Some people perhaps came reluctantly. Others game by choice as I did, but this is for me the essence of America," she said.
"I'm Anglo-American, I'm British American. I'm a naturalized citizen. My loyalty is not to the United Kingdom, it is to my country and the country I serve. I know there are many natural-raised citizens in my office and across the National Security Council who felt the same way. I think it is deeply unfair," Hill said.
1:50 p.m.
Hill responded to a question by Schiff about the exchange during which Bolton, according to Hill, called what was happening a "drug deal," describing the instance in full:
Hill said Bolton "was escorting out the Ukrainian visitors along with Secretary Perry and Ambassadors Volker and Sondland," after the meeting and told Hill to wait in the room.
"And I guess they wanted to take a quick photograph outside of his office and I know that Secretary Perry and others tweeted out that photograph -- beautiful, sunny day and a picture of them standing outside ambassador Bolton's office," Hill said.
She went on to say: "This was very quick he came back in at that point they were already moving down to the boardroom because on the way out of Bolton's office, Ambassador Sondland said let's regroup in the boardroom for quick huddle on next steps."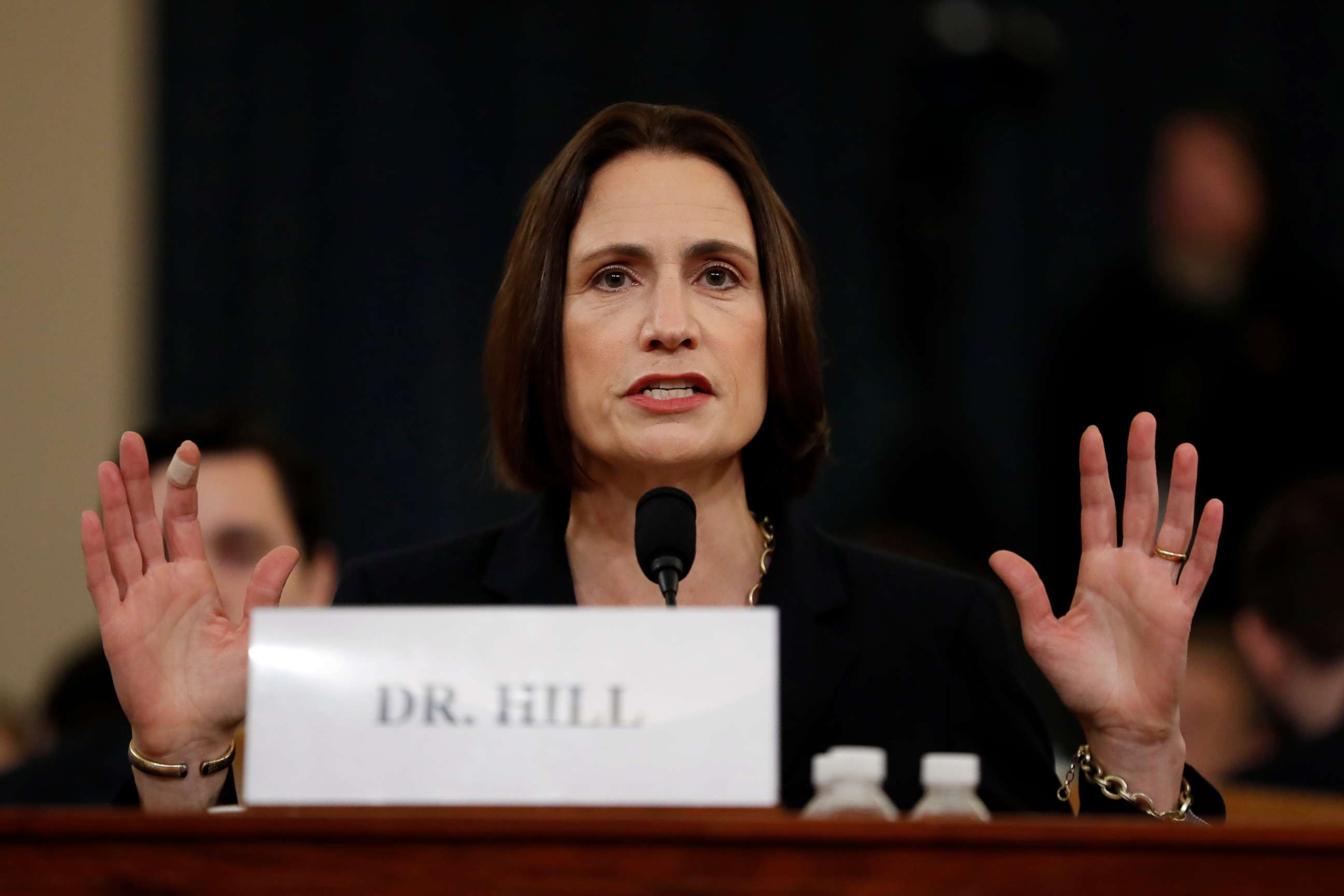 Hill called this move "quite unusual."
"When Ambassador Bolton came back into the office, that's when he gave me the very strong instruction to go downstairs, find out what was being discussed and come right back up and report it to him," she said.
When she arrived at the boardroom, Hill describes seeing Colonel Vindman looking "quite alarmed."
"When I came in, Ambassador Sondland was in an exchange with Colonel Vindman along the lines of, well, we have an agreement to have this meeting," she said.Hill said Energy Secretary Rick Perry had left, so he "has no recollection of this meeting because he was not in it."
"So, when I came in, Gordon Sondland was supposedly saying, look, we have a deal that there will be a meeting. I have a deal with chief of staff Mulvaney, there will be a meeting if the Ukrainians open up or announce these investigations into 2016 and Burisma and I cut it off immediately there," Hill recounted.
"Because by this point after having heard Giuliani over and over again on the television and all the issues that he was asserting, by this point, it was clear that Burisma was code for the Bidens because Giuliani was laying it out there. I could see why colonel was alarmed and he [Bolton] said, 'This is inappropriate, we're the national security council and we can't be involved in this.'"
1:41 p.m.
Hill, who said she watched Sondland's testimony carefully on Wednesday, pushed back on his statements that "everyone was in the loop" when it came to Ukraine.
Sondland said he was surprised concerns were being raised because so many high-level officials were informed on their efforts. But Hill said she now understands why they weren't able to work together.
"He was absolutely right because he was being involved in a domestic political errand, and we were being involved in national security foreign policy, and those two things had just diverged. I was irritated with him and angry with him that he wasn't fully coordinating and I did say to him, Ambassador Sondland, I think this is all going to blow up, and here we are," Hill said.
She went on to say that there were discussions about ways to coordinate better, however, Hill said, "His feeling was that the national security council was always trying to block him."
Hill attempted to clarify: "What we were trying to do is block us from straying into domestic or personal politics, and that was precisely what I was trying to do."
1:28 p.m.
ABC'S Benjamin Siegel reports from the hearing room: Hill, under questioning from Republicans, said there were "differences" in "understanding" about the Trump-Zelenskiy July 25 call, repeating that she was opposed to a call, and that then-National Security Adviser John Bolton was as well.
"I know that Ambassador Sondland said in that email that Bolton was in agreement. To my knowledge, Bolton was not in agreement at that particular juncture," she said, referencing an email Sondland cited in his prepared opening statement on Wednesday.
"It was based on the fact that he didn't feel the call was properly prepared, and as I said earlier, we wanted to make sure that there was going to be a fulsome, bilateral U.S.-Ukraine agenda that was discussed, which is usual with these calls," she said.
1:05 p.m.
As Fiona Hill answers questions from the Republican side, White House press secretary Stephanie Grisham has put out statement that the witnesses testifying at the impeachment hearing as part of the impeachment inquiry "rely heavily on their own presumptions, assumptions and opinions" and "have no personal or direct knowledge regarding why U.S. aid was temporarily withheld."
"The Democrats' are clearly being motivated by a sick hatred for President Trump and their rabid desire to overturn the 2016 election," Grisham said.
1:01 p.m.
Schiff gavels the hearing back into session.
The top Republican, Rep. Devin Nunes, has begun the minority questioning.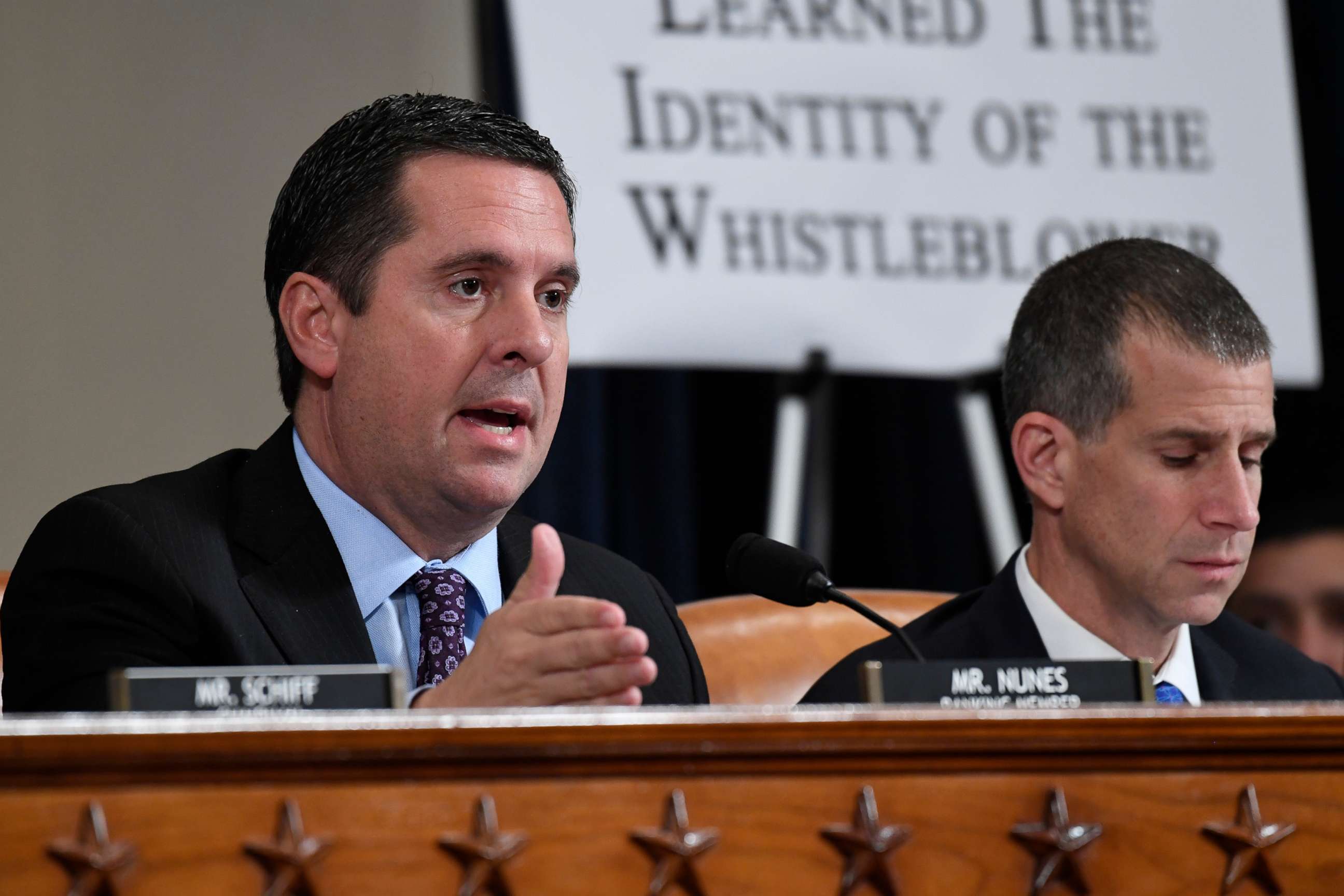 11:58 a.m.
If you missed testimony from the previous hearings, you can catch up on the key takeaways during the break before testimony resumes.
11:04 a.m.
After the Democratic counsel finishes his line of questioning, Schiff calls a break to allow members to vote on measure on the House floor. That's expected to last at least an hour.
Just before, Hill also detailed how she saw Bolton respond when Sondland said in a meeting with Ukrainian officials that "we have an agreement that there will be a meeting if specific investigations are put under way."
She clarified that Sondland later said he had an agreement with acting White House chief of staff Mick Mulvaney and that she understood "investigations" to be a reference to investigating Burisma and the Bidens.
She said she was Bolton "stiffen" after this comment and end the meeting.
She testified that Bolton told her after the meeting to report what happened to the National Security Counsel's top lawyer, John Eisenberg, and tell him that Bolton said, "I am not part of this drug deal that Sondland and Mulvaney are cooking up."
Bolton has thus far declined to testify as part of the impeachment inquiry.
ABC's John Santucci reports that a Bolton spokesperson declines to comment on Hill's testimony.
10:55 a.m.
When asked about then-National security Adviser John Bolton's comment that Rudy Giuliani, the president's personal lawyer, was a "hand grenade," Hill responded that she knew what he meant when referencing his concerns about Giuliani's public statements about Ukraine.
"I think he meant that, obviously, what Mr. Giuliani was saying was pretty explosive in any case. He was frequently on television, making quite incendiary remarks about everyone and that he was clearly pushing forward issues and ideas that would, you know, probably come back to haunt us," Hill said.
"And, in fact, I think that that's where we are today."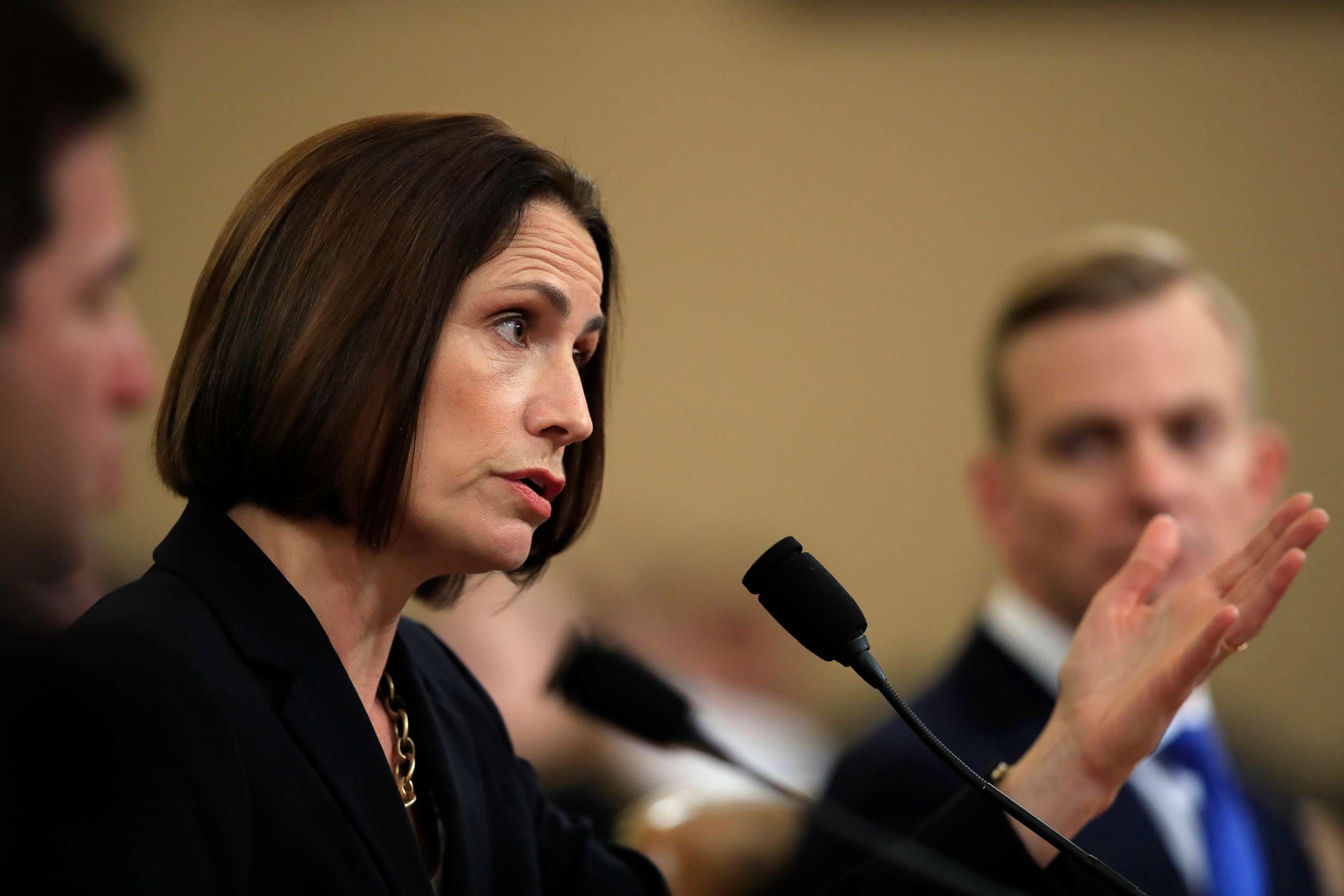 10:50 a.m.
ABC's Benjamin Siegel in the hearing room reports that when Holmes was asked to explain his "specific and clear" recollection of part of the Trump-Sondland call, Holmes told the committee it was a "very distinctive experience."
"I've never seen anything like this in my foreign service career, someone at a lunch in a restaurant making a call on a cell phone to the president of the United States, being able to hear his voice, very distinctive personality," Holmes said.
"We've all seen him on television. Very colorful language was used. They were directly addressing something that I had been wondering working on for weeks and even months a topic that had led to the recall of my former boss, the former ambassador.
"And so here was a person who said he had direct contact with the president, and said that over the course of time. Here he is, actually having that contact with the president. Hearing the president's voice and then talking about this issue of the Biden investigation that I had been hearing about," Holmes said.
10:40 a.m.
ABC's Jordyn Phelps at the White House notes that President Trump has taken to Twitter to take issue with Holmes' testimony that a call not on speakerphone could possibly be overheard by another person not on the phone.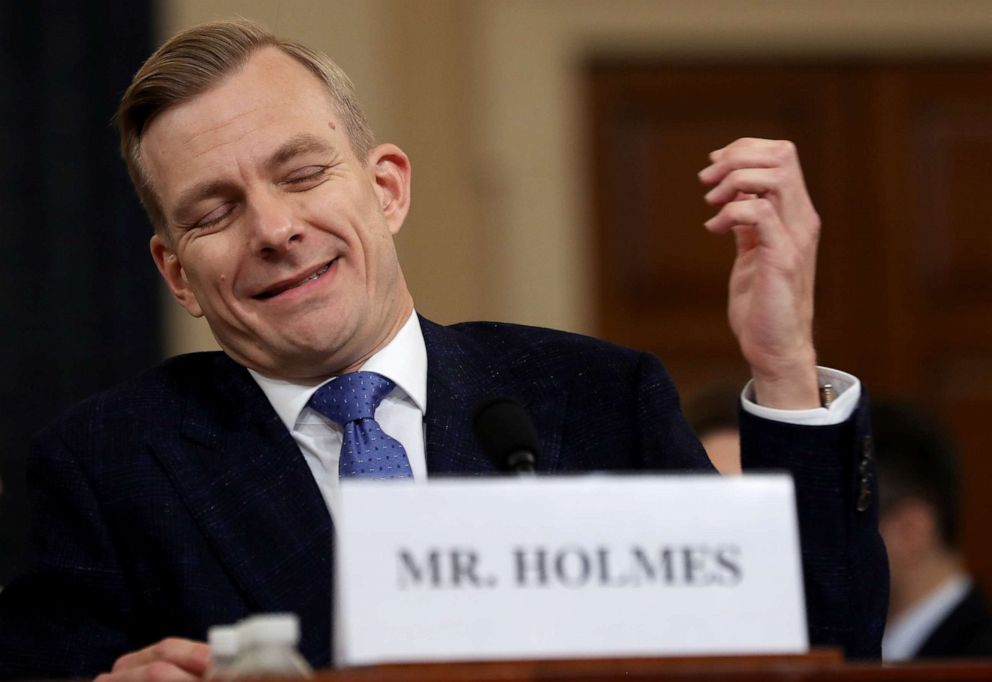 Holmes had testified a few minutes earlier that Trump was speaking so loudly that Gordon Sondland had held his phone away from his ear and that Holmes, sitting at the table with Sondland, could clearly hear Trump's voice asking about "investigations."
The president notes that he has "been watching people making phone calls my entire life" and that his hearing is "great."
"@realDonaldTrump: I have been watching people making phone calls my entire life. My hearing is, and has been, great. Never have I been watching a person making a call, which was not on speakerphone, and been able to hear or understand a conversation. I've even tried, but to no avail. Try it live!"
10:24 a.m.
Schiff thanked Hill for testifying, saying, "Your story reminds me a great deal of what we heard from Alexander Vindman," recalling Thursday's testimony. "The few immigrant stories we've heard in the course of these hearings are among the most powerful, I think, I've ever heard. You and Colonel Vindman and others are the best of this country and you came here by choice. And we are so blessed that you did, so welcome," Schiff said.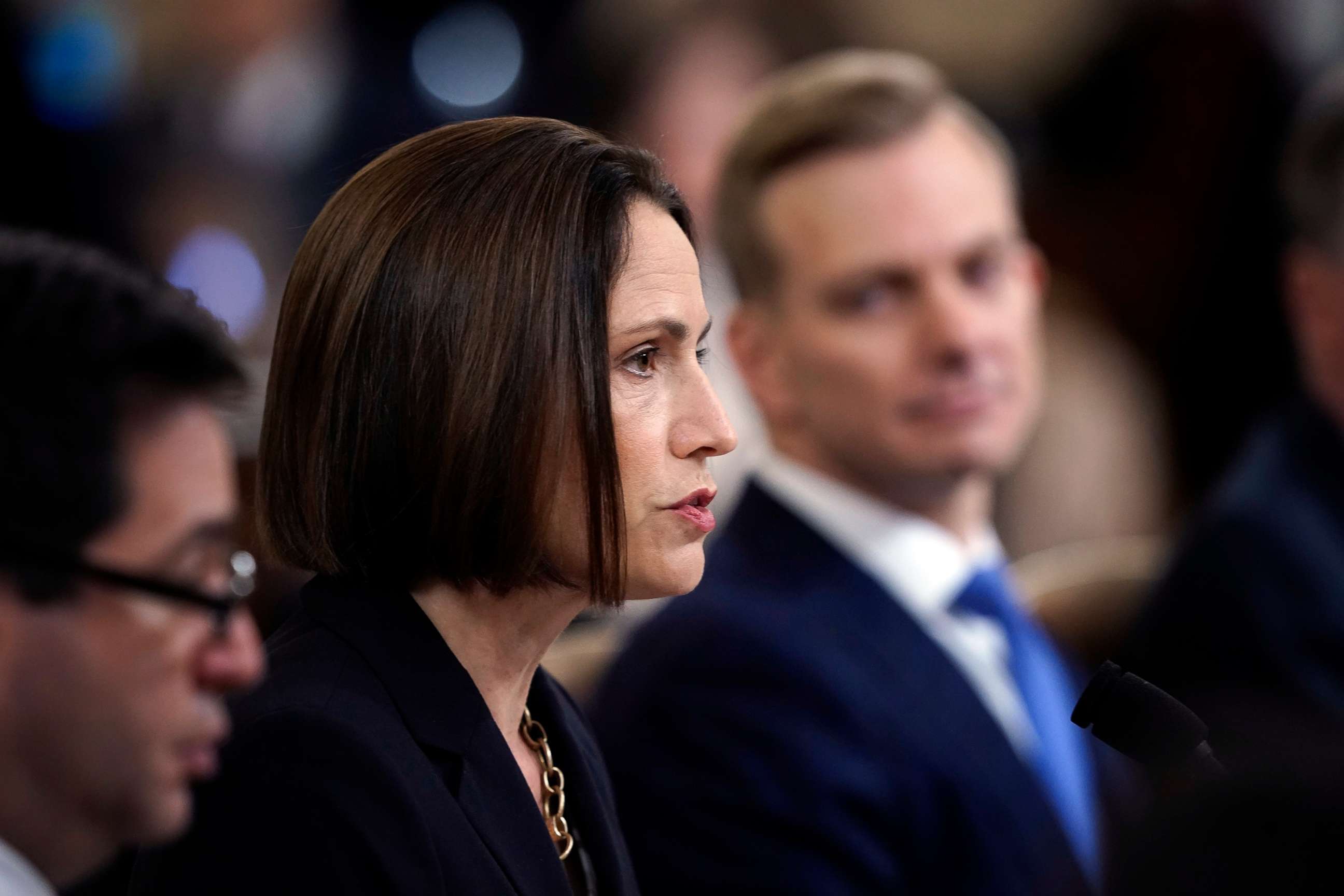 Hill followed up to emphasize that Russia would have tried to delegitimize any American president after 2016, saying the country has a vested interest in damaging relationships between the U.S. and its allies.
Hill said she wanted to make a strong point when she called for Republicans on the committee to stop perpetuating the narrative that Ukraine interfered in the 2016 election, saying that there was a lot of criticism of presidential candidates from all over the world during that election but that Russia especially uses those comments to create chaos in the U.S.
"What we're seeing here as a result of all of these narratives, this is exactly what the Russian government was hoping for. If they seed misinformation, they seed doubt, they have everybody questioning the legitimacy of a presidential candidate, be it president Trump or potentially a president Clinton, that they would pit one side of our electorate against the other, that they would pit one party against the other," Hill said.
10:12 a.m.
As noted earlier, in her opening statement, Hill warns the "fictional narrative" that Ukraine interfered in American elections and not Russia. The consensus among intelligence agencies and congressional investigators is that Russia has sought to interfere in American elections for decades and actively did so in 2016.
She blasted Republicans and other partisan figures who have perpetuated misinformation about Ukraine, saying political divisions make it harder to combat the problem.
"Some of you on this committee appear to believe that Russia and its security services did not conduct a campaign against our country and that perhaps, somehow, for some reason, Ukraine did," she says.
"This is a fictional narrative," Hill says emphatically.
"The unfortunate truth is that Russia was the foreign power that systematically attacked our democratic institutions in 2016. This is the public conclusion of our intelligence agencies, confirmed in bipartisan congressional reports. It is beyond dispute, even if some of the underlying details must remain classified," Hill says.
"I refuse to be part of an effort to legitimize an alternate narrative that the Ukrainian government is a U.S. adversary, and that Ukraine—not Russia—attacked us in 2016," Hill says.
"When we are consumed by partisan rancor, we cannot combat these external forces as they seek to divide us against each another, degrade our institutions, and destroy the faith of the American people in our democracy," Hill says.
9:57 a.m.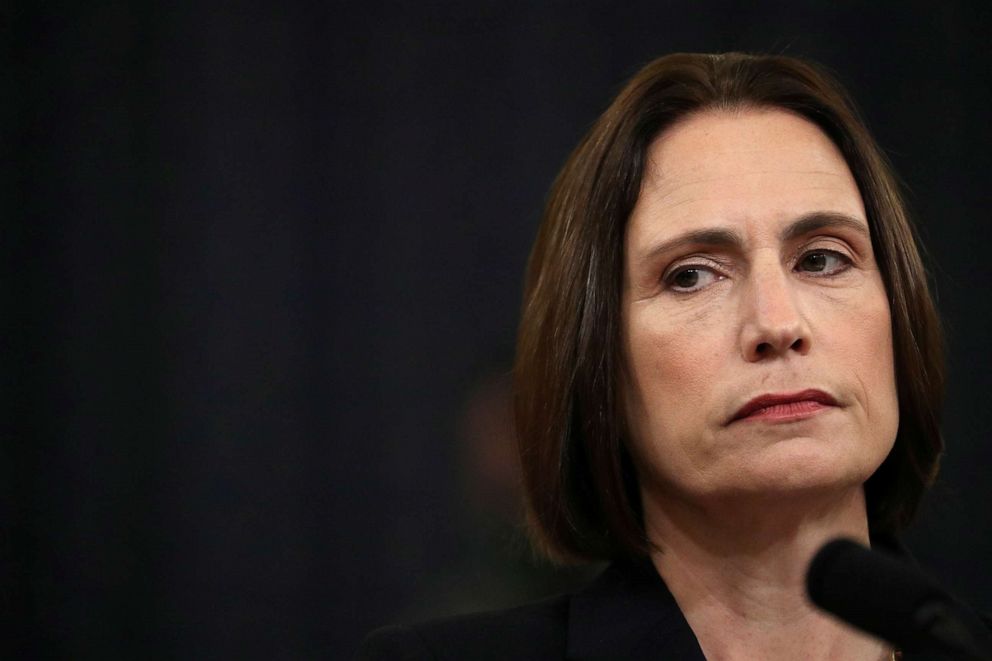 Holmes described his recollection of a phone call between Sondland and Trump on July 26, the day after the controversial call between Trump and Zelenskiy.
Holmes said he could hear Trump's voice on the other end of the line during the call, saying he asked "So, he's gonna do the investigation?" in reference to Zelenskiy. He said Sondland responded that Zelenskiy will "do anything you ask him to."
After Sondland hung up with the president Holmes said he described Trump as being "in a bad mood."
"I then took the opportunity to ask Ambassador Sondland for his candid impression of the President's views on Ukraine. In particular, I asked Ambassador Sondland if it was true that the President did not "give a s--t about Ukraine." Ambassador Sondland agreed that the President did not "give a s--t about Ukraine," Holmes said.
"I asked why not, and Ambassador Sondland stated that the President only cares about "big stuff." I noted that there was "big stuff" going on in Ukraine, like a war with Russia, and Ambassador Sondland replied that he meant "big stuff" that benefits the President, like the "Biden investigation" that Mr. Giuliani was pushing."
Sondland testified Wednesday that he does not recall specific details of his call with the president but has no reason to doubt Holmes testimony.
ABC's Benjamin Siegel reports from the hearing room that Holmes' testimony, like Sondland's, again underscores how limited Democrats' investigation has been by the Trump administration's refusal to cooperate with subpoenas and the impeachment inquiry.
Recalling the U.S. delegation's visit to Ukraine for Zelenskiy's inauguration in May, Holmes recalled a conversation between Energy Secretary Perry and Zelenskiy about energy sector reform, where Perry passed Holmes a list of "people he trusts" on the subject, which was a topic of "subsequent meetings" between Perry and Ukrainian energy officials.
"Embassy personnel were excluded from these later meetings by Secretary Perry's staff," Holmes said.
Perry and the Energy Department have refused to cooperate with Democrats, making it difficult for the committee to follow up with any questions about these meetings that took place without embassy staff.
Leadership hasn't stated it publicly, but Democrats and aides tell ABC News the Intelligence Committee is likely to transmit its work to the Judiciary Committee around the beginning of December, and that the House remains on track to vote on articles of impeachment by the end of the year.
9:50 a.m.
Holmes says Sondland told him the Ukrainian president needed to make clear he would not stand in the way of "investigations," which Holmes said he understood to mean investigations into the Burisma energy company and the Bidens.
"While Ambassador Taylor did not brief me on every detail of his communications with 'The Three Amigos,' he did tell me that on a June 28 call with President Zelenskiy, Ambassador Taylor, and the Three Amigos, it was made clear that some action on a Burisma/Biden investigation was a precondition for an Oval Office meeting," he says.
Holmes says he became concerned that even if the two presidents met Trump may not show sufficient support for Ukraine, which he said could have been more damaging to the relationship between the two countries.
9:45 a.m.
In his opening statement, Holmes details his knowledge of the allegations against former Ambassador to Ukraine Marie Yovanovitch, who was removed from her role, and the impact of her removal on the relationship between the U.S. and incoming Ukrainian administration.
"The barrage of allegations directed at Ambassador Yovanovitch, a career ambassador, is unlike anything I have seen in my professional career," he said.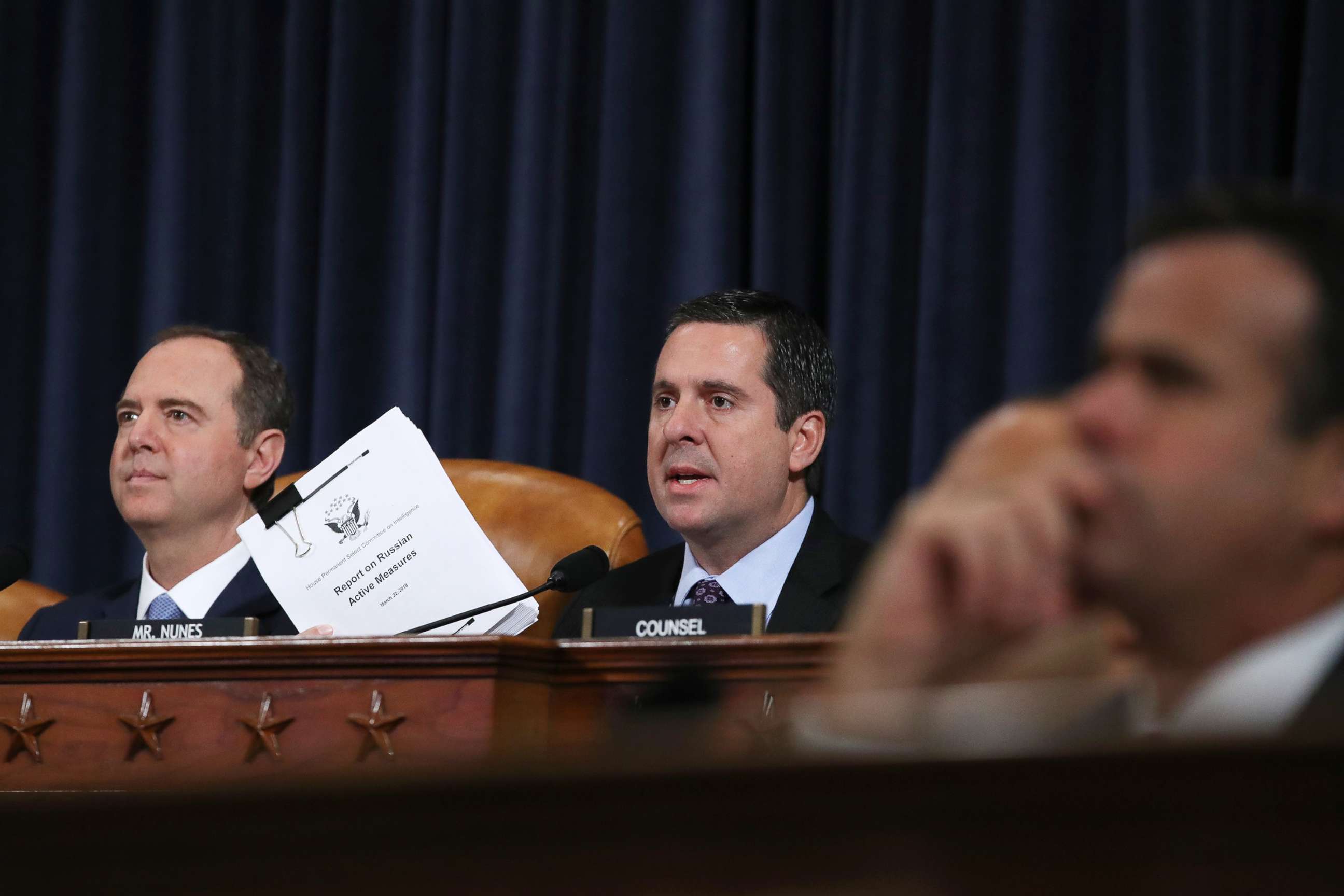 9:26 a.m.
In his opening statement Ranking Member Devin Nunes continued to attack Democrats over the impeachment inquiry, calling the proceedings a "kangaroo court" and a "spectacle" intended to undermine the president.
"Whether the Democrats reap the political benefit they want from this impeachment remains to be seen. But the damage they have done to this country will be long-lasting," he said.
Nunes also filed another request to bring Republican witnesses for a day of hearings, repeating calls from the minority that they be able to question Hunter Biden and the whistleblower, among others. Schiff his indicated he will not call those witnesses to testify.
Nunes also pushed back on part of Hill's prepared opening statement, where she accused some committee members of denying Russia's efforts to interfere in American elections.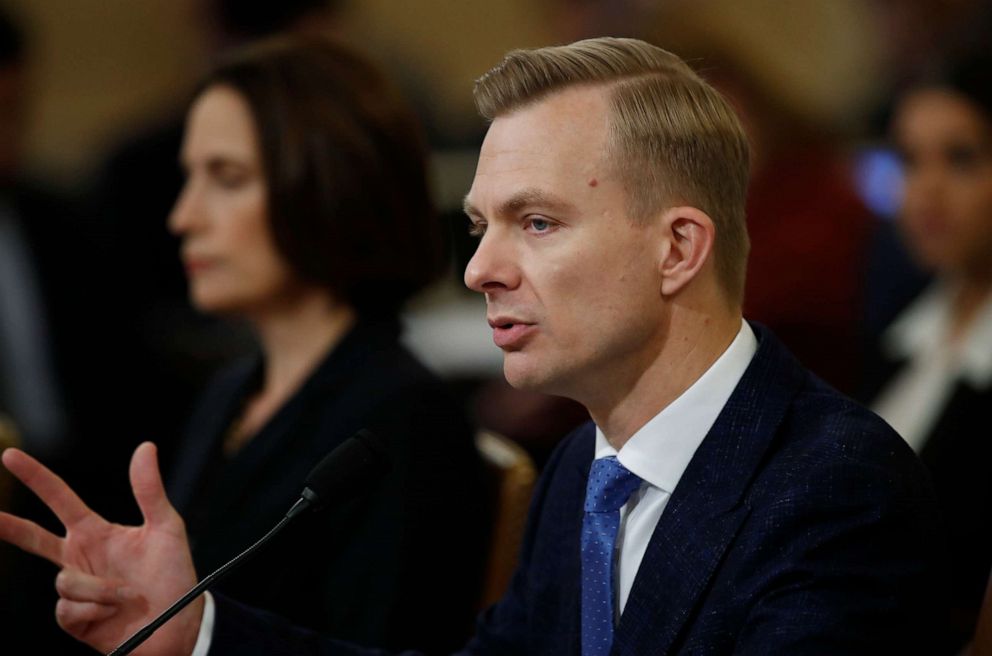 Nunes held up the Intelligence Committee report on Russian election interference from Republicans on the committee and staff handed copies to Hill and Holmes. The report authored by Republicans cleared President Trump of any collusion between his campaign and Russian actors.
More background from ABC News' Ben Siegel: House Republicans also raised questions in the report about the intelligence community's findings that Russia sought to boost Trump and hurt Hillary Clinton in 2016. Special counsel Bob Mueller would later testify to the House Judiciary Committee that Russia wanted Trump to win, and the leaders of the Senate Intelligence Committee have affirmed the same conclusion.
Democrats said they refused to sign on to the report because they didn't find the GOP findings credible, and because Republicans failed to interview a number of witnesses.Holmes also said that while officials were making progress on anti-corruption efforts, commercial deals, and energy sector reforms with the Zelenskiy administration he did not see any improvements in Trump's view of Ukraine, seeming to undermine the Republican argument that the administration was focused on dealing with corruption.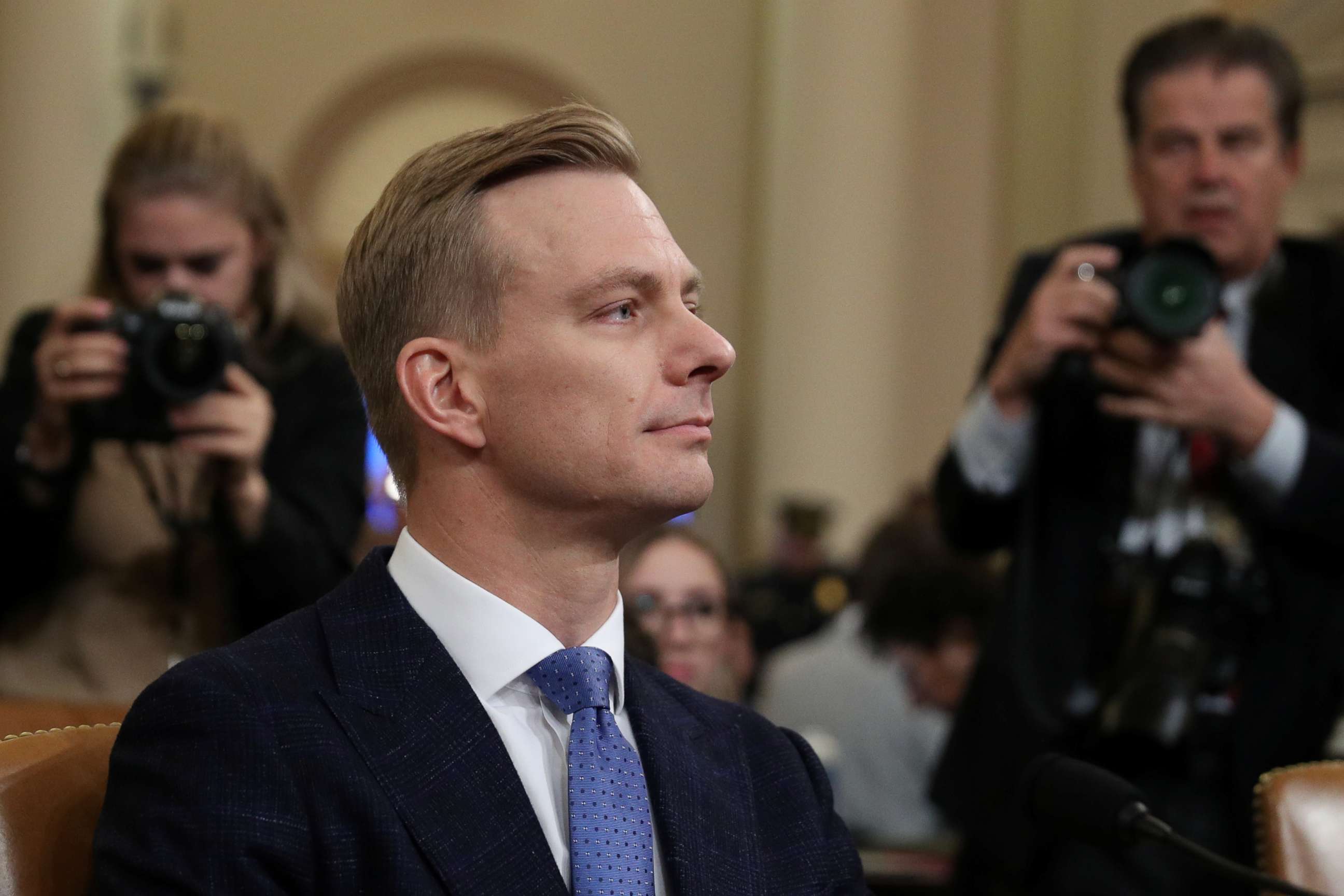 9:13 a.m.
Schiff continues by revisiting some of the details of Hill and Holmes' closed-door testimony.
Hill testified she became concerned about the role of Rudy Giuliani, the president's personal lawyer, took in Ukraine policy, saying then-National Security Adviser John Bolton described Giuliani as "a hand grenade that is going to blow everybody up" and said she clashed with EU Ambassador Gordon Sondland who she said told her the president put him in charge of Ukraine.
"In the coming days, Congress will determine what response is appropriate," Schiff said in his opening statement. "If the President abused his power and invited foreign interference in our elections, if he sought to condition, coerce, extort, or bribe a vulnerable ally into conducting investigations to aid his reelection campaign and did so by withholding official acts — a White House meeting or hundreds of millions of dollars of needed military aid — it will be up to us to decide, whether those acts are compatible with the office of the Presidency," Schiff said.
9:06 a.m.
House Intelligence Committee Chairman Adam Schiff gavels the hearing into session.
He begins his opening statement by reviewing what he said were the investigation President Donald Trump wanted.
"The first investigation was of a discredited conspiracy theory that Ukraine and not Russia was responsible for interfering in our 2016 election. The second investigation was into the political rival Trump apparently feared most, Joe Biden," Schiff said.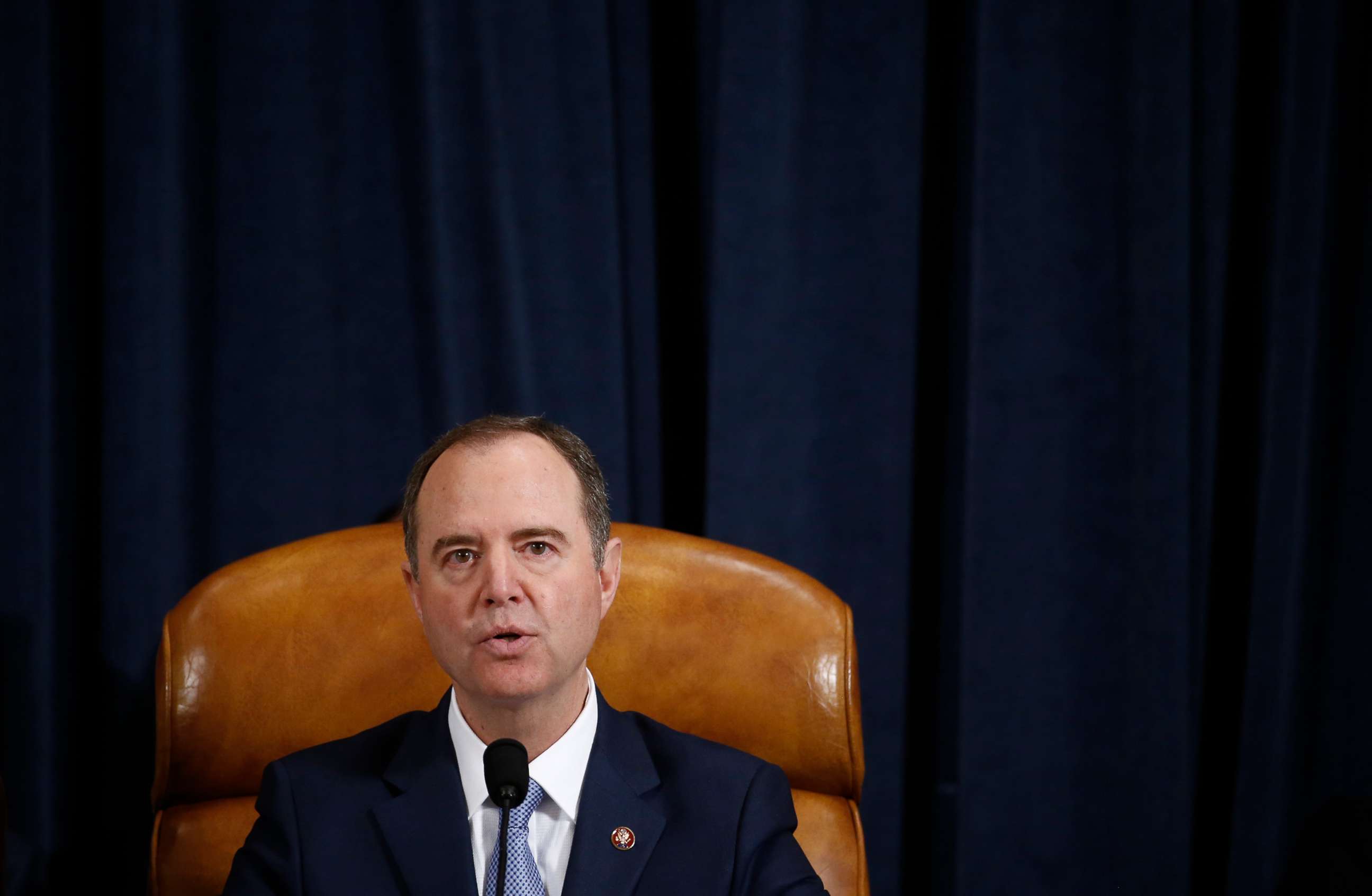 "Trump sought to weaken Biden, and to refute the fact that his own election had been helped by a Russian hacking and dumping operation and Russian social media campaign directed by Vladimir Putin," he said.
Hill will deliver her opening statement first, after Schiff and the top Republican on the committee, Rep. Devin Nunes.
Hill shared some of her personal backstory in her opening statement. She became a U.S. citizen in 2002 after emigrating from England. Her ancestors fought in both World Wars and she said many of the men in her father's family were coal miners. Her father wanted to move to the United States in the 1960s after coal mines closed in England but stayed to care for her grandmother until 2012. Her mother still lives in England.
"While his dream of emigrating to America was thwarted, my father loved America, its culture, its history and its role as a beacon of hope in the world. He always wanted someone in the family to make it to the United States," she said.
In her career, Hill says, became a "nonpartisan, nonpolitical national security professional" focused on Europe and the former Soviet Union. She says the turning point was when she attended the signing of a nuclear treaty between President Ronald Reagan met Soviet leader Mikhail Gorbachev in Moscow in 1987.
8:35 a.m.
ABC News White House reporter Jordyn Phelps highlights that President Trump is very active on Twitter this morning in blasting the impeachment probe and expressing disbelief that his name has been associated with the "the ugly word, Impeachment."
@realDonaldTrump: "I never in my wildest dreams thought my name would in any way be associated with the ugly word, Impeachment! The calls (Transcripts) were PERFECT, there was NOTHING said that was wrong. No pressure on Ukraine. Great corruption & dishonesty by Schiff on the other side!"
This isn't the first time the president has let on just how much he's bothered on a personal level by the impeachment inquiry, even as he also simultaneously strikes a defiant tone of confidence that the inquiry is actually helping him politically.
Back on Oct. 12, the president said: "I never thought I'd see or hear that word with respect to me -- an ugly word, it means so much, it means horrible, horrible crimes and things, I can't even believe it, it's a witch hunt."
8:30 a.m.
Both Hill and Holmes have arrived on Capitol Hill.
Hill's opening statement, obtained by ABC News ahead of the hearing, warns of the "fictional narrative" that Ukraine interfered in American elections and not Russia.
The consensus among intelligence agencies and congressional investigators is that Russia has sought to interfere in American elections for decades and actively did so in 2016.
"The unfortunate truth is that Russia was the foreign power that systematically attacked our democratic institutions in 2016. This is the public conclusion of our intelligence agencies, confirmed in bipartisan Congressional reports. It is beyond dispute, even if some of the underlying details must remain classified," Hill is expected to say in her opening statement.
She's also expected to blast Republicans and other partisan figures who perpetuate misinformation about Ukraine, saying political divisions make it harder to combat the problem.
"I refuse to be part of an effort to legitimize an alternate narrative that the Ukrainian government is a U.S. adversary, and that Ukraine—not Russia—attacked us in 2016," Hill will say.
Russian President Vladimir Putin expressed relief at an event in Moscow Wednesday, saying "thank God" no one is accusing us of interfering in American elections anymore."Thank God, no one is accusing us of interfering in U.S. elections anymore; now they're accusing Ukraine - well, let them sort it out among themselves. But this factor of the domestic political struggle affects— still negatively affects-- Russian-American relations, I hope that this will someday end. We are ready for this," he said, according to ABC News' Patrick Reevell in Moscow.