Trump invites family of fallen police officer onstage at annual memorial event
The annual memorial service pays tribute to officers killed in the line of duty.
President Donald Trump honored officers killed in the line of duty on Tuesday at the annual National Peace Officers' Memorial Service on the steps of the U.S. Capitol.
"Today, every American heart bleeds blue," Trump said.
And in an impromptu moment, Trump invited the family of Miosotis Familia on stage. Familia joined the New York Police Department in 2005 and was shot point blank last year in her car while on duty in the Bronx.
"These are special people," Trump said, after calling Familia's elderly mother, Adrianna Valoy, up to the stage, embracing her, kissing her on the forehead, and then holding her hand through the end of his remarks.
"We weren't going to bring you up, but I looked at you in the audience and I said, you have to come up because you're representing something so important. You understand that? She loved the department. She loved being a police officer. She loved her job. She was respected by everybody," Trump said as Familia's mother stood close by.
The annual Peace Officers' memorial service pays tribute to police officers killed in the line of service like Familia. In 2017, 129 law enforcement officers were killed in the line of duty. This year's ceremony also paid tribute to 70 officers, many who died of illnesses related to their service during the September 11 attacks, whose deaths went unrecognized. The 199 total names of police officers killed, the Roll Call of Heroes, was read out loud during the ceremony.
Thousands of law enforcement officers travel to Washington, D.C. for the annual event, founded by President John F. Kennedy in 1962. In 1982, the memorial service began as a small gathering in Senate Park. Today, the memorial service is broadcast on television and attended by over 20,000 officers and families.
Trump directly addressed the children of fallen police officers during his remarks and said they were among "the bravest who ever lived."
"They're praying for you. They're grieving with you and pledging to you that we will never forget our heroes, ever," Trump said, as he pointed up to the sky. "You know what I mean, they're looking down and they're proud of you and they love you so much."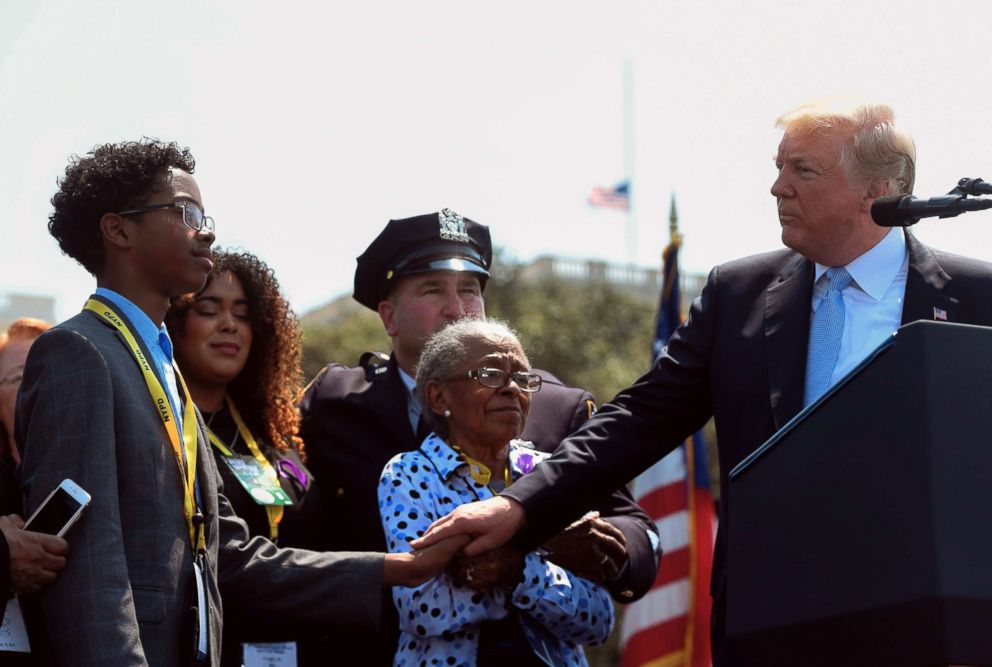 Trump condemned violence against police by the MS-13 gang and said that he's calling on Congress to secure the border, support border agents, and stop sanctuary cities.
"We don't want it any longer. We've had it. Enough is enough," Trump said.
Trump began his speech by saying first lady Melania Trump, who remains hospitalized at Walter Reed Medical Center after a pre-scheduled medical procedure, is "doing really well."
Trump was joined onstage by Vice President Mike Pence and Attorney General Jeff Sessions.