Trump Nominates Neil Gorsuch for Supreme Court
"I think you will be very impressed with this person," said Trump.
January 31, 2017, 8:20 PM
— -- President Donald Trump has nominated Judge Neil Gorsuch as his pick to replace the late Justice Antonin Scalia on the Supreme Court.
Gorsuch, 49, is currently a judge on the 10th Circuit Court of Appeals. He was nominated by President George W. Bush in 2006 and confirmed by the Senate in a voice vote.
"The qualifications of Judge Gorsuch are beyond dispute," Trump said in his introduction of Gorsuch in the East Room of the White House tonight.
Trump described Gorsuch as someone "who loves our Constitution and someone who will interpret them as written."
"I made a promise to the American people if I were elected president, I would find the very best judge in the country for the Supreme Court," Trump said.
Gorsuch is the youngest Supreme Court nominee since Clarence Thomas was nominated in 1991 at the age of 43.
Gorsuch clerked for Judge David B. Sentelle on the United States Court of Appeals for the D.C. Circuit and then for Justices Byron White and Anthony Kennedy on the Supreme Court.
He attended Harvard Law and has a Ph.D. from Oxford, where he was a Marshall Scholar. In legal circles, he's considered a gifted writer. Like Scalia, he's both a textualist and an originalist.
He is the author of "The Future of Assisted Suicide and Euthanasia," which looks at the legal and ethical issues surrounding assisted suicides. In the book, he concludes that any form of euthanasia should not be legalized.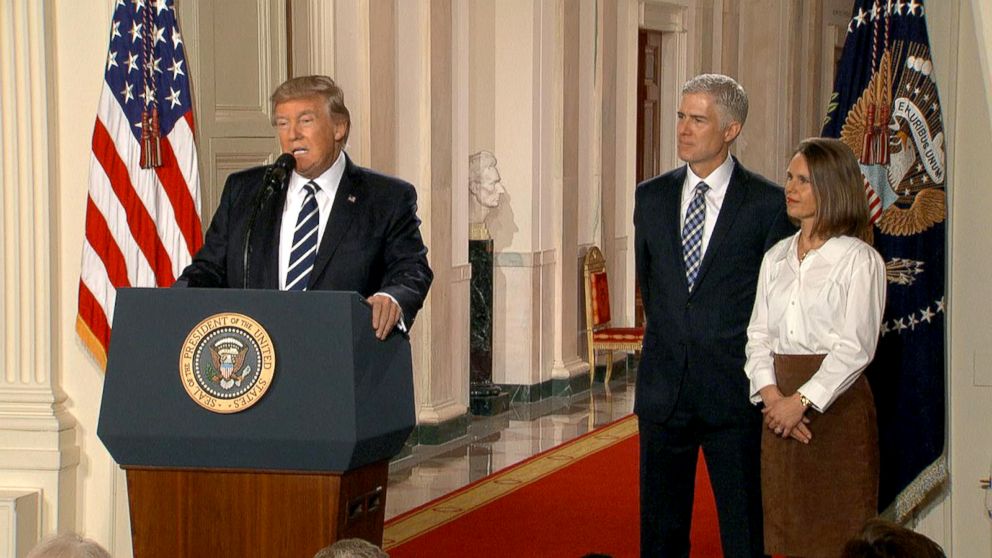 If confirmed, Gorsuch would be the first Supreme Court justice to serve alongside his former boss -- a justice for whom he/she clerked.
The court has had only eight justices since Scalia's unexpected death last February. President Obama nominated Judge Merrick Garland to the bench in May, but Senate Republicans denied him a vote, arguing that because the vacancy occurred during an election year, the next president should be the one to pick Scalia's replacement.
Gorsuch gave some insight into what he feels is the appropriate work of a judge, who should "apply, not alter, the work of the peoples representatives."
He said that judges are called to rely on their "impartiality and independence" and that a bad judge will be found "stretching for results he prefers rather than those the law demands."