President Donald Trump on Saturday gave remarks as the USNS Comfort, a ship loaned to the novel coronavirus cause by the U.S. Navy, departed for New York, saying the government is working to "vanquish the virus."
"As we gather today, our country is at war with an invisible enemy. We are marshaling the full power of American nation economic, scientific, medical and military to vanquish the virus," Trump said at Naval Station Norfolk in Virginia. "And we will do that."
"This great ship behind me is a 70,000-ton message of hope and solidarity to the incredible people of New York," he added.
Tune into ABC at 1 p.m. ET and ABC News Live at 4 p.m. ET every weekday for special coverage of the novel coronavirus with the full ABC News team, including the latest news, context and analysis.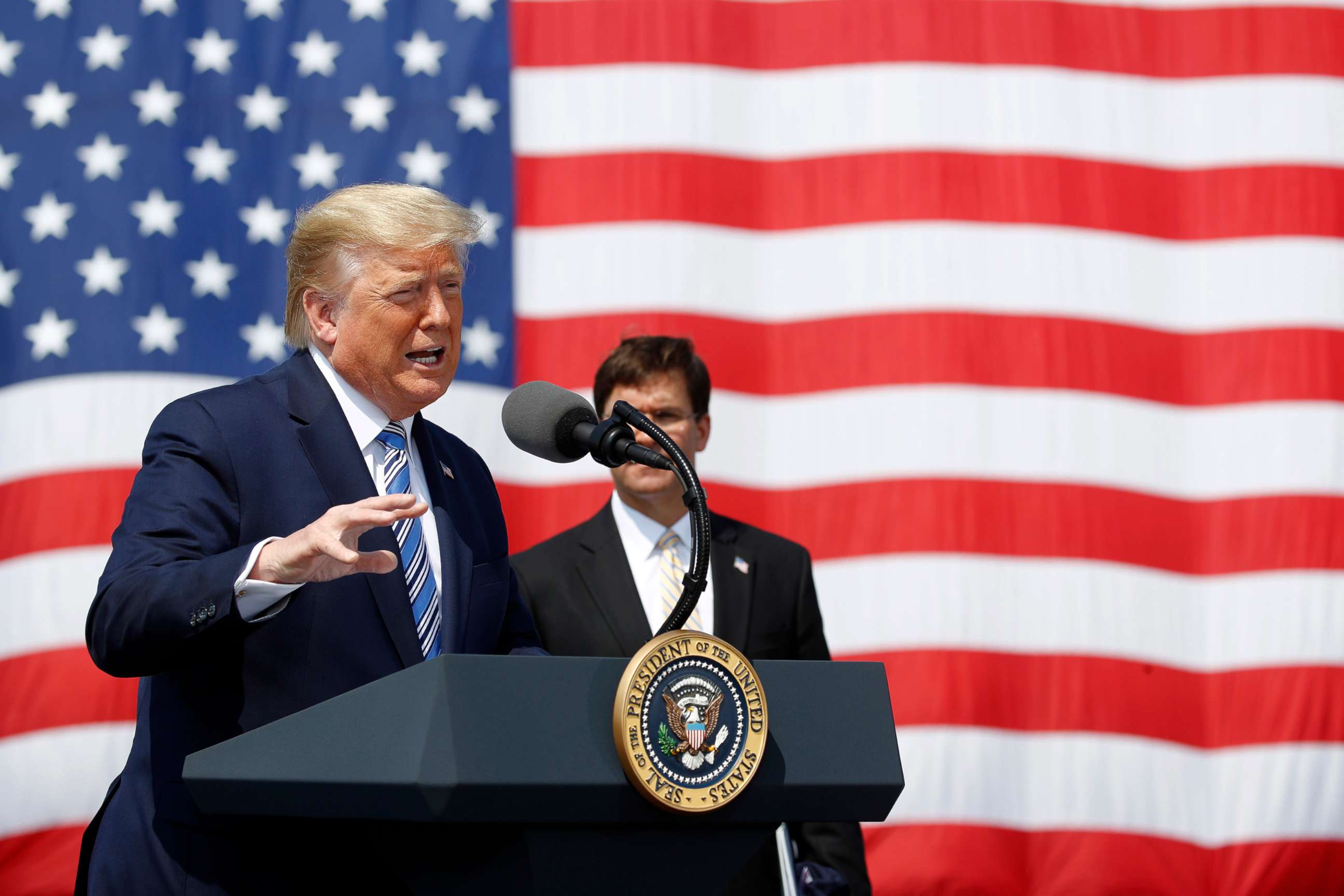 New York is the epicenter of the U.S. coronavirus outbreak. The ship is expected to arrive Monday.
"After being rushed out of maintenance, with historic speed, it was supposed to be here for four weeks, and they did it and four days," Trump said. "The Comfort will arrive at Pier 90 in Manhattan on Monday, three weeks ahead of schedule. Its crew will begin treating patients on Tuesday."
It will be met on the pier by New York Gov. Andrew Cuomo, Trump added, saying Cuomo's "very excited" for the help.
The president was introduced by Defense Secretary Mark Esper, who said the sailors and medical professionals were "eager to get underway and start their very important mission" to aggressively respond to the coronavirus pandemic.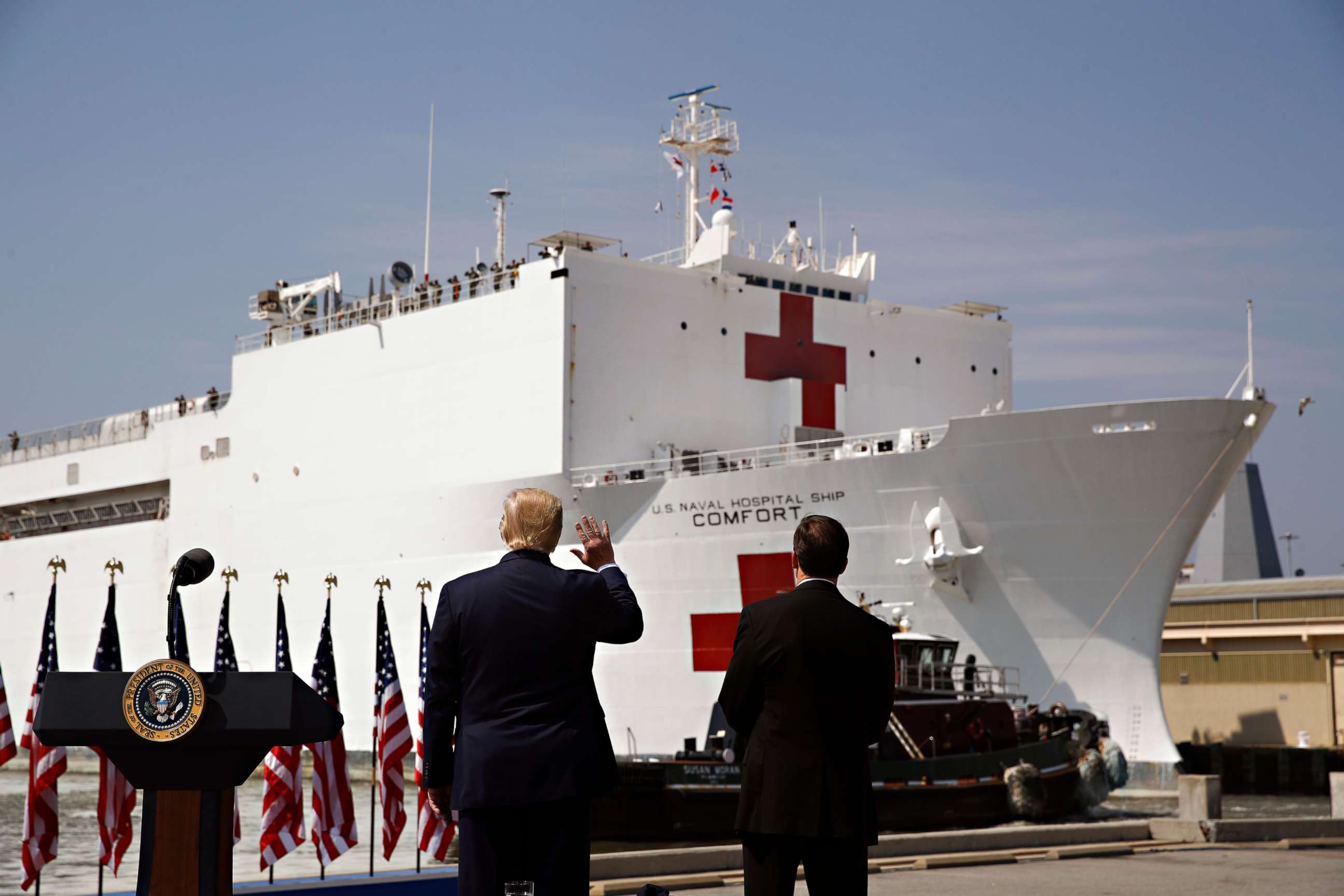 "The skilled medical professionals who will set sail on the Comfort will play a critical role in freeing up capacity in hospital beds in the New York area," Esper added.
Comfort's main mission, Trump said, will be to take care of the New Yorkers who aren't infected with COVID-19 but still require urgent care.
"So the people with the virus will not be on ship," he reassured. "The ship will be used for people having operations and other things."
The ship is equipped with 1,000 patient beds, 12 fully equipped operating rooms, eight intensive care unit beds, four radiology suites, up to 1,200 Navy medical and communications personnel and more than 70 civil service mariners.
Comfort, like its counterpart the USNS Mercy, which arrived in Los Angeles on Friday, also will have up to 5,000 units of blood, two oxygen-producing plants and an isolation ward.
"It is stocked. It's stocked to the brim with equipment and medicines and everything you can think of," Trump said. "Importantly, by treating non-infected patients remotely on the ship, it will help to halt very strongly the transmission of the virus."
Both of the "floating hospitals" also contain a medical laboratory, a pharmacy, an optometry lab and a CAT scan. They also have a helicopter deck capable of landing large helicopters and side ports to take on patients at sea.
"These are true professionals, and no one performs better under pressure when lives are on the line. These are incredible people," the president said. "We will stop at nothing to protect the health of New Yorkers and the health of the people of our country in their hour of need."
What to know about coronavirus:
ABC News' Elizabeth McLaughlin and Christina Carrega contributed to this report.