WILKES-BARRE, Pa. -- Despite assurances from a number of prominent Republicans on Capitol Hill that the country will avoid another government shutdown at the end of September, President Donald Trump Thursday repeated his much-publicized stance that a closure is in the cards — and that he would prefer for it to come before the midterm elections.
"We're about to get really nasty over the wall," the president said to the crowd gathered here for a "Make America Great Again" rally, alongside Rep. Lou Barletta, a senate hopeful in Pennsylvania.
"We're either getting it or we're shutting down government. We need border security. We need border security," Trump said.
The president believes a standoff would be worth the chance to force Congress' hand over border funding — much as he did at the beginning of the year when the government shut down for three days over a resolution for DACA recipients that also ensnared wall funding.
Just before that shut down in January, an ABC News/Washington Post poll found Americans would be substantially more likely to blame Trump and the Republicans in Congress for a shut down, rather than the Democrats -- numbers that are particularly noteworthy three months ahead of midterm elections where a wave of Democratic enthusiasm is predicted to crest.
And despite the focus of the event -- to boost Barletta in his challenge of incumbent Democratic Sen. Bob Casey -- the president said that he'd prefer such a shutdown take place prior to the November elections.
The stop in Pennsylvania gave hope to Republicans looking to see Casey's seat flip to Barletta, who is trailing in fundraising efforts compared to the moderate incumbent, but also served a dual purpose for the president. As Trump continues to talk about his 2020 election bid, a stop in Pennsylvania, which he won narrowly in 2016, also drew enthusiasm for his own presidential campaign.
In a preview of the increasingly regular campaign stops he plans to make ahead of the midterms this fall — he may do as many as five a week — Trump largely stuck to his greatest hits Thursday.
On Putin, who the intelligence community concluded likely was aware of Russian attempts to interfere in the 2016 presidential election, the president said the two recently had a "great meeting" and "discussed everything." Trump made no mention Thursday of the announcement by leaders of his national security team at the White House briefing that same day that efforts by Russia and other countries to engage in the 2018 midterm elections are ongoing.
"We got along really well. That's a good thing," Trump said.
He also touted the savings he brought home after meeting with NATO leaders and lambasted the press for what he sees as unfair media coverage — pointing at the press, calling the group "fake, disgusting news" and "horrible, horrendous people."
It was the second of three rallies around the country on the president's schedule this week after traveling to Tampa, Florida, to campaign for Republican gubernatorial candidate Rep. Ron Desantis. On Saturday he heads to Ohio, where he's endorsed Republican state Sen. Troy Balderson in the 12th Congressional District special election.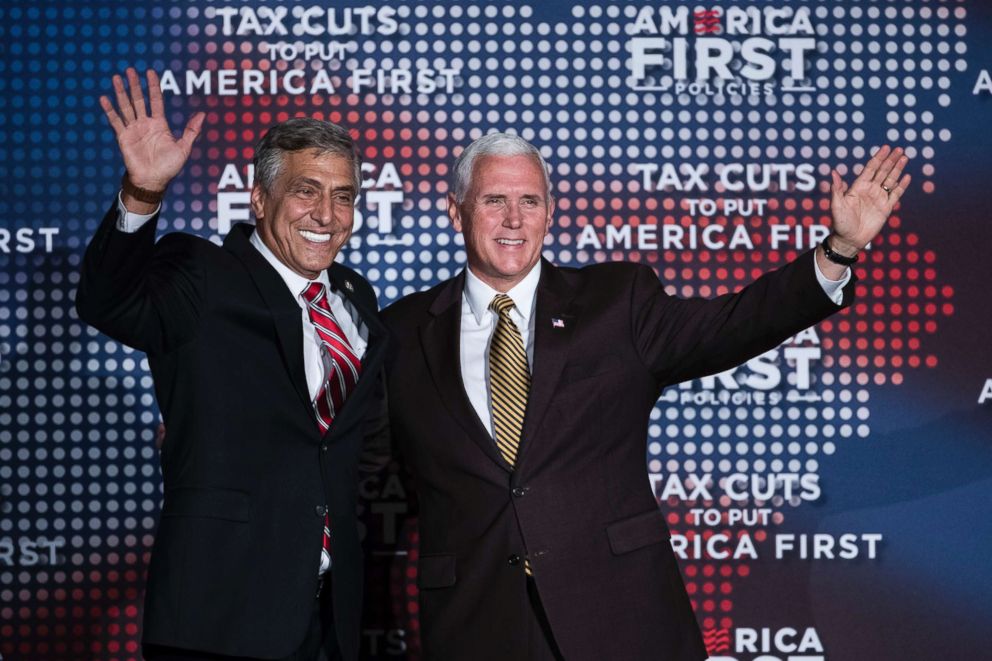 Noticeably absent from the Pennsylvania rally was a brewing conspiracy movement that cropped up in the form of widespread t-shirts and signage at the president's Tuesday rally in Tampa, Florida: the declaration by supporters "I am Q." Though still interspersed in the crowd, mention or support of Q or QAnon was meek.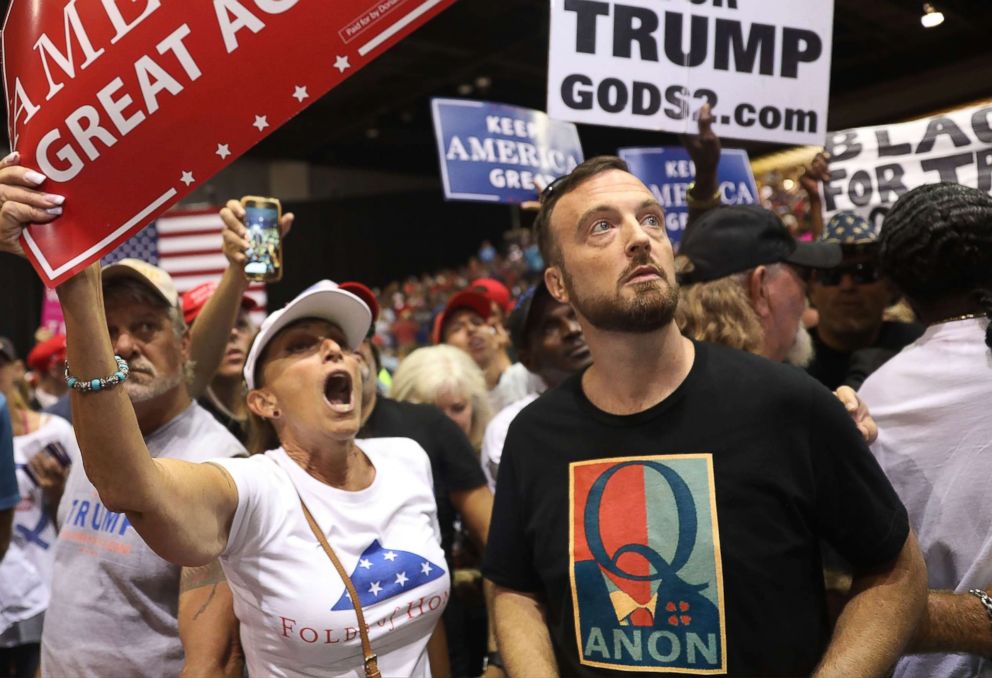 QAnon claims Trump is defending the country from purported crimes that the Obama and Clinton administration did not, according to available evidence, commit.
In a press briefing the day of the Tampa rally, White House press secretary Sarah Sanders denounced in vague terms the "violence" associated with the theory, which metastasized out of a conspiracy that led to gunfire in a pizza shop in Washington, D.C., in 2016.
"The president condemns and denounces any group that would incite violence against another individual, and certainly doesn't support groups that would promote that type of behavior. We've been clear about that a number of times since the beginning of the administration," Sanders said.
But a victory lap had already been announced by the conspiracy's originator, Q, who anonymously and without proof claims to be a government official.
"You are now mainstream. Handle w/ care," the unnamed Q told followers on Wednesday, according to the Shorenstein Center on Media, Politics and Public Policy at Harvard University.