President Donald Trump made his general election debut in Indiana by rallying the crowd for the state's recently nominated Republicans and rattling off some of his campaign's greatest hits.
"You are making Indiana proud, and we are all making America proud. We are rockin'," Trump said.
But he began his nearly one-hour speech by touting his administration's most recent achievement, the release of three American prisoners freed from North Korea, to an enthusiastic crowd of over 7,000 supporters that chanted "Lock her up!" just before the rally began.
"At 2:00 in the morning I had the incredible honor of greeting three brave Americans who had been held in North Korea and we welcomed them back home the proper way," Trump said to cheers.
Trump called his relationship with North Korean leader Kim Jong Un "good," then added, "but you remember everybody in the fake news when they said he's going to get us into a nuclear war."
Later, Trump seemed to take a swipe at the Obama administration for paying for hostages.
"I think Kim Jong Un did a great service to our country by doing this. Those hostages came out with respect. We didn't pay for them," Trump said.
For an event billed as a campaign rally, Trump spent much of his speech talking about foreign policy issues, such as the cost of the new embassy in Jerusalem, North Korea negotiations, imposing steel and aluminum tariffs -- a policy point that received one of the loudest cheers of the night -- and pulling out of the Iran nuclear deal.
"Of the many national security blunders of the last administration, one of the worst was the disastrous Iran nuclear deal," Trump said. "We're putting the harshest most stringent sanctions on Iran."
Trump said he's hopeful he'll be able to put together "a better deal."
"I hope to be able to make a deal with them, a fair deal, a better deal … better for them, better for them. But they must not have nuclear weapons, we must be able to go to their site and check that site," he said.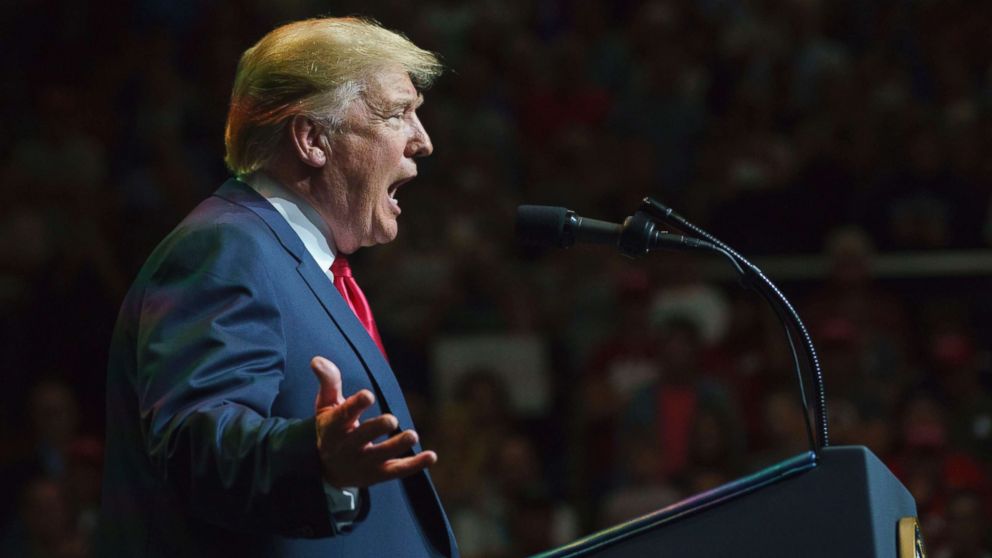 Trump, who was joined Thursday night by Vice President Mike Pence, the former governor of Indiana, praised the recently elected Republican candidates and welcomed newly nominated Republican Senate candidate Mike Braun to the stage.
"This November, Indiana will face an important choice: You can send a really incredible swamp person back to the Senate like Joe Donnelly or you can send us Republicans like Mike Braun to drain the swamp," Trump said.
On Tuesday night, Republican voters in Indiana overwhelmingly elected Braun to take on Democratic Sen. Joe Donnelly in the 2018 election. The Associated Press reported that Braun won 41 percent of the vote.
Trump slammed Donnelly in his speech, dubbing him "Sleeping Joe" and listing off all the times he voted "no."
"Joe Donnelly will do whatever [Senate Minority Leader] Chuck Schumer and [House Minority Leader] Nancy Pelosi tell him what to do. They don't ask him. They tell him," Trump said.
As Trump plans to spend a good amount of the coming year out on the campaign trail stumping for Republican candidates, he couldn't help but stump for himself.
In a long, winding story, Trump talked about his first phone conversation with early Trump supporter and famous Indiana Hoosier basketball coach Bobby Knight after finding his telephone number on his desk.
"I go bom-bom-bom-bah-bom-bom," said Trump, mimicking the sound of a phone ringing. "And he picks up the phone, and he said, 'I've been waiting for you to call.'
"And we sold out that arena," Trump recalled of a campaign event he did with Knight.
But after talking about 2016, Trump moved on to his re-election by debuting his new slogan for 2020: "Keep America Great!"
"'Keep America Great!' Because we are doing so well that in another two years when we start the heavy campaign, 'Make America Great Again' wouldn't work out too well. It's going to be 'Keep America Great' because that's exactly where we are headed. But don't tell anybody. I don't want anybody to know. But I do like that," Trump said.