President Donald Trump targeted Harley-Davidson Inc. Tuesday for its plan to relocate some of its production overseas by accusing the company of misleadingly using tariffs "as an excuse," and threatened to tax the company "like never before" on any of those motorcycles it tries to sell in the United States.
"A Harley-Davidson should never be built in another country-never!" Trump said in a series of tweets Tuesday morning. "If they move, watch, it will be the beginning of the end - they surrendered, they quit! The Aura will be gone and they will be taxed like never before!"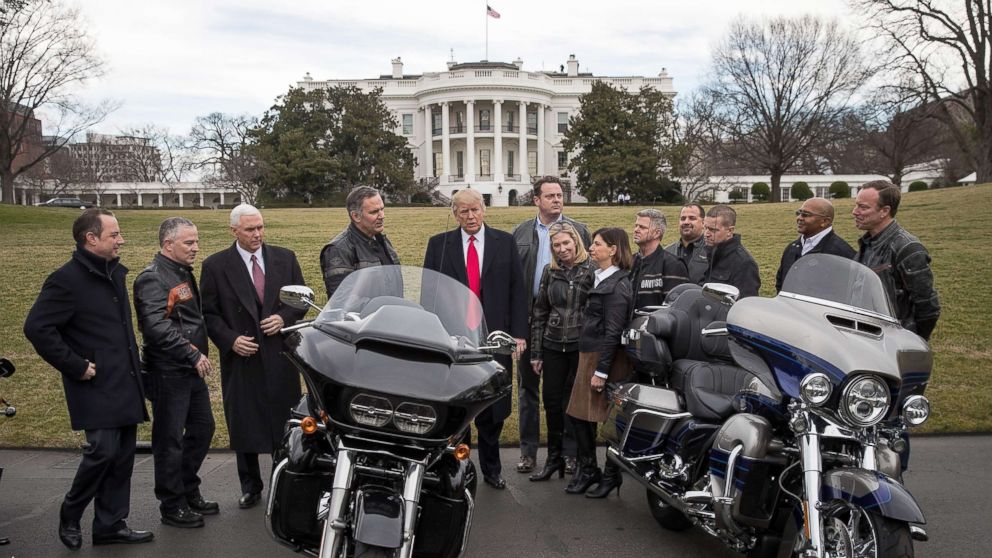 Harley-Davidson announced in January plans to shutter a Kansas City, Missouri, assembly plant, citing market conditions, about a month before Trump said he'd move forward on threats to implement tariffs on imports of aluminum and steel. But the company insisted at the time that it was not planning to relocate the jobs overseas to a planned Thailand plant it had previously announced in May of 2017.
But the company's Securities and Exchange Commission (SEC) filing Monday directly cited retaliatory tariffs from the European Union as motivating its transfer of motorcycle production for "E.U. destinations" to "international facilities."
The E.U. Friday instituted nearly $3.3 billion worth of taxes on imports from the United States, including Harley-Davidson motorcycles, in response to the Trump administration's 25 and 10 percent tariffs on steel and aluminum, respectively, imposed in late May. Harley-Davidson said Monday that the E.U.'s action increased the tariffs on its motorcycles "from 6 percent to 31 percent."
"Harley-Davidson will not raise its manufacturer's suggested retail prices or wholesale prices to its dealers to cover the costs of the retaliatory tariffs," the company stated in the SEC notice, adding, "To address the substantial cost of this tariff burden long-term, Harley-Davidson will be implementing a plan to shift production of motorcycles for EU destinations from the U.S. to its international facilities to avoid the tariff burden."
The president's tweets show he remains unmoved by the barrage of criticism against his tariffs, reflected by the hit to the stock market and vocal opposition in industries like agriculture.
Republican Sen. Ben Sasse, a vocal critic of the president's previous tariffs announcements, jumped to Harley's defense after its announcement Monday.
"The problem isn't that Harley is unpatriotic; it's that tariffs are stupid," the Nebraska senator said. "They're tax increases on Americans, they don't work, and apparently we're going to see more of this."
The president's fiery rhetoric is a stark departure from his previously cozy relationship with the company.
In the early weeks of his presidency, Trump invited Harley executives and union representatives to the White House where he showcased motorcycles that were parked on the South Lawn.
"We want to make it easier for businesses to create more jobs and more factories in the United States, and you're a great example of it," Trump said during a roundtable at the time.
"That means we have to make America the best country on Earth to do business, and that's what we're in the process of doing."