Trump University Script Tells Students to Inflate Income
Presentation could be lesson on fraud, experts say.
— -- A Trump University seminar presentation advised students to try to boost their credit card limit by inflating their annual income by $75,000, according to documents made public in federal court this week. The instruction, legal experts said, could amount to a lesson in bank fraud.
"If someone is encouraging people to make a false representation about their current income, that might be an appropriate target for prosecution," said John W. Moscow, a former head of the fraud bureau of the New York County District Attorney's Office.
"If the caller actually does what they were told to do, that could easily be fraud," agreed Randall M. Fox, who served as the founding bureau chief of the New York attorney general's taxpayer protection bureau.
Broad allegations of fraud swirling in three civil cases against Trump University have dogged the Republican presidential front-runner this week, after a federal judge in California unsealed hundreds of pages of internal documents about Trump's enterprise. Trump took to Twitter on Thursday to defend the embattled, now-defunct business, saying he would reopen the program after he prevailed in the courts.
An undated presentation called "Fast Track to Foreclosure Investing," offers an inside look at how the costly real estate seminars worked and includes instructions for increasing credit card limits, presumably to enable someone to invest more money in foreclosed property.
"When asked for your income," the instructor's script reads, "take your current income and add $75,000 from your real estate enterprise."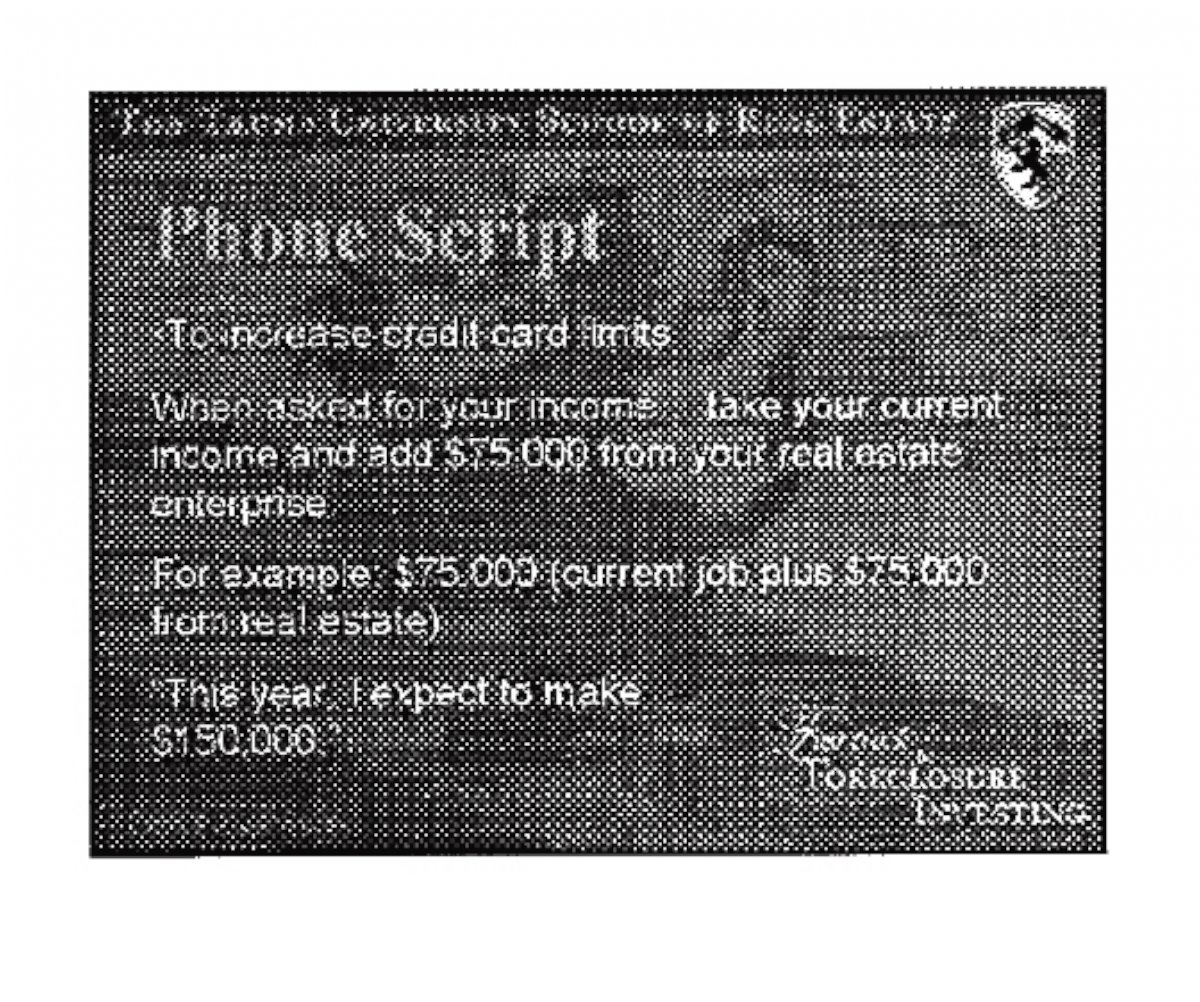 Moscow, now in private practice, said credit limits are not based on the possibility of future earnings, no more than they would be based "on the chance of holding a winning lottery ticket."
Trump Organization general counsel Alan Garten told ABC News the inclusion of that instruction in internal Trump University materials does not mean that guidance was ever given to seminar attendees. "A lot of what was released was never even used," he said.
"While we recognize it is a 24-hour news cycle, at the end of the day, the case is going to be tried in a courtroom in front of a jury," he said. "Nothing that has been released changes our outlook of the case. We are very confident that we provided a valuable education to students and that those who participated got their money's worth."
Also among the documents released Tuesday are a number of statements from former employees of the university, including one who said that the program, in which customers could purchase to increasingly expensive real estate courses and seminars, was a "fraudulent scheme and that it preyed upon the elderly and uneducated to separate them from their money."
Trump University is the target of three lawsuits: two in California and one in New York. The documents released this week are part of one of the California suits, but New York Attorney General Eric Schneiderman, who brought the N.Y. suit against Trump in 2013, recently said that in calling itself a university, "it was really a fraud from beginning to end."
Another former employee, Roger Schank, who worked for Trump University from 2005 to 2007, told ABC News on Thursday that while he agreed it should not have been called a university, the program was "absolutely not" fraudulent.
"I don't know what happened after my tenure. Maybe they did something fraudulent — I wouldn't know," he said. He said he was there at the beginning and developed online courses, not the costly seminars that have largely been the focus regarding the fraud allegations.