The president doubled down on his response to Roseanne Barr's racist tweet Thursday morning, continuing to criticize Disney chairman and CEO Bob Iger for not apologizing to him for what he called a "Double Standard."
The president did not denounce the language Barr used – comparing Valerie Jarrett, an African American former presidential adviser, to an "ape" – that resulted in the ABC sitcom's cancellation.
It is the president's second tweet asking ABC and Iger for an apology. ABC Television Group and ABC News are both owned by Disney.
Trump also raised a mistake in a live broadcast and a tweet about former National Security Adviser Michael Flynn by ABC News' chief investigative correspondent Brian Ross from December – adding "yet no apology."
At the time, however, ABC News corrected the story and publicly apologized for the mistake. Ross was suspended for four weeks.
Barr, star of the hit ABC reboot "Roseanne" that re-aired this year, sparked backlash Tuesday when she said Jarrett looked like "muslim brotherhood & planet of the apes had a baby ..."
Barr has since apologized but the network quickly reacted and canceled the show. She has since taken a more combative stance defending herself and suggesting on Twitter she might consider "fighting back."
Iger personally apologized to Jarrett on Tuesday before ABC publicly announced the show was canceled -- the apology Trump refers to in his tweets.
There is a long history in the U.S., dating back to the days of slavery, of African Americans being depicted and referred to as apes or monkeys as a way to dehumanize and justify discrimination.
Trump first acknowledged the controversy on Wednesday, when he tweeted a similar message calling for an apology from Iger.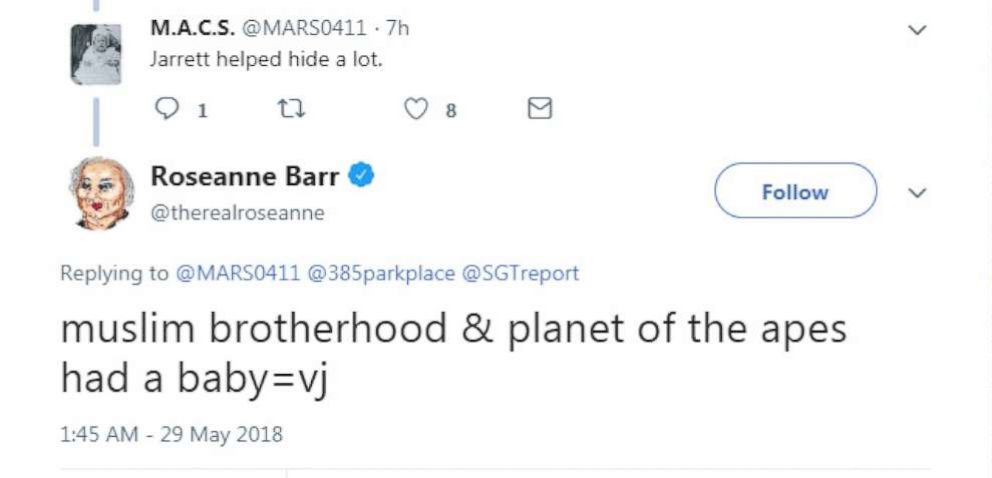 In a press breifing Wednesday, White House responded to the outrage over the tweet by saying that "no one is defending what she said" but at the same time attacked "hypocrisy in the media," citing "the most horrible things" said "about this president and nobody addresses it."
Reading from a prepared statement, press secretary Sarah Sanders asked, as the president did in his tweet earlier in the day, why Disney Iger had called Jarrett to apologize for Barr's tweet and hadn't called him to do the same for comments made about him on Disney-owned ABC's "The View" and another Disney network, ESPN.
"Where was Bob Iger's apology to the White House staff for Jamele Hill calling the President, and anyone associated with him, a white supremacist? To Christians around the world for Joy Behar calling Christianity a mental illness? Where was the apology for Kathy Griffin going on a profane rant against the President on The View after a photo showed her holding President Trump's decapitated head? And where was the apology from Bog Iger for ESPN hiring Keith Olbermann after his numerous expletive-laced tweets attacking the President as a Nazi and even expanding Olbermann's role after that attack against the President's family."
"This is a double-standard that the President is speaking about, nobody is defending her comments, they're inappropriate but that's what the point that he was making," Sanders said.
Neither Iger nor Disney has responded to requests from ABC News for comment about Trump's tweets or Sanders' statement.
Griffin, who was fired from CNN's New Year's Eve program, apologized for her actions but later took back her apology on "The View." She used an expletive referring to Trump and said, "This president is different and I have been through the mill and so now I'm back on the road."
Behar apologized for referring to comments made about Pence by former Trump White House aide Omorasa Maginault Newman on the CBS program "Celebrity Big Brother" warning against Pence ever becoming president. "He's extreme," Newman said. "I'm Christian, I love Jesus, but he thinks Jesus tells him to say things."
"It's one thing to talk to Jesus," Behar said. "It's another thing when Jesus talks to you. That's called mental illness, if I'm not correct, hearing voices," Behar said on "The View."
Iger was later quoted as saying Behar's comment was "wrong" and that her apology was appropriate.
After Hill tweeted comments about Trump, the network put out a statement saying they "do not represent the position of ESPN. We have addressed this with Jemele and she recognizes her actions were inappropriate."
"There are a lot of people out there who were outraged," Iger said at a Vanity Fair summit in Los Angeles, adding that people have seen "the opposite" of what the Constitution promises.
"There are a lot of people out there who were outraged," Iger said. The promise that was given to them in the Constitution, that they fought for in the Civil War and civil rights movement, he said, is "the opposite" of what Americans have seen in the last few months, Vanity Fair quoted him as saying.
"It's hard for me to understand what it feels like to experience racism," he added in the interview. "I felt we needed to take into account what other people ESPN were feeling at this time and that resulted in us not taking action."
ESPN has taken conservative fire for recently rehiring Olbermann who has blasted Trump as a "Nazi" in tweets.
Sanders comments Wednesday came after she was asked whether the president has spoken to Barr and why he chose to address the ABC apology instead of the underlying issue of concerns about the racist comment she tweeted out. Sanders did not say whether the president specifically condemned Barr's tweet.
In the past, the president has proven to be a fan of the show.
In Ohio in March, he told the crowd he called Barr after the show first re-aired to congratulate her.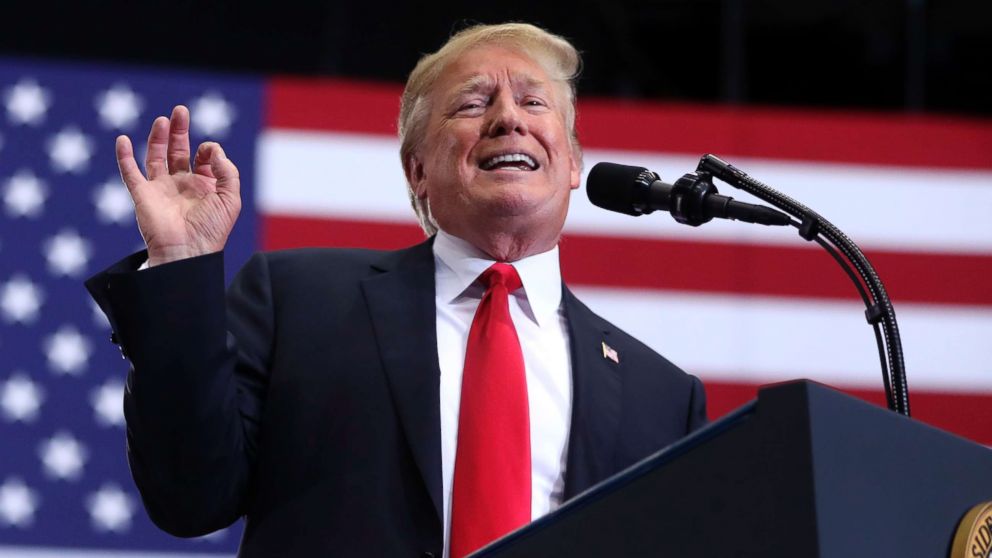 "Even look at Roseanne. I called her yesterday. Look at her ratings, look at her ratings," the president said, adding that the show was doing well because it resonated with his base. "And it was about us. They haven't figured it out, the fake news hasn't quite figured it out yet," he said.
On "Good Morning America" earlier that day, Barr called the president's call "exciting" and said she's known Trump for a long time.
"I've known him for many years and he's done a lot of nice things for me over the years, and so it was just a friendly conversation about working and television and ratings," Barr told "Good Morning America" anchor George Stephanopoulos over the phone.
She also reflected on a need for more "civilized" conversation in the country.
"That's what we need to do as a country is figure out what we don't like, talk to each other and discuss how we're going to get it changed or fixed," Barr said. "I really hope that it opens up civil conversation between people instead of just of mud-slinging. I really do because I think we need to be more civilized in that," she said.