— -- After nearly three years of warming relations between the United States and Cuba, President Donald Trump has announced that his administration will unravel many of his predecessor's policies on the communist state.
Speaking in Miami, Florida, Trump announced changes to President Barack Obama's historic rapprochement with Cuba -- fulfilling a promise to the anti-Castro voting bloc he believes helped his campaign clinch the state, but stirring fear among others he could set back business interests and Cuba's potential for a more prosperous private sector.
The Cuban government said in a statement published in the state-run newspaper Granma, "Again, the United States Government resorted to coercive methods of the past, adopting measures to intensify the blockade, in force since February 1962, which not only causes damage and deprivation to the Cuban people and constitutes an undeniable obstacle to the development of our economy, but also affects the sovereignty and interests of other countries, inciting international rejection."
The statement continues, "The Cuban Government denounces the new measures to tighten the blockade, which are destined to fail as has been shown repeatedly in the past, and which will not achieve its purpose to weaken the revolution or to defeat the Cuban people, whose resistance to the aggressions of any type and origin has been proven over almost six decades."
Decades of contention before Obama
In one form or another, the embargo on Cuba has been in place since the Eisenhower administration. But beginning in late 2014, Obama and Cuban President Raul Castro began a process that gradually thawed diplomatic tensions and eased commercial and travel restrictions between the two countries.
This process culminated in significant economic opportunities for both the U.S. and Cuba. American businesses, including airlines, cruise lines, and telecommunications companies, earned 26 agreements with the Cuban government from 2015 to 2017.
Hundreds of millions of U.S. dollars flowed into privately owned businesses in Cuba, The Associated Press reported , spurring the growth of a nascent middle-class that could thrive independent from the government.
For Cuba, there have been tangible benefits in tourism and telecommunications. According to the Cuban Ministry, 74 percent more American citizens visited the island in 2016 than in 2015 and, following through on a pledge to Obama, Castro opened nearly 400 new public Wi-Fi access points around Cuba.
However, the U.S. International Trade Administration told ABC News it hasn't yet released its 2016 statistics on outbound travel and therefore could not confirm those numbers from the Cuban Ministry on U.S. tourism.
While Obama did not end the embargo on Cuba, since only Congress has that power, the U.S. and Cuba reopened embassies in each other's capitals for the first time since 1961. The U.S. and Cuba have also signed multiple bilateral agreements to work together on everything from human and drug trafficking to maritime security and migration.
Finally, Obama ended the "wet foot, dry foot" immigration policy that applied only to Cubans. Previously, Cubans who reached U.S. shores earned automatic visas. Now, Cubans have to follow the same process as other refugees and immigrants.
What is Trump reversing?
Trump is not reversing all of Obama's changes, but he is redefining what it means to be part of the Cuban military, which could prevent U.S. companies from doing business in Cuba. The White House explained in a fact sheet released earlier today that the policy aims to keep the Grupo de Administración Empresarial (GAESA), a conglomerate managed by the Cuban military, from benefiting from the opening in U.S.-Cuba relations.
"The profits from investment and tourism flow directly to the military. The regime takes the money and owns the industry," Trump said. "The outcome of last administration's executive action has been only more repression and a move to crush the peaceful democratic movement. Therefore, effective immediately, I am canceling the last administration's completely one-sided deal with Cuba."
This comes amid concerns that the Cuban military could be the beneficiary of increased American private investment, at a time when Castro has failed to take action on human rights. In 2016, there were 9,940 short-term detentions of protesters, up from 8,899 in 2014, the AP reports.
According to senior White House officials, Trump is also revisiting trade and travel policies toward Cuba, clamping down on individual people-to-people travel. There will still be certain exceptions under which Americans can travel to Cuba and family travel will continue to be authorized. Importantly, no changes will go into effect until the Treasury and Commerce Departments issue new regulations that conform with the administration's policy.
Trump continued, "We will not lift sanctions on the Cuban regime until all political prisoners are free, freedoms of assembly and expression are respected, all political parties are legalized and free and internationally supervised elections are scheduled."
The changes will certainly harm relations between Cuba and the U.S. In a hearing before the Senate Foreign Relations Committee on Tuesday, Secretary of State Rex Tillerson explained, "The general approach, if I can say that, is to allow as much of this continued commercial and engagement activity to go on as possible because we do see the sunny side, as I described it. We do see the benefits of that to the Cuban people."
But then Tillerson qualified his statement. "On the other hand, we think we've achieved very little in terms of changing the behavior of the regime in Cuba and its treatment of people," he said, "and it has little incentive to change that."
What about diplomatic ties?
Senior White House officials say that Trump will not close the newly re-opened U.S. Embassy in Havana. He will also not reinstate the "wet foot, dry foot" policy.
To avoid alienating the Cuban-American community, which largely votes Republican, Trump will not re-implement limits on remittances -- U.S. based money transfers -- that Cuban-Americans can give their families back on the island. But if the administration follows through on redefining what it means to be part of the Cuban military, that could affect policies on remittances down the line.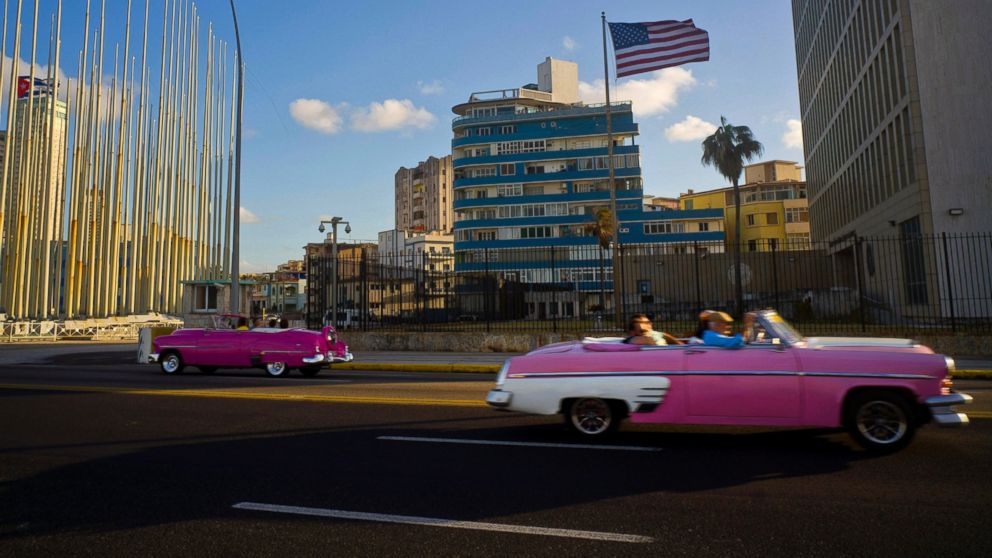 Lobbying Trump on Cuba
Sen. Marco Rubio and Rep. Mario Diaz-Balart, both Republican, Cuban-American hardliners, lobbied Trump hard toward reversal. Importantly, the Trump administration wants to build good rapport with both. Rubio sits on the Senate Intelligence Committee, which is currently looking into the Trump campaign's supposed contacts with Russian officials. He spoke in Miami briefly before Trump took the stage.
Rubio and Diaz-Balart won out, though there's no shortage of actors lobbying the White House the other way. Last week, a group of House Republicans sent a letter to Trump opposing "reversing course" on Cuba. A similar group of Senate Republicans wrote to Tillerson and national security adviser H.R. McMaster, citing the entrepreneurial and national security benefits of continued engagement. Airbnb, Google and other notable businesses have also spoken out recently in support of maintaining current policies.
Tillerson had privately expressed support for Obama's Cuba policy during the transition, according to sources. Secretary of Agriculture Sonny Perdue, when governor of Georgia in 2010, led a delegation to Cuba and said at the time to the Atlanta Journal-Constitution, "I think business cures a lot of ills."
Leading human rights organizations, including Amnesty International and Human Rights Watch, have also urged the administration to keep Cuba open.
"More travel, more communications access, and more dialogue with Cuba are the way forward for human rights in Cuba," Amnesty International wrote in a blog post, adding that Obama's trip to Cuba last year opened the door to "scrutiny and transparency" of human rights on the island for the first time in nearly 10 years.
Reversing policy is bad for Cubans, Human Rights Watch said in a statement, "and insisting on human rights progress as a precondition to a new policy is unlikely to bring about change."
What did Candidate Trump say?
During the campaign, Candidate Trump slammed Obama's Cuba policy, telling a crowd in Miami: "All the concessions that Barack Obama has granted the Castro regime were done through executive order, which means the next president can reverse them. And that I will do unless the Castro regime meets our demands."
But at the same time, Trump often criticizes regulations on the business community as "burdensome" and "job-killing."
Today's speech
Delivering a speech at the historic Manuel Artime Theater in Miami's Little Havana neighborhood, Trump made his policy known in the center of the Cuban-American community. The president fed off of a boisterous, rowdy crowd, seeming to even attempt a Cuban accent, shouting "Little Havana!" when he took the stage. By rescinding certain Obama-era Cuba policies, he went against the advice of Democrats, Republicans and business interests. He did, however, fulfill a campaign promise.
ABC News' Katherine Faulders, Serena Marshall and Adam Kelsey contributed to this report.