— -- President Donald Trump delivered a speech today in Kenosha, Wisconsin, reiterating a campaign maxim: Buy American, hire American.
But unlike a few months ago, now he's expected to act on it.
Trump has issued an executive order that calls on the Labor, Justice, State and Homeland Security departments to "take prompt action to crack down on fraud and abuse" in the United States' immigration system to protect American workers and reform the country's visa programs by "awarding visas to the most skilled and highest paid applicants," senior administration officials told ABC News.
The order, which he signed at the event in Wisconsin today, calls for strict enforcement of "laws governing entry into the United States of labor from abroad for the stated purpose of creating higher wages and higher employment rates for workers in the United States," according to a White House official.
Senior administration officials said the order is effectively an initiation of a review by these departments of how the current visa waiver programs are structured rather than an edict to take immediate, specific actions regarding the programs.
Before he ventured into politics, Trump made use at his various business ventures and properties of some of the visa programs that will likely be under review.
Mar-a-Lago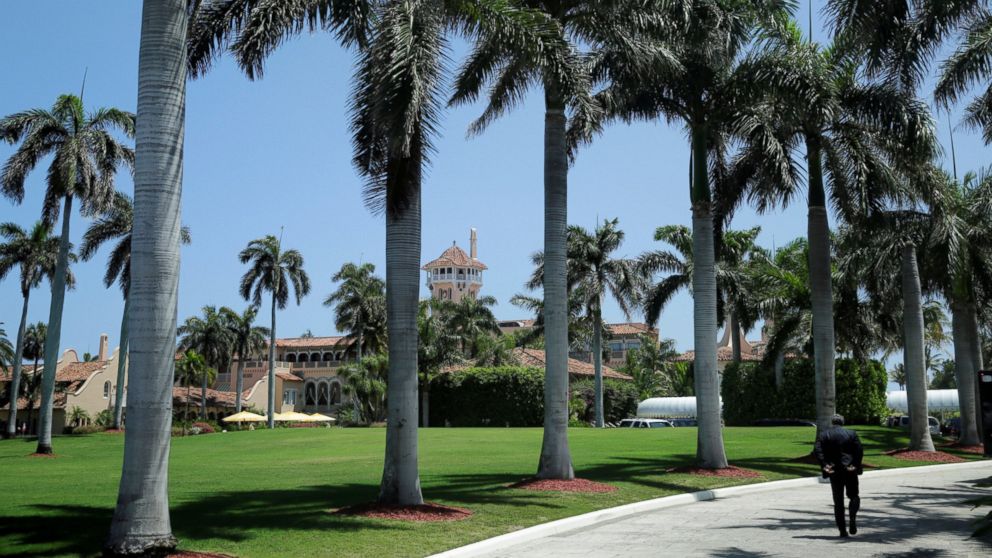 Trump has spent seven of his first 13 weekends as president at Mar-a-Lago, the private club he owns in Palm Beach, Florida, even dining there with world leaders both in the formal dining room and on the deck amid club members.
According to The Palm Beach Post, during the busy winter season from the end of 2015 through the beginning of 2016, Mar-a-Lago administrators requested 69 foreign workers to fill positions as housekeepers, waiters and cooks. The Department of Labor signed off on that request, according to the paper. The H-2B visa program allows American companies to hire low-wage foreign nonagricultural workers.
That number was down from the two prior seasons: Mar-a-Lago requested 90 visas in 2014 and 87 in 2013, according to The Palm Beach Post.
Trump previously defended his decision to use foreign workers.
In an interview with ABC News' George Stephanopoulos last June, Trump said, "It's very, very hard to get people in Palm Beach during the Palm Beach season."
"Sometimes [you] have to bring people in," he said.
Later in the interview, when pressed about the specifics of how many people were hired by Mar-a-Lago under the H-2B visa program, Trump said he wasn't the one in charge.
"Well, you know what? I don't hire the people. I don't hire 'em. But I will tell you this. During the Palm Beach season, it is very, very hard to get people. During the season, you can't get people ... But if you look at all of the other places in Palm Beach, they're all doing exactly the same thing," he said.
Trump Winery
Mar-a-Lago isn't the only Trump property to use foreign workers.
A job order request was filed with the Department of Labor in February by Trump Winery in Charlottesville, Virginia, petitioning for H-2A temporary work visas for 23 foreign workers to fill vineyard farming positions. Trump Vineyard Estates LLC is currently run and owned by the president's son Eric Trump.
The H-2A temporary agricultural program allows employers to bring nonimmigrant foreign workers into the country to fill seasonal or temporary agricultural jobs when they expect a scarcity of domestic workers to fulfill those needs. The Department of Labor requires that employers using this program show that they were unable to fill their seasonal needs with domestic workers.
Rather than requesting workers for the winter season, as in Florida, Trump Vineyard administrators are asking for workers from the beginning of April through the end of October.
In December the vineyard filed a separate H-2A visa request to hire six foreign agricultural workers to fill farmwork positions from the end of January through the second half of June.
Modeling
Trump's foray into the fashion world through his namesake modeling agency also led to requests for foreign worker visas.
At Trump Model Management, H-1B visas were used for some of the foreign-born models. Those visas are set aside for specialty occupations, including modeling.
Despite his company's use of that type of visa, Trump took a shot at that category during the campaign.
"I will end forever the use of the H-1B as a cheap labor program and institute an absolute requirement to hire American workers first for every visa and immigration program. No exceptions," read a statement posted to Trump's website in March 2016.
Trump has criticized companies that use the H-1B program, including Disney, ABC News' parent company. Firms have argued that foreign workers are brought in not to save money but to take on seasonal or specialized jobs that cannot otherwise be filled.
Criticism of the program, which came from Trump as well as other Republican presidential candidates, doesn't appear to have slowed its popularity, however. Requests for H-1B visas reached the cap set for fiscal year 2018 in just five days earlier this month.
ABC News' Katherine Faulders, Serena Marshall, Matthew Mosk, Brian Ross and Randy Kreider contributed to this report.