Donald Trump Tells Republican Convention 'Safety Will Be Restored' When He's Sworn In
He took the stage after an introduction from his daughter, Ivanka.
CLEVELAND, Ohio -- Donald Trump "humbly and gratefully" accepted his party's presidential nomination on Thursday night, capping off the Republican National Convention and Trump's year-long campaign to win the GOP contest.
"Who would've believed that when we started this journey on June 16th last year, we, and I say "we," because we are a team, would have received almost 14 million votes, the most in the history of the Republican party and that the Republican party would get 60 percent more votes than it received eight years ago, who would've believed this, who would've believed this," Trump said.
All told, his speech clocked in at about 75 minutes -- one of the longest in recent history -- during which he lambasted his Democratic rival Hillary Clinton, took aim at the Obama administration and vowed to restore safety to the country at home and abroad amid what he said were a myriad of threats to its very fabric.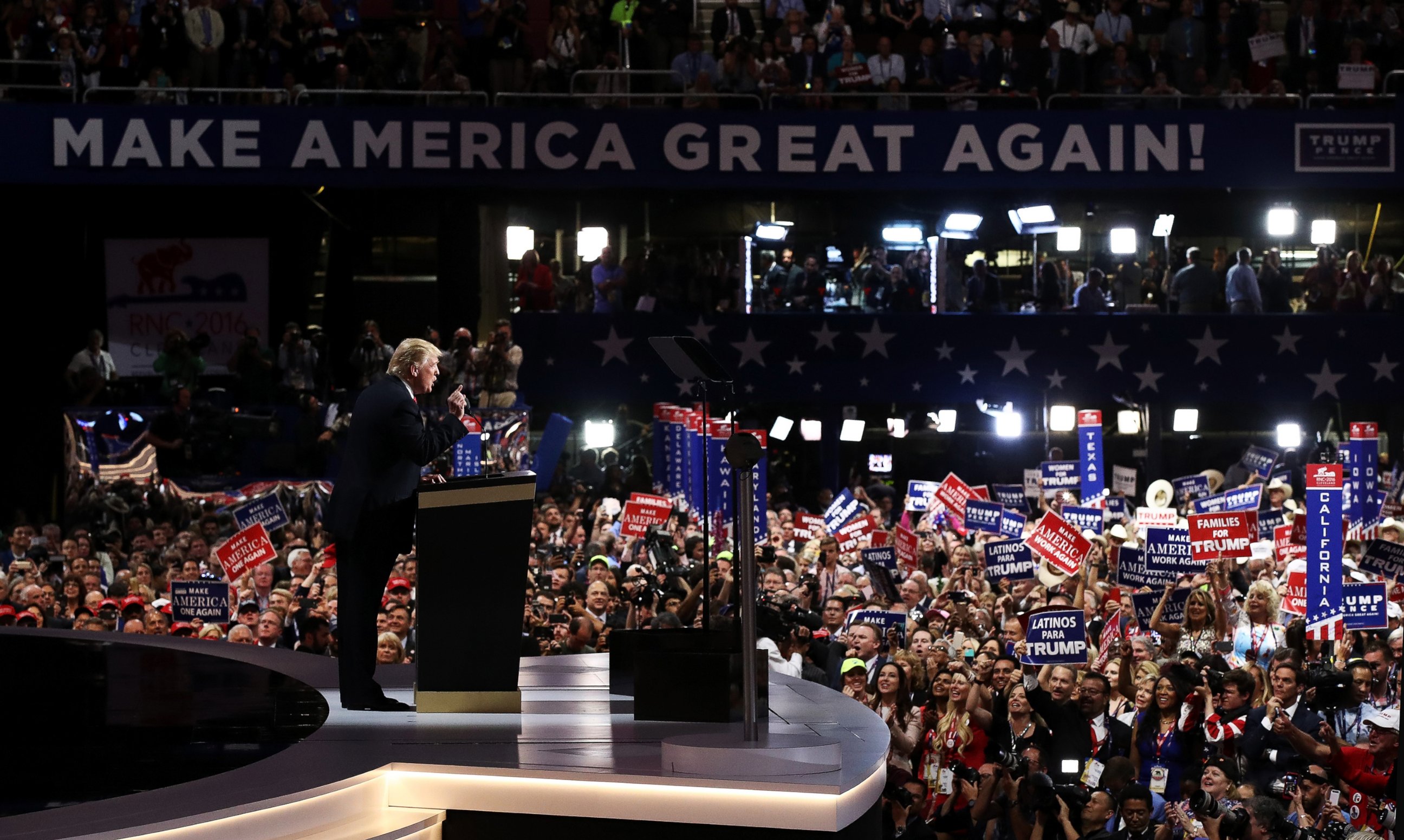 Trump harped on restoring "law and order" to the country, which has been a regular theme throughout his campaign.
"In this race for the White House, I am the law and order candidate," Trump said. "The irresponsible rhetoric of our president, who has used the pulpit of the presidency to divide us by race and color, has made America a more dangerous environment for everyone."
He cited several recent attacks on police, including the killing of five officers in Dallas and three others in Baton Rouge.
"Beginning on January 20th of 2017, safety will be restored," Trump said. "The most basic duty of government is to defend the lives of its own citizens."
The 2016 Republican National Convention
Republican presidential candidate Donald Trump and his running mate Mike Pence are joined by their families on the stage as confetti and balloons fall at the end of the Republican National Convention on July 21, 2016 at Quicken Loans Arena in Cleveland.
Trump used his speech to lay out domestic threats and international ones facing Americans, which he says he will be able to end.
"Not only have our citizens endured domestic disaster, but they have lived through one international humiliation after another. One after another," he said.
"This is the legacy of Hillary Clinton: death, destruction terrorism and weakness."
And that wasn't the only criticism he made of the presumptive Democratic nominee, whom he has dubbed "Crooked Hillary" throughout his campaign.
"Hillary Clinton's message is that things will never change. Never ever. My message is that things have to change –- and they have to change right now," he said.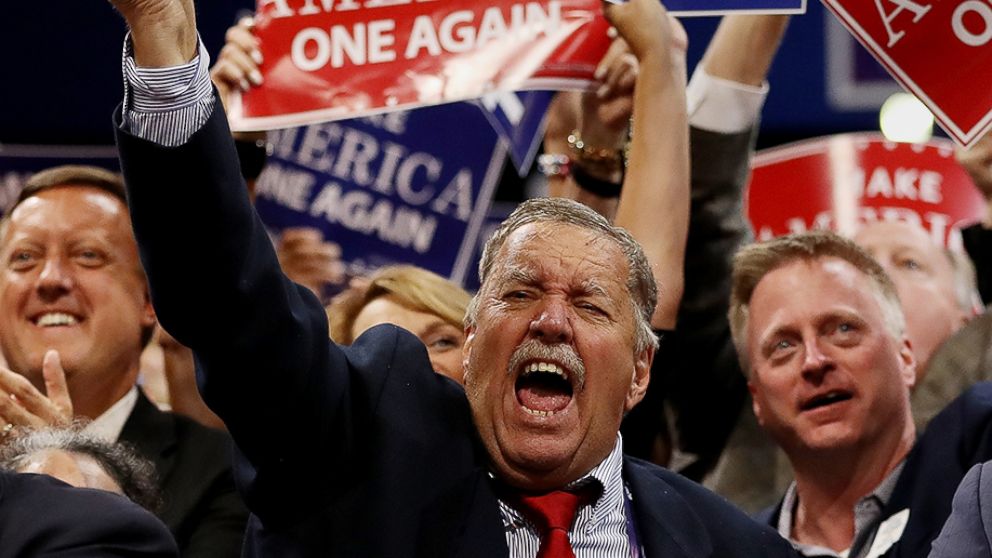 Trump said that he wakes up "determined to deliver a better life for the people all across this nation that have been neglected, ignored and abandoned."
"These are the forgotten men and women of our country and they are forgotten but they're not going to be forgotten long. These are people who work hard but no longer have a voice. I am your voice," he said.
He repeatedly said "I am your voice" and used that, as well as his campaign slogan, "Make America Great Again" as a way to wrap up the speech.
"I am your voice. So to every parent who dreams for their child and every child who dreams for their future, I say these words to you tonight," he said.
"I am with you, I will fight for you, and I will win for you. To all Americans tonight in all of our cities and in all of our towns, I make this promise -- we will make America strong again. We will make America proud again. We will make America safe again. And we will make America great again!"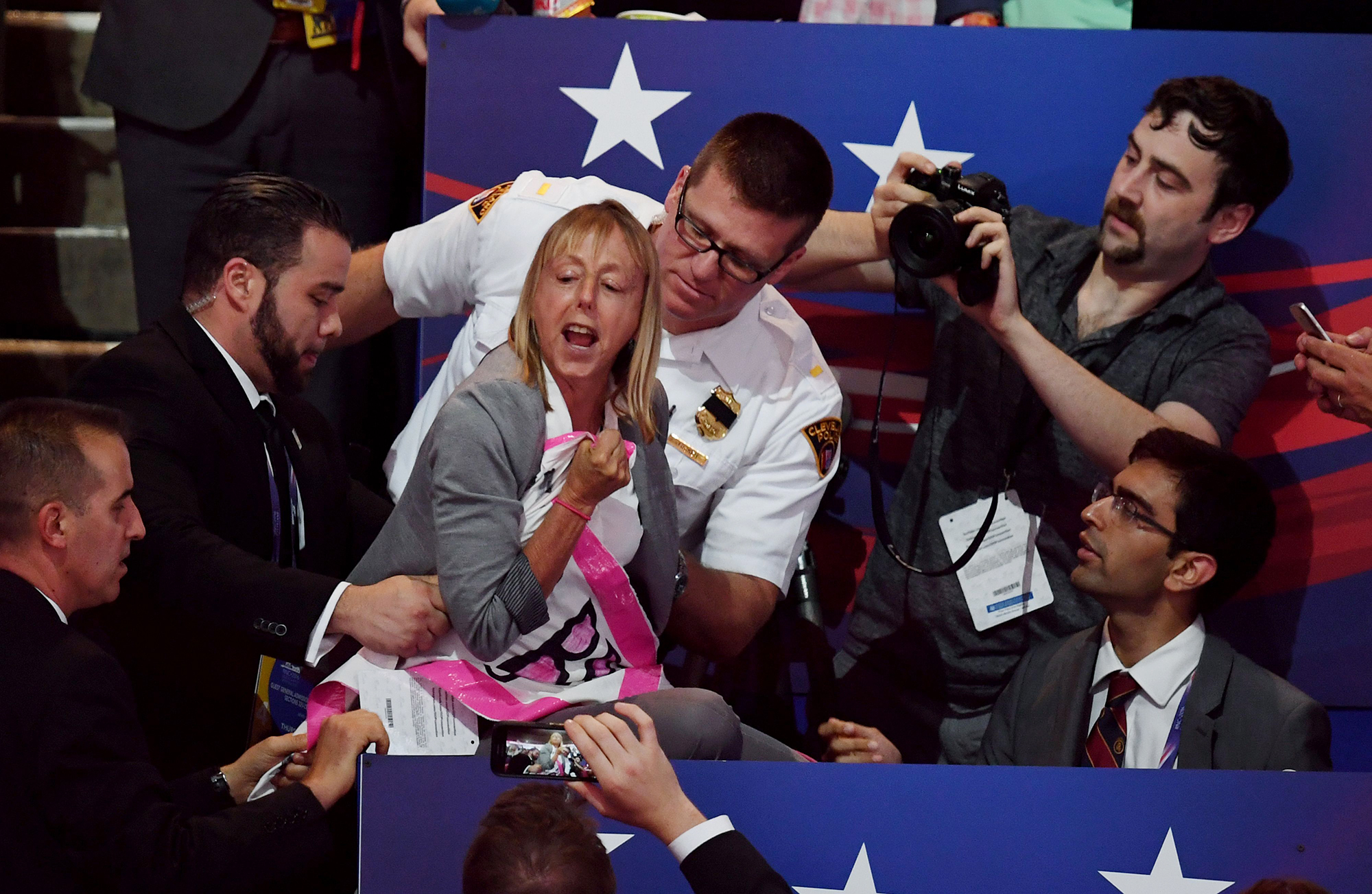 Trump's speech was interrupted at one point by a protester from Code Pink, a women's activist group aimed at putting an end to U.S. wars, and he waited to continue speaking until police removed her from the arena.
Trump walked on stage after receiving a passionate introduction from his daughter Ivanka.
His speech marks the final address at the end of the four day convention in Cleveland.