— -- Retired four-star U.S. Army Gen. David Petraeus said the military protects Americans' rights "to criticize us" -- an apparently different view than that of the White House press secretary who said it's "highly inappropriate" to debate a U.S. general.
"We in uniform protect the rights of others to criticize us, frankly," ret. Gen. David Petraeus told ABC News "This Week" co-anchor Raddatz in an exclusive interview Sunday. "I think we're all fair game."
Petraeus was responding to a remark at a Friday media briefing by Trump press secretary Sarah Sanders that it would be "inappropriate" for a reporter to question a claim by White House chief of staff Gen. John Kelly. Sanders was defending Kelly over his claim that Democratic Rep. Frederica Wilson of Florida had in a 2015 speech taken credit for securing federal funding for an FBI building in Miami.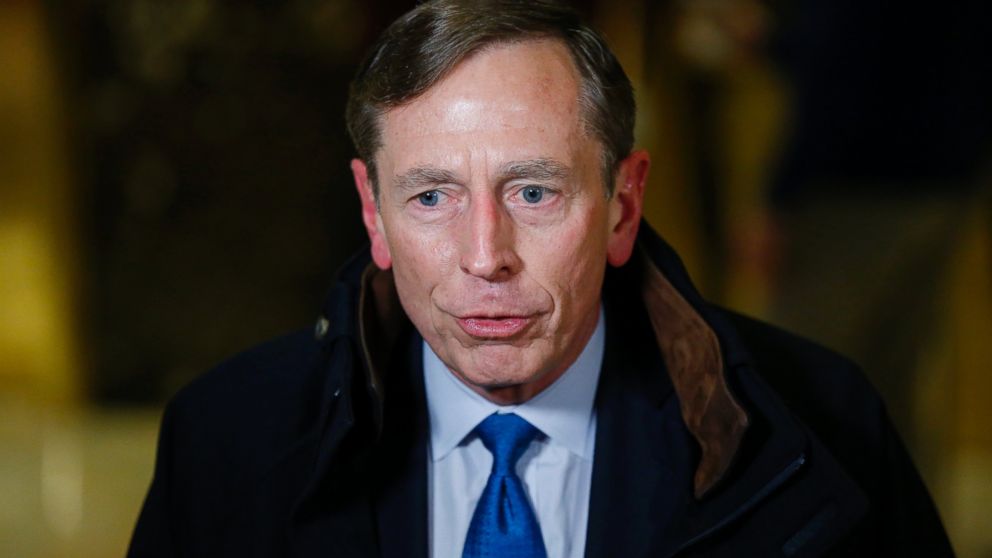 Video of Wilson's speech obtained by The Sun-Sentinel newspaper appeared to refute Kelly's account. After a reporter pointed this out to Sanders, the press secretary said, "If you want to go after General Kelly, that's up to you, but I think if you want to get into a debate with a four-star Marine general I think that's something highly inappropriate."
Sanders later sought to clarify her comment, telling ABC News in a statement, "Of course everyone can be questioned, but after witnessing General Kelly's heartfelt and somber account [of his son's death in military combat] we should all be able to agree that impugning his credibility on how best to honor fallen heroes is not appropriate."
Petraeus told Raddatz on "This Week" that he has also been the target of criticism, recalling as an example the publication of a full page ad in The New York Times that attacked him personally on the morning he was testifying on Capitol Hill in September 2007 over the U.S. military surge in Iraq.
"I didn't appreciate it, needless to say," Petraeus said. "But at the end of the day, we are fiercely protective of the rights of ... Americans to express themselves, even if that includes criticizing us."
Asked by Raddatz if Kelly's harsh words about Rep. Wilson were appropriate, Petraeus urged everyone to unite behind Gold Star families and not pull them into political fights.
"It was obviously an unfortunate situation. We need to unite behind our Gold Star families, to embrace them with compassion and support, not to drag them into partisan politics," he said.
"Sadly this is a bit symptomatic of what I think is afflicting our country right now. Arguably, the most important threat the United States faces is not that of Russia, Iran, North Korea, or even Chinese competition, or ISIS, it's parochialism here at home, especially in this city" of Washington, D.C., he said.
Petraeus said he knows Kelly well and believes the White House chief of staff will figure out how to "turn down the volume."
"I have to think that this weekend he's sitting at home or in the White House trying to figure out how to turn down the volume, how to get this behind us, and how to focus on what really is important to the country over all," Petraeus said.