Former Vice President Joe Biden thinks he's the 'most qualified' to run for president
Joe Biden said he is thinking about a 2020 White House bid on Monday night.
At a book talk in Missoula, Montana, Monday night, former Vice President Joe Biden said he thinks he is the "most qualified person in the country to be president."
The Pennsylvania native said his decision about a bid for the White House is coming in the next six weeks to two months. Biden's aides confirmed to ABC News that he thinks the most pressing issues the nation faces now -- foreign policy and helping the middle class -- are "in his wheelhouse."
"I know, as I said, that I'm called middle-class Joe," Biden said at an October rally for the midterms. "It's not meant as a compliment-- it means I'm not sophisticated. That's been my handle for the last 40 years. But I know what made the country what it is: ordinary people doing extraordinary things."
Biden is traveling on a short book tour to promote the paperback release of his 2017 memoir "Promise Me, Dad," detailing his son Beau's death from brain cancer, which he said kept him out of the 2016 presidential race.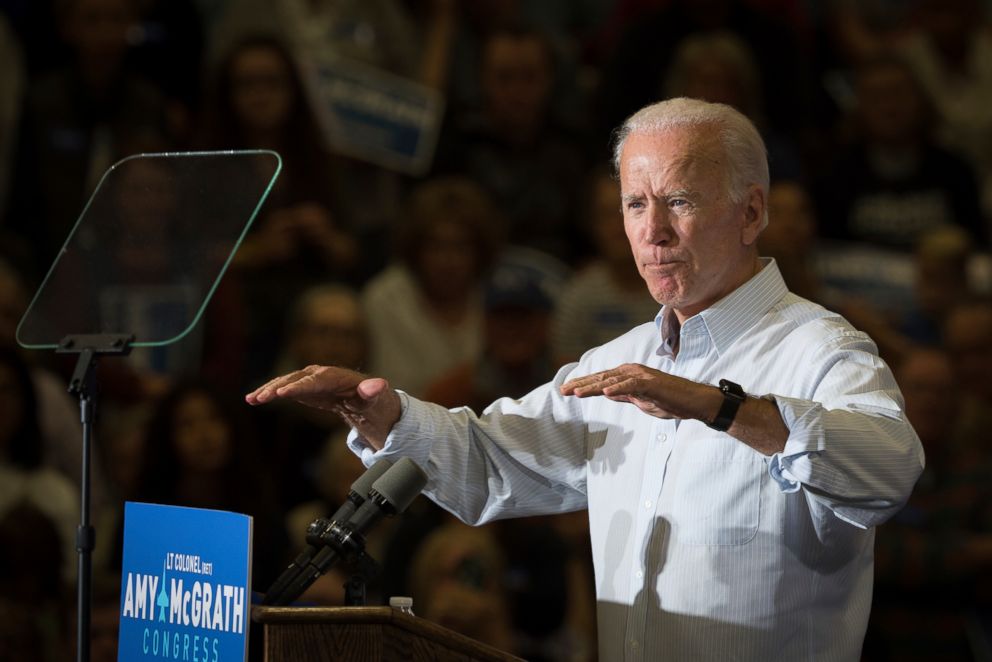 "No one should run for the job unless they believe that they would be qualified doing the job. I've been doing this my whole adult life, and the issues that are the most consequential relating to the plight of the middle class and our foreign policy are things that I have-- even my critics would acknowledge, I may not be right but I know a great deal about it," he said.
Biden, like many others turning over the idea of a 2020 bid, said at the end of the day running is a family decision, according to the Missoula Current.
"I have two young grandchildren my son left who love me and adore me and want me around. I want to be there to take care of them, so we've got to figure out whether or not this is something we can all do as a family," Biden said, according to a CNN report.
The moderator, New York Times columnist Bruce Feiler, rattled off a long list of potential roadblocks for Biden, such as his age, the cost of taking on Trump and his history of gaffes. Biden said none of those things scared him.
"I am a gaffe machine, but my God what a wonderful thing compared to a guy who can't tell the truth," he said. "I'm ready to litigate all those things. The question is: What kind of nation are we becoming? What are we going to do? Who are we?"
"Whether or not I run, whoever runs, I'm going to break my neck to make sure they win. We can't have four more years," he added.
Biden spent 2018 on the trail for Democrats in the midterms, with a focus on red states. Political observers have grouped Biden with Sens. Bernie Sanders and Elizabeth Warren in what is becoming increasingly crowded 2020 speculation.
ABC News' Molly Nagle contributed to this report.