7 Ways Hillary Clinton Has Distanced Herself From President Obama
Clinton's opposition to TPP is the latest in a series of breaks with Obama.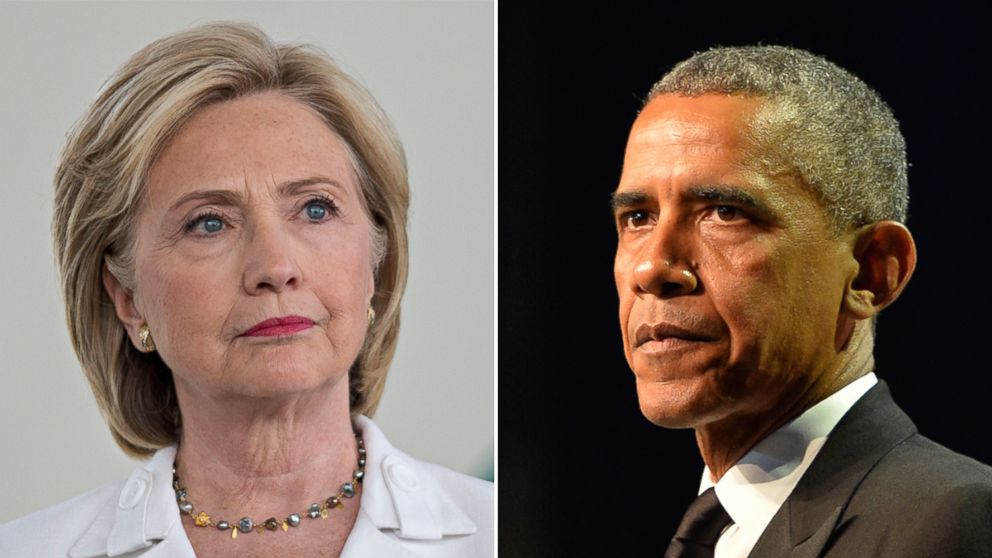 — -- Hillary Clinton has said repeatedly over the course of her campaign that she's not running for President Obama's third term. And as outsider candidate Bernie Sanders surges in the polls, and a possible run by Vice President Biden looms, Clinton appears to be increasingly casting herself as different from the Obama administration.
In the past month alone, the Democratic presidential candidate has split with her former boss five times on key policy issues, including, most recently, her decision to oppose the president's controversial trade deal, the Trans-Pacific Partnership, which she once championed as secretary of state.
Here are seven ways Clinton has already distanced herself from the White House in the past six months as a candidate.
ON IMMIGRATION
Clinton thinks that while President Obama has "done a lot" on immigration, his deportation laws have been has too "harsh and aggressive."
"The deportation laws were interpreted and enforced very aggressively during the last six and a half years, which I think his administration did in part to try to get Republicans to support comprehensive immigration reform, "Clinton said Monday during an interview with Telemundo. "It was part of a strategy. I think that strategy is no longer workable. So, therefore, I think we have to go back to being a much less harsh and aggressive enforcer."
Clinton's criticism is in contrast to what she said in a 2014 CNN interview where she defended Obama on this same issue. "We have to understand the difficulty that President Obama finds himself in because there are laws that impose certain obligations on him," she said.
The Obama administration deported fewer immigrants in the past 12 months than at any time since 2006, according to figures obtained by The Associated Press this week.
Even so, Obama has been dubbed "Deporter-in-Chief" by some immigration advocates for the record-high number of deportations under his administration.
Clinton has also split from Obama with her opposition to the Keystone XL pipeline and Arctic drilling.
"I think it is imperative that we look at the Keystone pipeline as what I believe it I; a distraction from the important work we have to do to combat climate change and, unfortunately, from my perspective, one that interferes with our ability to move forward to deal with all the other issues. Therefore, I oppose it," Clinton explained last month about the controversial pipeline that would stretch from Canada through Nebraska to the Gulf Coast.
In addition, over the summer, Clinton spoke out against off-shore drilling in the Arctic Ocean one day after the Obama administration gave Shell the go ahead to drill for oil and gas there.
Both Democratic presidential candidates Bernie Sanders and Martin O'Malley had been vocal opponents on the two issues for months.
ON HEALTH CARE
Clinton, who says she wants to "build on" Obama's Affordable Care Act, recently called for the repeal of the plan's so-called "Cadillac tax" on high-cost health plans offered by employers.
"I encourage Congress to repeal the so-called Cadillac Tax, which applies to some employer-based health plans, and to fully pay for the cost of repeal," Clinton said in a statement. "My proposed reforms to our health care system would more than cover the cost of repealing the Cadillac Tax, while also reining in skyrocketing prescription drug costs and out-of-pocket expenses for hard-working families."
One week earlier, Sanders had also called for repealing the tax, which is known to be largely unpopular with labor unions and big corporations.