With his son under his raised arm and his wife holding a Bible that once belonged to Frederick Douglass, Wes Moore on Wednesday was sworn in as the first Black governor of Maryland, the only Black governor currently in office and one of only three Black governors elected in U.S. history.
Moore's inauguration was held at the Maryland State House -- the nation's oldest state Capitol still in continuous use and walking distance from a dock that was once one of the largest slave ports in America.
Moore's win in November -- defeating GOP nominee Dan Cox -- saw his party flip the governorship. He succeeds Republican Larry Hogan, who was term-limited.
His inauguration drew political and non-political stars, including actor and comedian Chris Tucker and Oprah Winfrey as well as Chelsea Clinton.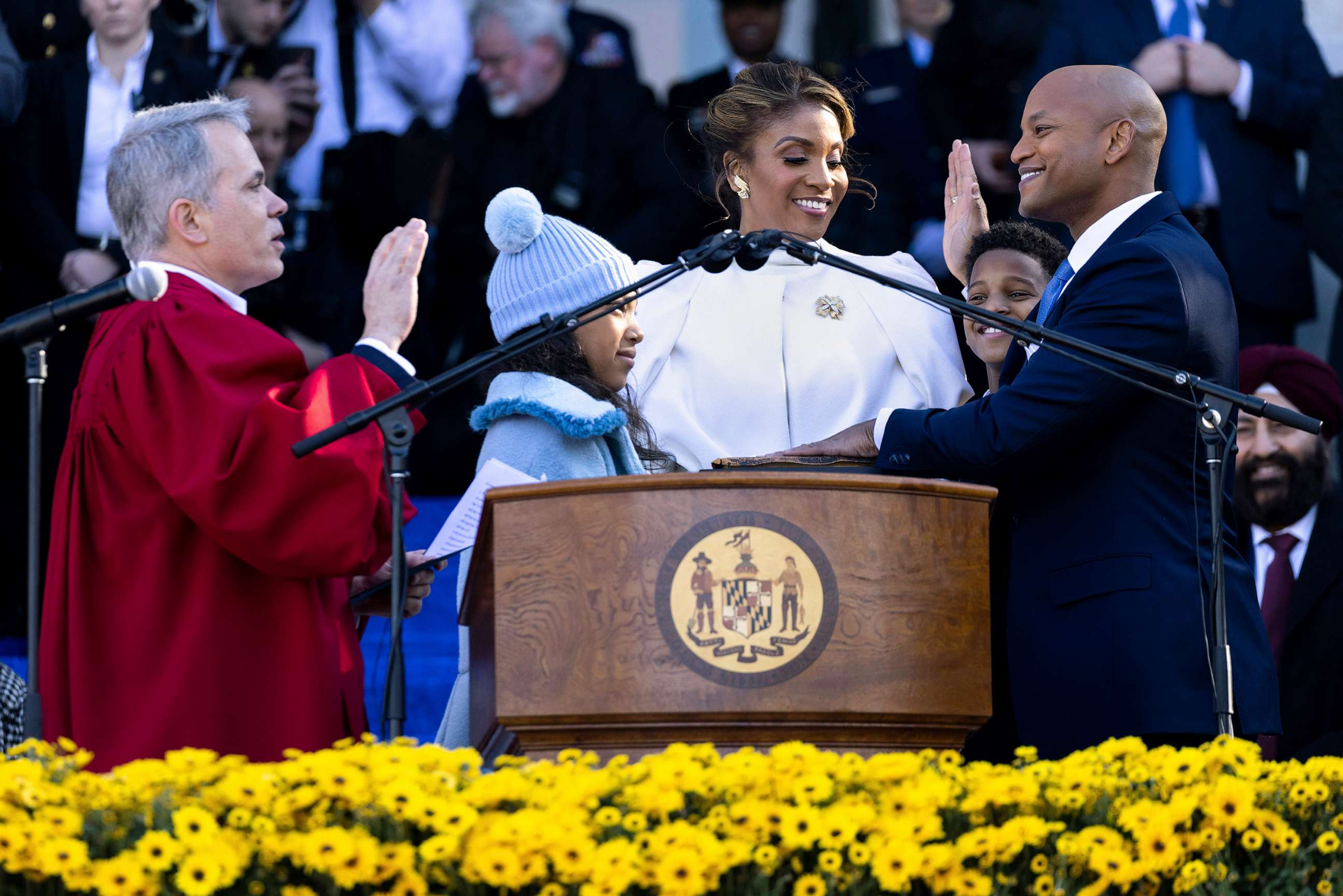 Winfrey, after seeming to wipe away tears at the gun salute following Moore's swearing-in, spoke on the nature of his inauguration.
"I know with Wes Moore as governor, Maryland's best days lie ahead," she said before recounting her personal relationship with the Moore family and Moore's experience as an Army captain, nonprofit CEO and author.
"This might be his first day as an elected official, but Wes Moore has been a public servant for his entire adult life," Winfrey said.
"I trust you," Winfrey said, turning to Moore, her voice thick with emotion.
"I trust your vision, I trust your leadership and I want you to know you can trust it, too," she said.
In his own remarks, Moore thanked attendees and the organizers of the inauguration as well as former Gov. Hogan for the transition.
Moore said it was hard not to think about Maryland's past and the path ahead.
"We're a block away from the Annapolis docks where so many enslaved people arrived in this country against their will, and we're standing at a Capitol that was built with their hands," he said.
Moore then gestured to his mother, who immigrated from Jamaica, and Lt. Gov. Aruna Miller's mother, who like Miller immigrated from India.
"This journey has never been about making history. It's about marching forward," Moore said.
""Maryland," he said, "is asset-rich but strategy-poor. And for too long we have left people behind. Maryland has the highest median income in the country yet one-in-eight children live in poverty."
"We do not have to choose between being a safe state and a just one. Maryland can -- and will -- be both," he said, acknowledging the crime the state has also experienced in the last eight years.
He then outlined some of his plans, including seeking to implement a $15 minimum wage; focusing on clean energy, cybersecurity and police reform; and increasing funding for youth mental health programs, among other proposals.
"Now is the opportunity that we have to march forward and to march together," he said, "and let us march on until victory is won."