The White House on Friday didn't offer an apology or deny comments made by aide Kelly Sadler, who sources say mocked Arizona Republican Sen. John McCain by saying it "doesn't matter" what he thinks because he is "dying anyway."
The comments were made after McCain, who is battling brain cancer, announced his opposition to President Donald Trump's pick for CIA Director, Gina Haspel.
White House press secretary Sarah Sanders had multiple opportunities to condemn Sadler's comments but instead said she wouldn't "validate a leak out of an internal staff meeting one way or the other."
"I'm not going to comment on an internal staff meeting," Sanders said when asked if Sadler is still employed by the White House.
"I'm not going to get into the back and forth because, you know, people want to create issues of leaked staff meetings," Sanders said.
Sanders later clarified that Sadler still works at the White House.
Earlier Friday, McCain's daughter Meghan, a co-host on ABC's "The View," took a thinly-veiled swipe at the White House, saying "I don't understand what kind of environment you're working in when that would be acceptable and then you could come to work the next day and still have a job."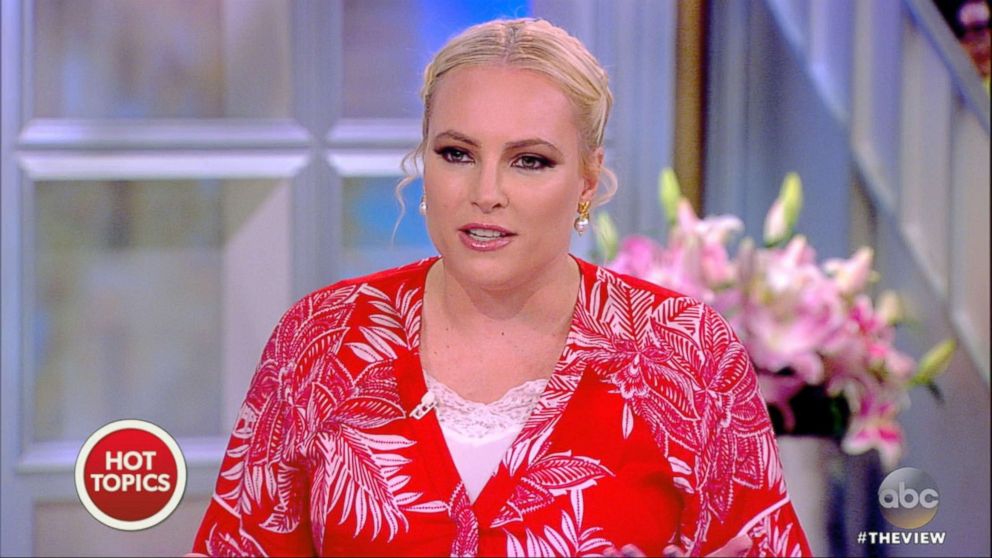 Sadler called Meghan McCainto apologize for the comment, a source told ABC News.
Sanders was asked repeatedly if President Trump bears responsibility for setting the tone in the White House.
"The president, as I mentioned just a moment ago, supports all Americans. If you look at what he's doing every single day, he's showing up to work, he's working hard to make this country better," said Sanders. "That is what our focus is."
Former Vice President Joe Biden issued a striking statement Friday saying the White House had finally hit rock bottom.
"People have wondered when decency would hit rock bottom with this administration. It happened yesterday," Biden said.
McCain's wife, Cindy, tweeted at Sadler on Thursday, writing, "@kellysadler45 May I remind you my husband has a family, 7 children and 5 grandchildren."
CIA director nominee Haspel weighed in with a statement Thursday night, saying "I have the utmost respect for Sen. McCain and I appreciate the thoughtfulness with which he has approached this nomination process."
The White House issued a statement Thursday: "We respect Sen. McCain's service to our nation and he and his family are in our prayers during this difficult time."
Sadler's comments followed disparaging remarks made earlier in the day by a retired three-star general and guest of Fox Business Network who said McCain's opposition to Haspel becoming CIA director was because torture "worked" on McCain"The fact is John McCain – it worked on John," retired Air Force Lt. Gen. Thomas McInerney told host Charles Payne. "That's why they call him 'Songbird John.'"
A Fox Business spokesperson confirmed to ABC News that McInerney will no longer be invited to appear as a guest on either Fox Business Network or Fox News Channel.
McCain has always denied giving up harmful information when he was a prisoner of war and when critics distributed a flyer during the 2008 South Carolina presidential primary claiming he did, it was debunked by the fact-finding website PolitiFact.Payne tweeted that McInerney's remark was "very false and derogatory" and "should have been challenged."
During the Vietnam War, McCain, now 81 and battling brain cancer, was held as a prisoner of war by the North Vietnamese for more than five years.
McCain has recounted stories of lying to his interrogators under torture, including giving them the names of the Green Bay Packers' offensive line instead of the names of his own squadron.
The confirmation vote for Haspel could be close.
In a statement Wednesday evening, McCain said he believes Haspel is a "patriot who loves our country and has devoted her professional life to its service and defense."
"However," McCain continued, "Ms. Haspel's role in overseeing the use of torture by Americans is disturbing. Her refusal to acknowledge torture's immorality is disqualifying."
He added: "I believe the Senate should exercise its duty of advice and consent and reject this nomination."
ABC News' Elizabeth McLaughlin, Luis Martinez, and Shah Rahmanzadeh contributed to this report.