It was just five minutes into President Donald Trump's rally in Tampa, Florida, on Tuesday when a curious sign was raised by a single attendee amid the usual sea of red "Make America Great Again" hats.
As cable channels ran video of the president welcoming Republican gubernatorial candidate Ron DeSantis to the stage, a page of white printer paper with "WE ARE Q" emblazoned in bold black letters continued to hover above the crowd line, sticking out like a sore thumb.
A simple Google search of the group, known as "QAnon," could draw any curious browser to some of the darker and more desolate corners of the Internet, where long-winded discussions on message boards muse about the coming purge of a so-called "Deep State" orchestrated by Trump himself.
At the helm is an anonymous figure, known as "Q," claiming to be deeply embedded in Trump's inner circle with access to a top-secret security clearance, providing incremental cryptic clues for far-right fringe Internet sleuths to debate and decode.
Theories span from speculation that former President Barack Obama and presidential candidate Hillary Clinton are soon to be destined for detention in Guantanamo Bay, and that an untold number of elite figures throughout the media, Hollywood and Democratic party are in fact secret pedophiles soon to be outed in their nefarious plot to overthrow the U.S. government.
The phenomenon metastasized in some of the very internet forums that popularized "Pizzagate," a baseless theory that raged in the latter days of the 2016 election, which held that Clinton advisor John Podesta was running a similar pedophile ring out of the pizza restaurant Comet Ping Pong in Washington, D.C.
"Pizzagate" gained so much traction that in December 2016 a North Carolina resident fired three shots inside Comet with an AR-15, later revealing to police that his intent was to investigate the theory.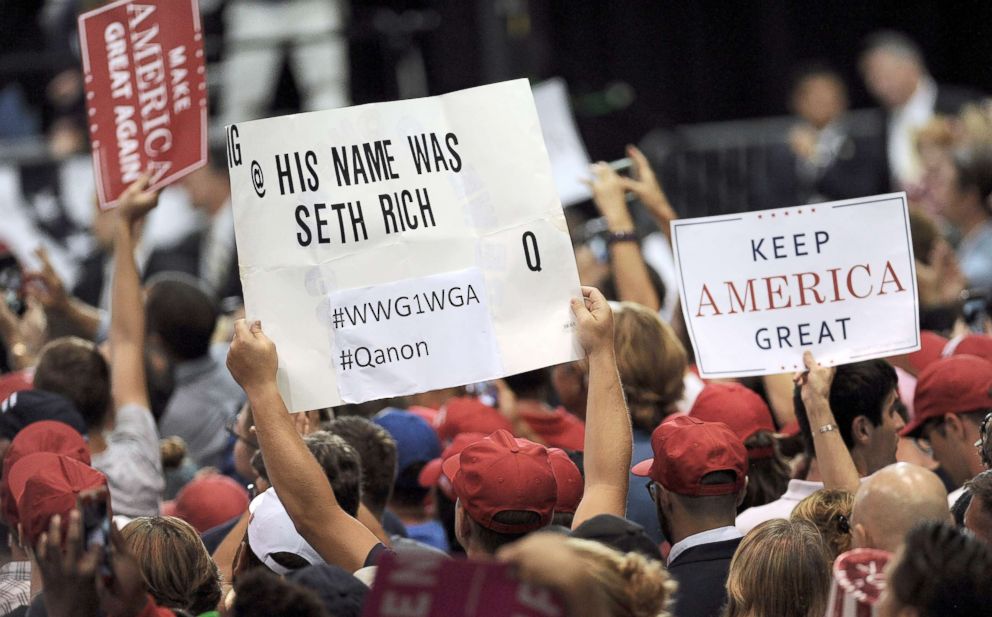 "QAnon" has similarly broken through from obscurity, originating on internet communities like 4chan and 8chan before branching out to more populated forums like Reddit, according to Benjamin Decker, a research fellow at the Shorenstein Center on Media, Politics and Public Policy at Harvard University.
"From Reddit, the folks sharing that content may create YouTube videos," Decker said in an interview with ABC News. "Because those YouTube videos are public and indexable by search there are some videos with up to a million views."
In addition to "QAnon's" elevated prominence in videos on YouTube and Facebook, the theory also received shout-outs on platforms like conspiracy theorist Alex Jones' InfoWars along with celebrities like Roseanne Barr.
While the Tampa rally was the first example of "QAnon" followers breaking through to mainstream prominence on cable news, Trump supporters previously donned "Q" T-shirts at rallies in South Carolina and North Dakota in June. The group has also put up billboards in Georgia and Oklahoma, according to Decker.
Additionally, in June, an armed man with an armored truck blocked a highway near the Hoover Dam holding a sign reading, "Release the OIG report," known as one of the more prominent demands for "QAnon" followers.
President Trump himself also may have been an unknowing promoter of the group when he retweeted the account MagaPill.com in November 2017. The account had long peddled in numerous conspiracy theories and has highlighted the "QAnon" theories prominently on its website and Twitter.
Meanwhile, followers of "Q" have repeatedly gone on to generate conspiracies based on the president's own words down to his simple hand gestures.
Specifically, many followers have cited Trump's "calm before the storm" quip at a gathering of military leaders in October 2017 as evidence he was previewing some sort of coming crackdown on the "Deep State."
But Decker said QAnon's breakthrough at the Tampa rally could be seen as a watershed-type moment in the event the movement takes on a similar track as "Pizzagate" and followers choose to take their 'sleuthing' from the Internet into the real world.
"We're no longer talking about an exposure of a million people," Decker said. "If a rally is broadcast on a major news network, we're talking tens of millions of people are now exposed to this whole concept of 'Q.'"
In the White House briefing Wednesday, press secretary Sarah Sanders was asked specifically about the "QAnon" presence at the Tampa rally, but did not directly acknowledge or rebuke the group in her answer.
"The president condemns and denounces any group that would incite violence against another individual, and certainly doesn't support groups that would promote that type of behavior," Sanders said. "We've been clear about that a number of times since the beginning of the administration."