Concepcion Picciotto, who occupied a peace vigil across from the White House for decades, has died, according to reports. She was believed to be 80 years old.
Picciotto became famous for her 24-hour anti-nuclear peace vigil encampment, which she set up in 1981 on the sidewalk of Pennsylvania Avenue in Lafayette Park, across from the White House.
She often displayed signage that read, "Live by the bomb die by the bomb" and "Ban all nuclear weapons or have a nice doomsday."
The Peace House confirmed Picciotto's death on Jan. 25.
"Connie may not have been the easiest person to live or work with but the peace vigil was never about Connie and even throughout the biggest struggles we all knew that. That was the reason why we suffered through sub-zero temperatures, hurricanes and dealing with impolite people," according to a statement from Peace House on its Facebook page. "Connie's health was not well for the past couple of years. Therefore, we hope she finds peace where she may be."
For years, the Peace House served as a base for Picciotto and other activists who would maintain the vigil on Pennsylvania Avenue.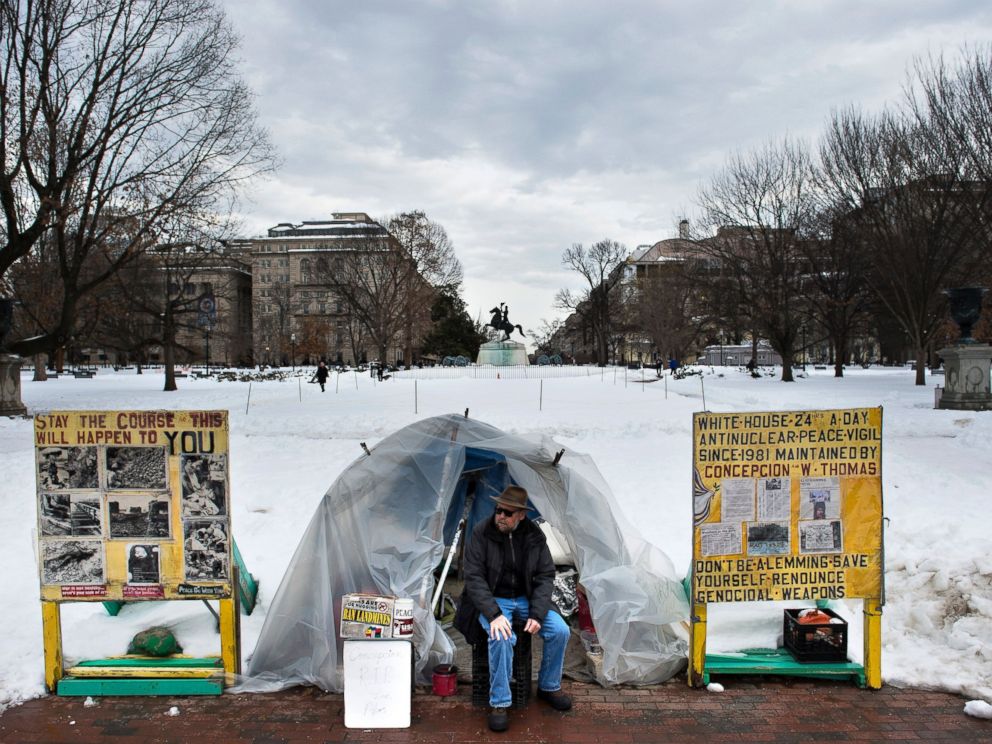 ABC News Chief White House correspondent Jonathan Karl interviewed Picciotto in 2013.
When asked why she maintained the vigil for so many years, she said, "Because nobody will do it. Nobody will stand up."
Del. Eleanor Holmes Norton, D-D.C., regarded Picciotto as "the living symbol for staying with a principled cause, such as nuclear non-proliferation and peace, until it is achieved, even when others grow tired."
"At a time when people ask me whether I think we will ever achieve statehood, I think of extraordinary activists like Picciotto, who recognized that there is no progress without activism," Norton wrote in statement Tuesday.

The N Street Village, where the Washington Post reports that Picciotto lived in the final days of her life, did not immediately respond to a request for comment. Her cause of death is not clear.