White House physician Ronny Jackson is facing a possible new inquiry by the Pentagon inspector general after his nomination to be the next secretary of Veterans Affairs fell apart last week.
The Pentagon's inspector general announced on Monday that it had received allegations about Jackson's conduct and is now reviewing "what investigations or actions are warranted regarding these allegations and complaints."
"The DoD Inspector General has received the allegations and is assessing what investigations and reviews have already been conducted related to these issues, any jurisdictional issues that may relate to the allegations, and the scope of the allegations and complaints related to these issues. The Inspector General's office will determine what investigations or actions are warranted regarding these allegations and complaints," Pentagon spokesman Tom Crosson said in a statement to ABC News.
The possible new inquiry comes on the heels of reports that Vice President Mike Pence's personal physician privately raised alarms about Jackson's behavior last fall.
Pence's physician alleges that Jackson may have violated privacy protections for the vice president's wife, Karen Pence, which resulted in intimidating and angry behavior by Jackson, in memos written by the vice president's physician and obtained by CNN.
A White House official confirmed to ABC News that Vice President Pence's chief of staff, Nick Ayers, brought the concerns of the vice president's physician to the attention of chief of staff John Kelly last fall.
Ayers also advised the physician to bring concerns through the proper channels at the White House Medical Unit.
The vice president's press secretary, Alyssa Farah, told ABC News that the physician "brought the issue to Mr. Ayers, who appropriately referred the matter to the proper channels."
Farah said Mrs. Pence "has been briefed on all the facts related to a private matter regarding her health care. She is grateful for the professional care she received from all White House medical personnel who resolved the matter quickly. She considers the matter closed and has no further comment on the situation."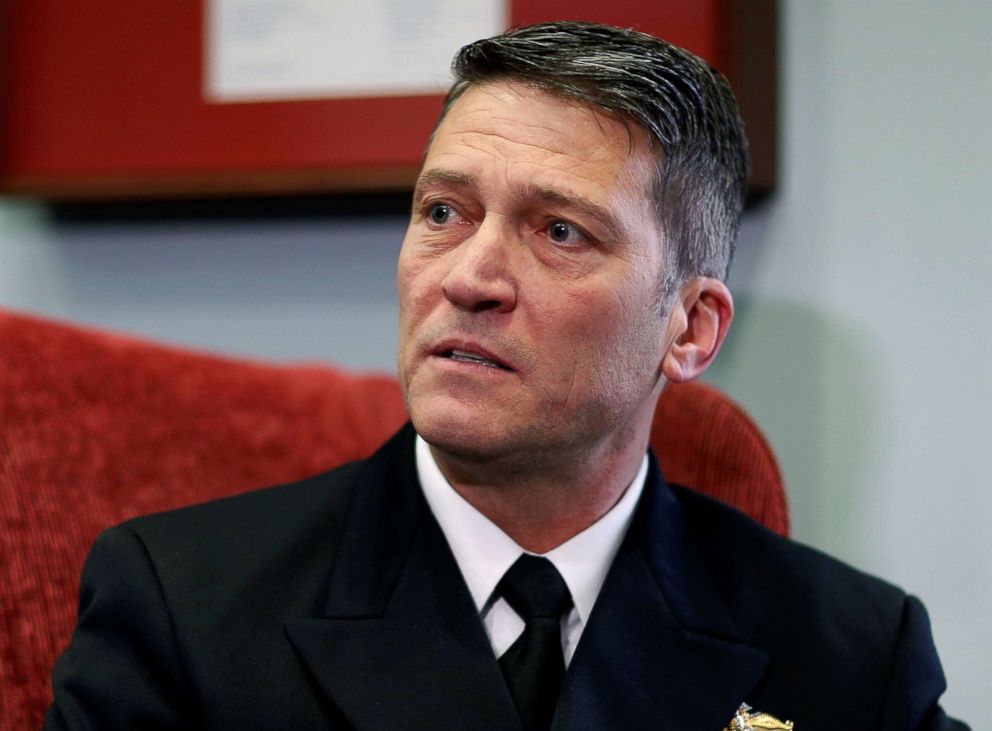 Jackson, who recently withdrew his nomination to head up the VA amid swirling allegations involving workplace misconduct, has not returned to his role as President Donald Trump's personal doctor, a White House source confirmed to ABC News on Sunday.
Jackson, a Navy rear admiral, will rejoin the White House as a member of its medical unit staff, but the president's current physician, Navy officer Sean Conley, who took over the role in anticipation of Jackson's confirmation process, will remain as Trump's doctor, a White House source confirmed.
Politico was first to report the news.
Conley holds the rank of commander and has been at the White House Medical Unit for a year and a half. He is two ranks lower than Jackson, according to a biography provided by the Navy Office of Information.
White House officials Monday publicly reinforced that Jackson remains on the job as part of the medical unit, disputing any suggestion that he was out. Officials did concede, however, that he would no longer hold the title physician to the president.
"Rear Admiral Ronny Jackson is currently on active duty, assigned to the White House as Deputy Assistant to the President. Despite published reports, there are no personnel announcements at this time," Raj Shah, White House principal deputy press secretary, said in a statement.
Jackson's confirmation hearing in the Senate was postponed indefinitely last week after questions were raised about his professional conduct as a military doctor.
But since he withdrew his nomination to be the next Veterans Affairs secretary, the Senate Committee on Veterans Affairs has dropped its investigation into allegations involving Jackson's workplace behavior.
ABC News' Luis Martinez, Tara Palmeri, Ali Rogin, Karma Allen, and Jordyn Phelps contributed to this report.