The White House has suspended press access for CNN correspondent Jim Acosta after he and President Trump engaged in a heated exchange during a press conference on Wednesday, one day after the midterm elections.
Acosta tweeted that the Secret Service barred him from entering White House grounds to shoot his 8 p.m. news broadcast. A video posted by Acosta on Twitter also shows that his credentials were confiscated.
"This is Jim Acosta. I am in front of the White House. Secret Service officer is asking for my hard pass," Acosta said on the video. "Obviously, no hard feelings to the officer, but I am now giving my hard pass to the Secret Service."
The Secret Service agent could be heard on camera saying he "was just told to do it" and takes Acosta's ID out of his lanyard.
The White House said in a statement that the reason Acosta was banned from the grounds is because he placed "his hands on" a White House intern during the press conference in the East Wing earlier in the day.
"President Trump believes in a free press and expects and welcomes tough questions of him and his Administration," press secretary Sarah Sanders said in the statement. "We will, however, never tolerate a reporter placing his hands on a young woman just trying to do her job as a White House intern."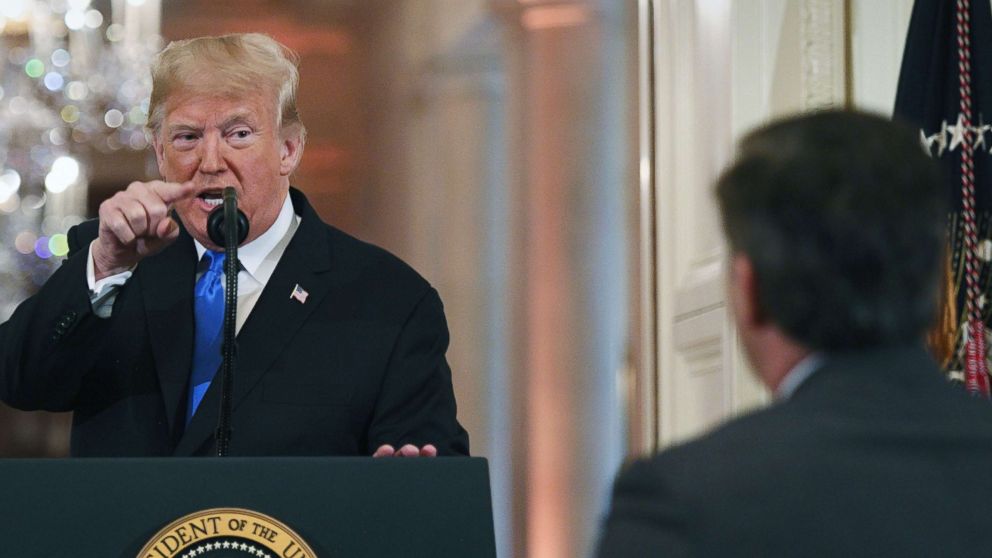 The testy back-and-forth began as Acosta attempted to ask Trump a question about the Russia investigation.
"Honestly, I think you should let me run the country, you run CNN, and if you did it well, your ratings would be much better," Trump told Acosta.
After Trump said, "That's enough," a White House intern tried to grab the microphone from Acosta.
As Acosta kept a firm grip of the microphone with his right hand, his left hand briefly came in contact with the inside of the woman's elbow as she reached over to grab it, video from the press conference shows.
"Pardon me, ma'am," Acosta told the intern during the encounter, before asking Trump if he was "concerned" that he may be indicted in the Russia investigation.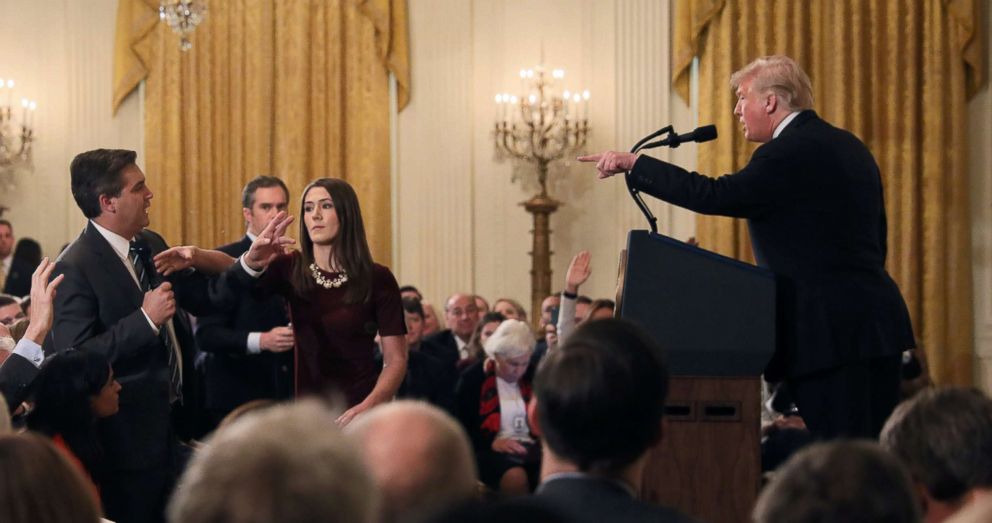 Before Acosta could finish the question, Trump cut him off, saying "I'm not concerned about anything with the Russian investigation because it's a hoax. That's enough. Put down the mic."
Visibly frustrated, Trump walked away from the podium for a few seconds before returning to admonish Acosta.
"I tell you what. CNN should be ashamed of itself, having you working for them," Trump said. "You are a rude, terrible person. You shouldn't be working for CNN."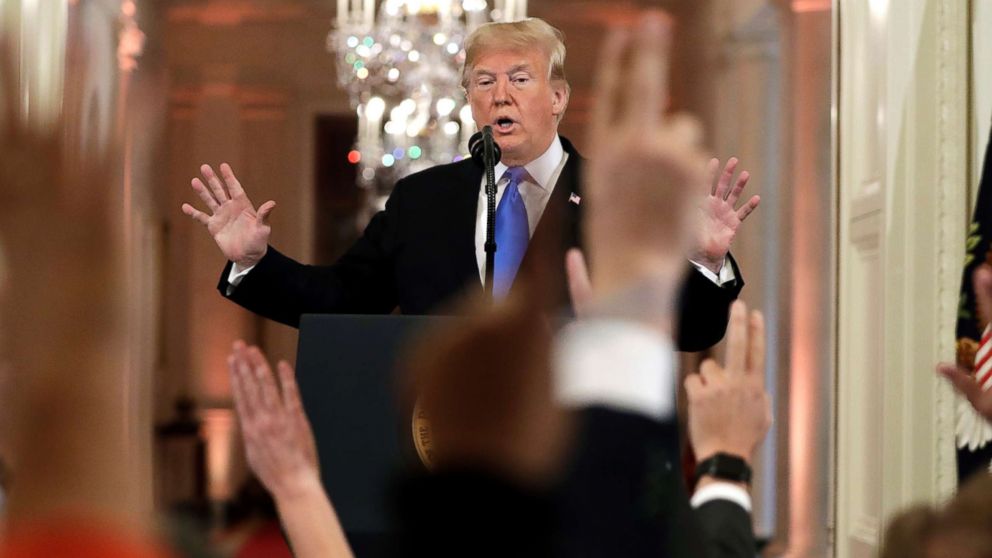 As Acosta began to interject, Trump attempted to invite more questions from another reporter before speaking to Acosta again. "You're a very rude person. The way you treat Sarah Huckabee is horrible, and the way you treat other people is horrible. You shouldn't treat people that way."
Trump then told Acosta to "sit down," saying, "When you report fake news, which CNN does a lot, you are the enemy of the people."
Sanders described the behavior the White House accused Acosta of displaying as "absolutely unacceptable" and said it was "disrespectful to the reporter's colleagues not to allow them an opportunity to ask a question."
Sanders also defended Trump, saying he has "given the press more access than any President in history," and scolded CNN for being "proud" of Acosta.
"Contrary to CNN's assertions, there is no greater demonstration of the President's support for a free press than the event he held today," Sanders said in a statement.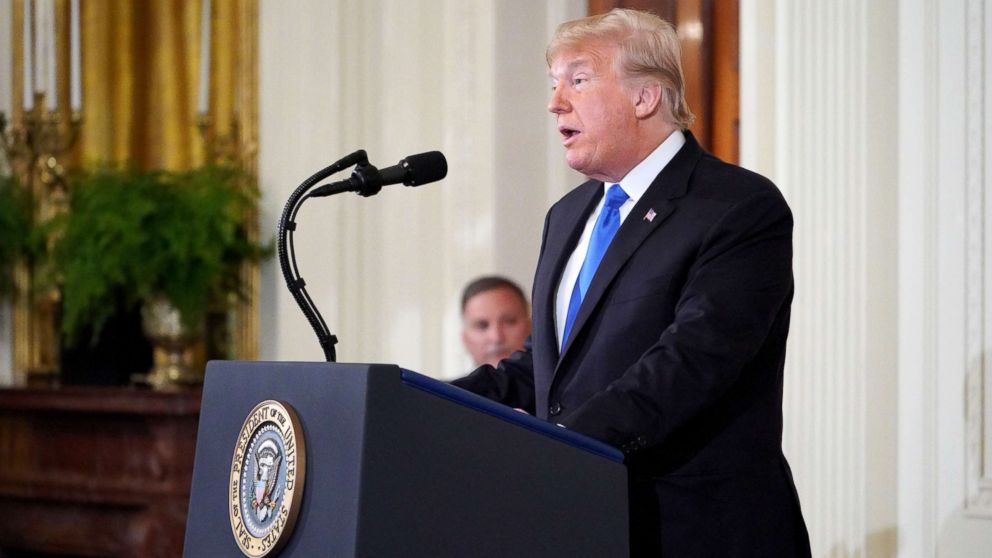 "Only they would attack the President for not being supportive of a free press in the midst of him taking 68 questions from 35 different reporters over the course of an hour and a half – including several from the reporter in question. The fact that CNN is proud of the way their employee behaved is not only disgusting, it is an example of their outrageous disregard for everyone, including young women, who work in this Administration."
In a statement, CNN defended Acosta, accusing Sanders of lying and saying the suspension of his hard pass was "done in retaliation for his challenging questions at today's press conference."
"This unprecedented decision is a threat to our democracy and the country deserves better," CNN said. "Jim Acosta has our full support."
Other White House correspondents who were in the room also came to Acosta's defense.
When Trump turned to NBC News correspondent Peter Alexander, telling him, "Go ahead, Peter, go ahead," Alexander didn't hesitate to compliment his colleague."In Jim's defense, I've traveled with him and watched him. He's a diligent reporter who busts his butt."
"Well, I'm not a big fan of yours either, to be honest," Trump replied to Alexander.
Reuters reporter Jeff Mason, who was seated next to Acosta, disputed the White House's claims that he placed his hands on the intern. He tweeted a photo of the incident, which he said depicts "what happened accurately."
On Twitter, New York Times reporter Peter Baker called the White House's actions a "false predicate to punish a reporter" and a "very bad sign."
New York Times White House correspondent Maggie Haberman recounted what she witnessed in the room, saying, "This was plain to see he was headed this way for a long time," after Trump's team would hand-pick which reporters could travel in their pool while campaigning for the 2016 election.
An Oct. 29 tweet pinned to the top of Acosta's Twitter profile says, "We are not the enemy of the people."
This isn't the first time that the White House has taken retaliatory action against a reporter and network after the administration felt they acted out of turn, and it isn't the first time it's happened to Acosta.
On July 14, Sanders said a scheduled "State of the Union" interview with CNN and national security adviser John Bolton was canceled as a consequence of a back-and-forth between Acosta and Trump. The White House accused Acosta of disrespecting the president.
"Instead of rewarding bad behavior, we decided to reprioritize the TV appearances for administration officials," Sanders tweeted in response to CNN anchor Jake Tapper, who said Trump "attacked CNN" during a presser he had recently held in the United Kingdom with Prime Minister Theresa May.
During the press conference, Acosta had tried to ask Trump a question, to which Trump replied, "CNN is fake news. I don't take questions from CNN." Acosta then responded by saying, "Since you attacked CNN, can I ask you a question?" defending CNN as a "real" network.
Another incident occurred on June 12, when Trump warned Acosta to "be nice" and "be respectful" when he asked a question following appearance at the Singapore summit with North Korean leader Kim Jong Un.
On Jan. 10, at a press conference at Trump Tower in New York City, Acosta made a number of efforts to ask a question after the Russia collusion accusations, in which Trump replied, "Your organization is terrible."
"You're attacking us," Acosta said. "Can you give us a question?"
Trump then told him, "Don't be rude. No, I'm not going to give you a question. You are fake news."
Two days before, CNN had published a story saying that classified documents to then-President Barack Obama and President-elect Trump included allegations that Russian operatives had compromising information on Trump.