On Wednesday, Gov. Tony Evers continued a time-honored tradition in Wisconsin politics: using a quirky Badger State governing tool to infuriate the opposing party.
When approving the state's biennial budget, Evers exercised Wisconsin's uniquely expansive "partial veto," which allows the governor to surgically remove words, phrases and individual numbers or letters from appropriations bills when signing them into law.
Among other changes, Evers removed a Republican-authored provision that he denounced as "cuts benefiting the wealthiest individuals in our state," noting that "roughly one-half of their proposed tax cut would go to filers with incomes above $200,000." He also struck the "0" in "$10 million" to slash a piece of funding for the upcoming Republican National Convention.
Evers also used his veto pen to lock in funding for Wisconsin's public school system for four centuries, changing the phrase "2023-24 school year and the 2024-25 school year" to the "2023-2425" school years.
Designed for governors to be able to cut spending, the partial veto is more likely to be used for partisan purposes, political science research has found.
"The partial veto has historically been used as a policymaking tool, and to get at the other party," said E. Lee Bernick, a public policy professor at the University of Nevada, Las Vegas. "And that's sort of what he's doing here."
The move seemingly achieved the predicted outcome of infuriating political opponents. Lacking a supermajority, state Republicans are likely powerless to overturn the veto by legislative means, as doing so would require a two-thirds vote, and so they have vowed to contest the move in court.
"What Gov. Evers did is something that was not done by any governor in our history," Wisconsin Assembly Speaker Robin Vos told ABC News' Milwaukee affiliate on Thursday. "Was not done by [former Govs.] Tommy Thompson or Jim Doyle, wasn't done by Scott Walker or any of them to strike out a dash to try to do something like this, so clearly we can see that it's unprecedented and it can't continue."
Experts told ABC News that it is not clear whether Evers' use of the partial veto was constitutional. The state has outlawed a move known as the "Vanna White" veto -- named for a co-host of the television game show "Wheel of Fortune" -- in which a governor would be permitted to strike individual letters to form new words.
"This is where I think the question comes up with what Gov. Evers has done," Bernick said. "I would say that making '2425' a new year, a new word -- in my personal opinion, I don't think it meets the test."
Kristoffer Shields, program manager of Rutgers University's Eagleton Center on the American Governor, agreed.
"I think it'll be a really interesting conversation, moving forward, to see how comfortable people are with the executive being able to make a decision like that," Shields said. "I'm really curious to see if this turns into a movement to restrict the power in Wisconsin, or if this blows over."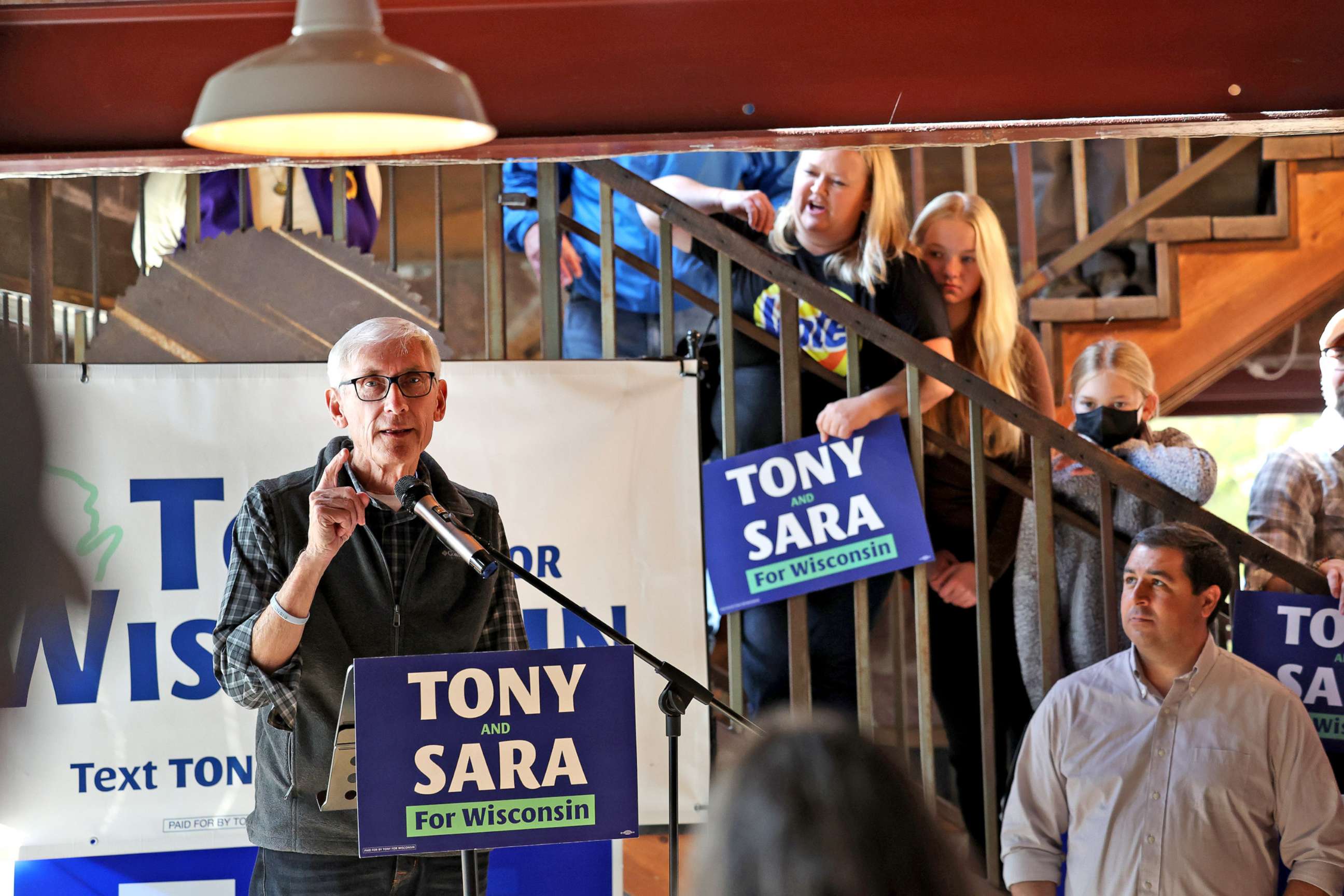 In 2020, the state Supreme Court struck down three of Evers' partial vetoes, reversing a decades-long trend of the court upholding or expanding the governor's veto power. At the time, the justices could not decide on rules to guide the use of the partial veto in the future, leaving the fate of this veto particularly difficult to predict.
As yet another possible wrinkle, Shields said, control of Wisconsin's Supreme Court is about to shift toward Democrats after a highly-watched race in April ceded the seat to the liberal jurist, Janet Protasiewicz, who will assume her position next month.
"That could be a twist in there as well. On the other hand, a procedural question like this might be less partisan than some others," said Shields. "I don't know what a court is going to do with it. ... I think there's room on both sides of that argument."
Wisconsin Democrats have spoken out in defense of the governor.
"Everybody will shout and scream," former Democratic Gov. Jim Doyle told the Associated Press, "but he's got 'em."
Most states allow governors a "line-item veto," giving them the power to strike whole provisions of certain bills without approval from their state legislatures. But Wisconsin has the even more powerful "partial veto" by which governors can cut individual words, numbers and punctuation contained in certain provisions within some types of laws.
"It's a much more expansive power and authority than other governors have," said Bernick.
Implemented in 1930, the partial veto was rarely used until 1969, when then-Gov. Warren Knowles partially vetoed 27 items in that year's budget bill. Use of the partial veto took off in the decades to follow, reaching a high of 457 partial vetoes under Gov. Tommy Thompson in 1991.
It has been used in every budget negotiation since then, according to Wisconsin legislative records. Evers made a total of 51 edits to this year's budget.
"While it has captured the public's imagination here, it's not out of character for Wisconsin governors to be aggressive in using the partial veto," said Shields.
Evers, for his part, posted an article about the veto on Twitter captioned with an image of himself sipping tea -- a sign that, for now, the governor remains confident in his decision.