— -- A New York City bakery is celebrating the New York presidential primary in a fun and tasty way -- by putting candidates on cookies.
Cupcake Market co-owner Sarah Silverman, who studied at Savannah College of Art and Design, hand-paints each edible portrait of former Secretary of State Hillary Clinton, Sen. Bernie Sanders and businessman Donald Trump.
"My original idea was to do an iconic face on a cookie, and then with the primary coming up I thought, 'Why not the three New York candidates?'" Silverman told ABC News.
One intricate candidate cookie takes her 20 minutes to paint, and Silverman said it's been tough keeping up with the demand.
The bakery is also keeping track of daily sales on their "cookie primary" board.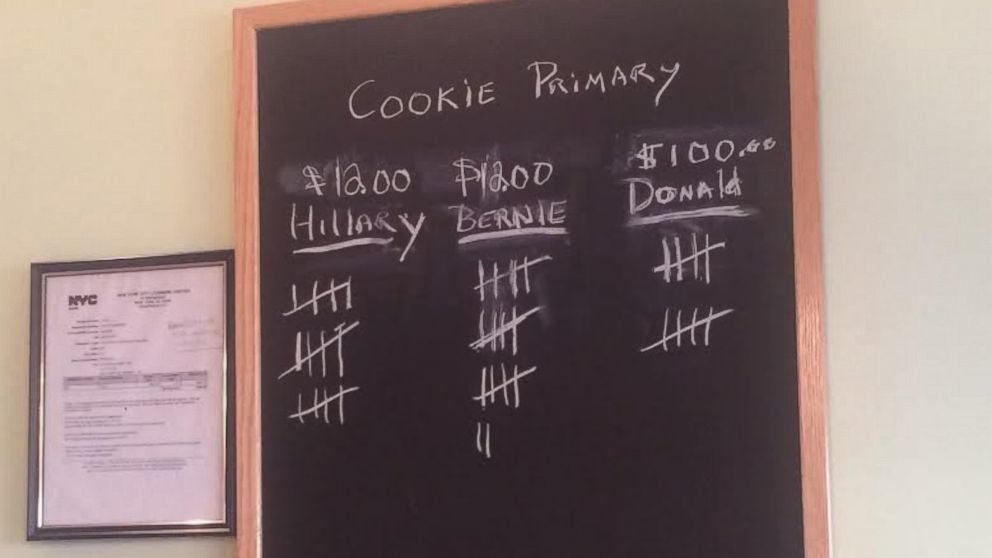 The $100 sticker price on the Donald Trump cookie is a joke, a nod to the businessman's wealth. All the cookies currently cost $12.50 each.
While checking out the baked goods on Friday, one couple asked Silverman why Sen. Ted Cruz doesn't have a cookie. "He doesn't have very nice things to say about NYC," she replied, referring to the senator's "New York values" comments.
Apparently, that's the way the cookie crumbles in NYC.
Today at 6:30 p.m. ET, Silverman will be painting cookies live for ABC News. Check back at this page or at abcnews.com/live to watch.