— -- Adrian Peterson's apology for the "hurt" he inflicted on his young son when he punished the boy with a switch was the result of the respect Peterson had for similar discipline his parents had applied to him.
The football star even praised his parents' tough discipline in his statement today, saying that it prevented him from being "one of those kids that was lost in the streets."
"I have always believed that the way my parents disciplined me has a great deal to do with the success I have enjoyed as a man," he said in a statement.
Before the Minnesota Viking's running back issued his statement today, he had not spoken publicly about the way he was treated by his parents a turbulent childhood.
Peterson's attorney, however, had defended him, saying Peterson "is a loving father who... used the same kind of discipline with his child that he experienced as a child growing up in east Texas."
Peterson's childhood football coach Steve Eudey made a similar point, telling the Associated Press that he heard stories about the punishments that Peterson received as a kid and said that it matches with what the NFL star allegedly did to his own son.
"I will go to my grave defending Adrian, but at the same time you can't harm a child, either," Eudey said. "I know that was never his intent."
The personal history of the Minnesota Viking's running back has come under scrutiny after he was indicted Friday on charges of child abuse for allegedly beating his young son with a switch in May. Peterson posted bond Saturday and is due back in court for a hearing on his charge of reckless or negligent injury to a child which could carry a maximum penalty of two years in prison with a $10,000 fine. He has not yet entered a plea.
Peterson has five children including four that do not live with him. The boy in the switch incident does not live with Peterson.
While Peterson has not spoken much about his childhood, in the past he has talked about how a number of personal tragedies motivate him.
Vikings: Adrian Peterson to return
Adrian Peterson Benched After Child Abuse Allegations Emerge
Adrian Peterson Case Brings Scrutiny to Child Spanking
"I run angry. Football allows me to take out some of my pain on the field," he told USA Today ahead of his 2007 draft.
Peterson experienced a great loss when he was growing up in the east Texas town of Palestine. When Peterson was 7, he witnessed a drunk driver fatally hit his 9-year-old brother while he was riding his bike. More recently, Peterson's half brother was fatally shot in Houston in 2007 shortly before the NFL draft.
He told USA Today that when he was 13, his father was sentenced to 10 years in jail after selling crack cocaine for a drug ring and getting caught on drug laundering charges. Visits to the Texarkana Federal Correctional Institution and regular letters kept the pair close, but family friends remembered his father Nelson as "a firm disciplinarian."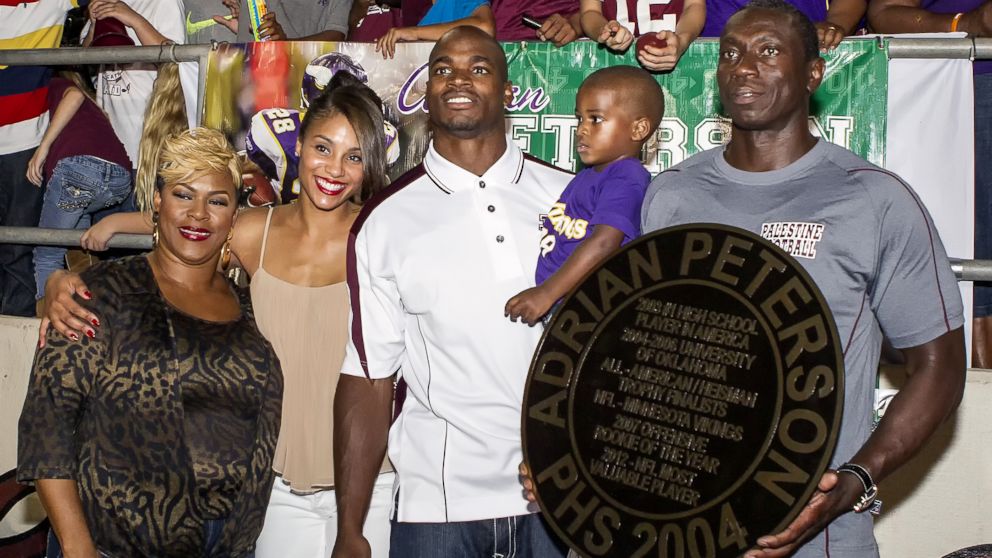 Tragedy struck the family again in October when one of Peterson's sons was beaten to death by the boy's mother's boyfriend, Joseph Patterson. ESPN reported that the football player only learned that he was the father of the 2-year-old boy two months before the boy was killed. He had not met the child at the time of his death and Patterson has been charged with murder and manslaughter in the case.
"It's just made me stop taking things for granted. Life is short. You never know. You just want to take advantage of the time you do have," he told ESPN last month. "First and foremost, [it was] getting in alignment what God wanted for me in my life and stop [being promiscuous]. I was pretty much doing what I wanted to do, and I could pretty much do that. [It was] just to get in alignment with God, having a wife and really creating that bond and that life."
Peterson did not talk about the switch incident during the ESPN interview in August. He confirmed that he and his wife Ashley have one child together, a 3-year-old named Adrian Jr, and he has four additional children who do not live with him.
"When all that stuff came down, it's more like, 'Reality check, man,'" he said when the 2-year-old was killed in October. "It's time to start walking the way you know you need to instead of straddling the fence -- knowingly straddling the fence."
The Vikings announced today that Peterson has been reinstated to the team and will be both practicing and playing with them this week.