— -- San Francisco 49ers quarterback Colin Kaepernick did not stand during the national anthem prior to the start of tonight's preseason game against the San Diego Chargers -- instead, he knelt down to one knee, continuing his protest against racial injustice and police brutality.
Kaepernick was joined by teammate Eric Reid, who also dropped to one knee while Petty Officer 1st Class Steven Powell from the U.S. Navy sang "The Star-Spangled Banner." Also, simultaneously, 240 sailors, marines and soldiers unfurled an oversized flag at the Chargers' Qualcomm Stadium.
The pair were met with scattered boos during the anthem, but Kaepernick was met with significantly more boos in his snap of the game.
Kaepernick has said his protest will continue indefinitely.
"When there's significant change and I feel like the flag represents what it's supposed to represent in this country, I'll stand," he told reporters Sunday.
Tonight's game is particularly noteworthy because it is Military Night at Qualcomm Stadium, billed as a tribute to "hundreds of thousands of current and retired military personnel who live and work in San Diego," according to the San Diego Chargers' website.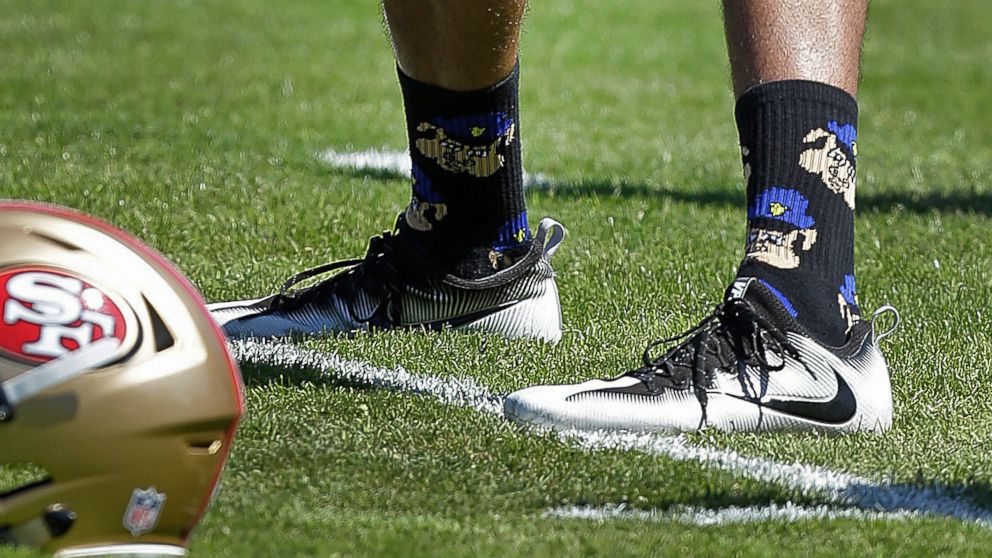 Kaepernick has said that his pregame protest is over the treatment of "black people and people of color." It first caught media attention last Friday before a preseason game against the Green Bay Packers.
Today, Kaepernick responded to critics who slammed him for wearing socks during a Aug. 10 practice with imagery of illustrated pigs wearing police hats. The term "pig" is a derogatory term for police officers.
Bill Johnson, executive director of the National Association of Police Organizations, told USA TODAY Sports the socks are "disrespectful."
Kaepernick posted a statement to Instagram, writing that he wore the socks in the past because of "rogue cops that are allowed to hold positions in police departments."