How Dallas built the NFL's 1,586-pound MVP
— -- This story appears in ESPN The Magazine's Dec. 26/Jan. 2 issue.? Subscribe today!
Dak Prescott settles under center, makes eye contact with the middle linebacker one last time to get his bearings, then taps his right foot on the turf, signaling for tight end Jason Witten to come in motion. It's late on a Thursday night inside the glimmering Nordic temple of U.S. Bank Stadium in Minneapolis, and the Cowboys are clinging to a 14-9 lead. They have the ball on their own 46 with 6:37 remaining, but you can feel it: After struggling most of the night in this Week 13 matchup against a top-five defense, the Dallas offense needs to make something happen, and fast.
A few months ago, of course, nothing the Cowboys did in December was supposed to have any consequence whatsoever. In August, Tony Romo hurt his back and was replaced by Prescott, the fourth-round draft choice and eighth quarterback picked overall. So much for the season. Then, in keeping with the overall theme of 2016 -- "Wait, what?" -- Prescott turned out to be nothing short of extraordinary. With him and sensational rookie running back Ezekiel Elliott, the Cowboys somehow went from zero expectations to the projected top seed in the NFC.
But the real reason for Dallas' unlikely run is its five wide-bodies up front, a unit so dominant there has been talk of naming the entire group the 2016 NFL MVP. It's now in perfect sync at the start of this critical drive. As Prescott's right foot hits the turf, Witten's right hand lifts off the ground. He moves with purpose behind the line, first passing right tackle Doug Free, then right guard Zack Martin, center Travis Frederick and left guard Ronald Leary, before coming to a stop just behind the outside shoulder of left tackle Tyron Smith, the man who set this juggernaut into motion.
It's time for something big.
In 2011, just three months after he was officially named Cowboys head coach, Jason Garrett persuaded Jerry Jones to select the 6-foot-5, 320-pound Smith with the ninth overall pick. The decision signaled a big shift in Dallas. Jones, himself a former lineman and co-captain of the 1964 Arkansas national championship team, went his first 22 seasons as owner and GM in Dallas without using a single first-round pick on a blocker. In Jones' defense, the Great Wall of Dallas, the dominant and deeply troubled line that anchored the Cowboys' three Super Bowl wins in the 1990s, was for the most part a collection of misfits and castoffs. What's more, the current proliferation of the spread offense and quick-release passing attacks is perceived to have devalued linemen.
But Smith, a USC product, was an easy sell for Garrett because Dallas had line problems. As a rookie, he played right tackle. That season Free, a fourth-round pick in 2007 out of Northern Illinois, became a liability at left tackle, taking too many penalties and exposing Romo to big blindside hits.
In 2012, Free shifted to the right side, where his build and mauler mentality were a much better fit. That cleared room for the chiseled, explosive Smith -- who has a 36-inch reach, the agile feet of a power forward and a bench press that teammates claim is north of 600 pounds -- to move from right to left. "If you went into a computer lab and tried to create the perfect prototype tackle, it would be him," says Ross Tucker, a former NFL lineman-turned-analyst. "Smith does things to guys -- toys with them, humbles them -- that you honestly shouldn't be able to do to people in the NFL."
Smith was even able to move the most powerful and stubborn guy in the NFL: Jones. Smith made the Pro Bowl three times in his first five seasons, and his success helped persuade the Cowboys -- and Jones -- to take Frederick out of Wisconsin with the 31st overall pick in 2013, a move that was widely criticized. Since then, Frederick has become an immovable force at the bottom of the pocket, a presence that has allowed Prescott, when pressured on the edge, to step up cleanly, keep his eyes downfield and deliver the ball on target. Frederick also makes the pre-snap reads and blocking calls that are key to the Cowboys' zone-blocking scheme.
"Travis' mind is a huge asset that most people overlook with this scheme," Dallas backup tackle Emmett Cleary says. "With zone blocking, the devil's in the details, and we have one of the smartest centers in the league, which means we don't get tricked or mis-ID'd with assignments very often."
A year after selecting Frederick, Dallas was on the clock with the 16th pick when, according to Cowboys lore, Stephen Jones, Jerry's son and the director of player personnel, had to climb over a war room table to prevent his dad from making the colossal blunder of selecting Johnny Manziel.
The Cowboys actually had their sights set on linebacker Ryan Shazier, who went to the Steelers with the 15th pick. Choosing next, Jerry did suggest Manziel, but eventually Dallas "settled" on Notre Dame's Martin, whose freakishly perfect blocking technique and fundamentals rival Frederick's mental acumen and Smith's physical gifts. "Everyone is tied together in our system," says Martin, the first Cowboy in 45 years to be named All-Pro as a rookie. "That's what makes this line special."
Jones seemed to finally grasp that concept by 2015. The team re-signed Free to a three-year contract and signed LSU's La'el Collins, the SEC's top lineman in 2014, who went undrafted because of off-the-field issues. Collins took over as the starting left guard in 2015. Leary, signed in 2012 as an undrafted free agent for $390,000, responded to his demotion by demanding a trade and then sitting out most of the team's voluntary offseason workout program. Instead of trading Leary for peanuts, though, Jones kept him to provide depth in the trenches, a rare luxury in today's NFL.
Sure enough, in Week 3, when Collins suffered a toe injury, Leary stepped in with the extra incentive of knowing he was auditioning for his next big contract. For the time being, Leary will earn just $2.5 million in 2016, which has helped make the Dallas line -- with a total price tag of $20.9 million, according to ESPN's Roster Management System -- the NFL's biggest bargain. "The Dallas offensive line is unbelievable," Vikings coach Mike Zimmer says. "They're by far the best in the league that I've seen."
For far less than what the Vikings pay their line ($31.6 million), the Cowboys have allowed just 24 sacks on Prescott, the NFL's second-highest-rated QB (81.5 in Total QBR, behind only Tom Brady). They've also plowed the way for Elliott to take a run at Eric Dickerson's rookie rushing record of 1,808 yards, set in 1983. (Zeke needs 258 yards over his final two games to break the mark.) The Dallas offense now dictates game tempo, chews up the clock and helps keep the suspect Dallas D off the field. Says Witten: "It's like a science. It's something special to watch the way they communicate, coordinate and work together."
With the game, and its winning streak, on the line in Minnesota, Dallas turns to what has become its signature play: the wide zone counter.
The Cowboys used it against Cincinnati in Week 5 to spring Elliott untouched on a 60-yard TD run through the kind of hole that, before this game, cornerback Adam Jones said his daughter could have run through. "It's become our signature and the heart of what we do," Witten says. "We get you moving one way, then hit you hard in the other direction."
Minnesota has held strong against the Cowboys' offense so far, using stunts and varying fronts to confuse and interrupt Dallas' pre-snap blocking reads. But on this series, the Vikings open in a vanilla 4-3 under front, with their right end, tackle and nose tackle all shaded to the Cowboys' left. It's the perfect time to hit them with the wide zone counter: The Cowboys will use it to sell that the play is flowing left, setting up a devastating cutback lane to the right.
Now the guys up front need to do their job so that Elliott can do his.
FIG. 1: At the snap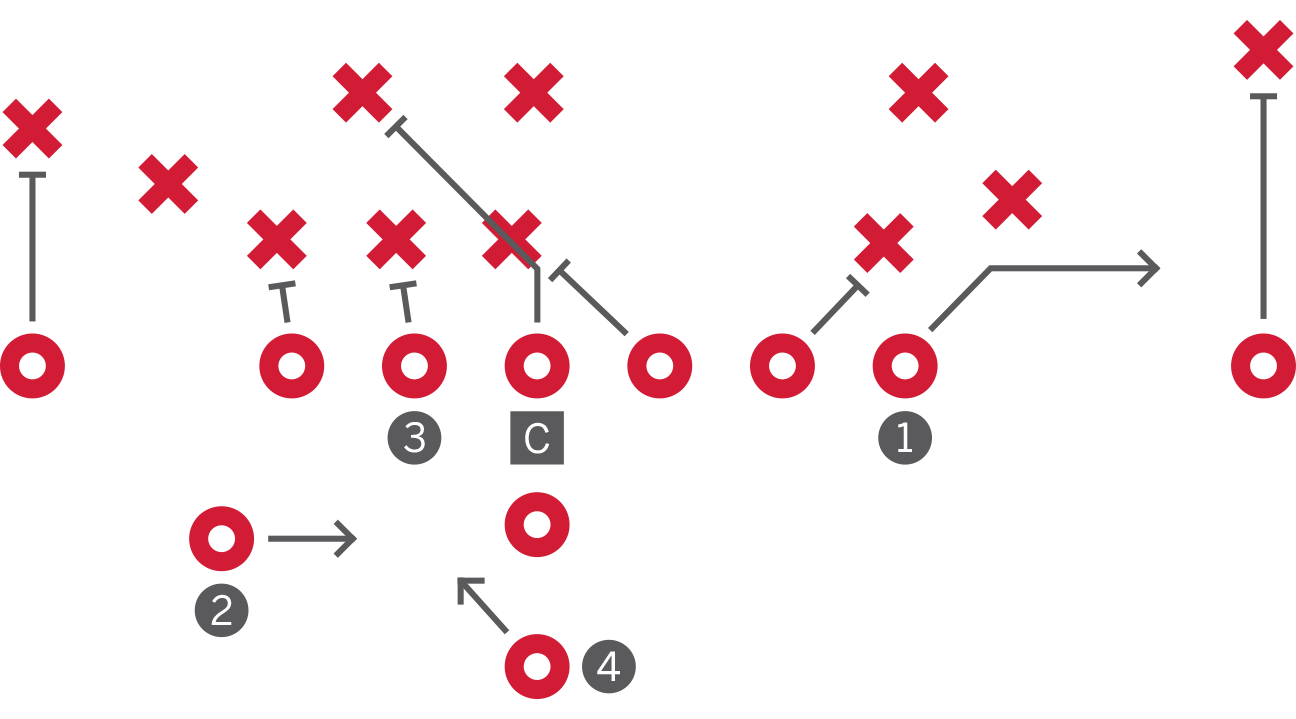 1. TE Gavin Escobar takes a decoy release into the flat to get the linebacker and strong safety thinking rollout pass.
2. TE Jason Witten crashes down the line with a goal of kicking out LB Anthony Barr and sealing the right side.
3. In the Vikings' 4-3 under front, the DL is mostly shaded left, helping set up RB Zeke Elliott's cutback lane to the right.
4. Elliott takes the handoff to QB Dak Prescott's left to sell that the play is flowing that way.
Game clock: 6:37
Instantly upon Prescott's foot tap, Witten makes a pre-snap move from right to left, forcing the Vikings to reveal their coverage, intel that will help Elliott determine where to track the ball. If a defensive back shadows Witten, the Vikings are in man. If not, they're in zone. This time the safeties remain in zone, but out of respect for the 10-time Pro Bowl tight end, they roll coverage to Witten's side of the field. That means, if Elliott has read his keys correctly, Dallas has put seven would-be tacklers at a distinct disadvantage before the snap.
The cutback lane on the right edge is Elliott's top target. But what makes the Dallas wide zone counter so difficult to defend is that the running back doesn't have to hit a specific hole. Ideally, the Dallas line forces defenders horizontally toward the Vikings' sideline and seals off the back side, creating a series of creases and alleys from which Elliott can choose. The openings morph and vanish quickly, so it's critical to the play's timing and geometry that Elliott read the defense from the outside in, make a decision and go within his first three steps with the ball. Until then, his options are as endless and unpredictable as a full chessboard. "That's what's great about the wide zone," Frederick says. "It lets you give a talent like Zeke as many options as the defense allows."
Frederick lowers into his stance. But before he palms the ball, the Cowboys' center IDs No. 54, Eric Kendricks, as the Mike, or middle linebacker. This is done to designate the strategic middle of the attack. In zone-blocking schemes, many assignments are based on whether certain defenders are lined up to the strong or weak side of the formation. Through endless film study and mind-numbing repetition, the Dallas line instinctively identifies blocking assignments once the Mike is identified. In situations that call for double-teams, specialty blocks or blitz pickups, Frederick communicates using code words, hand signals or, sometimes, just a tap on the leg.
Recognizing that Smith, Leary and Free all have natural angles on their opponents, Frederick's key read becomes nose tackle Linval Joseph?--?if the Viking infiltrates the backfield, he could blow up the play.
6:36
At the snap, Prescott and Elliott pivot to their left to sell that the play is flowing that way. Meanwhile, Frederick has a split second to prevent Joseph from penetrating through the A-gap between him and Martin. If Joseph comes low and hard, Frederick will stay and double-team him with Martin. But when Joseph stands straight in containment, that's Frederick's cue to chip him with his right elbow, then leap into the second level of defenders, where he engulfs weakside linebacker Chad Greenway.
Martin opens to the left, then pistons his hands into the right side of Joseph's rib cage with enough force to bounce his 329-pound frame sideways almost 3 full yards.
As Prescott hands off to Elliott, the quartet of Smith, Leary, Martin and Free battle in breathtaking symmetry, executing a series of nasty, relentless blocks. Smith rocks Vikings defensive end Everson Griffen and lifts him onto one leg. Free, meanwhile, mauls end Danielle Hunter and drives him halfway into the defensive backfield in a way that suggests this is personal.
Joseph, the nose tackle, manages to penetrate to the 44-yard line, but it's not enough. Elliott makes his critical cut to the right, near the 43, and blows by in a flash, just out of Joseph's reach.
FIG. 2: Hitting the hole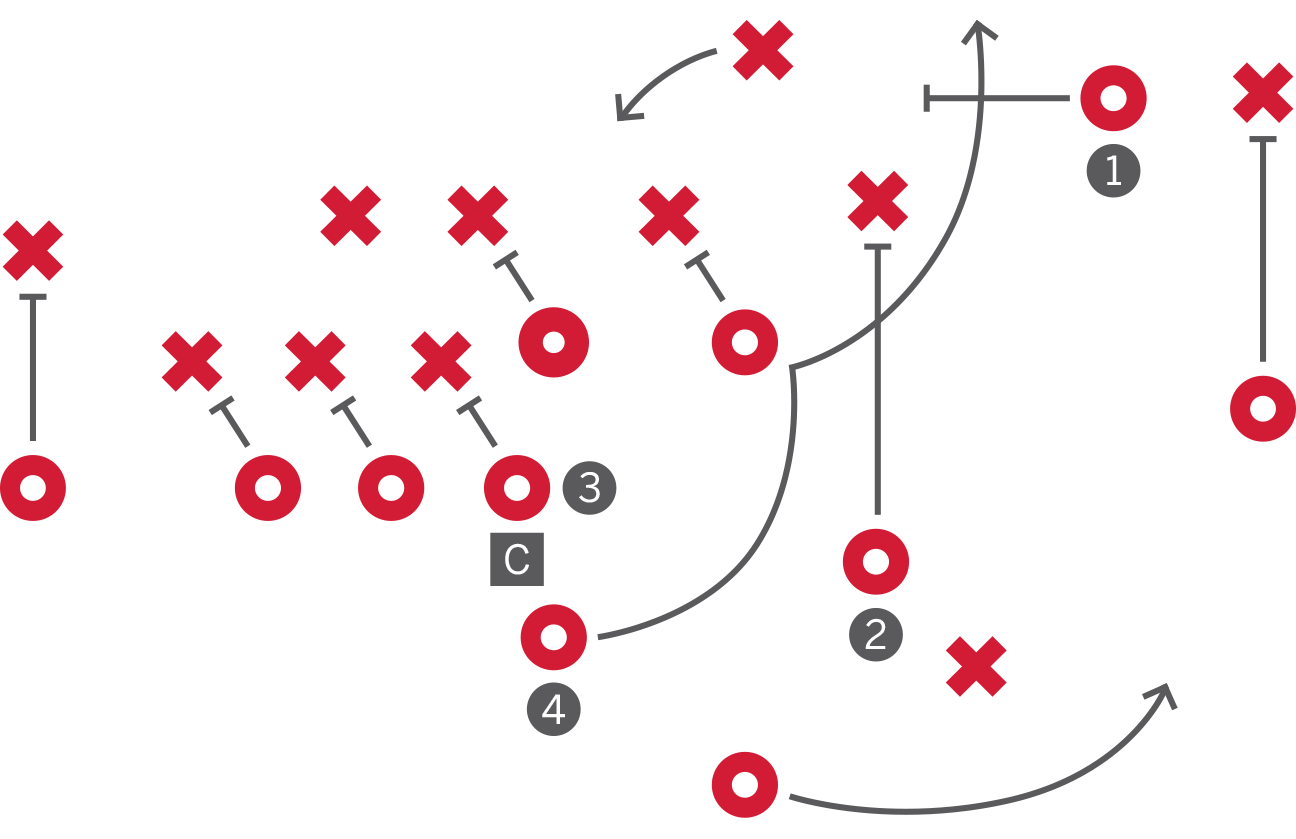 1. The Vikings' strong safety doesn't follow Escobar, so he hustles toward the middle for a key block.
2. Witten reads the right edge perfectly, cutting upfield to block LB Eric Kendricks.
3. The Cowboys seal the entire left side of the Vikings' front with trademark power and synchronicity.
4. Elliott, a rookie, makes a veteran cut and accelerates into the open field for a 30-yard gain.
6:35?
A few steps ahead of Elliott, Witten crashes down the line from left to right. He's charged with executing a kickout block on linebacker Anthony Barr that will seal the back (right) side of Elliott's path. But after crossing the formation, Witten sees that Barr has already been taken out of the play thanks to a Jedi mind trick by Dallas offensive coordinator Scott Linehan. At the snap, second tight end Gavin Escobar had taken a decoy release into the right flat, called a shoot. It's a fake pass meant to fool safety Andrew Sendejo and Barr into thinking Prescott is running a bootleg. Sendejo takes the bait and backpedals about 10 yards into the secondary. Barr also misreads the play and leaps so far upfield that he has essentially performed Witten's block on himself.
6:34
As Elliott crosses the line of scrimmage, only three Vikings defenders are unaccounted for. Barely losing speed, Witten abandons Barr and cuts downfield to temporarily seal off linebacker Kendricks. Racing in from the left, free safety Harrison Smith should have a direct path to Elliott, but because Free has pushed his helpless defender so far downfield, the Vikings DB gets caught up in the wash of bodies. Escobar then reverses course out of the flat and races toward the middle of the field to block Sendejo. Downfield, Terrance Williams protects Elliott's outside shoulder with a block on cornerback Terence Newman.
6:33
All that coordination by the Dallas line is impressive, but it's Elliott who takes the play to another level by doing something that makes you forget he's a rookie. The epic battle between Frederick and Greenway has leaked several yards to the right, directly into Elliott's path. Rather than panic or cut inside for a respectable 7-yard gain, though, he executes a Barry Sanders-esque peekaboo cut that sucks Sendejo inside and allows Elliott to burst to his right into the open field. "Zeke does a lot of things that make us look better as blockers," Frederick says.
6:30
Eventually, Kendricks spins out of Witten's block and chases Elliott down at the 24, diving at the last second to wrap up his legs and prevent a TD -- but not before Dallas gains 30, setting up what will be Dan Bailey's decisive 39-yard field goal.
"That was a hell of a win. It might be my favorite of the 11 we've had this year," Garrett would tell the team afterward. "It was the best demonstration of fight we've had in the first 12 weeks of the season." At the tail end of his run, Elliott pops straight up from the turf and releases his grip on the ball. He sticks his chest out and raises his right hand to his face mask to make his now famous "feed me" gesture. Facing the giant glass window at the north end of U.S. Bank Stadium, the message seems directed at all would-be challengers on the horizon. Elliott and the Dallas offensive line are hungry for more.