— -- Former superstar softball slugger Jessica Mendoza will have a seat at tonight's Astros-Yankees playoff game that no woman has had before: she will be the first female ESPN MLB analyst in a post-season game.
Mendoza said she's been shocked by the outpouring of support from both men and women inside and outside the game. Tennis great Billie Jean King and her ESPN colleague Eduardo Perez told Mendoza they're rooting for her.
"It's just another game. I'm not allowing myself to think anything else," she said. "But just looking at my phone, it's more than just doing a game for a lot of people for a lot of reasons."
Mendoza, an Olympic gold and silver medalist, was a four-time first-team All-American softball player at Stanford from 1999 to 2002. Though she retired from playing last year, she first joined ESPN in 2007.
On Aug. 24, she became the first female baseball analyst on ESPN's Monday Night Baseball and later that week became the first female analyst on Sunday Night Baseball. The Walt Disney Company is the parent of ESPN and ABC News.
Mendoza took time before the historic broadcast tonight in New York to talk about her favorite sportscast lines and how she prepares for a broadcast.
Favorite sportscasters or lines?
"Dallas Braden has a bunch of fun lines," Mendoza said of the former pitcher and her fellow ESPN analyst. These include:
"Oppo taco" = opposite field home run.
"Cheese biscuit" = a good pitch to hit.
"When you're listening as a viewer, it's nice to hear different terms," she said. "Did he just say cheese biscuit?"
Mendoza has called outfielders "outties," which Curt Schilling said he would have to add to his vocabulary. She also likes to say "cookie" when describing a "nice, sweet pitch to hit."
"I didn't come up with that," she admits.
How did you feel when you learned you would be the first female analyst for a post-season baseball game?
"I found out when [ESPN] added me to the Sunday night package in September," Mendoza said. "To be honest, I didn't think of this game as any different."
She added, "This has been very much a learning experience to be in the booth and share any knowledge I have and build relationships with the players and the teams. I want to approach this game like the last six or seven I've done."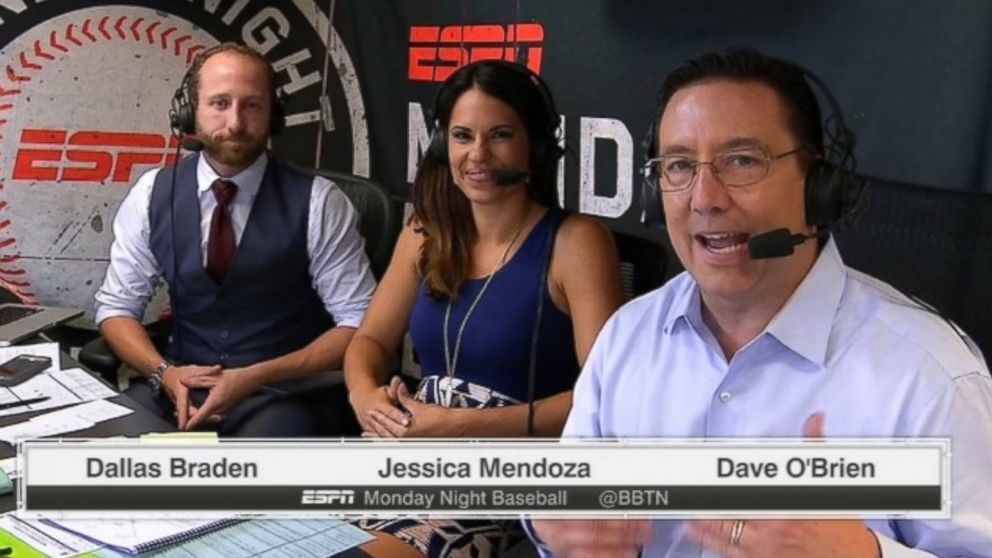 How do you typically prepare for a broadcast?
"I don't have a specific thing I do, but one thing I like to do is watch games," she said.
Last night in her hotel room in New York City, the southern California native spent two-and-a-half hours watching the Astros and Yankees play.
"Instead of reading so much and getting caught up in the numbers, just watch them play yourself over and over and come to your own perspective of why guys are hitting, why guys are in the lineup and doing well or not doing well," she said.
Favorite players?
Mendoza said she grew up watching softball and seeing Olympians compete on television like Dorothy "Dot" Richardson.
"Seeing softball on television was a big deal for me because it didn't happen until the 1996 Olympics when I was 14," she said. "As far as baseball, I grew up with the Dodgers and went to a ton of Dodger games."
One of her favorite players is Brett Butler.
"He exemplified the way I wanted to play the game," she said.
What do her sons think of her accomplishments?
Her sons, ages 2 and 6, have different reactions to seeing their mom on television.
When her husband had the television on during one of her broadcasts, "My two year old came running around the corner and came up talking to me and babbling. He thought I was in the room. My six year old thinks anyone can just go on TV," she said.