Inside Aaron Rodgers' 8.3-second masterpiece
— -- Davante Adams said the play felt like it lasted 30 seconds. It wasn't quite that long, but for 8.3 seconds on Sunday, Aaron Rodgers dipped and dodged New York Giants defenders before finding Adams in the corner of the end zone.
Rodgers has made a habit of making the sublime look routine. It was the quarterback's fifth completion and third touchdown pass in the past two seasons in which he held onto the ball for eight seconds or more, according to ESPN Stats & Information research. No other NFL quarterback has more than? one?such completion.
So as Green Bay prepares for the Dallas Cowboys in the divisional round of the NFC playoffs, let's examine how the Rodgers-to-Adams play came to be and why the Packers are able to hit on these scramble-drill plays so often with the help of some key figures involved.?
How the Rodgers-to-Adams TD went down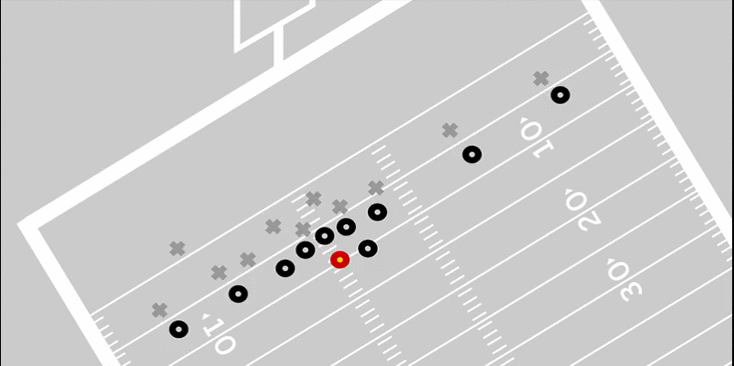 Rodgers: "I was looking right to start. I felt like Eli [Apple] was a little low shoulder on Richard [Rodgers, far right receiver] and I felt I had a good matchup with Randall [Cobb, slot right]. I felt like he was going to squeeze and turn out and have an easy touchdown. I was kind of working outside-in to that side. That was taken away, so I came back to the left to see if Tae [Adams, slot left] was open; he was covered. At that point you're trying to find an escape route."?
Left tackle David Bakhtiari:?"In the beginning of the game, a lot of the sacks came from him rolling out, and we went over and talked to him and say, 'Hey look, sit in the pocket, trust us, maneuver around in there and we'll keep them at bay.'"?
Right guard T.J. Lang on what it feels like after eight or nine seconds goes by: "It feels like about a minute, to be honest with you. ... [The] defense is tired, too. That's our saving grace. Yeah, I can be a little tired at that point but the guy across from me is a lot more tired than I am."
Bakhtiari: "In our minds, you build a sixth sense for a defender. I don't have eyes in the back of my head so I don't know when the ball is gone, so if he's fighting, I'm going to keep going. I never want to ever be a reason for a pressure or a sack because of lack of effort. And that's what we coach. We coach block the second and third reactions. Block to infinity."
Rodgers:?"I know I make it tough on them at times. But I appreciate it. I saw a comment about blocking to infinity, that's how their mindset is. I try to keep it a little bit underneath that, but those guys do a terrific job of giving me the time and allowing me to extend plays when the first, second and third option are not open. That's what our offense has done for a number of years. This group does it as well as we've ever had it around here."
Lang: "You do anything possible to lay it out there and extend the play."
Rodgers:?"I could feel in my peripheral that the ends were locked down, so it was a matter of maneuvering the front to create a throwing lane. ... There's subtle moves you can do inside the pocket to kind of bait the guy to come up one way or the other. I kind of did that, stepped to the left and knew I was coming to Tae and just tried to put it in a good place."
Lang:?"That's the reward, man. It makes it worth it when you're converting, you're scoring touchdowns in the red zone. That's ultimately what the goal is."
Practice makes perfect
Rodgers:?"You have to work on those things in practice. [Coach Mike McCarthy] does a great job, as he always has, allowing practice plays to continue on regardless of whether or not you would be sacked.?So we've worked on scramble drills since 2006."
McCarthy:?"I always watch the pocket, I watch the pocket, watch his feet; that tells you a lot about what's going on around him. I think where it happens and why it happens is a big part of it, and just really, actually the [play against the Giants], we showed it [on Thursday] in the team meeting because, you know the emphasis on ball security."
Rodgers:?"It's something you just -- you learn the knack of pocket movements and presence and trying to keep two hands on the ball, and a set balance between looking for your exit spot and keeping your eyes downfield for a guy that's open for a touchdown."
Lang:?"The more reps you get at it, you understand, you read the defense, you read the defensive lineman's body language, follow his eyes to get a feel for where Aaron's moving back there."