Lamar Jackson and everybody else: College football's top 50 players
— -- College football is off to a roaring start, with a Kickoff Week for the ages and a Week 5 that ... well, it's one for the ages too. Week 5 is the first time since 1978 that we've had three conference matchups of top-10 teams and the first time since 2002 that we've seen three top-10 games of any kind on the same Saturday.
That means a slew of stars will collide on the field this Saturday. What better time to reboot our preseason #CFBrank and see how our experts assess the nation's best players after the first month of the season?
We asked 10 writers to grade players from across the country on a scale of 1-10, with 10 being the best early season performance possible. We ended up with a clear No. 1 player, a guy who has scored 25 touchdowns in four games and netted 10 perfect 10 scores from our panel.
After Louisville's breakout Lamar Jackson, though, things got interesting. Here are our top 50 players after four weeks.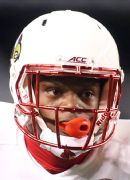 Lamar Jackson
Louisville Cardinals
Sophomore | Quarterback
Score: 10.0
Preseason rank: 51
Jackson has scored 25 total touchdowns this year (13 passing, 12 rushing), emerging as a top Heisman candidate through four games. He has more touchdowns than 123 FBS teams. -- Andrea Adelson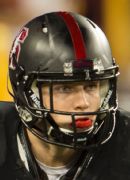 Christian McCaffrey
Stanford Cardinal
Junior | Running back
Score: 9.6
Preseason rank: 3
Through three games (the Cardinal had a Week 2 bye), McCaffrey is leading the Pac-12 with an average of 145.3 rushing yards per game. With three rushing touchdowns and a fourth receiving TD, he's the centerpiece of the offense in the run and pass game, with a team-high 12 catches for 119 yards. -- Kevin Gemmell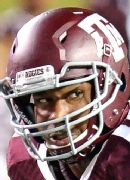 Myles Garrett
Texas A&M Aggies
Junior | Defensive lineman
Score: 9.5
Preseason rank: 5
The junior defensive end is off to a solid start pressuring the passer this season. He has picked up three sacks, five tackles for loss and six quarterback hurries in the Aggies' first four games. -- Sam Khan Jr.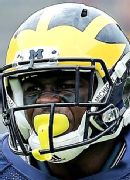 Jabrill Peppers
Michigan Wolverines
Junior | Linebacker
Score: 9.4
Preseason rank: 9
Michigan players have run out of adjectives for the versatile sophomore linebacker. Whenever he wows the team now, they just turn to one another and say, "Jabrill is really good at football." With the most tackles for loss and punt return yards in the nation through four weeks, Peppers' teammates have had a lot of reasons to say that recently. -- Dan Murphy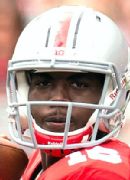 J.T. Barrett
Ohio State Buckeyes
Junior | Quarterback
Score: 9.3
Preseason rank: 12
Completely healthy and unchallenged as the starter, Barrett is again breaking records while leading Ohio State's high-octane offense. With 10 touchdown passes already, it's just a matter of time before he becomes the most prolific passer in the school's storied history. -- Austin Ward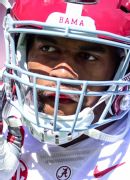 Jonathan Allen
Alabama Crimson Tide
Senior | Defensive lineman?
Score: 9.2
Preseason rank: 15
Coming back for another season seems like a risk worth taking, now that Allen is playing even better than he did the past season. Not only has he continued to play well against the run, but he has also already tallied three sacks and four quarterback hurries. -- Alex Scarborough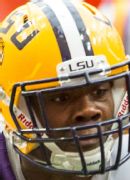 Arden Key
LSU Tigers
Sophomore | Defensive end
Score: 9.1
Preseason rank: 60
Key said before the season that he wants to record 20 sacks this season, and we laughed. Maybe it wasn't so funny after all. The LSU sophomore leads the SEC with 6.5 sacks through four games, so he's right on pace. -- David Ching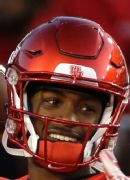 Greg Ward Jr.
Houston Cougars
Senior | Quarterback
Score: 9.05
Preseason rank: 27
Ward has been the catalyst for Houston's high-powered offense that has the No. 6 Cougars at 4-0, starting with an upset of Oklahoma. He has thrown for five TDs and run for three more so far this season.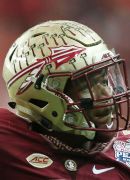 Derwin James
Florida State Seminoles
Sophomore | Defensive back
Score: 9.0
Preseason rank: 16
James got hurt in Week 2 against Charleston Southern, and his absence has made it abundantly clear how valuable he is. Without him, the Seminoles struggled defensively against Louisville and USF. -- Andrea Adelson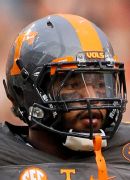 Derek Barnett
Tennessee Volunteers
Junior | Defensive end
Score: 8.95
Preseason rank: 23
His typical sack total isn't there yet, but Barnett has been a regular presence in opponents' backfields. The Tennessee defensive end ranks fourth in the SEC with six tackles for loss and is always priority No. 1 for opposing tackles. -- David Ching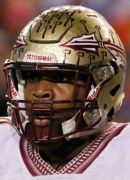 DeMarcus Walker
Florida State Seminoles
Senior | Defensive end
Score: 8.9
Preseason rank: 61
Walker is tied for the ACC lead with 5.5 sacks, and 4.5 of them came in a comeback win over Ole Miss. He has been the most consistent lineman for the Seminoles this season. -- Andrea Adelson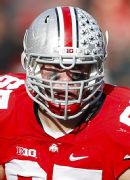 Pat Elflein
Ohio State Buckeyes
Senior | Offensive lineman
Score: 8.85
Preseason rank: 25
The move from guard to center has perhaps gone even better than the Buckeyes imagined. There have been no issues with Elflein's snapping, his surgically repaired shoulder is back to full strength, and his veteran leadership has been invaluable for a unit with three new starters on the line. -- Austin Ward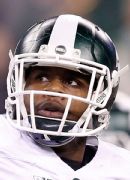 Malik McDowell
Michigan State Spartans
Junior | Defensive lineman
Score: 8.8
Preseason rank: 24
The massive middle of Michigan State's defensive line is a game plan-altering force for anyone who faces the Spartans. McDowell's eight tackles and 1.5 tackles for loss don't tell the full story of how much he can affect a game. -- Dan Murphy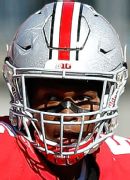 Raekwon McMillan
Ohio State Buckeyes
Junior | Linebacker
Score: 8.75
Preseason rank: 17
The steady centerpiece of one of the nation's toughest defenses continues to be a tackling machine, making the most of any play that comes his way. A couple blowouts have given McMillan breathers late in games, but he has still racked up 20 tackles and a forced fumble already for the Buckeyes. -- Austin Ward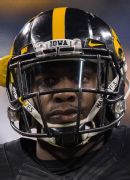 Desmond King
Iowa Hawkeyes
Senior | Defensive back
Score: 8.7
Preseason rank: 8
Opponents have mostly given up on throwing the ball in King's direction. The senior has 19 tackles through four games and has broken up two passes. He's also averaging 30 yards per kick return, on which it's harder to keep the ball away from him. -- Dan Murphy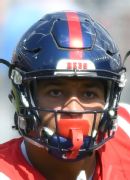 Evan Engram
Ole Miss Rebels
Senior | Tight end
Score: 8.65
Preseason rank: Unranked
Everybody talked up Alabama's O.J. Howard after last season's national championship game, but it's Engram who leads all tight ends nationally with 26 receptions, 397 yards and three touchdowns through the first four games. -- Greg Ostendorf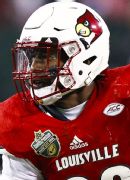 Devonte Fields
Louisville Cardinals
Senior | Linebacker
Score: 8.6
Preseason rank: 45
Fields has been a big reason the Louisville defense has been so dominant in the early part of the season. So far, he has 20 tackles, two sacks and a team-high three pass breakups. -- Andrea Adelson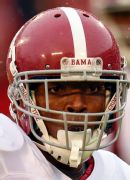 Eddie Jackson
Alabama Crimson Tide
Senior | Defensive back
Score: 8.55
Preseason rank: 33
The senior has emerged as the heart and soul of the Alabama secondary. He has also become quite the playmaker, with a pick-six and a punt return for a touchdown. -- Alex Scarborough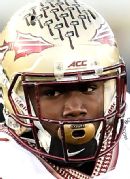 Dalvin Cook
Florida State Seminoles
Junior | Running back
Score: 8.5
Preseason rank: 4
Cook got off to a slow start but posted his best game of the season against USF, running for 267 yards and two touchdowns. It was his first game this season with 100 or more yards rushing. -- Andrea Adelson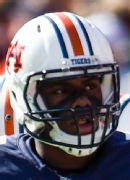 Carl Lawson
Auburn Tigers
Junior | Defensive lineman
Score: 8.45
Preseason rank: 31
Fully healthy, Lawson has been a nightmare for opposing quarterbacks this season. Through the first four games, he has eight QB hurries and three sacks, including a critical one at the end of Saturday's game against LSU. -- Greg Ostendorf
Malik Hooker
Ohio State Buckeyes
Sophomore | Defensive back
Score: 8.4
Preseason rank: Unranked
There might not be a first-time starter anywhere in the country who has burst onto the scene quite like the game-changing safety has for the Buckeyes. The Ohio State secondary could have easily battled growing pains after losing three starters to the NFL draft, but Hooker was apparently just biding his time. He has nabbed three interceptions and a touchdown return in just three games. -- Austin Ward
Teez Tabor
Florida Gators
Junior | Defensive back
Score: 8.35
Preseason rank: 20
He didn't have his best day against Tennessee, but it's hard to deny that Tabor ranks among the SEC's top cornerbacks. Tabor has picked off two passes and broken up one in three games for a star-studded Florida secondary. -- David Ching
Deshaun Watson
Clemson Tigers
Junior | Quarterback
Score: 8.3
Preseason rank: 1
Through four games, we have not yet seen the best out of Watson, though he did throw for more than 300 yards against Georgia Tech. His production in the run game is down compared to where it was a year ago. -- Andrea Adelson
Leonard Fournette
LSU Tigers
Junior | Running back
Score: 8.25
Preseason rank: 2
He isn't even healthy, and Fournette still leads the SEC in rushing. Against Wisconsin, Fournette reinjured the ankle he hurt during preseason practice. Even so, he's averaging 128.7 rushing yards per game and is one of the lone bright spots for LSU's offense. -- David Ching
Ben Boulware
Clemson Tigers
Senior | Linebacker
Score: 8.2
Preseason rank: Unranked
Boulware has been the heart of another top-notch Clemson D, with 23 tackles in three games (he missed one because of an injury). Clemson ranks No. 1 in total defense. -- Andrea Adelson
Tre'Davious White
Auburn Tigers
Senior | Defensive back
Score: 8.15
Preseason rank: 35
White seems to have made a good decision by returning for his senior season. He ranks among the SEC's top cover corners and has already scored two touchdowns, one after an interception and one on an amazing, 60-yard punt return. -- David Ching
Donnel Pumphrey
San Diego State
Senior | Running back
Score: 8.1
Preseason rank: 90
Pumphrey is finally getting some well-deserved Heisman hype. He leads the nation with 599 rushing yards, is averaging a robust 8.2 yards per carry and has found the end zone seven times. Fun note: Pumphrey's 199.76 yards per game average is more than that of 83 FBS teams. As his own team, he'd rank 46th nationally. He wears on opponents, as 400 of his 599 yards have come in the second half. -- Kevin Gemmell
Patrick Mahomes II
Texas Tech
Junior | Quarterback
Score: 8.05
Preseason rank: 42
Mahomes is putting up monster numbers, with 1,493 passing yards, 18 total touchdowns and just two interceptions. If he can win some big games, he'll be in the Heisman hunt. -- Max Olson
Calvin Ridley
Alabama Crimson Tide
Sophomore | Wide receiver
Score: 8.0
Preseason rank: 14
After a slow start against USC, the former Freshman All-American is back on track, as he leads Alabama in receptions (20) and receiving yards (224). As the passing game picks up steam under true freshman QB Jalen Hurts, so should Ridley's numbers. -- Alex Scarborough
Christian Wilkins
Clemson Tigers
Sophomore | Defensive lineman
Score: 7.95
Preseason rank: 85
Wilkins has shown his versatility for the Tigers, playing both defensive end and defensive tackle with exceptional results. He has five tackles for loss, two sacks and four quarterback pressures. -- Andrea Adelson
Adoree' Jackson
USC Trojans
Junior | Defensive back
Score: 7.9
Preseason rank: 21
The do-it-all Jackson has been one of the few bright spots for the Trojans this year. As a defensive back, he's fourth on the team with 19 stops, an interception and one recovered fumble. But his impact has really been felt on special teams, where he has returned a punt and a kickoff for touchdowns. He has been quiet offensively, with no catches and one rush for 11 yards. -- Kevin Gemmell
Chad Kelly
Ole Miss Rebels
Senior | Quarterback
Score: 7.85
Preseason rank: 40
After the first month of the season, Kelly is behind Missouri's Drew Lock in passing yards (1,235) and touchdowns (12), but considering the caliber of opponents Kelly has faced, it's hard to argue that Kelly isn't still the SEC's best quarterback. -- Greg Ostendorf
Mike Williams
Clemson Tigers
Junior | Wide receiver
Score: 7.8
Preseason rank: 48
Williams returned after missing nearly all of the past season because of a neck injury, and he leads the Tigers with 303 yards receiving. He has one touchdown catch on the season. -- Andrea Adelson
Seth Russell
Baylor Bears
Senior | Quarterback
Score: 7.75
Preseason rank: 36
Russell came back strong from his neck injury and has the Bears rolling at 4-0, with 1,294 total yards and 14 touchdowns. He is now 12-0 as a starter. -- Max Olson
Jake Butt
Michigan Wolverines
Senior | Tight end
Score: 7.7
Preseason rank: 54
Butt's first two catches of the season were touchdowns. Since then, he has led Michigan's passing attack with 19 catches for 234 yards through four games. He has proven to be the reliable, middle-of-the-field threat the Wolverines expected. -- Dan Murphy
Marshon Lattimore
Ohio State Buckeyes
Sophomore | Defensive back
Score: 7.65
Preseason rank: Unranked
The Buckeyes have long raved about Lattimore's potential impact in the secondary, if he could just stay healthy, and he has more than lived up to the billing through three games at full strength to open the season. With three interceptions and a touchdown to Lattimore's credit, testing him has been a bad idea for opposing quarterbacks. -- Austin Ward
Dan Feeney
Indiana Hoosiers
Senior | Offensive lineman
Score: 7.6
Preseason rank: 37
Indiana's stalwart offensive lineman suffered a concussion in the first half of his second game of the year. He didn't play in a loss to Wake Forest the following week, and his status for Saturday is still up in the air. -- Dan Murphy
Nick Chubb
Georgia Bulldogs
Junior | Running back
Score: 7.55
Preseason rank: 11
Chubb failed to break the 100-yard mark in the past three games, but Georgia's opener against North Carolina was an instant reminder of his greatness. He ran for 222 yards and two touchdowns against the Tar Heels in his return from injury. -- David Ching
Royce Freeman
Oregon Ducks
Junior | Running back
Score: 7.5
Preseason rank: 7
A leg injury has slowed Freeman this season. But when healthy, he has been efficient per usual. He's averaging 8.8 yards per carry with 325 yards and four rushing touchdowns. Despite missing almost two full games, he's still among the Pac-12 leaders in rushing and one of just two backs in the league who averages more than 100 yards per contest. -- Kevin Gemmell
Josh Reynolds
Texas A&M Aggies
Senior | Wide receiver
Score: 7.45
Preseason rank: Unranked
James Washington
Oklahoma State Cowboys
Junior | Wide receiver
Score: 7.4
Preseason rank: Unranked
One of the game's best home-run threats has 488 receiving yards on just 25 catches, including a 296-yard performance against Pitt. -- Max Olson
Marquis Haynes
Ole Miss Rebels
Junior | Defensive lineman
Score: 7.35
Preseason rank: Unranked
Haynes does not receive as much attention as the SEC's top pass rushers, but he should. Blessed with dynamic speed off the edge, Haynes already has two sacks, three tackles for loss and a forced fumble. --? David Ching
Jake Browning
Washington Huskies
Sophomore | Quarterback
Score: 7.3
Preseason rank: 93
Washington's offense rolled through a weak nonconference schedule, and Browning didn't play down to the competition. The Huskies hit a road bump in their first conference game against Arizona but still emerged 4-0. Through four games, Browning has been stellar, tossing 14 touchdowns and just two interceptions while completing 70.5 percent of his throws. -- Kevin Gemmell
Chad Hansen
California Golden Bears
Junior | Wide receiver
Score: 7.25
Preseason rank: Unranked
Hansen is the national leader with 50 catches (a whopping 12.5 per game) so far, and he already has 656 receiving yards and six touchdowns, tied for second nationally. Within the conference, he's miles ahead of any other receiver. Hansen averages 164 yards per game; the next is 96.2. -- Kevin Gemmell
Tommy Armstrong Jr.
Nebraska Cornhuskers
Senior | Quarterback
Score: 7.2
Preseason rank: Unranked
One of the best offensive Big Ten players of the season thus far, Armstrong has contributed 12 touchdowns and more than 1,000 yards of offense so far. He's leading an undefeated team that is averaging nearly 40 points per game. -- Dan Murphy
Curtis Samuel
Ohio State Buckeyes
Junior | Running back
Score: 7.15
Preseason rank: Unranked
Most of the attention might focus on quarterback J.T. Barrett, but Samuel's versatility has perhaps made him every bit as valuable for the explosive Buckeyes. Samuel leads Ohio State in receptions after lining up at receiver, he has been more involved as a rusher, with 32 carries already, and he's even taking snaps as a Wildcat quarterback as part of his impressive start to the season. -- Austin Ward
KD Cannon
Baylor Bears
Junior | Wide receiver
Score: 7.1
Preseason rank: 71
Cannon has been slowed by a groin injury but has still put up 360 receiving yards and four scores in limited action. -- Max Olson
Jayon Brown
UCLA Bruins
Senior | Linebacker
Score: 7.05
Preseason rank: Unranked
Brown picked up right where he left off the past season, when he was plugged in as Myles Jack's replacement and flourished. He leads the Bruins with 33 tackles, including 23 solo. He also has a sack and 1.5 tackles for a loss. He has been extremely effective in coverage, where he has broken up three passes. -- Kevin Gemmell
Cordrea Tankersley
Clemson Tigers
Sophomore | Wide receiver
Score: 7.0
Preseason rank: Unranked
Tankersley has drawn praise from coach Dabo Swinney for his ability to match up one-on-one. He leads the team with four pass breakups. -- Andrea Adelson
Kalen Ballage
Arizona State Sun Devils
Junior | Running back
Score: 6.95
Preseason rank: Unranked
Ballage fit a career into one game. Against Texas Tech, he matched an NCAA record by scoring eight touchdowns, including seven on the ground, as the Sun Devils won 68-55 in an offensive extravaganza. But Ballage isn't trading on that one game. He has also scored against UTSA and Northern Arizona, which gives him 10 touchdowns in four games. -- Kevin Gemmell