— -- LeBron James doesn't mince words when it comes to the threat of police violence against the black community.
"I look at my son being four years removed from driving his own car and being able to leave the house on his own," the NBA star said on Monday, before the start of training camp for his Cleveland Cavaliers. "It's a scary thought right now to think if my son gets pulled over, and you tell your kids if you just [comply] and you just listen to the police that they will be respectful and things will work itself out. And you see these videos that continue to come out. It's a scary-a-- situation that if my son calls me and said he's been pulled over, that I'm not that confident that things are going to go well and that my son is going to return home."
James referred to the wave of sports protests started by San Francisco 49ers quarterback Colin Kaepernick.
At media day around the country yesterday, NBA players and coaches joined James in voicing concerns about police shootings. Roughly 75 percent of the players in the NBA are black, and some of the most famous black athletes in America play the sport, including James.
At the San Antonio Spurs' media day, widely respected head coach Gregg Popovich, who is white, also discussed race, calling it "the elephant in the room in our country."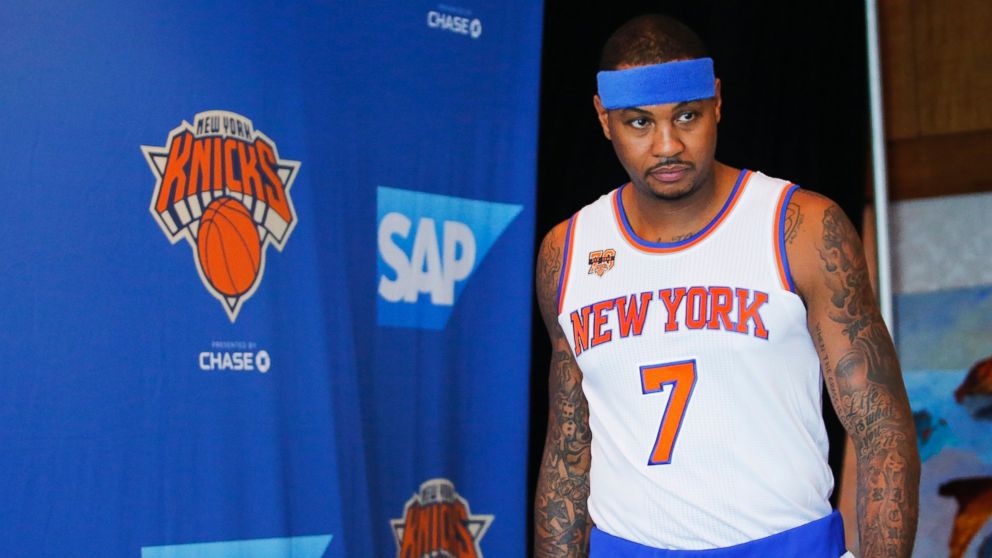 2016 Olympic gold medal winner Carmelo Anthony at the New York Knicks' media day spoke of the need to address the issue of police shootings.
"We want to do it in the right way," he said. "Whatever we do, we want to do it as a collective group."
After the police shooting deaths of Alton Sterling and Philando Castile in July, which were captured on video and spurred large protests across the country, Anthony reached out to fellow athletes on social media, urging them to take action.
"These politicians have to step up and fight for change. I'm calling for all my fellow ATHLETES to step up and take charge," he wrote in an Instagram post that featured an image from 1967 of top black athletes, including Jim Brown and Kareem Abdul-Jabbar, holding a news conference in support of Muhammad Ali's refusal to be drafted into the Army during the Vietnam War.
Anthony revisited the sentiment yesterday.
"Everybody sees what's going on out there in the sports world and what everybody is talking about," he said, referring to the protests started by Kaepernick. "So for me it's not about one single gesture. If the guys want to create a gesture or figure it out, we'll figure it out. We will address those issues. My goal is to keep the conversation moving, the conversation going. Talking to the right people, getting in front of the right people, making a stand for kind of what we believe in — whether you're black, white, indifferent. I think it's for everybody to come on board and figure everything out."
Former NFL quarterback turned sports talk show host Boomer Esiason, who is white, drew criticism for pre-emptively voicing concerns about the possibility of a protest.
"If Carmelo Anthony walks on the court in a Knicks uniform and starts in with this," Esiason said, "I think it's going to create a lot of problems."