— -- Oscar Taveras was going to be a star.
A native of the Dominican Republic, Taveras was considered one of baseball's top prospects, consistently ranked among the best young players in the game. At 22 years old, Taveras had smoked through the St. Louis Cardinals' minor league system. Thirty home run seasons and All-Star Game appearances seemed to lay ahead.
But instead of celebrating Taveras' potential Sunday, the baseball world was mourning his death after the outfielder was killed in a car accident alongside his girlfriend, Edilia Arvelo, 18.
Details of the crash aren't fully known. Photographs from the accident site in the Dominican Republic showed his 2014 Chevrolet Camaro -- bright, bold Cardinals red -- twisted and bent, the front end crushed in, the surface dented and pressed like it was struck repeatedly with a hammer.
Baseball has had other fatal accidents in recent memory. Nick Adenhart. Josh Hancock. Brian Cole. Mike Darr. And now, Oscar Francisco Taveras.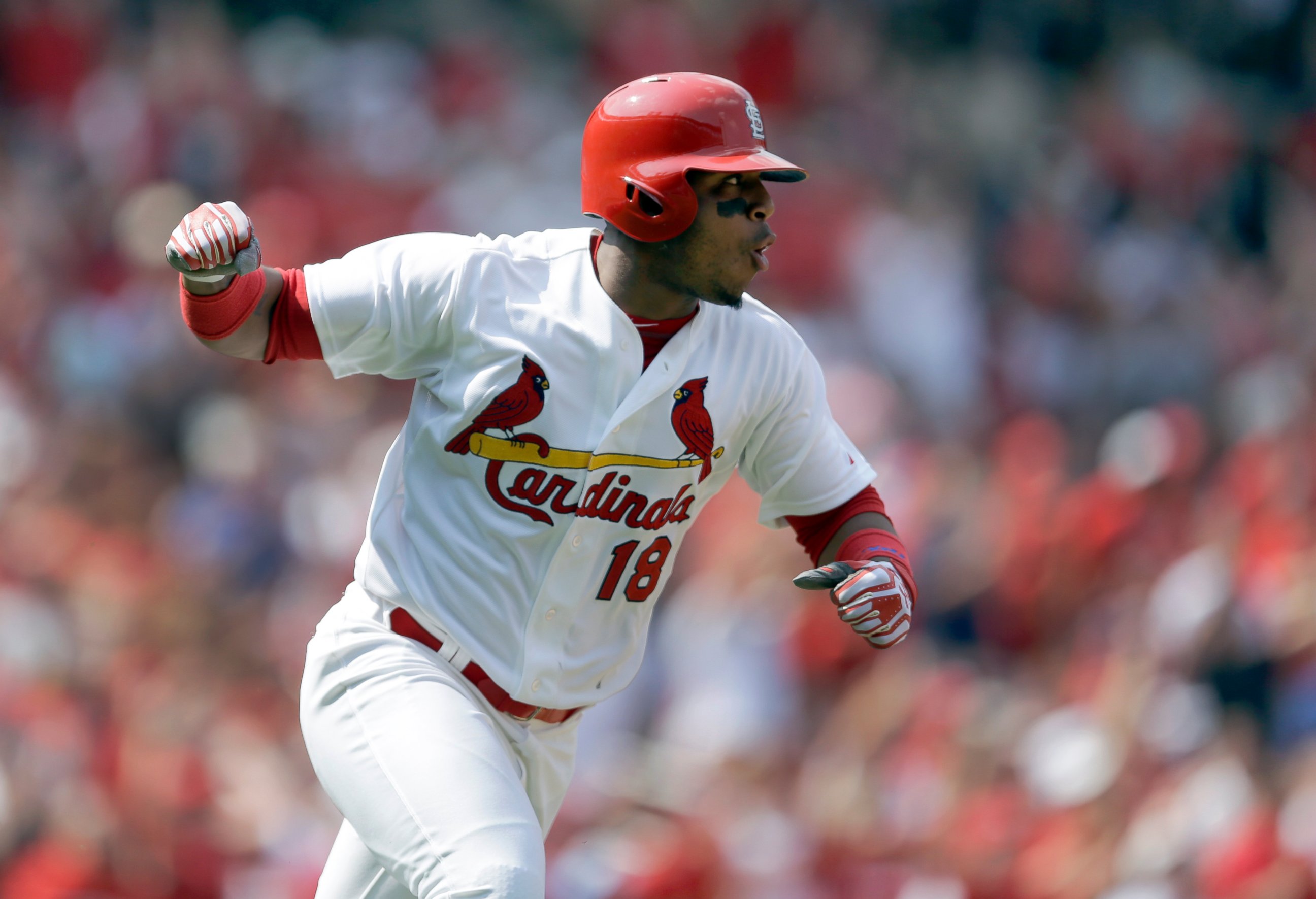 Taveras grew up learning how to hit anything.
He honed his batting talent using a broomstick as a bat, hitting water jug caps. His dad -- a former professional player himself, in the Milwaukee Brewers system -- would pitch him corn kernels, according to a 2012 St. Louis Post-Dispatch profile. Suddenly, hitting a baseball wasn't so hard. Taveras gained a reputation as an all-fields, bad-ball hitter similar to star player Vladimir Guerrero.
His swing displayed fluidity, balance and upper-cut strength, drawing comparisons to Ken Griffey Jr.'s batting style.
The Cardinals, spotting his talent, signed Taveras at age 16 in 2008. He made his stateside debut two seasons later, splitting time between the Johnson City and Gulf Coast League Cardinals. Taveras showcased his potential at low-A Quad Cities in 2011, smacking 40 extra-base hits and leading the league with a .386 average.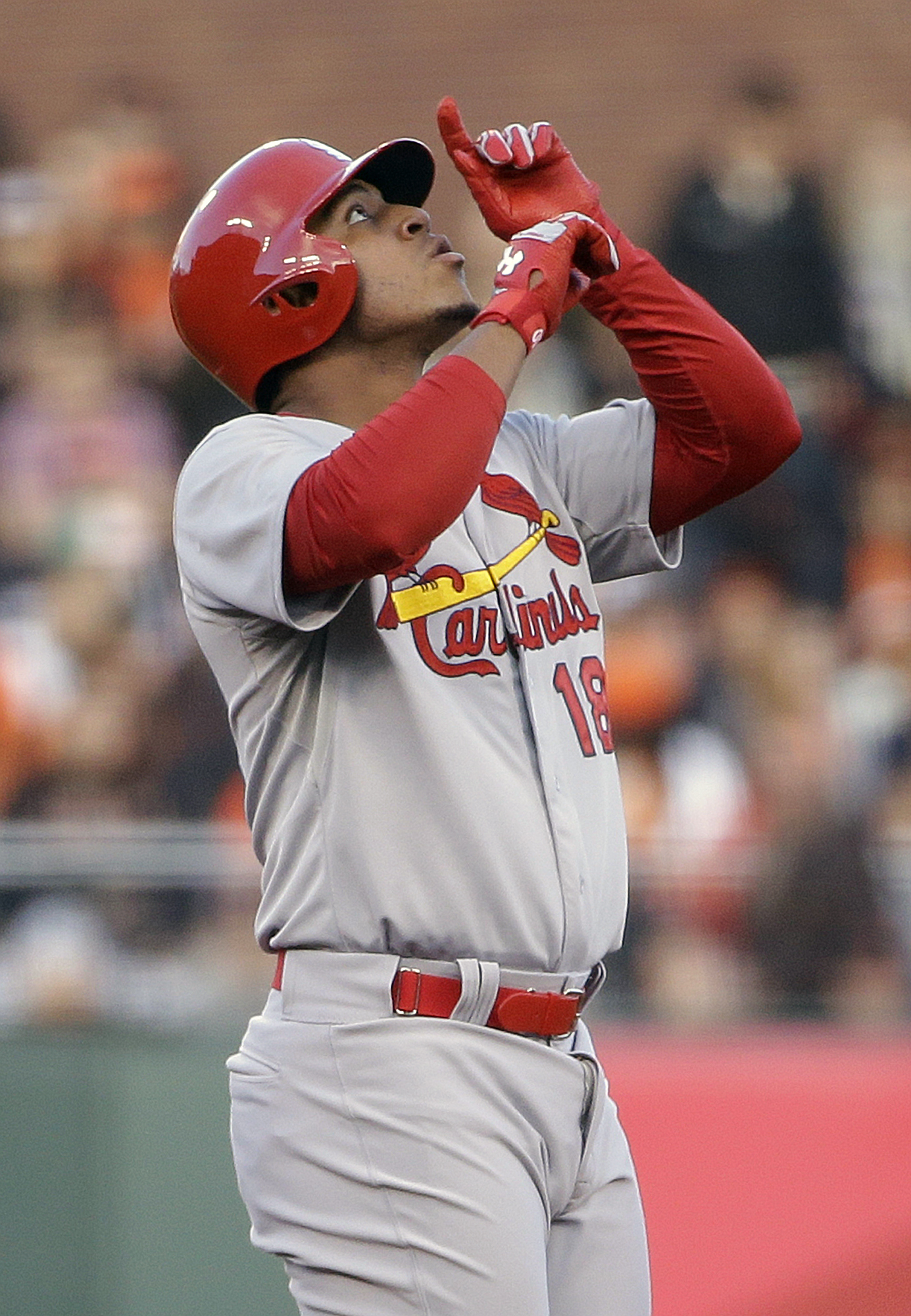 Few young players hit .386 in the minor leagues. The gaudy stats earned Taveras an invitation to the Arizona Fall League and, the following year, spring training with the Cardinals. Albert Pujols, then a superstar slugger with St. Louis, reached out to the prospect.
"I'm looking forward to seeing good things from you," Pujols told Taveras, giving him a bat, according to the St. Louis Post-Dispatch.
Taveras followed through on the mentor's assessment, establishing himself as the team's top prospect in 2012 by helping Double-A Springfield to the Texas League title with a .321 average. He compiled 67 extra-base hits that year and struck out just 56 times.
An ankle injury kept Taveras from a Major League call-up in 2013. But after a hot start at Triple-A Memphis in 2014, Taveras earned his big league promotion. Post-Dispatch columnist Bernie Miklasz addressed the hype around Taveras when he reached the big leagues.
"So much had been said, written, shouted. It seemed a bit over the top. But it wasn't. Some prospects are worthy of the blaring trumpets," he wrote.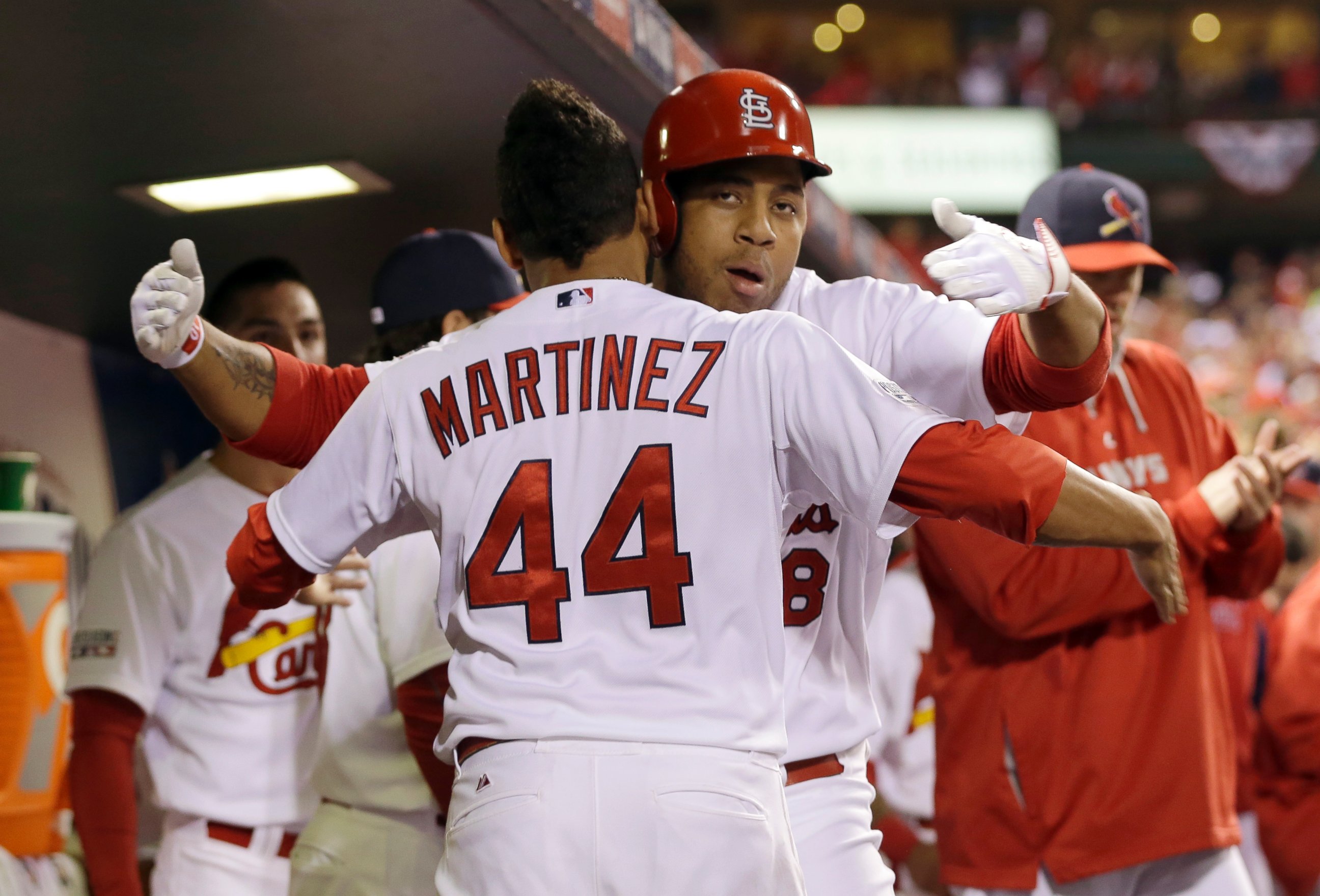 Taveras showcased his big league potential during his first game, on May 31 against the Giants.
In his second MLB at-bat, with raindrops falling, Taveras deposited the pitch from Yusmeiro Petit over the right field fence. People wearing Stan Musial jerseys cheered, expecting the start of something special.
Taveras jogged around the base paths, as if he'd done this a million times before, and pointed skyward after crossing home plate.
The rest of the 2014 season wasn't so magical. Taveras batted .239 in 80 MLB games, hitting two more home runs during the regular season.
He exhibited flashes of his potential during the playoffs, hitting a key home run during Game 2 of the National League Championship Series on Oct. 12. With St. Louis behind 3-2, Taveras entered the game as a pinch hitter and crushed an offering by Jean Machi, the ball ducking behind the foul pole to tie the game.
There was another curtain call. Taveras waved his helmet to the Busch Stadium crowd.
"The biggest swing of his young big league life," announcer Joe Buck called it.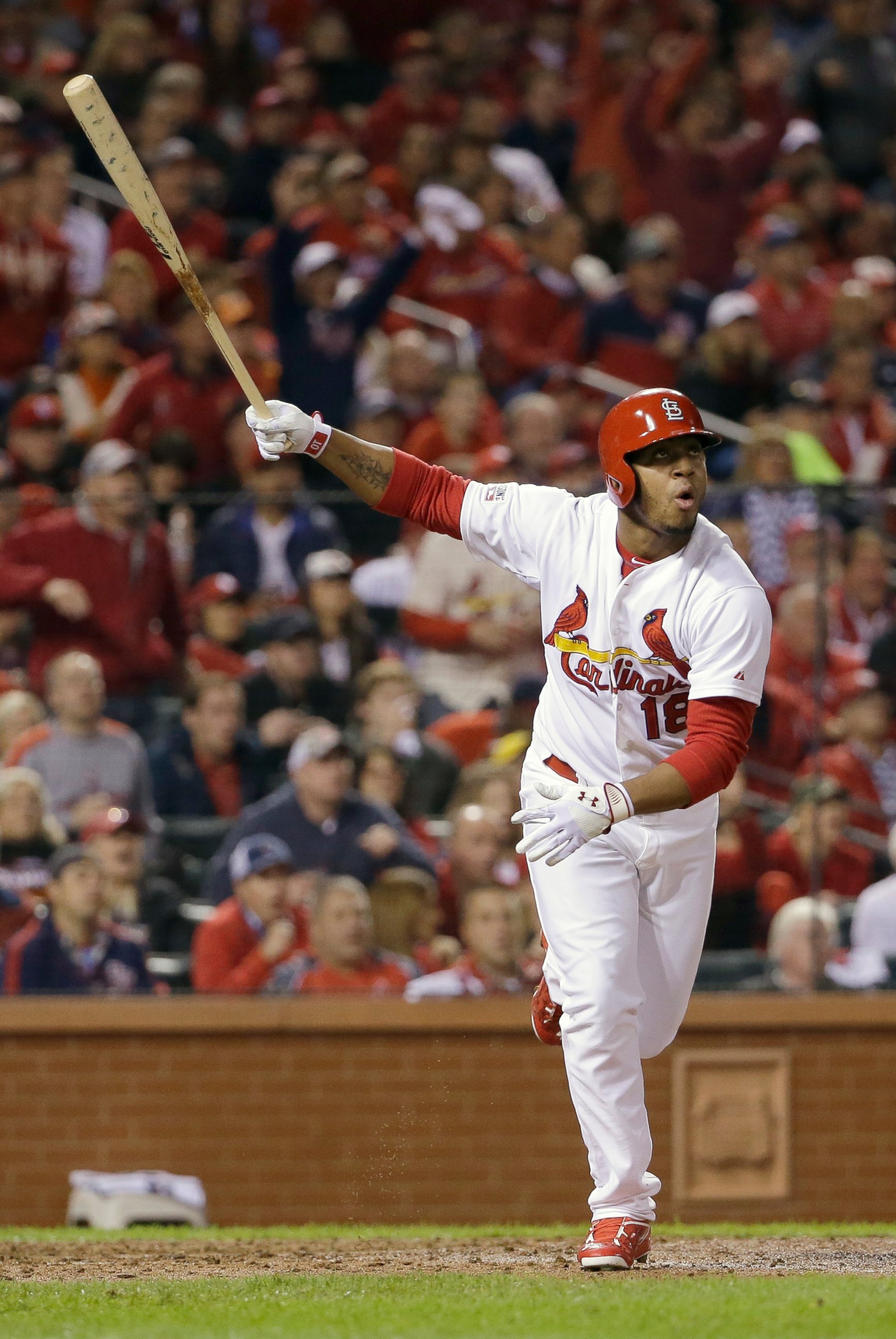 While the Cardinals won the game, San Francisco won the NLCS. With St. Louis eliminated from the postseason, Taveras returned home.
News of the fatal crash emerged during the World Series, the type of stage on which fans and players and front-office personnel expected Taveras to one day star. The death was announced during the game's fourth inning.
Outpourings of sympathy and sadness emerged from the outfielder's teammates and baseball comrades. Major League Baseball Players Association Executive Director Tony Clark issued a statement following Taveras' death.
"Oscar had a very promising future, on and off the field, and this news is heartbreaking on many levels," he said in the statement. "It's never easy to lose a member of our fraternity, and to lose one so young is devastating news."
Cardinals GM John Mozeliak reflected on the prospect's passing.
"I simply can't believe it," Mozeliak said in a statement. "I first met Oscar when he was 16 years old and will forever remember him as a wonderful young man who was a gifted athlete with an infectious love for life who lived every day to the fullest."
The death struck Cardinals pitcher Pat Neshek.
"Last 30 minutes I've been sick to my stomach," he wrote. "Keep thinking about Oscar's big smile in the dugout whenever we made a big play/got a big hit."
Bryce Harper, another of the game's young stars, faced Taveras in the minor and major leagues.
"Life is so Precious! Thoughts and prayers go out to the family of Oscar Taveras..Kid was an absolute stud!" he wrote.
"I never played with, against or faced Oscar Taveras, but for some reason this is just killing me. Hug your loved ones closer tonight," Diamondbacks reliever Daniel Hudson wrote.
Giants player Juan Perez -- despondent over the death -- hit a key two-run double against the Royals, helping San Francisco to a 3-2 series lead. Following the game, Perez had difficulty discussing his emotions.
"It's tough. He's a really close friend of mine," Perez said. "I know his family. I know his mother, his dad, his brother. We played winter ball together. It's a huge loss, not only for his family but for his teammates and the people who care about him.
"You never know what can happen in life. It's crazy. I can't explain it."
The situation was especially difficult for Dominican League players. Taveras was supposed to play for Aguilas Cibaenas this winter.
Aguilas faced the Tigres del Licey Sunday, and the teams were in a rain delay when the players learned about Taveras' death, so players from both teams huddled together near home plate in prayer and reflection. The grounds crew worked nearby to remove the tarp, but they might as well have kept it on the field a few moments longer, with added waterworks inevitable, mourning the would-be superstar's sad, sudden death.