— -- The Carolina Panthers' Greg Hardy followed the Minnesota Vikings' Adrian Peterson today onto the commissioner's exempt list, making them ineligible to play until allegations of domestic abuse are resolved.
A third player, Arizona Cardinals Jonathan Dwyer, was also deactivated today after he was arrested on several charges, including aggravated assault involving a minor.
Hardy, an All-Pro defensive end for the Carolina Panthers, was seen walking out of the team's stadium today as their coach confirmed that he would not be practicing.
General Manager Dave Gettleman announced at an afternoon press conference that Hardy agreed to be placed on the commissioner's exempt list, suspending him from play. Hardy is guaranteed to make $13.1 million this season. He pocketed $770,000 when he was deactivated last weekend.
Hardy was convicted in July of assaulting his girlfriend. He has asked for a new trial, which is scheduled for November.
After Making 'Mistake,' Vikings Bench RB Peterson
ESPN: Adrian Peterson shouldn't play
Earlier today, the Vikings put Peterson, 29, on the exemption waiver until child abuse charges against him for using a switch on his 4-year-old son are resolved. Peterson has said he is sorry for the "hurt" he inflicted on his son, but has insisted he is not a child abuser.
Vikings team owner Mark Wilf said today that Peterson will be on the exemption list until his legal proceedings have come to a close, though they will continue to pay his $11.75 million salary during that time.
Wilf would not go into why team executives benched Peterson for one game, then decided to let him play this coming Sunday, and then changed their minds and won approval to put Peterson on the exemption list.
"We made a mistake," Wilf said at a news conference today when asked why Peterson was green lighted to play and then put on the exemption list. "The main thing is getting it right. That's how we came to this decision."
"I don't want to Monday morning quarterback what it was," Wilf said when pressed on the reason for the latest reversal.
"I spent time with Adrian yesterday… we came up with what we thought was the best resolution for everybody," Vikings general manager Rick Spielman said at the conference. "He felt it was best for him to be able to step away to take care of his personal and legal matters."
He said that it was "absolutely not" done out of fear of fleeing sponsors. Several major sponsors have expressed their unhappiness with the flurry of domestic abuse accusations against NFL players including Peterson, Hardy, and Ray Rice.
Peterson, however, got benched by Nike, which suspended its endorsement contract with the star running back today.
Nike's decision to drop Peterson came a week after the popular sports brand said they were concerned and monitoring Peterson's legal situation closely. The firm officially suspended their working relationship today.
"Nike in no way condones child abuse or domestic violence of any kind and has shared our concerns with the NFL," Nike spokesman KeJuan Wilkins said in a statement.
Peterson also lost an endorsement today with HyperIce, a company that makes ice compression wraps. In a statement, the company said Peterson's recent events were "completely against our company's beliefs, standards, and principles."
Rice, a Baltimore Ravens star back, has been suspended indefinitely by the NFL for punching his then-fiancee in a hotel elevator and knocking her out.
Rice, who was indicted by a grand jury, entered a pretrial diversionary program, avoiding jail time. He has apologized for the incident.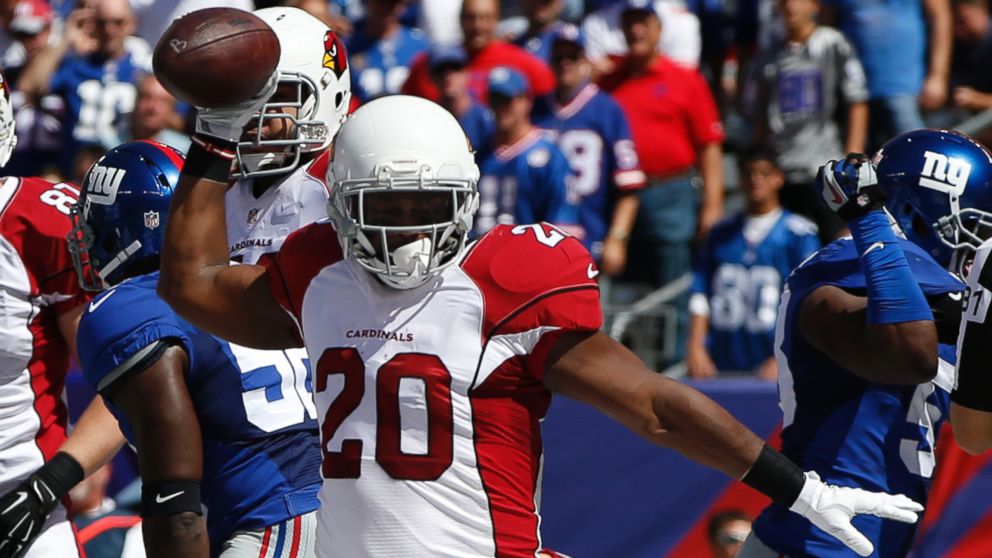 Dwyer, 25, was arrested today by Phoenix police investigating two alleged incidents that happened in late July.
According to an arrest report, the alleged incidents happened in consecutive days, July 21 and July 22, at the home of a 27-year-old woman and an 18-month-old child. Dwyer admitted to the incidents but "denied any physical assaults," police said.
He was charged with one count of aggravated assault causing a fracture, one count of aggravated assault involving a minor, two counts of criminal damage, one count of preventing the use of a phone in an emergency, and assault.
The Cardinals deactivated the running back because of the "serious nature of the allegations," the team said in a statement, without specifying the charges.
"We became aware of these allegations this afternoon when notified by Phoenix police and are cooperating fully," the statement read. "Given the serious nature of the allegations we have taken the immediate step to deactivate Jonathan from all team activities. We will continue to closely monitor this as it develops and evaluate additional information as it becomes available."
The NFL said in a statement that Dwyer's arrest would be reviewed under the league's personal conduct policy.