Picture-perfect setup with Spieth-McIlroy on Masters Saturday
— -- AUGUSTA, Ga. -- Rory McIlroy doesn't care about playing with Jordan Spieth.
"I don't think I can get wrapped up in that," McIlroy explained.
Jordan Spieth doesn't care about playing with Rory McIlroy.
"He's a great player and a lot of fun to be around," Spieth said dismissively. "So I think we'll just have it at that and not think much more of it."
The rest of us? Oh, we care. We care a lot.
Two of golf's biggest superstars will square off against each other in the final pairing on the game's grandest stage Saturday afternoon, which should be enough for anyone who has even a passing interest to clear off their afternoon schedule.
This will be appointment viewing. It'll be must-see TV.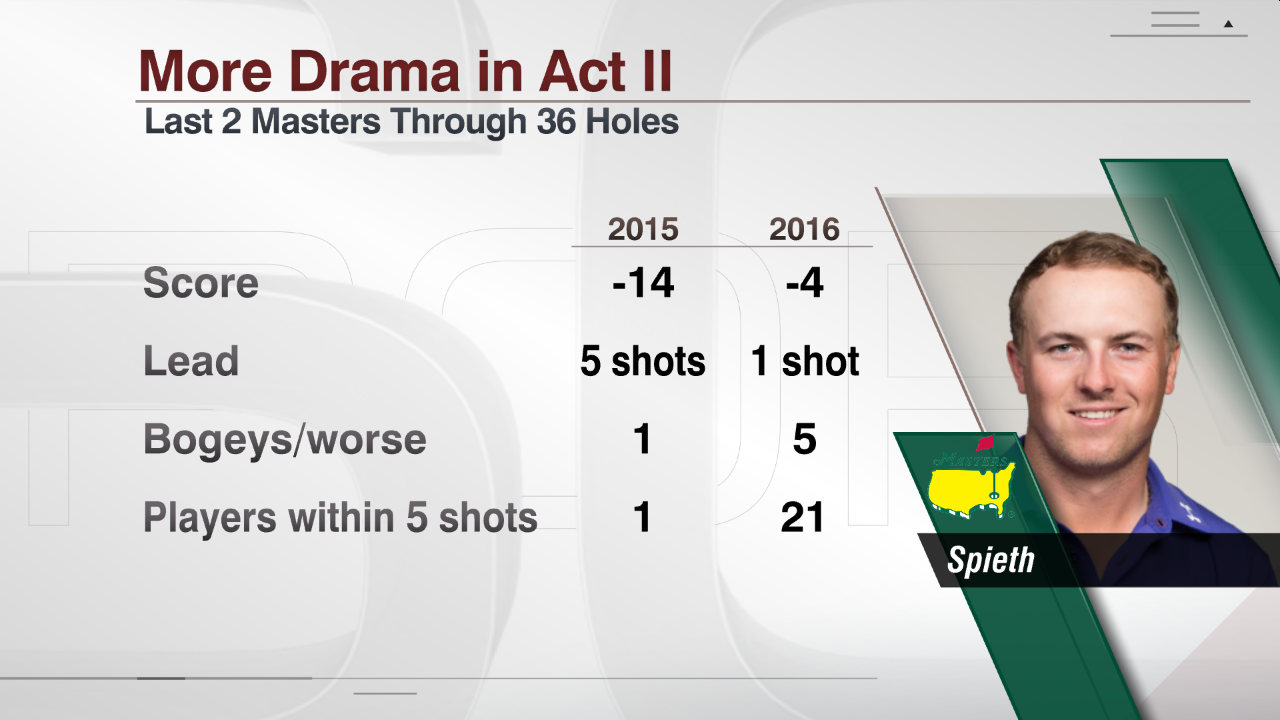 It's the kind of pairing we all outwardly hope for when offering up a dream scenario for this tournament over a cold beverage at the 19th hole.
Spieth versus McIlroy. At the Masters. On the weekend.
Together, they represent a half-dozen major championship titles in the past half-decade. They're two of the three players who have been ranked No. 1 in the world during the past year. They're arguably the faces of a changing appearance to the game, the lead dogs of a new generation.
And yet, predictably, neither wanted to buy into the hype of a head-to-head matchup that will be the headliner of Saturday's third round.
"I really need to focus on me and focus on everything I need to do well to hopefully be sitting up here on Sunday with one of those on," McIlroy said while staring longingly at an Augusta member's green jacket.
"I certainly have idolized his game coming up, and have really enjoyed battling out different tournaments," Spieth said of his upcoming playing partner. "I have the utmost respect for his game. I think he's a great guy, too."
The scoreboard shows Spieth with a 1-stroke advantage over McIlroy going into the weekend, the sixth consecutive time the Texan held the outright Masters lead at the end of a round, extending his own record.
For a while, it never seemed like it would get that close.
Spieth was making Augusta National look too easy. Nobody makes Augusta National look easy, but there was Spieth, the kid who finished runner-up in his first trip around this landmark, who tied a scoring record last year in his win, who posted what one of his playing partners called a flawless opening round of the Masters one day earlier. Now he was doing it again. A birdie on the first hole and another on the third hole. During a second round that was wreaking havoc on the rest of the field, he was 8-under, leading by 5 and making it all look too easy. Again.
Enter the golf gods. Enter the law of averages. Enter swirling winds and crusty greens. Enter coincidence and happenstance. Enter everything about the sport of golf that makes it such a difficult proposition for mere mortals.
Enter all of that and suddenly Spieth wasn't making it look so easy anymore.
Augusta National fought back, like it's fought back against all of the game's legends over the previous 80 editions of this tournament.
Magnolia, the fifth hole, knocked down Spieth with an uppercut. Carolina Cherry, the ninth, got him with a jab. Camellia, the 10th, worked him over with a right cross. Redbud and Nandina, the 16th and 17th, landed a hefty 1-2 combo.
By the time he finally landed a punch against Holly, the 18th, in the form of a lengthy, par-saving putt to follow his opening-round 66 with a hard-fought 2-over 74, he'd finally made a tournament of it again.
McIlroy, meanwhile, shot a 1-under 71 that would sound extra ordinary on any other day, but was extraordinary on this one. That score tied the low number of the day and put him in position to become just the sixth player to claim the career Grand Slam, joining a who's who of legends that includes Gene Sarazen, Ben Hogan, Gary Player, Jack Nicklaus and Tiger Woods.
Overall, McIlroy and Spieth have been paired together in a dozen PGA Tour-sanctioned rounds, with McIlroy holding a 6-4-2 advantage -- make it 8-4-2 if we include European Tour events, as well. He has also outscored Spieth in those rounds by a total of 27-under to 4-under.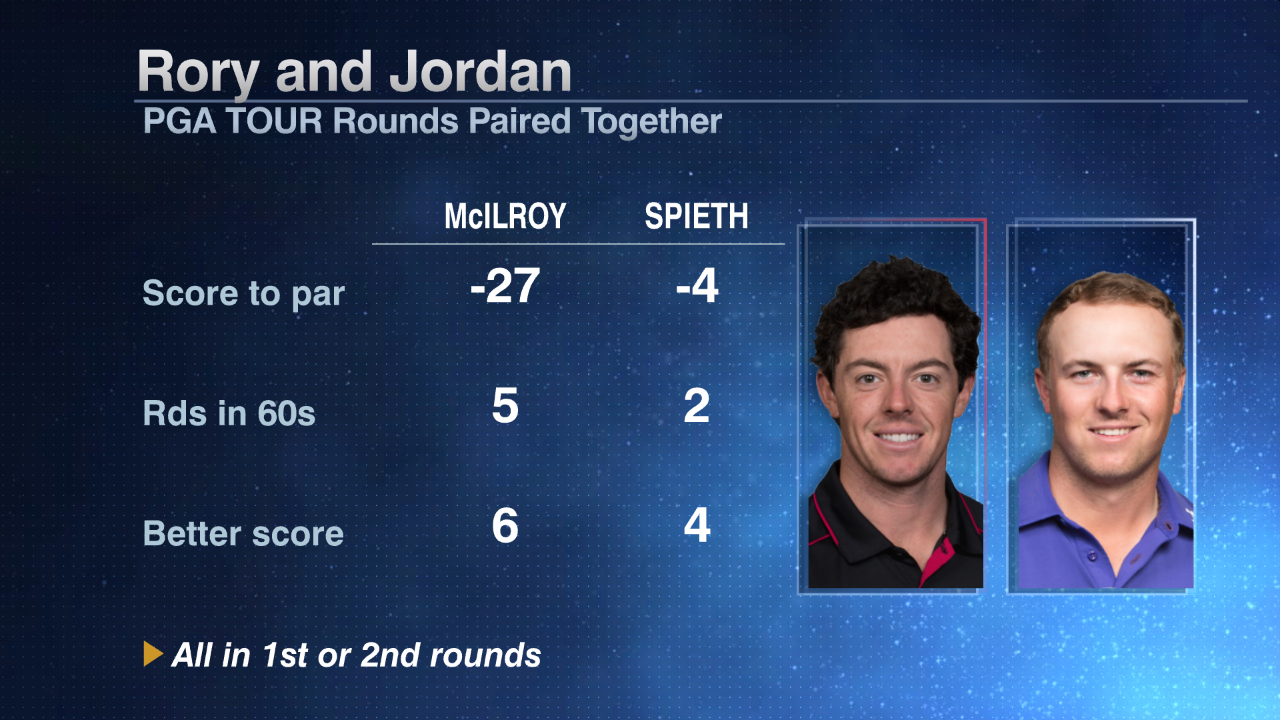 All of which could explain why, before leaving the course Friday evening, Spieth finally cracked. He finally admitted that playing with -- and against -- McIlroy could actually have an impact. It could actually negatively affect him more than being paired with a less-heralded player.
"I'd rather be playing with someone less threatening, to be honest," Spieth said. "He's certainly proven himself in majors. But I think it's going to be fun, a really fun challenge."
He recited these words with a smile across his face, a knowing nod toward the hysteria that will encircle this pairing on Saturday.
He isn't the only one smiling.
This is a dream matchup, in the final pairing, on the weekend, at the game's most prestigious tournament.
This is everything we've been waiting for.