With Spieth, don't connect dots between Players, Masters
— -- PONTE VEDRA BEACH, Fla. -- Don't call it a Masters hangover.
That was Jordan Spieth's message after rounds of 72-71 left him 1 stroke outside of the Players Championship cut line.
Actually, that was his message before the tournament even started.
One day prior to the opening round, he promised, "If I hit a good shot and it catches a gust and goes in the water, it's not because of the Masters. It's not something that was in my head."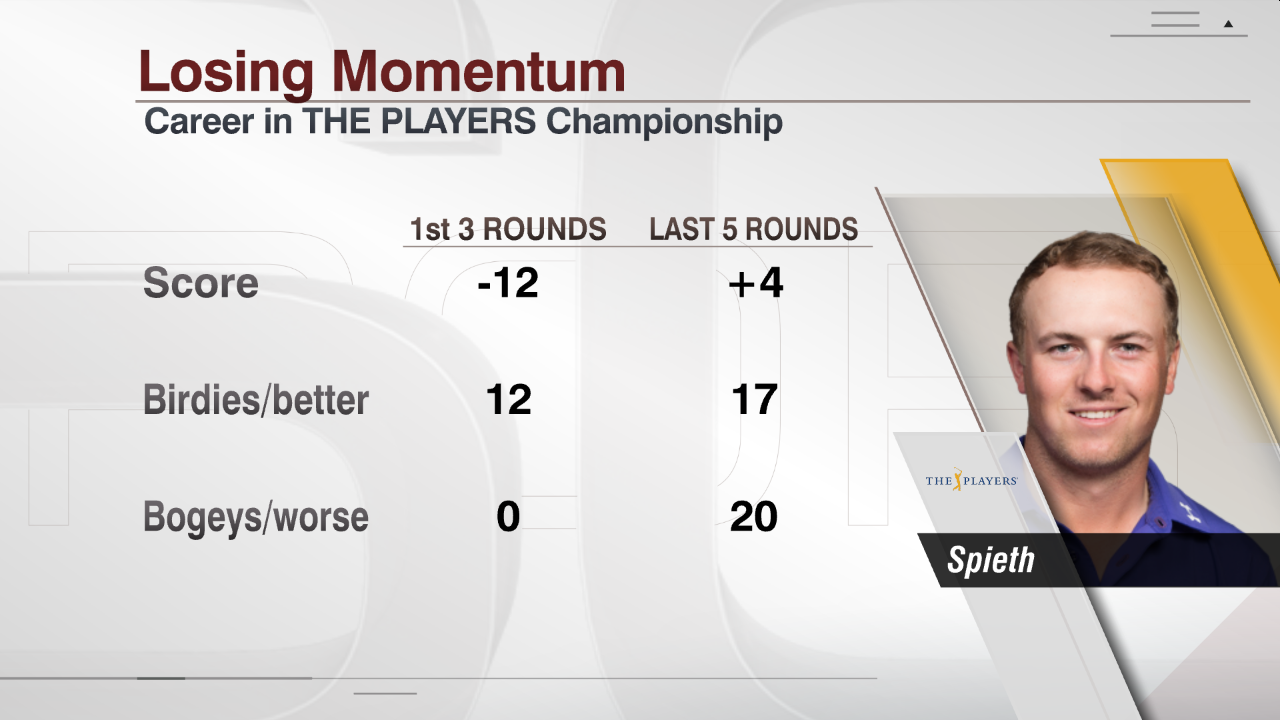 Those words seemed prescient after his missed cut on Saturday morning, only he'd replaced the swing mishap with a balky putting stroke instead.
For two rounds, Spieth needed 59 total putts. He ranked 122nd in the field of 144 in strokes gained putting, 104th in putting average and 117th in average distance of made putts.
In the world of quick clicks and hot takes, though, those numbers will matter less than the perception. Dots will be connected. He lost the Masters in dramatic fashion, took a month off, then returned and failed to contend. There will be some observers who jump from Point A to Point Z without taking notice of everything in between.
Spieth isn't one of them.
"I don't think there's much of a connection," he insisted. "I just didn't putt well. If I putted like I putted at the Masters, I would be at 10- or 12-under right now. I just had an off week with the flat stick. But I had plenty of rest. Again, Augusta seems like a long time ago now, to me. This was a complete new week."
Those words might appear like he's playing defense, but they also double as the high road.
What Spieth could have said was this: I also missed the cut here last year, just a month after dominating the Masters, so it stands to reason that these two tournaments are mutually exclusive and results at one tend to have no bearing on results at the other.
Instead, he maintained that his Masters collapse was far from his mind this week, while admitting that another aspect to his mental approach to the game still needs some work.
"I just need to do a little bit better job of being positive with myself and smiling a bit more," he said. "Having a bit more fun."
He has never enjoyed the steely-eyed demeanor of a Retief Goosen type on the course. Spieth is an emotional player who isn't afraid to let those emotions be seen by others. When those feelings are negative, though, he believes it adversely affects his performance.
One example: When faced with a tricky downhill lie from just off the 12th green on Friday afternoon, he chipped and watched his ball trickle through the green and over the other side, sarcastically waving to it as it kept rolling.
Perhaps magnifying this situation, he suggested, was the fact that he was paired for two rounds with tournament leader Jason Day, who beat him by 14 strokes.
"It's tough when you're getting shellacked by [14] shots in the same group," he said. "When someone's birdieing almost every single hole, every other hole, you start to wonder why in the world you aren't making any of them.
"A lot of times it's good to play with [someone playing well], if you can feed off of it. But for me it was tough this week, without my putting being on, it just led to a lack of patience for me seeing every hole being birdied and not being able to do much about it."
This is what Spieth wants to improve upon moving forward. This is an area where he feels there is room for improvement.
He's right, just as he's right about the Masters collapse not playing a part in his performance this week.
Some people will still try to connect those dots, but there's a simpler pattern on display.
Win the Masters? Miss the cut at the Players. Lose the Masters? Miss the cut at the Players.
Spieth started his week by denying there would be any sort of connection. He ended it the same way, leaving TPC Sawgrass on Saturday morning knowing there are parts of his game that need improvement -- but bouncing back from the Masters isn't one of them.