Uni Watch's Flashback: The subtleties of the silver and black
— --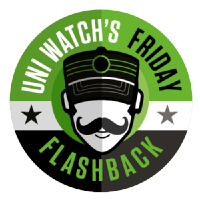 One of the NFL season's most surprising storylines has been the resurgence of the Oakland Raiders, who will face the Houston Texans in the wild-card round of the playoffs. It's a big turnaround for a team that hasn't made the postseason, or even had a winning record, since 2002.
When fans talk about the Raiders, they often mention the uniforms. "That classic silver and black," they'll say, "it's never changed, and it never will."
And they're right -- almost. The Raiders' uniforms are among the NFL's enduring classics, and it's hard to imagine them getting one of those full-scale Nike makeovers. Still, there have been a few changes over the years and also some quirks. Some of them have been extremely subtle, which just makes them more interesting to delve into. For this week's Friday Flashback, we're going to take a close look at some of those changes, one uniform element at a time.
The team colors
The helmet shield
The glare
The silver numbers
The full names
Those are the major issues in Raiders uniform history. But while we're at it, here are some additional uni-related notes regarding a few famous Raiders:
• Hall of Fame center Jim Otto was among the handful of NFL players to wear No. 00. The number also mimicked the pronunciation of his surname: "aught-oh."
• Two Raiders were notorious for slathering their uniforms with stickum: wide receiver Fred Biletnikoff and defensive back Lester Hayes.
• Swashbuckling Raiders quarterback Kenny Stabler used the same face mask for most of his career. Look closely and you can see that the mask, which was made by Dungard, used to have a vertical center bar, which Stabler had removed. Why didn't he just use a more conventional mask? According to helmet historian Curtis Worrell of Helmet Hut, "Stabler started using this mask because it stuck out further than the conventional Schutt mask and, thus, better protected a jaw injury he had received while wearing the Schutt mask."
(Special thanks to Bill Schaefer of the Gridiron Uniform Database for his research assistance.)
Would you like to nominate a uniform or uni element to be showcased in a future Friday Flashback installment? Send your suggestions here.
Paul Lukas wishes the Raiders had worn solid black, instead of solid white, for their Color Rush game last month. If you like this column, you'll probably like his Uni Watch Blog, plus you can follow him on Twitter and Facebook. Want to learn about his Uni Watch Membership Program, be added to his mailing list so you'll always know when a new column has been posted or just ask him a question? Contact him here.