— -- A Kansas boy who suffers from a painful tumor on his spine was in the stands when the Kansas City Royals threw the first pitch in a World Series game since 1985.
But on Tuesday, cancer was the last thing on young Noah Wilson's mind.
"It was amazing," his dad Scott Wilson told ABC News today. "We walked away with a loss but the energy in that place was phenomenal."
Wilson, his wife and their two sons, including Noah, were at the game thanks to a neighbor who launched a campaign last week to send Noah, a lifelong Royals fan who has a rare bone cancer called Ewing sarcoma, to see the team play at the World Series. They have tickets to tonight's game, too.
"Noah had a blast last night and he got home and was still excited," Wilson said. "He fell asleep pretty quick because it was a late night, and he got up this morning already wearing his Royals hat and ready to go."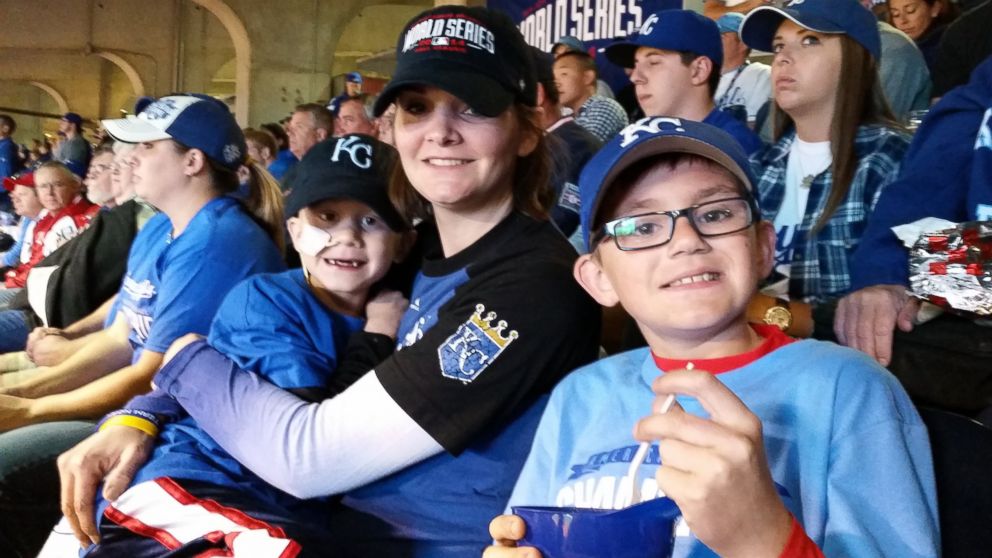 Their neighbor Ryan Zimmerman set up a GoFundMe page last week, and supporters raised more than $11,000 to send the cancer patient to tonight's game. MLB and StubHub ended up donating tickets, and Zimmerman said the money raised would be used instead to pay off Noah's hospital bills.
But the Wilsons had a better idea.
"Noah is one of many kids battling cancer. We've always felt kinda weird about this whole thing, so many families are deserving of this," he said. "So we took the money and we bought 16 tickets on StubHub for the game, plus the [extra] tickets donated and gave them to other families going through cancer, that we've met at the hospital or through friends."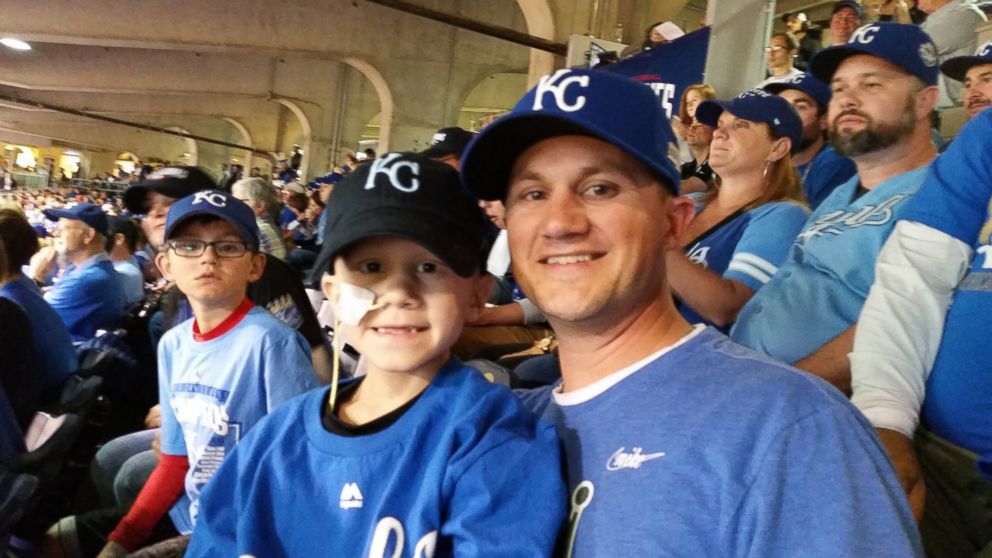 "There's no better way to spend it, in our opinion," he said.
On Monday, when Wilson went to pick up the tickets for tonight's game, an MLB employee who had heard about the campaign offered up her tickets so the family could also attend Game 1 last night.
Tonight, Noah's two sisters will also be at the game.
"They're excited, too," Wilson said. "My youngest is 4. She just knows she gets to go and get cotton candy -- that's her favorite part. She doesn't understand the World Series, but she understands cotton candy."