Editor's note: With his exhilarating and aggressive style of play, Yasiel Puig has become perhaps baseball's most polarizing figure and a lightning rod for criticism. His first year in the majors has been a roller-coaster ride, both on and off the field. Here's a look back at the Year of Yasiel, beginning with the Cuban sensation's magical debut on June 3, 2013.
---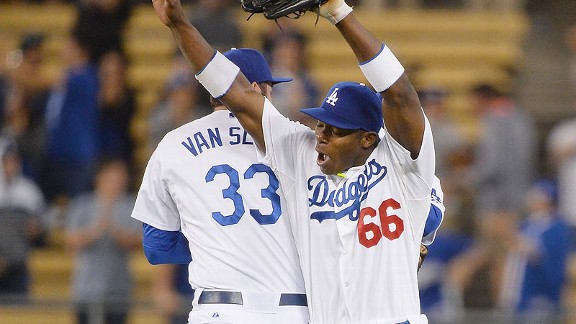 Harry How/Getty Images
Yasiel Puig bats leadoff, goes 2-for-4 with a pair of singles and fires a strike from the warning track to Adrian Gonzalez at first base to complete a game-ending double play in his major league debut, a 2-1 Dodgers win over the Padres.
"Storybook"
-- Dodgers manager Don Mattingly
"I'm going to do little things on the field to help the team even when I'm not hitting."
-- Yasiel Puig
"He's an energetic guy, eager to get on the field, loves the game and always has a smile on his face. We all know he's got a great arm."
-- Dodgers 1B Adrian Gonzalez
---
The next night, the 22-year-old Cuban sensation belts a pair of home runs, gets a pair of curtain calls and drives in five runs in the Dodgers' 9-7 victory.

Mattingly
"Not bad, huh? He's pretty good. Those were two impressive home runs there. We see a little bit of just everything this guy can do. Power both ways. He's fun to watch."
-- Mattingly to MLB.com
"Obviously, he's gifted. But there's an aggression to the way he goes about playing baseball. Certainly, the results are attractive, but I like the mind frame. He's up there with an intent to do damage."
-- Dodgers pitcher Ted Lilly
---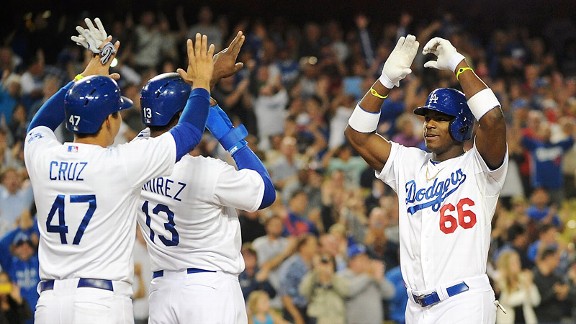 Lisa Blumenfeld/Getty Images
Another first for Puig: a grand slam, in only his fourth career game, a 5-0 Dodgers win against the visiting Braves.
"It's just infectious the way he plays. Seems like there's a joy in his game. It's the way you're supposed to play. He just looks so fresh. That's what gives our guys so much energy."
-- Mattingly
"He's really going out there and playing like he belongs up here."
-- Braves starter Tim Hudson
---
Gary A. Vasquez/USA TODAY Sports
Puig takes a fastball to the face in the first of two bench-clearing incidents June 11 against the Diamondbacks. Three days later, Arizona's Eric Hinske tries to pin some of the blame on Puig, who draws a fine but avoids suspension.
"I've been a model citizen in this league for 12 years. And then there's Puig, who's been in the league for 12 days and he gets no games. So you tell me what's right."
-- Diamondbacks 1B Eric Hinske
---
July 3, 2013 | THE AWARDS
With a major league-best .436 batting average, seven home runs and 19 runs scored in 26 games in June, Puig earns NL Player of the Month and NL Rookie of the Month honors.
Kemp
"He kind of reminds me of myself. Sometimes he plays too hard, and sometimes you have to tell him: 'Man, calm down. You can't make every play.' But he's done an amazing job in his first month in the big leagues. He's gotten big hits and made big plays on defense. He's doing a lot, and I think we're just feeding off the kid."
-- Dodgers CF Matt Kemp
---
All-Star selection talk is heating up, but not everyone is caught up in Puig-mania.
Papelbon
"The guy's got a month, I don't even think he's got a month in the big leagues. Just comparing him to this and that, and saying he's going to make the All-Star team, that's a joke to me."
-- Phillies closer Jonathan Papelbon to MLB Network Radio
---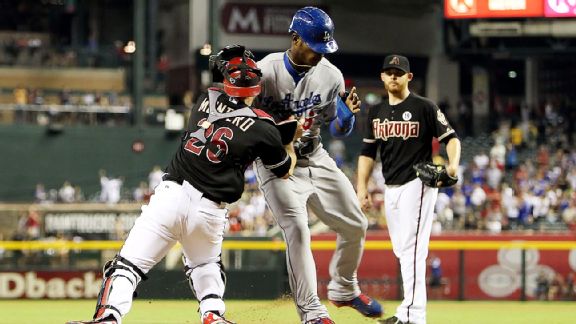 Christian Petersen/Getty Images
After a couple of run-ins with Puig, including once at home plate, Diamondbacks catcher Miguel Montero offers the rookie some friendly advice.
"If he's my teammate, I probably try to teach him how to behave in the big leagues. He's creating a bad reputation around the league, and it's unfortunate because the talent that he has is to be one of the greatest players in the big leagues. Right now, I'm not going to say he's the best because he hasn't proved anything yet. Does he have talent? Of course. Does he have the tools? Of course. He's got so much talent, it'd be really bad if he wasted it doing the stupid things that he's doing."
-- Diamondbacks C Miguel Montero to MLB.com
---
Puig's baserunning, reckless at times, is drawing concern.
"We're trying to corral it a little bit, but without putting too many restrictions on him. As you get into big games, any game can be the game it costs you, so we just want him to understand situations."
-- Mattingly
---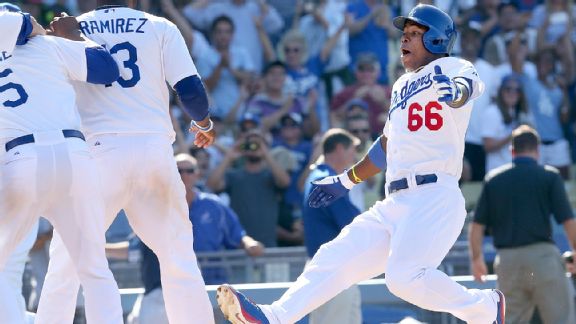 Stephen Dunn/Getty Images
The flamboyant right fielder slides into home plate after his first career walk-off homer.
"Each player does what he can when he gets to the plate. Some people jump, some people slide, some people run. I have a previous teammate in Cuba that jumped and hurt his ankle. So I decided to slide."
-- Puig
---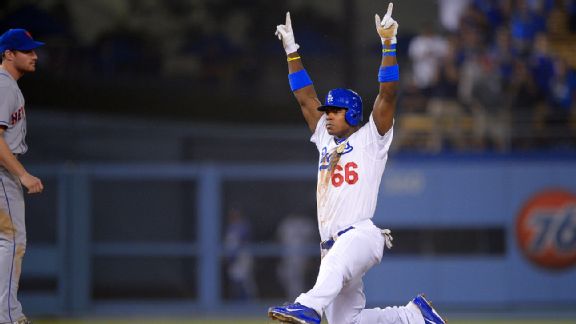 AP Photo/Mark J. Terrill
In the 12th inning, score tied at 4, Puig stuns Mets center fielder Juan Lagares by taking second base on a ground ball up the middle. Puig would come around to score the game-winning run on Adrian Gonzalez's double.
"When he does something like that, that's outstanding. That's something you can't teach. He did that all on his own. Nine out of 10 guys wouldn't try that.
"I really believe. He thinks he can do anything."
-- Dodgers first-base coach Davey Lopes
---
Aug. 14, 2013 | THE ARM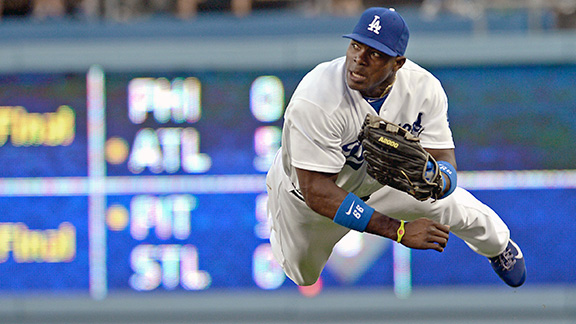 Jayne Kamin-Oncea/USA TODAY Sports
Puig launches a throw (and himself) to nail the Mets' Marlon Byrd at third. Baserunners are quickly learning that they should think twice before trying to take that extra base.
"Any time somebody runs on him, I expect him to throw somebody out."
-- Dodgers utilityman Jerry Hairston Jr. to the Los Angeles Times
---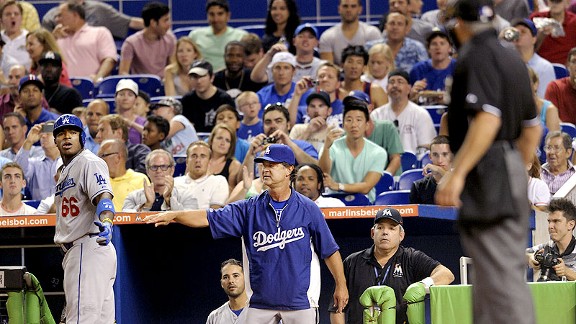 Steve Mitchell/USA TODAY Sports
Puig inexplicably erupts at home-plate umpire John Hirschbeck after a three-pitch strikeout.
"[The umpires are] only going to put up with so much. For me, if he doesn't say anything ... It's just a little delicate. He's emotional and we're not going to get that out of him."
-- Mattingly
---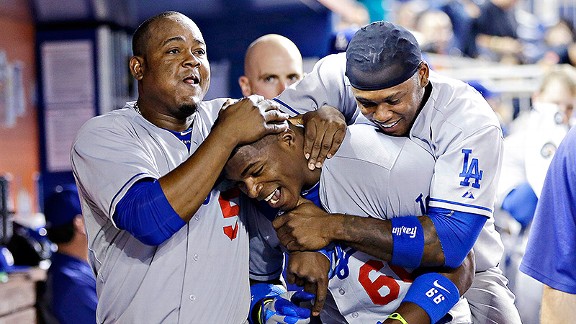 AP Photo/Lynne Sladky
The rookie arrives late to Marlins Park, has a closed-door meeting with Mattingly and gets fined an undisclosed amount.
"I'm satisfied with the answer, but it doesn't make it better. You've just got to leave earlier. You get caught in traffic or whatever, it's easy to say that, but it's kind of like, 'OK, that's fine, but you're still late.' ... We don't have any problems with Yasiel in the clubhouse. He's a good kid. Really, there are no personal problems. His problems come from mistakes that we want to correct."
-- Mattingly
Held out of the starting lineup, Puig belts a tiebreaking solo homer in the eighth inning of the Dodgers' 6-4 victory over the Marlins.
"We're always expecting something great. He's just got so much ability. He got a pitch and drove it, and what a spot to do it in. He doesn't seem like he feels too much pressure out there."
-- Dodgers pitcher Chris Capuano
"I'd like to have a guy like that coming off the bench."
-- Marlins manager Mike Redmond
---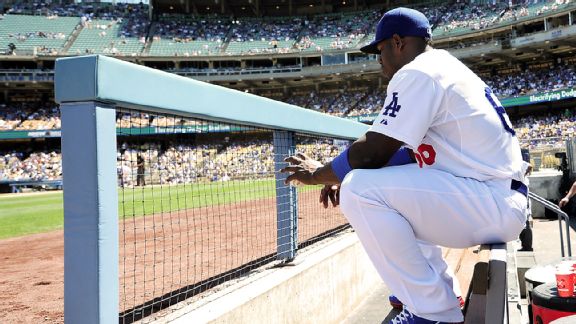 Lisa Blumenfeld/Getty Images
Eight days later, Mattingly pulls Puig mid-game against the Cubs for undisclosed disciplinary reasons. After the game, Puig meets with Mattingly and general manager Ned Colletti in Mattingly's office for about 30 minutes.
"I always give my best but, honestly, today there was some fatigue and I wasn't prepared.
"The meeting was good. [Mattingly] explained what every ballplayer has to do on the field, not only me but every ballplayer. We have to give 100 percent on the field, even if we're tired or if we're playing in games like today. We've got to give 100 percent to help the team. If I'm in the lineup Friday I'll give my best effort and if not I'll wait until I can help."
-- Puig
---
Sept. 29, 2013 | THE REGULAR SEASON ENDS
The Dodgers win 66 games after Puig's call-up and take the NL West title by 11 games over the Diamondbacks. Puig bats .319/.391/.534 with 19 homers, 66 runs and 42 RBIs in 104 games. In the field, he records eight assists but makes five errors.
---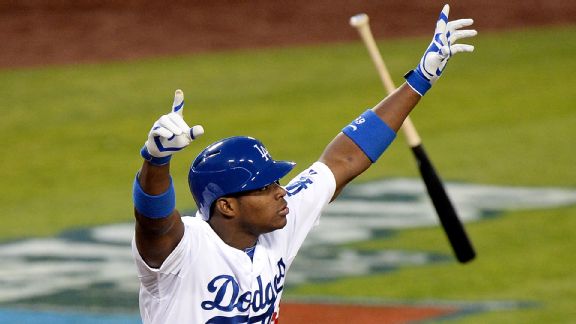 Harry How/Getty Images
Cardinals right fielder Carlos Beltran objects to Puig's celebratory antics (the bat toss, the pause to watch, the raised arms) on a triple during Game 3 of the NLCS, a 3-0 Dodgers win.
"As a player, I just think he doesn't know [how to act]. That's what I think. He really doesn't know. He must think that he's still playing somewhere else. He has a lot of passion, no doubt about that -- great ability, great talent. I think with time he'll learn that you've got to act with a little bit more calm."
-- Cardinals RF Carlos Beltran
"It's Puig, man. He's been doing it all year. I mean, I know it's one of those things where a rookie probably shouldn't be doing that kind of stuff. But they love it around here. So I guess it's OK."
-- Dodgers OF Carl Crawford
---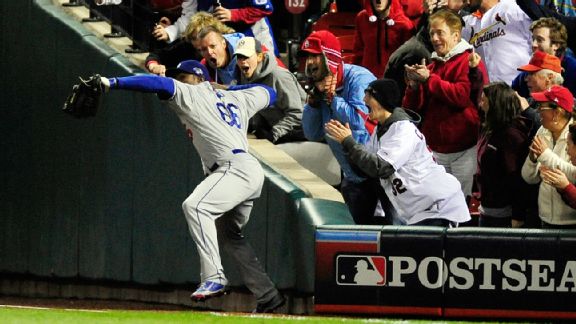 Jeff Curry/Getty Images
Three defensive miscues by Puig -- a pair of wayward throws and a fielding bobble -- result in two errors in Game 6 of the NLCS, a 9-0 season-ending loss to the Cardinals.
"Yasiel gets excited. He's going to try to make plays all the time, and that's the way he is. But we've got to do a better job, I think, of helping him to mature and understand what we want done and the way to do it."
-- Mattingly to MLB.com
"The one thing that stood out was that every run, every at-bat, every play in the field needs to be very important. You have to make sure you do your best to be good."
-- Puig to MLB.com
---
Puig finishes second in NL Rookie of the Year voting behind Marlins phenom Jose Fernandez.
---

Puig is arrested on a reckless-driving charge after Florida Highway Patrol officers allegedly clock him going 110 mph in a 70 mph zone. (The Florida state attorney's office later drops the reckless-driving charge due to a lack of sufficient evidence, but the speeding ticket still stands.)
"We have spoken to Yasiel and made it clear that we, as an organization, are very disappointed in his recent behavior. This is a very serious issue to us and we will continue to educate him and strive to further develop his growth off the field and as a member of this community."
-- Dodgers statement
---
After picking up his second speeding ticket in eight months, Puig decides to stop driving.
---
A frustrated Mattingly calls a team meeting to clear the air following Puig's miscues in the Dodgers' season-opening series in Australia.
"I asked them to please keep helping me. Specifically with baserunning and hitting my cutoff man. I want them to help me with everything they can."
-- Puig
"I think it says a lot about Yasiel and his character that he wanted to have a meeting. He wanted to get out in front of this and he wanted to have himself held accountable to his teammates ... and it's up to us to help him in that maturity process."
-- Dodgers catcher A.J. Ellis to the Los Angeles Daily News
---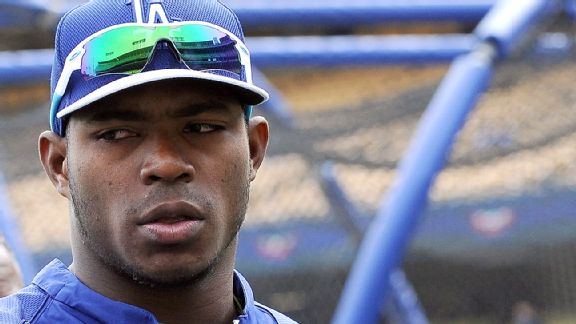 Mark Sullivan/WireImage
Puig is scratched from the lineup for the Dodgers' home opener after showing up late for BP.
"I asked [Mattingly] for forgiveness as well as my teammates. It was my mistake. I'll be here early tomorrow."
-- Puig
"He felt bad he wasn't here, and I believe that. He's a good kid. Does he have to grow up and get better? Yeah, but there's a lot of guys like that."
-- Mattingly
---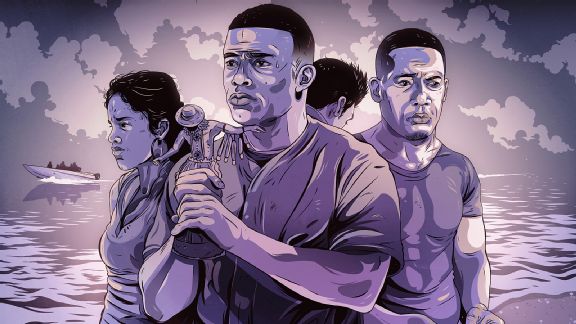 Alexander Wells
Puig issues a statement on the reports he received threats from the human traffickers who orchestrated his defection from Cuba to Mexico.
"I'm aware of the recent articles and news accounts. I understand that people are curious and have questions, but I will have no comment on this subject. I'm represented on this matter, and I'm only focused on being a productive teammate and helping the Dodgers win games."
-- Puig
---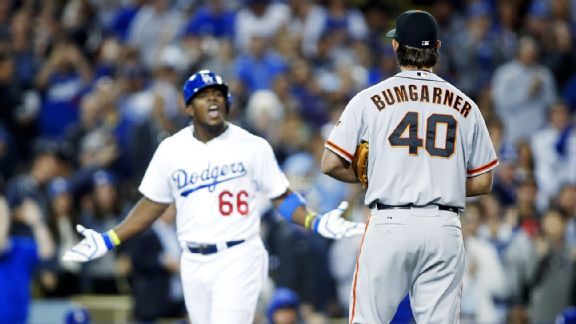 AP Photo/Danny Moloshok
Puig's 431-foot solo home run and accompanying bat flip irks Giants starter Madison Bumgarner, who plays coy in a tongue-in-cheek postgame interview.
"I was just congratulating him. That was a really good swing. That was pretty impressive. I don't know why everybody got so mad. It escalated quickly for no reason. I think he said, 'Thank you.' I'm not sure if he did. I don't speak Spanish very well."
-- Bumgarner
Fellow Giants starter Tim Hudson said he didn't mind the bat flip at all.
---
Tim Hudson has a different opinion of Yasiel Puig's bat flip: "He hit the piss out of it, so I probably would've flipped it too."

- Andrew Baggarly (@CSNBaggs)
May 12, 2014
---
And Mattingly says it was nothing out of the ordinary.
"He hit it, he flipped and he ran. I'm not quite sure what he's upset about. You see guys do stuff every day."
-- Mattingly
---
Puig seeks dismissal of a $12 million lawsuit in which an incarcerated Cuban citizen blames the Dodgers outfielder for his imprisonment and subsequent torture.
---
Adam Hunger/USA TODAY Sports
In a 5-3 loss to the Mets, Puig makes a great diving catch in right-center. But Mets pitcher Carlos Torres isn't impressed, and is among those who don't care for Puig's style of play.
"For me, personally, I'm a ballplayer. I'm an athlete. I am a guy who actually enjoys the game and competing. I don't care to watch him. If you look at [Jason] Heyward's catch where he was flying through the outfield, laying out, he actually made a way better catch than Yasiel Puig's. And that was earlier in the season. But since it's not Puig, nobody cares. No one is paying attention.
"If you watch him before a ball is hit, he's just standing straight up and down. Maybe he might bend over once or twice. And he's almost never ready to field the ball. So when you're watching stuff like that, you just sit there, let him do what he does, and go from there and try to get him out when he's hitting."
-- Mets P Carlos Torres to SiriusXM
---
As Puig's one-year anniversary approaches, Mattingly proclaims Puig the best at his position.
"We feel like, right now, Yasiel is the best right fielder in baseball. This guy dominates right field. The way he plays right field, he really stops the running game from first to third."
-- Mattingly