In the beginning was Apple's iPhone. It was a phone -- but that wasn't the half of it. In one sleek little handheld package were a computer, a Web browser, a music player, a video player, and a thousand other things nobody had yet conceived when it came out in 2007.
Ever since, competitors have been trying to mimic its mystique. Apple has sold more than 20 million iPhones since its debut in 2007. The Storm, the Pre, the Cliq -- we could go on -- have all been fighting for their share of the market.
Now comes the Droid. It is made by Motorola, sold by Verizon Wireless (a big selling point to iPhone owners who hate being limited to AT&T's network), and the software that runs it (perhaps the biggest selling point) is from Google.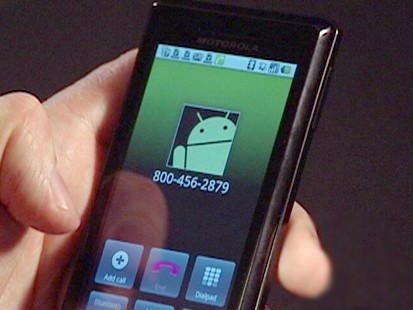 So. Is it the "iPhone killer" that people wonder about whenever a hot new handheld hits the market? In a word, the reviewers say no -- but it's certainly a nervy cousin.
"If you're interested in a smart phone, as opposed to a non-smart phone, or what people are now calling dumb phones, this is a very good entrant into the space," said John Abell of Wired.com, who was given a review copy of the Droid about four months ago.
Abell said he generally liked the phone -- it has some details Apple dispensed with, such as a hatch on the back so you can replace the battery. But he said Apple set a very high bar when it made the iPhone so elegantly simple to use. The Droid, he said, comes close, but close is no cigar when millions of dollars are at stake.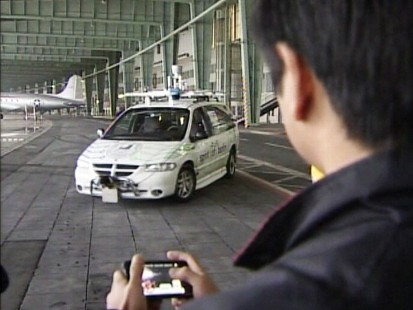 "I don't think it quite has the usability that the iPhone has," he said. "And for that reason I don't think it will quite catch fire."
Droid by the Numbers
Here are a few Droid specifications:

A 3.7-inch touch screen (though you can't "stretch" or "pinch" a picture with two fingers as you can on the iPhone to make it larger or smaller).

A lithium-ion battery good for up to 385 minutes of continuous use, or up to 270 hours in standby mode, according to Motorola.

A for-real browser, far better than what you get from the scrunched reading you have to do on most mobile devices.

A slide-down QWERTY keyboard, which you may prefer to the virtual keyboard you use on the iPhone's touch screen. It may, on the other hand, drive you crazy. The keys are tiny.

The Droid has its own app store -- with clever low-cost programs you can add for myriad purposes. It doesn't have 100,000 apps the way Apple does -- but do you really need 100,000? Creation of Droid apps is a more open process than it is at the Apple App Store, by the way; developers don't need Google's approval to offer their software.
Google Droid: an Apple iPhone Killer?

A 5-megapixel camera with video capability and image stabilization -- pretty good for a camera phone, though, as with most cell phones, it's no subsitute for an actual camera if you want more than snapshots.

An mp3 music player, for which the major supplier is Amazon.com. Amazon's music selections are massive, but if you've invested a lot in iTunes, you can't (at least for now) load your iTunes library into this Apple competitor.

The price: $199 with a two-year Verizon Wireless contract, plus tax and fees.
One message from this list: It is hard, in a crowded marketplace, for any one smart phone to stand out from all the other sleek, flat handhelds. But the Droid does a couple of tricks that its competitors don't.
Ever use Google maps? Ever use a GPS to get directions on the road? Ever wish you could talk to the thing, instead of pressing tiny keys to give it the address you want?
Using Google's Android 2.0 software, the Droid combines these things. (The iPhone offers navigation took but this is more powerful.) We mounted a Droid on the dashboard of a car, got in, and tried it.
"Navigate to Museum of Natural History, New York," I said. The Droid gave a brief "please wait" signal, then announced with a pinging sound that it had found "American Museum of Natural History, Central Park West at 79 St., New York, N.Y. 10024."
From there, it acted like any new GPS unit, with a synthetic voice giving me turn-by-turn directions: "In 500 feet, turn left at Seventy-Two Street."
Of course, you could buy a good GPS from Garmin or TomTom for prices similar to what you'd spend on the Droid -- but they don't include phones, browsers, cameras and the rest. The day Google announced this feature, Garmin stock dropped from 37 to 31 on the Nasdaq. (Garmin is offering its own navigating phone.)
Double-parked in front of the museum, we tried playing a bit more with the voice-recognition feature, on which Google has been spending a lot of effort. Don't want to type in the terms for a Google search? Talking is faster.
"Search for 'Ned Potter, ABC News, New York,'" I said, and in a second the screen displayed "ned potter a b c news new york," along with a page of stories I'd done for ABC.
Naturally, when I tried it again, it found "net pottery b c news newark."
You may love the Droid. If you don't, you can ask it for directions to the nearest Apple Store.