Think your new wireless Apple Airpod ear buds are pretty special, don't you?
The U.S. Department of Defense is working with a Silicon Valley startup to fine-tune a crystal-clear, two-way radio so small it clips to your tooth.
The device, nicknamed the "molar mic," is designed to transmit an encrypted, wireless signal clear enough to whisper in a hurricane and hear back with equal clarity -- all inside your head, with no earpiece.
Since the sound of the voice is captured at its source, the cheek and gums create a natural barrier to outside sound, so the radio is designed to work virtually anywhere, according to ABC News interviews with its developers, as well as military officials and experts who have tested the device.
Incoming wireless signals beam directly into the mouth and are converted by the chip into mechanical energy, which imperceptibly vibrates the tooth and travels up through the jawbone –- essentially bypassing the ears -- directly into the brain's auditory nerves.
The device channels the body's natural ability to transmit sound internally.
Chew on some crunchy potato chips and you'll grasp the concept immediately.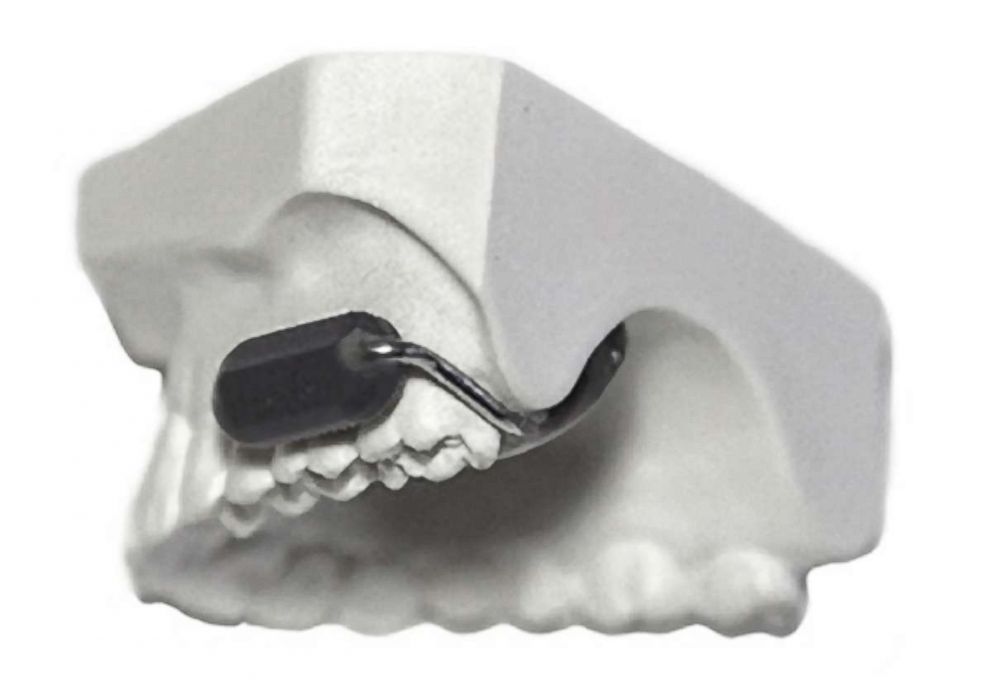 Last month, Sonitus – the California firm behind the device -- was awarded a $10 million Department of Defense (DoD) contract to customize the technology to meet the military's needs. After that, it's expected to hit the commercial market.
Real-time deals
The "molar mic" project is an early success for the Pentagon's Defense Innovation Unit (DIU), a relatively new, specialized team of technology scouts whose mission it is to identify existing commercial technology solutions that can be swiftly adapted to meet military needs and make deals in real time.
Traditionally, the Pentagon's contracts with big defense companies to build tanks, ships and planes for the U.S. military can be years in the making and require extensive review, testing and oversight procedures before a product ever rolls off the assembly line. It's an approach thoroughly unsuited to the technology sector.
In 2015, former U.S. Secretary of Defense Ash Carter ordered the creation of DIU, a small, experimental unit with a modest budget, comprised of civilians, active duty military, reservists and commercial tech executives.
Headquartered in Silicon Valley and designed to operate outside the more traditional, deliberative military bidding process, DIU has so far inked 81 deals worth about $240 million in Pentagon contracts, officials said.
Independent military technology experts told ABC News that DIU is a small but vital component of a larger Pentagon campaign launched under Carter and maintained under current Secretary of Defense James Mattis to keep pace with technological innovation. Mattis visited DIU's headquarters in Mountain View, California, last year and expressed his support for the program, according to the Associated Press.
"The regular acquisition process is pretty bureaucratic and slow and can be inefficient -- that's just the reality of it," said Peter W. Singer, a military technology expert who specializes in 21st century warfare.
"So you develop these other projects and programs almost as workarounds to that," he said. "So much of the key [emerging] technology is already marketized -- whether it's AI [artificial intelligence] or big data or robotics -- it's increasingly available on the private market."
Since the commercial developers have usually already brought the product to market, DIU is able to sidestep the steep research and development costs traditionally borne by the government.
They work with the developers to adapt existing technology to meet the relentless needs of a sprawling bureaucracy tasked with protecting the nation from a widening spectrum of threats.
The "molar mic" prototype is based on a concept originally conceived for hearing aids.
Prioritizing AI
Another pilot project involves a high-tech fleet of autonomous drones that was developed with technology for a real estate app, Defense Department officials said.
"Instead of a [military] unit having to kick in a door to a multiple-story building, now they can release multiple small, smart drones into that space that are AI-enabled and autonomous, and not only map the entire structure, but highlight potential threats," Mike Madsen, DIU's director of strategic engagement, told ABC News.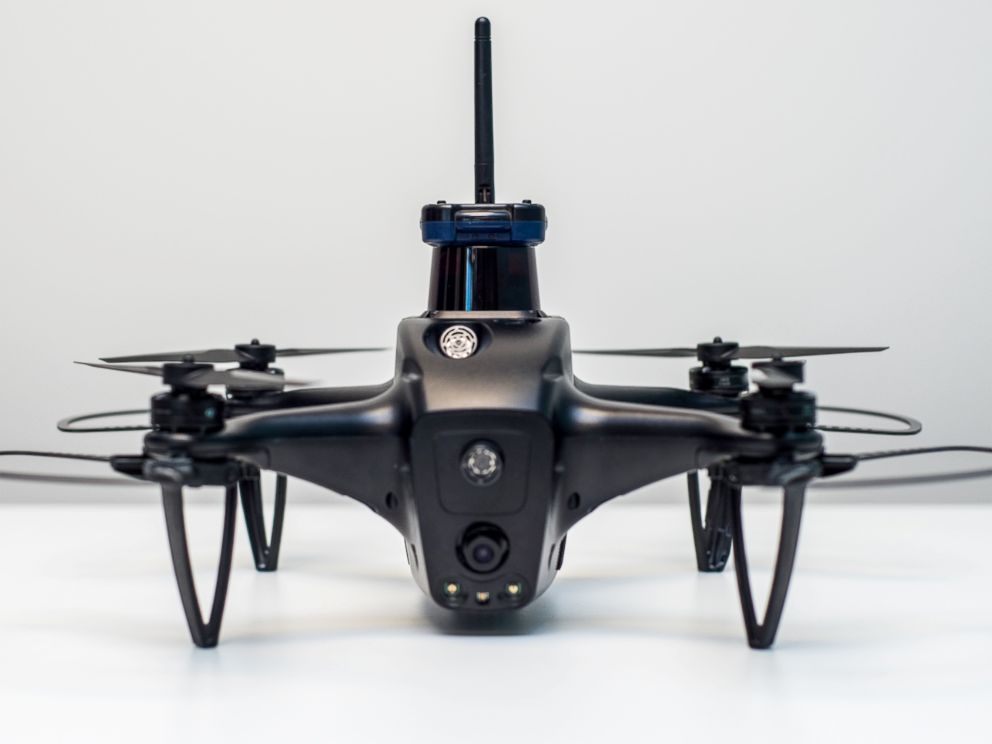 The unit is also tapping into the rapidly-evolving commercial satellite market, working with companies whose regular customers are futures traders monitoring petroleum holding tanks, or box store executives measuring car traffic in mall parking lots.
Yet another new project DIU is developing is AI-enabled software that predicts the deterioration of parts and the need for maintenance before they actually break down.
Madsen, a former C-17 pilot in the Air Force, recalled one time that a broken part delayed a mission for days.
"We hard broke on an austere airfield and waited five days for a parts and maintenance official," he said.
The evolving AI pilot program, Madsen said, "can crunch billions of data points to understand so many factors."
"We'll know before parts break, before we leave home station," he added.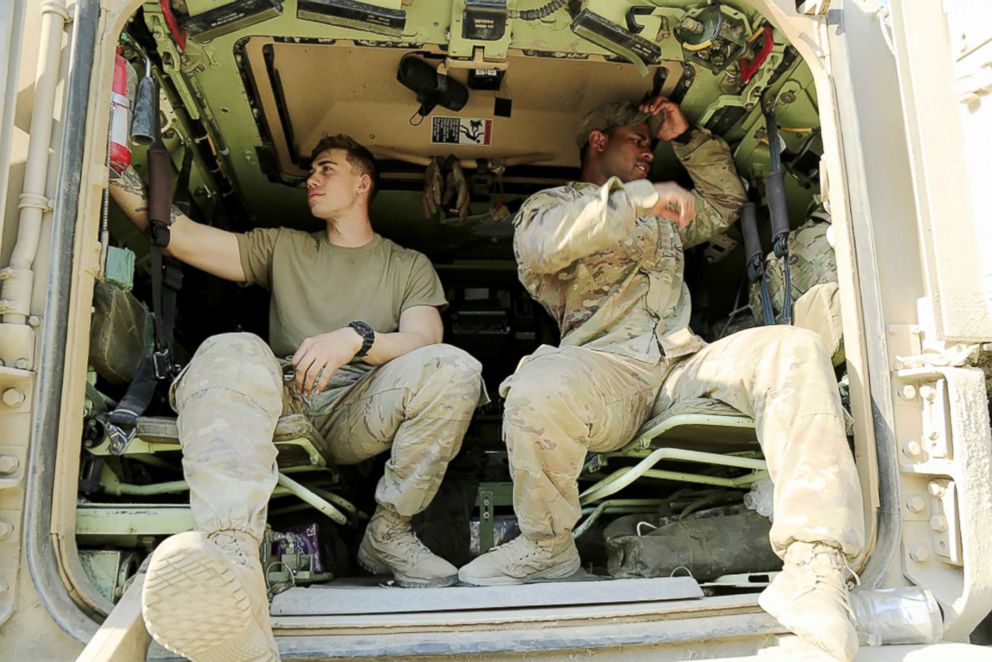 AI is one of the chief priorities of an American military establishment that for the first time in its history is falling behind the private sector in a vitally important defense space.
In May, Secretary Mattis wrote a memo imploring President Donald Trump to create a national strategy for artificial intelligence development, according to a report last month in the New York Times, which noted that, to date, the president's response to the memo remains unclear.
Another issue that's driving the military's need for a more contemporary approach to technology is competition from the Chinese.
"China has a strategic plan to be the artificial intelligence world leader by 2030," Singer said, "and this effort is being backed by massive investment from the government, the military and the industrial sectors there."
"That has deeply concerned the [U.S.] military, and that's been the spark for a lot of these efforts," Singer added.
For his part, Madsen seems to have internalized the need for speed in his position.
On the government side, he said, "we work with the DoD to fully and clearly and simply identify their problem -- not with a voluminous list of requirements and explanations of the problem."
On the flip side, DIU seeks solutions from Silicon Valley that can be explained in a five-page white paper or a 15-slide presentation deck, Madsen said.
"We're looking to put that proposal into a contract award within 60 to 90 days," Madsen said. "Our fastest was 31 days."
'No longer an experiment'
It hasn't always gone smoothly.
The unit has at times faced resistance from a tech sector still wary of working with the U.S. military and intelligence communities in the wake of analyst Edward Snowden's staggering 2015 revelations that the National Security Agency (NSA) had secretly penetrated the internal systems of Google, Facebook and others.
A $131 million contract known as "Project Maven" that DIU struck with Google to use machine-learning technology to swiftly analyze drone images captured on the battlefield (watch a simulation video of a similar but separate project here) was scuttled after thousands of Google employees, including some who resigned over the issue, objected to the Pentagon contract.
More than 4,000 employees signed a petition which argued that "Google should not be in the business of war," according to Gizmodo, which first reported the development.
Still, DIU appears to maintain the support of the Pentagon's top brass. When it was launched three years ago, DIU was called DIUx –- with the "x" representing "experimental."
Last month the "x" was removed, marking a vital milestone for the young unit, which since its inception has expanded to include satellite offices in Cambridge, Massachusetts, Austin, Texas, and the Pentagon.
"Though DIU will continue to experiment with new ways of delivering capability to the warfighter, the organization itself is no longer an experiment," Deputy Defense Secretary Patrick Shanahan wrote in a memo announcing the name change.
'Safety first'
Many of the DIU pilot projects get on-the-spot testing in real world conditions.
During Hurricane Harvey last year, thousands of first responders and search-and-rescue teams poured into Houston from a range of agencies. Among them was a small unit of Air National Guard pararescuers -- elite, quasi-military rescue specialists trained to operate in the roughest environments on the planet –- who field tested the "molar mic."
Sonitus Chief Operating Officer Peter Hadrovic explained that the "Air National Guard unit working with us generally has a dual mission."
"They have an internal, domestic mission and a military mission, so many of the guys that have been outfitted with these systems, in the process of prototyping them, have used them in, for example, Hurricane Harvey, when they were on a civilian search-and-rescue mission," he explained.
The regular acquisition process is pretty bureaucratic and slow and can be inefficient -- that's just the reality of it.
While Hadrovic declined to detail all of the new device's capabilities, the underlying wireless technology -- called "near-field magnetic induction" – is known to be operable underwater, according to outside experts who spoke with ABC News.
The Air National Guard's pararescuer jumpers, or "PJs" as they are known, frequently drop from whirring helicopters into deep floodwaters to execute rescues in hurricanes and other national disasters.
Hadrovic said the device will eventually be marketed commercially to a variety of industries, particularly firefighters, police, search-and-rescue squads and other types of first responders, whose needs in this instance mirror those of the military -- reliable communication in unpredictable conditions.
"Rule number one is clear communication," Hadrovic said. "Communication is safety. Number two is the ability to operate freely."
In many dangerous situations, he said, external headgear can be self-defeating.
"You put equipment on to protect yourself and you impair your ability to communicate," Hadrovic explained. "So putting on respiratory protection, like a firefighter, can break rule number one –- don't lose communication."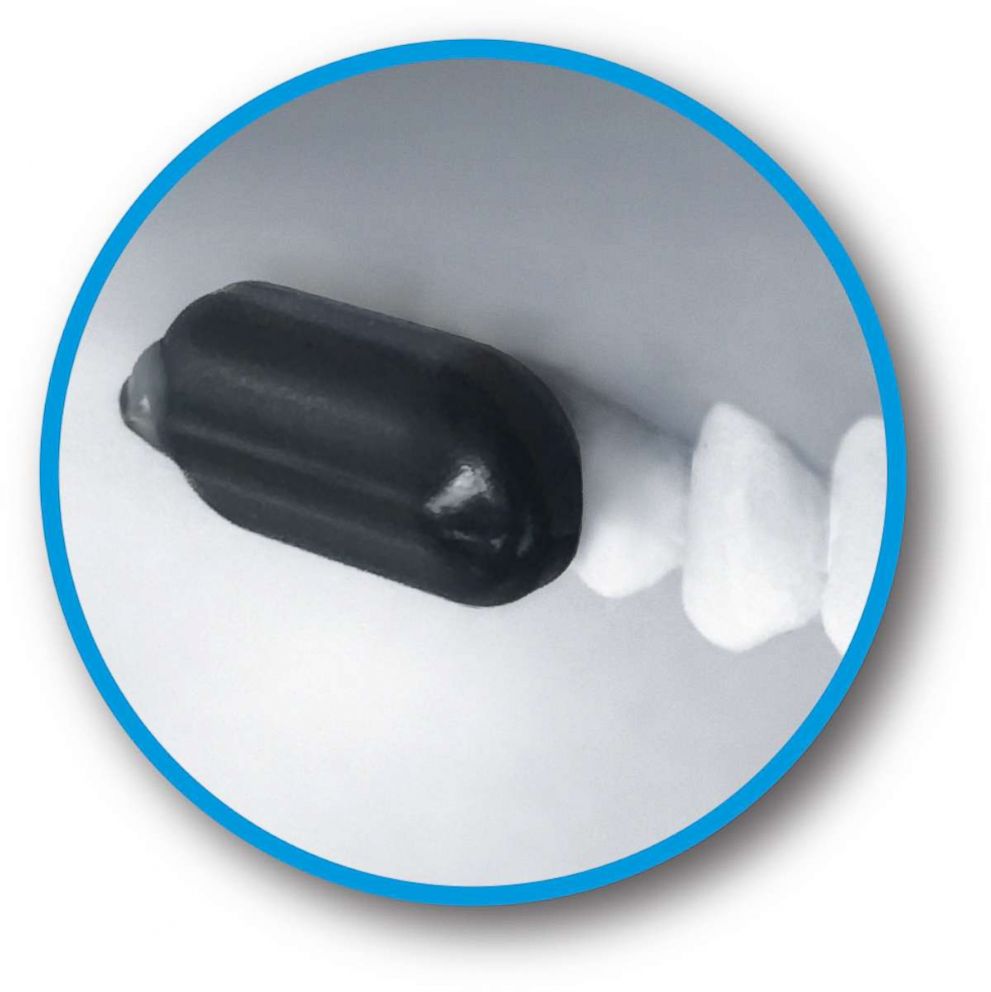 Still, Hadrovic took pains in his interview with ABC News to highlight not just the virtues but the limitations of the "molar mic."
"This is not a brain-machine interface," he stressed, referring to a specific concept of a direct pathway between a human brain and an external device, known as a BMI. "But it's what we're moving towards."
He characterized the "molar mic" as something of an early predecessor to even more fascinating future innovations.
"Essentially, when we think of technology -- whether it's the very first stone that someone picked up to flying a drone, we've always used our little monkey fingertips," Hadrovic said.
"And now we're moving into a world where increasingly it will not just be hands-free and voice-free but even with a connection to the human brain," he added.
"There are all these cool projects [underway] on brain-machine interfaces, allowing [the wearer] to do everything from flying drones with their mind to ordering pizza to a dorm room without every vocalizing it," Hadrovic said. "This is just the start."
This report was featured in the Sept. 21, 2018, episode of ABC News' daily news podcast, "Start Here."
"Start Here" is a daily ABC News podcast hosted by Brad Mielke featuring original reporting on stories that are driving the national conversation. Listen for FREE on the ABC News app, Apple Podcasts, TuneIn, Spotify, Stitcher, Google Play Music, iHeartRadio -- or ask Alexa: "Play 'Start Here.'"
Follow @StartHereABC on social for exclusive content, show updates and more: Twitter, Facebook, Instagram.