— -- Starting Tuesday, ABC News will be streaming live into your living room on Apple TV. ABC News on Apple TV features continuous live and on-demand programming from around the world. And best of all: it's free.
ABC News on Apple TV was designed to keep you informed and entertained all day. Want specifics? Check out our guide before you tune in:
We're Live, 24/7
When news breaks, we're on it –- times four. With up to four channels of live streaming video at any given moment, there's no way you will ever miss out on headlines from around the world. We will be streaming live from the White House to the World Cup, and bringing you stories from the anchors and ABC News correspondents you trust. Best of all, we're always on: just visit Now on ABC News at the top of the app for continuous live coverage.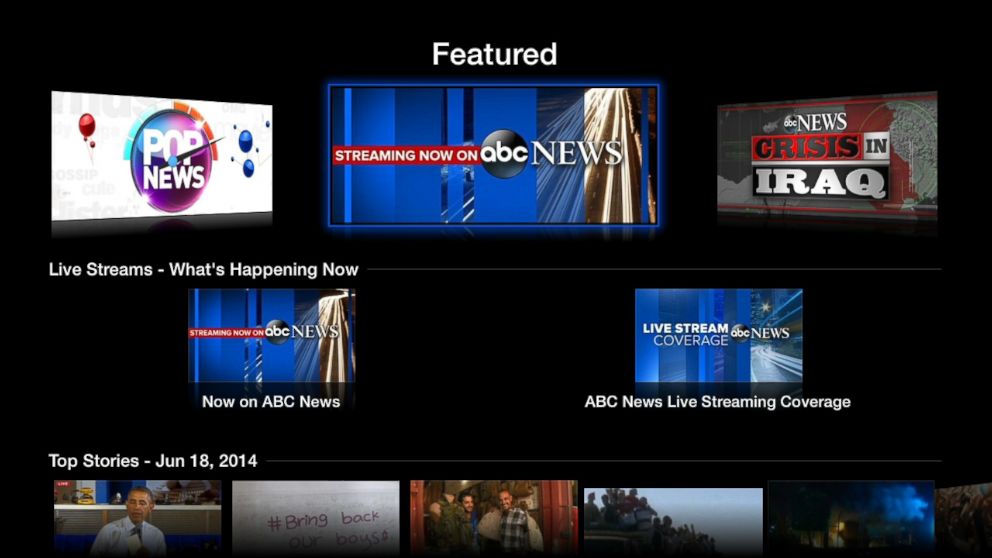 Opening Our Archive
You don't have to be a history buff to get a kick out of This Week in History, a playlist we update weekly with topical archival footage from ABC News's vaults. Remember Prince William's 21st birthday celebration or President Nixon's resignation. Or watch dramatic footage from the first moonwalk. Each week our editors have rounded up over 30 minutes of archival on-demand video spanning more than 50 years.
Go In Depth
We cater to news junkies –- and those who are just curious. From the crisis in Iraq to severe weather in your neighborhood, our editors have built in-depth playlists curating the most interesting reporting from our ABC News correspondents and shows in one convenient place. Watch one clip –- or watch 15. We've stitched them together on the featured page so you can get a full picture of the week's most compelling news straight from the newsmakers themselves.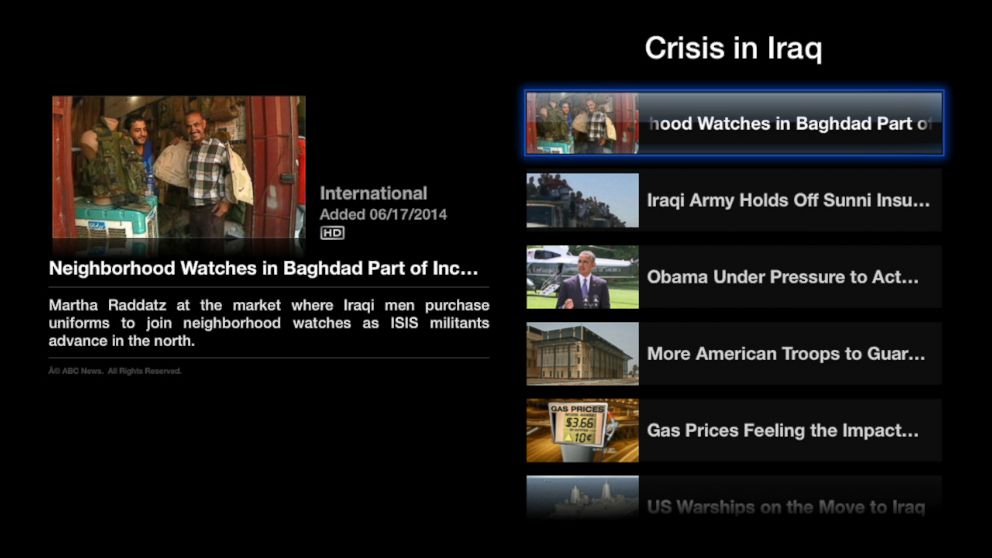 Original Programming
Get unlimited access to the best of our original programming, including Popcorn with Peter Travers, a weekly interview series bringing you up close with your favorite movie stars, or investigative pieces from Brian Ross.
Focus on Local News
Curious about news happening in your own backyard? ABC News on Apple TV is bringing you local news from nine ABC television stations, with more rolling out in the future. At launch, you'll find the best stories of the day from our affiliates in New York, Los Angeles, Chicago, Philadelphia, San Francisco, Houston, Fresno, Raleigh and Milwaukee.