— -- Pro-democracy protests in Hong Kong continued today despite the Chinese government blocking social media websites including Facebook and Instagram in mainland China and cell phone networks getting overloaded in the protest area, the central business district.
How do thousands of protesters communicate with the rest of China and the world if they can't use those websites or even get a cell phone or Wi-Fi signal?
"Using chats," said Ryan Ashton in Hong Kong reached by ABC News through the mobile app "FireChat," which has been gaining considerable traction in the past few days. On Sunday alone, 100,000 new sign-ups from Hong Kong were registered on the mobile app, which uses a "mesh network" in which each individual cell phone acts as a mini-transmitter using a Bluetooth signal.
It all started when Joshua Wong, a young protester with thousands of followers on social media, urged people to use the app. "Police will cut off [cellular] network[s]," he wrote in Chinese on Facebook. "Please go to the AppStore or PlayStore installation and download FireChat."
While protesters can still use Twitter and WhatsApp when they have a cell or Wi-Fi connection, many say FireChat works best because it requires only a Bluetooth connection.
"When you're right in the crowd the cell networks get overloaded so it's difficult to use," Ashton said. Joining the conversation with ABC News, another FireChat user based in Hong Kong called "UDI" said the tool was useful because it had a "nearby" function enabling communication with people in the same vicinity.
Chats are organized by theme and you can see everyone's location.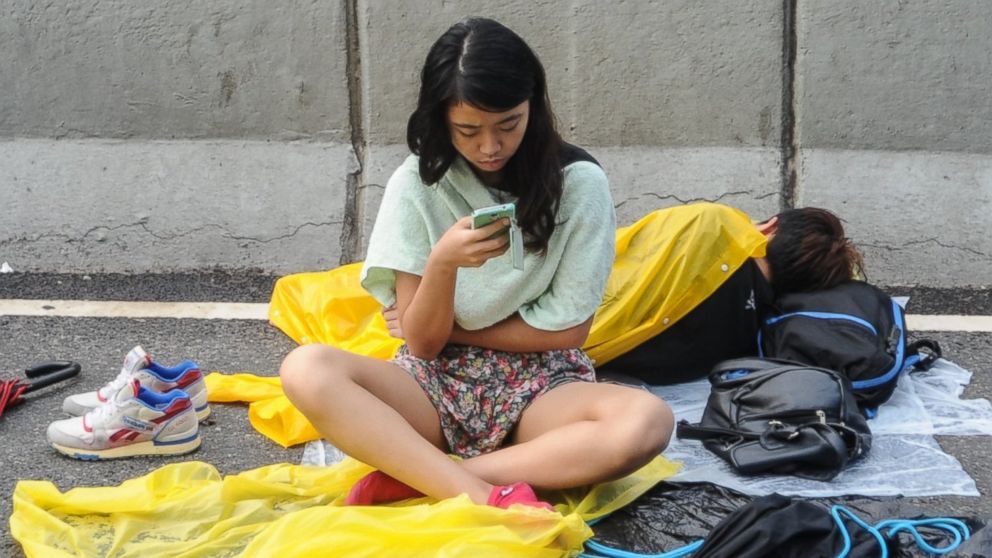 The app, launched in March, is owned by a San Francisco-based startup called Open Garden. The app recently gained popularity in Brazil, Spain, Taiwan and Iraq.
One problem with FireChat is that all messages are public. Staff at Open Garden have warned users about this and urged them to use pseudonyms.
"We hope FireChat will serve you well," Open Garden wrote in a Facebook post. "Please remember messages are not encrypted at this point. Please be cautious about what you say and do not use your real name."