Some of the same technology that let Elon Musk craft rocket parts by moving his hands is making its way into your backpack.
The HP Envy 17 Leap Motion notebook has the namesake high-precision motion tracking device integrated right into the laptop.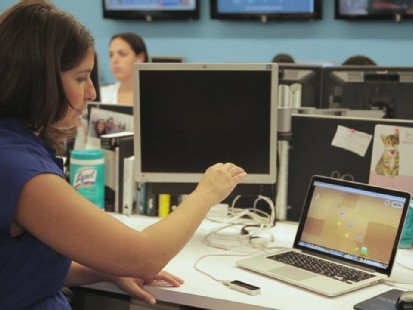 "We are excited to be the first to embed Leap Motion's technology in a PC," HP Senior Vice President Ron Coughlin said in a statement. "Our collaboration with Leap Motion is just one example of how HP is innovating and defining the next generation computing experience."
More: Our Full Leap Motion Review
Ted Theochung, the general manager of Leap Motion, said that neither his company nor HP are out to replace the mouse as a way to control the computer. "It's like the next wave of touchless computing," he told ABC News. "There are some things to do that are easier or more comfortably done with 3D motion."
The Leap Motion was first released in July as a small USB device for $79.99. HP shrank the device even more, down to a height of 3.5 mm. "The big thing with Envy is that we miniaturized the Leap Motion and put it into a PC in roughly six months," Theochung said. "That's a big feat."
Even though the motion sensor itself is smaller, it still takes up a fair amount of laptop real estate. The sensor sits to the right of the mouse pad as opposed to directly in the middle. "We're still doing usability tests and getting feedback about it," Theochung said. "But at this point, it's not as critical that the Leap sensor be centered."
The $1,049.99 price tag of the new computer, however, might cause a bit of sticker shock. It is more expensive than other 17-inch PC laptops, including another HP Envy priced at $699.99. However, the new Envy models will come with beefy hardware, including a terabyte hard drive, 8 gigabytes of RAM and an NVIDIA graphics card.
The HP Envy 17 Leap Motion will be available to customers on Oct. 16.